Paavo Järvi renews contract with

NHK

Symphony Orchestra, Tokyo
6/10/2016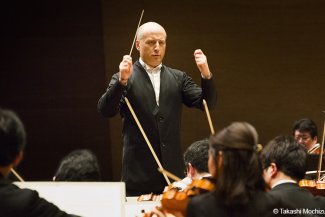 Paavo Järvi has extended his Chief Conductor contract with the NHK Symphony Orchestra for an additional three years, until August 2021. He was first appointed to the post in September 2015.
The announcement follows the partnership's acclaimed performance of Mahler's Symphony No.8, held this September to celebrate the Orchestra's 90th birthday.
The anniversary celebrations continue into February and March 2017, when Paavo will lead the orchestra on a seven-concert tour of Europe and when their recordings of works by Richard Strauss will be released internationally on Sony Classics.
Paavo Järvi is also currently Artistic Director of the Deutsche Kammerphilharmonie Bremen and the founder of the Estonian Festival Orchestra, which he created in 2011 as the resident orchestra of the Pärnu Music Festival. In June 2016 he completed his six-year tenure as Music Director of the Orchestre de Paris and in 2015 was named ​"Artist of the Year" by both Diapason and Gramophone magazine.
Guest engagements this season see the completion of Paavo Järvi's Nielsen Symphony Cycle with the Philharmonia Orchestra in London, a return visit to Berlin Staatskapelle and performances with the Tonhalle-Orchester Zürich, Budapest Festival Orchestra, and L'Accademia Nazionale di Santa Cecilia.
Teodora Masi (maternity leave)
Associate Director, Artist Management