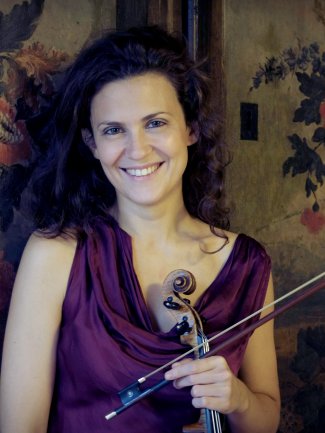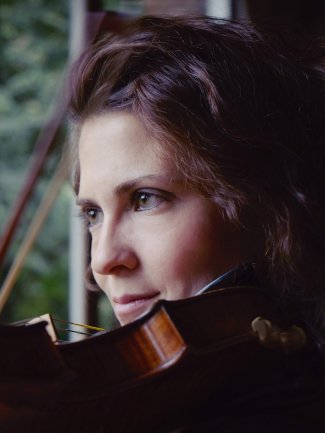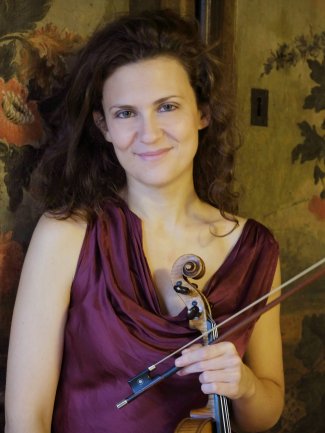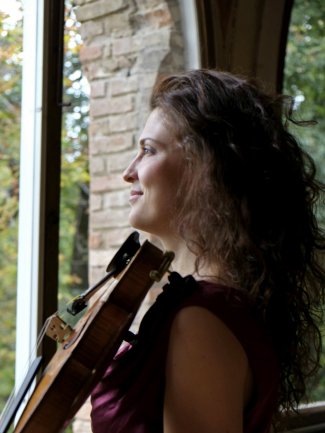 "Borrani was amazing in her solos, fiery and hypnotic yet tender and liquid as well."

(Sydney Arts Guide, November 2016)
Lorenza Borrani is an artist for our times: an inspiring and charismatic violinist, a much sought after leader of orchestras and a gifted chamber musician. Dedicating herself to timeless music in all its different forms and periods, she likes to challenge herself in every kind of repertoire. Lorenza's musical journey has taken her from the traditional values of 19th and 20th century music to the creation of new work and the re-examination of old masters through the intensive study of historically informed performing. With all of her versatility and vitality she reincarnates the travelling virtuosos of the 18th and 19th century when – just as today – the most sought after musicians were in demand in all of the great music centres of Europe: Milan, Vienna, Paris, London, Berlin – to which should now be added Tokyo, New York, Sydney and Beijing.
In the 2018/19 season, Lorenza focuses on play/​direct roles and debuts with the Orchestre Philharmonique de Radio France, Ostrobothnian Symphony Orchestra and Orquesta Sinfónica de Tenerife. After a successful tour with the Australian Chamber Orchestra in November 2016, Lorenza returns to Australia in March 2019 for another national tour. Return visits in the coming seasons include dates with Freiburger Barockorchester and Norwegian Chamber Orchestra where Lorenza will be Artist in Residence in 2020.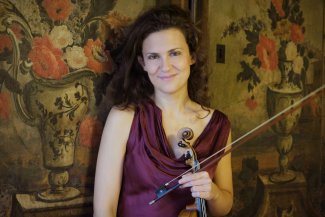 Show More

As a keen chamber musician, Lorenza has collaborated with Isabelle Faust, Hélène Grimaud, Daniel Hope, András Schiff, Pierre-Laurent Aimard, Janine Jansen, Irina Schnittke and Christian Tetzlaff to name a few. Lorenza's ​'Mozart Quintets' project, a collaboration with her close chamber music partners, debuted at Schloss Elmau in March 2018 and continues throughout 2019 in Europe.

In 2007 Lorenza, with a group of close musical friends, launched Spira Mirabilis as a laboratory for the intense preparation and performance of orchestra and chamber music repertoire of all periods ranging from Beethoven through to Schoenberg covering many of the most important works by Schumann, Mendelssohn, Brahms, Bartók and Britten, all performed without a conductor or leader. Recent successful additions to their repertoire have included Beethoven's Symphony No.9, Mozart's Così fan tutte and Colin Matthew's Spiralling, which is dedicated to Spira mirabilis. By now these illuminating and ground breaking programmes have been heard and enthusiastically received in London, Frankfurt, Paris and Hamburg, as well as in many cities in Italy.
"Lorenza Borrani led the Australian Chamber Orchestra with a style that always turned inwards to the music – its subtlety of phrasing, its expressive range and scope and its seriousness of utterance… Her arrangement of Prokofiev's Violin Sonata No. 1 for violin and string orchestra retained the work's originality and intimacy."
(The Sydney Morning Herald, Peter McCallum, March 2019)
"To have the audience leaning in, listening to the musical narrative, as guest director Lorenza Borrani does from bar one of the Australian Chamber Orchestra's second tour for the year is really something… With Borrani directing with her focus on crisp articulation and style over swagger, Beethoven's venerable
String Quartet No 16 becomes something quite different."
(The Australian, Martin Buzacott, March 2019)
"Borrani's adaptation of Prokofiev's Violin Sonata No.1 acted to amplify the work's emotional polarities: the wild invention of Prokofiev's harmonic and textural language was revealed and glancing blows of dissonance rebounded against itinerant cadences before yielding to more reflective lyricism. In the eye of this storm, Borrani's robust yet sensitive playing offered a rock-steady anchor."
(The Age, Maxim Boon, March 2019)
"Borrani's contribution this year was Prokofiev's Violin Sonata No. 1, and it is masterly. She gains some amazing effects, from the resonant low passages at the
very beginning of the work to the sublime, silvery sheen of the closing bars of the first movement, the violin whirling around in wispy scales above a rumbling foundation. A fantastic piece, and a fantastic performance."
(The Advertise, Peter Burdon, March 2019)
"Prokofiev's Violin Sonata No.1, arranged for violin and strings by Borrani, was given a powerful, passionate performance. The first movement opened sombrely and sorrowfully and featured an eloquent, almost heartbreaking solo by Borrani… It was breathless and tempestuous with a somewhat quieter segment then a return to the insistent flurries as a discussion between the various sections of the Orchestra and Borrrani. Dynamic and driven it ended on a circling, aching cry."
(Sydney Arts Guide, Lynne Lancaster, March 2019)
"There is an obvious rapport between Borrani and the musicians of the ACO, who brought out the tenebrous menace she captures in her string arrangement
of Prokofiev's Sonata for Violin and Piano. Borrani brought a yearning melancholy to the lyrical moments that emerge from the grittier energy of the Allegro
Brusco, while her sinuous lines in the Andante were chilling at the lower end, her high register penetrating with a laser-like heat."
(Limelight, Angus McPherson, March, 2019)
"Lorenza Borrani led the Australian Chamber Orchestra with a style that always turned inwards to the music – its subtlety of phrasing, its expressive range and scope and its seriousness of utterance… Her arrangement of Prokofiev's Violin Sonata No. 1 for violin and string orchestra retained the work's originality and intimacy."
(Peter McCallum, The Sydney Morning Herald, March 2019)
"To have the audience leaning in, listening to the musical narrative, as guest director Lorenza Borrani does from bar one of the Australian Chamber Orchestra's second tour for the year is really something… With Borrani directing with her focus on crisp articulation and style over swagger, Beethoven's venerable String Quartet No 16 becomes something quite different."
(Martin Buzacott, The Australian, March 2019)
"Borrani's adaptation of Prokofiev's Violin Sonata No.1 acted to amplify the work's emotional polarities: the wild invention of Prokofiev's harmonic and textural language was revealed and glancing blows of dissonance rebounded against itinerant cadences before yielding to more reflective lyricism. In the eye of this storm, Borrani's robust yet sensitive playing offered a rock-steady anchor."
(Maxim Boon, The Age, March 2019)
"Borrani's contribution this year was Prokofiev's Violin Sonata No. 1, and it is masterly. She gains some amazing effects, from the resonant low passages at the very beginning of the work to the sublime, silvery sheen of the closing bars of the first movement, the violin whirling around in wispy scales above a rumbling foundation. A fantastic piece, and a fantastic performance."
(Peter Burdon, The Advertiser, March 2019)
"Prokofiev's Violin Sonata No.1, arranged for violin and strings by Borrani, was given a powerful, passionate performance. The first movement opened sombrely and sorrowfully and featured an eloquent, almost heartbreaking solo by Borrani[…] It was breathless and tempestuous with a somewhat quieter segment then a return to the insistent flurries as a discussion between the various sections of the Orchestra and Borrrani. Dynamic and driven it ended on a circling, aching cry."
(Lynne Lancaster, Sydney Arts Guide, March 2019)
"There is an obvious rapport between Borrani and the musicians of the ACO, who brought out the tenebrous menace she captures in her string arrangement of Prokofiev's Sonata for Violin and Piano. Borrani brought a yearning melancholy to the lyrical moments that emerge from the grittier energy of the Allegro Brusco, while her sinuous lines in the Andante were chilling at the lower end, her high register penetrating with a laser-like heat."
(Angus McPherson, Limelight, March 2019)
"Tonight's guest director, Lorenza Borrani impressed the audiences not only with her performance of Schnittke, but also with her leadership that shaped the big span of the Beethoven symphony in the plush acoustic of the Aula."
(Kjell Moe, Kulturspeilet, October 2017)
"Her preferences for delicacy and exploitation of the many, many developmental shades of pianissimo in slowly building crescendos produced a remarkable sound. … What a joy to hear Alfred Schnittke's Sonata for Violin and Chamber Orchestra played with such intelligence and humour!"
(Jennifer Gall, The Sydney Morning Hearald, November 2016)
"Borrani has lean, agile sound and appealing musicality and brought keen intelligence to the ​'polystylism'"
(The Sydney Morning Herald, November 2016)
"In the wrong hands, it could sound chaotic. Borrani and the ACO's spectacular performance made it feel seamlessly structured. Always attuned to the sonata's sudden changes of mood and violent stylistic juxtapositions, the group's tight-knit ensemble and incisive attack realised the passages of dissonant aggression while their soft-grained sonorities and soulfully phrased melodic shards captured its moments of mournful reflection."
(The Australian, November 2016)
"Borrani's pizzicato double-stops producing a folky ambience as she effortlessly navigated sudden accents and dynamic shifts. The Schnittke was a fascinating work for which Borrani seemed to have an incredible affinity."
(Limelight Magazine, November 2016)
"Under the excellent direction of guest director and violinist Lorenza Borrani, who clearly had a great rapport with the Orchestra, we were treated to a superb performance by the ACO. … Borrani was amazing in her solos, fiery and hypnotic yet tender and liquid as well."
(Sydney Arts Guide, November 2016)