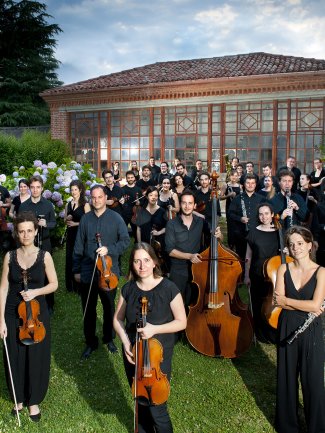 ©
Photo: Giancarlo Pradelli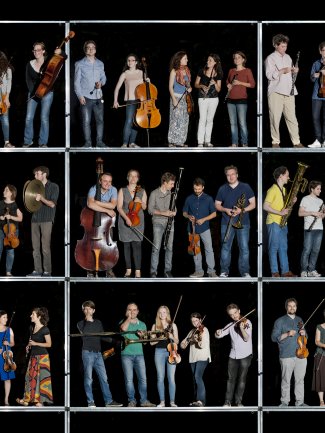 ©
Photo: Giancarlo Pradelli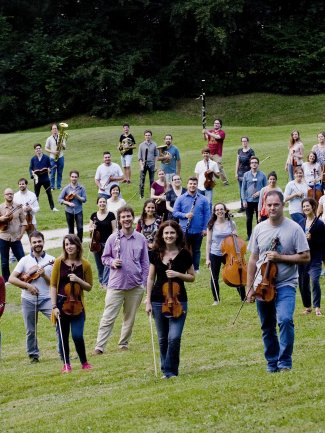 ©
Photo: Giancarlo Pradelli
Jasper Parrott
Executive Chairman HP Group & Associated Companies
Yasemin Kandemiroğlu
Manager: Artists, Arts Partnerships & Tours
"Spira mirabilis represent a transformative vision of what a symphony orchestra can be…They are a revelation…"

(Tom Service, The Guardian)
In the remote northern-Italian town of Formigine brews the musical revolution that is Spira mirabilis – a group of elite young professional musicians from around the world, active in many of the best European orchestras.
Spira mirabilis' main aim is to learn from each other, studying and researching as a musical laboratory where professional musicians can share their knowledge. Working without a conductor and in the spirit of an enlarged chamber group, they immerse themselves in the score with the aim of reaching an interpretative consensus on a shared vision, and a complete synthesis with the work. Spira's concerts offer audiences an in-depth experience of a single work and the opportunity to rediscover hitherto familiar music performed with the ensemble's singular style and vibrancy. They encourage audiences to become an active part of the concert experience, returning to the stage following their performance and entering into a lively engagement with a ​'Question and Answer' session.
Appointed Cultural Ambassadors for the European Union in March 2012, Spira mirabilis has enjoyed great success during the last few seasons, with appearances including Musikfest Bremen (Schubert's Symphony No.9), London's Southbank Centre (Beethoven's Symphony No.5, Schubert's Octet, Strauss'Metamorphosen), Essen's Philharmonie (Beethoven's Symphony No.5), and Paris' Cité de la Musique and Salle Pleyel (Mendelssohn's Octet).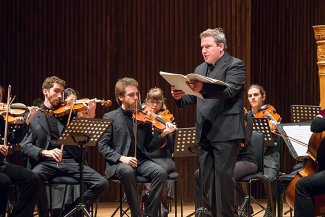 In 2014/15, Spira returned to Aldeburgh with two difficult and challenging concerts which brought huge success: one featuring Britten's Nocturne with tenor and small orchestra, the other was the world premiere of a new piece called Spiralling dedicated to them by the distinguished composer Colin Matthews. In the same season Spira's mega project was Beethoven's Symphony No.9, which they performed, unconducted, with a local choir from Modena and gave three sold-out performances in Formigine, Modena and Lucca. 2015/16 season saw Spira mirabilis perform Mozart's Così Fan Tutte in concert with singers and a critically acclaimed tour of Mendelssohn's Midsummer Nights Dream in a semi-staged set up with Italian actors, including a performance at Arte Sella in the Dolomites forest. Future plans include a revival of Beethoven's Symphony No.7 on tour in the UK, Mozart's last three symphonies on tour in Italy, a new focus on Brahms, Bartók and Mendelssohn's symphonies, and a revival of Haydn-day at Bad Kissingen Festival with Le matin, Le midi and Le soir symphonies performed at different times of the same day.

In Formigine, Spira mirabilis continues to expand its activities, including studying baroque repertoire and developing educational projects through masterclasses and workshops.

Spira mirabilis has worked with Idéale Audience on a number of documentaries including La Spira, which won the Award for Best Educational Film at the 30th FIFA Awards in Montreal. In 2010 they were recipients of the Förderpreis Deutschlandfunk for Outstanding Promise during their residency at Musikfest Bremen.
"The brilliant Spira Mirabilis orchestra marked the 400th anniversary of Shakespeare's death in a dazzlingly eccentric fashion. … This was the most joyous celebration of the Bard I've seen all year."
(The Times, Richard Morrison, July 2016)
"During the final movement of the Sixth, when the shepherd's song disappears, leaving just a trace of itself in the lilting pizzicato, I realised that what holds this ensemble together isn't eye contact or collective breathing, isn't even the placing of an up-beat from this or that player. It's joy."
(The Independent on Sunday, June 2012)
"Their performance of the Pastoral Symphony was one of the most glorious Beethoven interpretations I have ever heard…. words don't encompass the magic velvet shimmer of the murmuring lower strings in the second movement, nor the rumbustious peasant swing in the third, nor the thunderous thwack of the Storm, nor the vivid character of the wind solos."
(The Times, May 2012)
"an exhilarating performance of Beethoven's Fourth Symphony by Spira Mirabilis…Such rapport, flexibility, vivacity and virtuosity! It showed what's possible in a musical world where idealism and flair have yet to be diluted by compromise and routine."
(The Times, June 2011)
"I have seen the future of orchestral music. And boy, is it good…. Hearing them play Beethoven was like seeing an image through a telescope come magically into focus. Their example should be followed everywhere."
(The Guardian, June 2011)
Jasper Parrott
Executive Chairman HP Group & Associated Companies
Yasemin Kandemiroğlu
Manager: Artists, Arts Partnerships & Tours