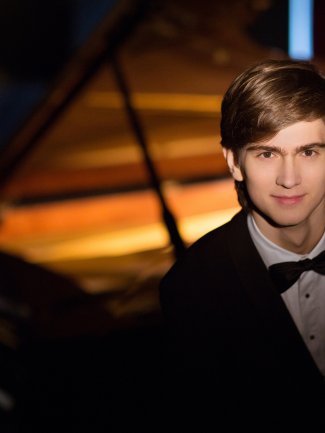 ©
Photo: Daniel Kharitonov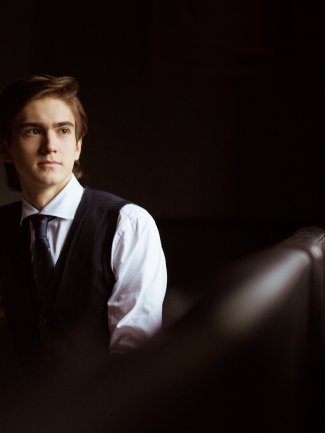 ©
Photo: Daniel Kharitonov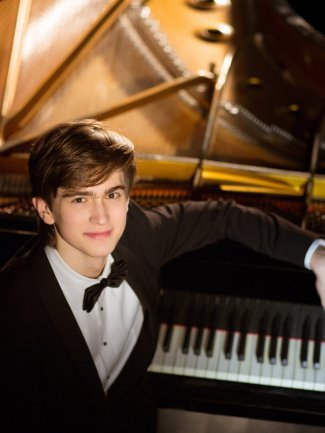 ©
Photo: Daniel Kharitonov
Third Prize winner at the 15th Tchaikovsky International Competition in 2015
Born in Yuzhno-Sakhalinsk in the Russian Far East, Daniel Kharitonov emerged as one of the brightest talents of the 15th Tchaikovsky International Competition when, in 2015 at the age of 16, he won third prize with a triumphant performance. Wherever he appears, Kharitonov charms the audience with powerful and moving performances full of young ferocity and darting energy.
At this early stage in his career, Kharitonov returns to the Southbank Centre in April 2020 to perform Tchaikovsky's First Piano Concerto with the Philharmonia Orchestra. This follows his debut with the orchestra at Nottingham's Royal Concert Hall last season, as well as his performance at the Royal Festival Hall with the Royal College of Music Symphony Orchestra as part of the Philharmonia Orchestra's large-scale ​'Voices of Revolution: Russia 1917' series conducted by Vladimir Ashkenazy. In his native Russia, he debuts with the Tchaikovsky Symphony Orchestra of Moscow Radio and Vladimir Fedoseyev this season. Frequent visitor to Asia, Kharitonov undertakes a recital tour of Japan and Korea this autumn, followed by a new orchestra collaboration with NHK Symphony Orchestra under the direction of Pablo Heras-Casado. Elsewhere, the upcoming season sees Kharitonov make a recital debut at Foundation Louis Vuitton and his Dublin debut with RTÉ Concert Orchestra and Michail Jurowski. He will also join forces with Orchestre National des Pays de la Loire under Antoni Wit.
Last season, Daniel Kharitonov made his debut with KBS and Suzhou symphony orchestras and performed a recital debut at Tokyo Opera City Concert Hall where he appeared with the Yomiuri Nippon Symphony Orchestra following a major 10-recital tour across Japan which saw him perform at venues such as the Kyoto Concert Hall and Yokohama Minato Mirai. He also undertook an extensive tourLater this season extensive tour to South Africa working with the Johannesburg, KZN and Cape Town philharmonic orchestras.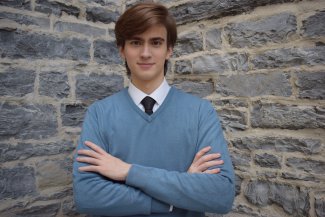 Show more

Highlights from previous seasons include Kharitonov's debuts with the Budapest Festival Orchestra under Iván Fischer, Royal Philharmonic Orchestra under Christoph Altstaedt, London Chamber Orchestra and Vladimir Ashkenazy both in London and as part of the Ghent Festival of Flanders, Ural Philharmonic Orchestra and Dmitry Liss, Macedonian Philharmonic Orchestra, season opening concerts with Philharmonisches Orchester Hagen and the Thüringer Symphoniker Saafeld-Rudolstadt and Kharitonov's Latin American debut with the Orquestra Sinfônica Municipal de São Paulo, Orquesta Filarmónica de Universidad Nacional Autónoma de Mexico and Orquesta Filarmónica de Jalisco. Recent engagements also included reinvitations to the State Academic Symphony Orchestra ​"Evgeny Svetlanov" and National Philharmonic of Russia under Vladimir Spivakov. Kharitonov has debuted with the China Philharmonic and Guangzhou symphony orchestras, and Orquestra Sinfônica Municipal de São Paulo to great critical acclaim, and toured Japan and China with the Moscow State Symphony Orchestra under Pavel Kogan. Recital highlights from previous seasons have included performances as part of Verbier Festival's residency at Schloss Elmau, appearances at the Windsor and Lammermuir festivals, as well as at the Sociedad Filarmónica de Las Palmas de Gran Canaria following his successful debuts at the Auditorio de Zaragoza and the Scherzo series in Madrid.

Since his successful debut with The Mariinsky Orchestra under the baton of Valery Gergiev in 2013, Kharitonov became a regular with this Orchestra, having already toured with them to China and Italy and performed across Russia on the Moscow Easter Festival tours in 2014 and 2015. Other highlights in his native Russia include concerts and recitals in halls such as the Tchaikovsky Concert Hall, Great Hall of the Moscow Conservatory and Moscow International Performing Arts Center. He has participated at festivals such as Stars of the White Nights and Stars on Baikal. Elsewhere, Kharitonov gave an electrifying performance at Carnegie Hall in 2013 as part of the Musical Olympus International Festival's gala concert and has also appeared at the Annecy Classic and Crescendo festivals in France.

Kharitonov's further achievements include the First Prize at the Krainev Moscow International Piano Competition in 2015 and the Nutcracker International Television Contest for Young Musicians in 2010.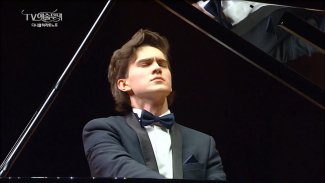 Daniel Kharitonov (Даниил Харитонов) Chopin Etude Op.10 No.12 Revolutionary
© Daniel Kharitonov Piano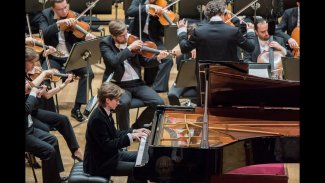 Rachmaninov Rhapsody on a theme of Paganini Op.43 - VideoDaniel Kharitonov
© Daniel kharitonov Fan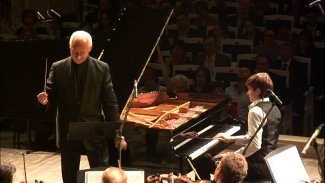 Daniel Kharitonov plays Mozart Piano Concerto No. 9 in Eb
© jeuseus
"Step forward Daniel Kharitonov, tall and very confident […] has technique in spades; he possesses speedy and accurate fingers and he can seduce with lyricism. His playing of Rachmaninov's [Piano Concerto No. 1] was of poise, dash and romance, and vividly accompanied by Ashkenazy (who knows the piano part as well as anybody) retaining the eight double basses. […] his steely accuracy aside, the pianist found an appealing velvety and improvisatory touch in the slow movement, making it idyllic. Maybe the Finale was too sectional between its bravura and soulful moments, but certainly Kharitonov was too precipitous in playing an encore — as soon as he returned, a Rachmaninov Etude-tableau (from either Opus 33 or 39), which emphasised the brash elements that had surfaced in the Concerto's cadenza, but there is no doubting that his potential is tremendous."
(Classical Source, October 2017)
"[…] a celebration of youthful talent, Russian soloist Daniel Kharitonov then burst onto the stage – so keen to reach the piano at its centre and start playing that he strode out almost at running pace. His performance of Beethoven's work was striking: […] the cascades – torrents, even – of music ran effortlessly from his fingertips […], his playing melding and merging beautifully with its orchestral backing where necessary, but then dramatically stepping up during the virtuosic moments when he played unaccompanied."
(Cambridge Independent, October 2017)
"What is the limit for this pianist who won the third prize at the Moscow Tchaikovsky Competition aged only sixteen? […] The pianist is brave, daring, and never misses the opportunity to offer a wide range of colours and to dazzle with impeccable interpretations full of virtuosity."
(Revista Musical Catalana, April 2016)