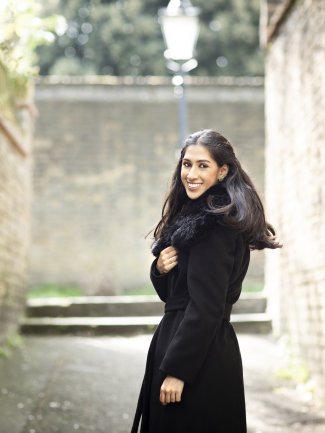 ©
Photo: Benjamin Ealovega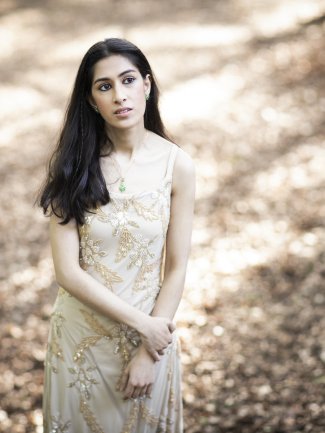 ©
Photo: Benjamin Ealovega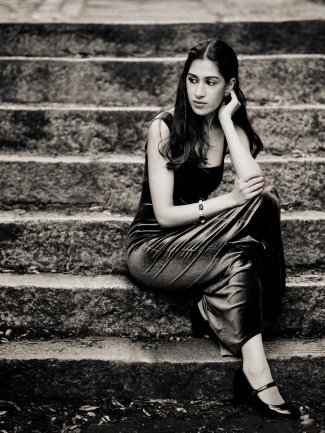 Mishka Rushdie Momen
Piano
Elise Jennings
Senior Artist Manager
Morgan Bair
Artist Coordinator
Hailed as ​"one of the most thoughtful and sensitive of British pianists" (The Times), Mishka Rushdie Momen captivates audiences with her refined and expressive playing.
Mishka Rushdie Momen's wide repertoire focuses on Mozart, Beethoven, Schubert, and Schumann, whilst reaching back to Gibbons and Rameau. Committed to performing new music, Mishka Rushdie Momen has commissioned works by Nico Muhly and Vijay Iyer, and premiered An Inviting Object by Héloïse Werner at the Lucerne Summer Festival in 2022. Rushdie Momen also has a special interest in Renaissance music and in 2023 marks the 400th anniversary of the death of William Byrd by presenting his works interlaced with Classical and 20th Century works.
Recital highlights include performances at Wigmore Hall, Carnegie Hall, Philadelphia Chamber Music Society, Lucerne Festival, Zurich Tonhalle, Antwerp deSingel, Leeds International Piano Series, Oxford Piano Festival, Phillips Collection in Washington DC, New York's 92 and for the Maestro Foundation in Santa Monica. Rushdie Momen makes her debut at the Hamburg Elbphilharmonie this season. Notable orchestral dates include City of Birmingham Symphony Orchestra, Deutsche Kammerakademie Neuss, touring France with Orchestre National d'Ile de France playing Bartók Piano Concerto No.3, touring the UK with Britten Sinfonia and Matilda Lloyd playing Shostakovich Concerto No.1 for Piano and Trumpet, and play/​directing Mozart K.271 with Luzerner Sinfonieorchester.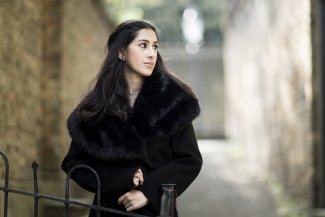 Equally at home as a chamber musician, Rushdie Momen's chamber partners include Steven Isserlis, Guy Johnston, Zlatomir Fung, Joshua Bell, Midori, Stephen Waarts, Timothy Ridout and Anthony Marwood, with festival performances including Rheingau Festival, Hindsgavl, Chipping Campden, Trasimeno Festival, the new Casals Forum at Kronberg, and IMS Prussia Cove.

Rushdie Momen's debut solo recording, Variations, was released in October 2019 by SOMM Recordings, featuring works by Robert and Clara Schumann, Brahms and Mendelssohn. Mishka Rushdie Momen was The Times Arts critics' chosen nominee in the field of classical music for their 2021 Breakthrough Award, given by Sky Arts and The South Bank Show, who profiled her for an episode of the programme broadcast in July 2021.

Mishka Rushdie Momen studied with Joan Havill and Imogen Cooper at the Guildhall School of Music and Drama. She also studied periodically with Richard Goode, and at the Kronberg Academy with Sir András Schiff, who has presented her in recital and orchestral dates across the USA and Europe. Mishka Rushdie Momen's studies at the Kronberg Academy were generously funded by the Henle Foundation.

HarrisonParrott represents Mishka Rushdie Momen for worldwide general management.
"One of the most thoughtful and sensitive of British pianists…"
The Times
"The way Momen shaped the winding middle part, sometimes pushing it forward, sometimes letting it fall into the background, was actually the most moving part of an altogether wonderful concert"
The Telegraph ★★★★★
".…an innate musical sensibility combined with true technical brilliance"
The Arts Desk
"The interplay between Mishka Rushdie Momen's piano and Steven Isserlis's lustrous cello was delicately matched, nothing overstated."
The Guardian ★★★★★
"Her interpretations reveal a special feeling for Romantic music and the art of rubato"
Neue Zürcher Zeitung
"…her ability to swap from gripping muscular power to graceful tenderness showed why she has won such acclaim in the last two years"
Bachtrack
"[Isserlis'] partnership with Rushdie Momen was compelling too, the pianist stealthily pouncing on the sharp, accented figures of the first movement and giving as good as her partner…"
The Times ★★★★
"Throughout the disc, one is struck by Rushdie Momen's tonal command and wide-ranging technique…This is a rare phenomenon today, particularly from a performer so young"
The Whole Note - on "Variations" ★★★★★
"Isserlis and Rushdie Momen plunged straight in, with a striking, architectonic account of the introduction which was very much a dialogue between equals.… this was riveting music making with both performers bringing a remarkable intensity to the performance"
Planet Hugill
"[Clara Schumann's Variations op. 20 were] played in a way which revealed the music's tenderly exquisite workmanship"
The Telegraph
"A clever interlinked programme of variations by Romantic and contemporary composers…full of vim and vigour throughout"
BBC Music Magazine - on "Variations"
"…the piano's sparkling, youthful clarity [was] uplifting…"
Seen and Heard
Elise Jennings
Senior Artist Manager
Morgan Bair
Artist Coordinator