The Culture Bar — After Hours: Mishka Rushdie Momen
28/3/2023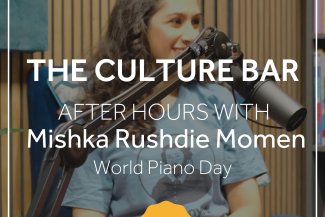 After hours chat with British pianist Mishka Rushdie Momen
In this Culture Bar Podcast, we are delighted to welcome recent signing Mishka Rushdie Momen to the studio. To celebrate World Piano Day and Mishka recently joining our roster, we talk all about how she first discovered the piano, the importance of music education, her passion for art and some of her favourite composers and pieces to perform.
Mishka was interviewed by HarrisonParrott's Digital Communications Officer, Lauren O'Brien.
After Hours chats are a spin-off series from The Culture Bar, discussing issues relating more broadly to the arts and culture sector.
The Culture Bar is a podcast series created by HarrisonParrott focussing on conversations in culture and the arts.
Find us on Spotify, iTunes, Google Podcasts, YouTube, Podbean, Deezer, Stitcher, Pocket Casts and all good podcatcher sites.
Use #theculturebar or follow us on Twitter @_TheCultureBar to keep up with our latest releases
Transcription
Lauren O'Brien
Hello and welcome to The Culture Bar, a panel discussion podcast exploring the arts and music world. In this podcast, I'm delighted to be joined by one of our recent signings, British pianists. Mishka Rushdie Momen, thank you so much for taking the time to do this podcast with us today. Mishka. And, I mean, the timing could not have been more perfect. Not only have you recently signed and joined the HP family, but it's also World Piano Day at the end of the month. So we couldn't have timed the podcast more perfectly. So thank you so much for joining us today.
Mishka Rushdie Momen
Yeah, it's a great pleasure. I'm so thrilled to be part of the roster.
Lauren O'Brien
Now it'd be lovely to first hear how you got into performing the piano, like, can you remember where that first sort of interest sort of came about?
Mishka Rushdie Momen
It was wholly accidental, actually. It really started because of my sister, who was learning the piano already, my sister is four years older than me. And at that age, when I was about four, four or five, I copied absolutely everything my sister did. In fact, looking at my diaries from them now, I mean, it must be a nightmare for my sister, because I just clinging to her the whole time. But she was learning the pianos, so I had to do it, too. And we had our little upright piano in our house. So I think I just climbed up and started playing around and then started having piano lessons at school. And I don't remember the exact moment when I decided to become a pianist, but it was, I think, fairly immediate, without, without understanding any of the implications of what that meant, without having any any idea of, of what it meant to pursue music as a as one's life as one's career. But I just I can't remember ever looking back or ever considering doing anything else really after that.
Lauren O'Brien
And did your sister still play the piano? Or was that it after you got your interest?
Mishka Rushdie Momen
No she continued for a while, and she played the cello in our school orchestra as well.
Lauren O'Brien
Oh wow musical family then?
Mishka Rushdie Momen
Yeah, well, we were lucky. I think we went to a state primary school. But it was sort of, I think, growing up in the, in the 90s and early 2000s, we were just very fortunate that it was normal to have music lessons at school to have a school orchestra. It's actually quite devastating. Now to think about how those structures are disintegrating in front of us.
Lauren O'Brien
It was so fundamental having that music education for you, because it's your career now. And it's a shame that some people now potentially might not have that as an option for them in schools.
Mishka Rushdie Momen
Yeah, I think that's true. But maybe it's not. It's not even only because it became my career, I think even if it didn't, it's so important to have that sort of background in one's education and that exposure to, to this great art, which we're, I think very much in danger of, of losing.
Lauren O'Brien
We're very fortunate that you had that education at school because of where you are today. Are there any particular pieces or composers that you particularly enjoy playing? Did you mention I think in a previous conversation, something that you enjoy playing Schubert? Is that right? Or have I made that up?
Mishka Rushdie Momen
No, Schubert is absolutely central to my life. I've always loved his music. And I think with every year it seems to become more and more one of my one of my big focuses. I'm 31 now, which is the age that Schubert was when he died, and I feel quite aware of that strangely, playing his music playing a lot of his music this year. And sort of the idea that we're carrying his music on for him and I think every everybody who engages with his music and and plays it is, is doing that. I love I love the humanity in his music. I think there's a great a great sort of unflinching honesty, he looks right into the face of of darkness sometimes and and I have the sense when I play Schubert or when I listen to him that there are no limits to what what he can express. And there's also a great sort of humility in the way that he expresses a great simplicity, which which I find really almost unbearably moving. I don't think I could live live without his music. He's absolutely my sort of desert island composer.
Lauren O'Brien
Wow, that's quite like I was going to ask if there any other composers but he Schubert, clearly this very high on your list. But is there any other composers or pieces of repertoire that you particularly enjoy performing?
Mishka Rushdie Momen
Well, I think also, you know, as part of my Holy Trinity, there's Mozart, Beethoven and then I mean the father of them all, Bach. And I'm also very much interested in English renaissance music at the moment and have been playing a lot of Byrd, Bull and Gibbons.
Lauren O'Brien
So that's quite interesting because I was going to ask you actually, if it is, I was gonna say just the piano forte, obviously it is that's it's not just but are there any other sort of keyboard instruments that like in the family that you perform on? Like, do you perform on like the harpsichord or even Have you tried the organ or have you? Yeah, have you explored any of those?
Mishka Rushdie Momen
Yeah, I think if I if I couldn't be a pianist, the only other thing I could imagine being as an organist.
Lauren O'Brien
It looks complicated. Whenever I've seen, you know, people, it looks
Mishka Rushdie Momen
fiendishly difficult. Yeah. No, I don't think I could do that. But I love the harpsichord. I love the the Forte piano, I've never had the chance to perform in them. Because I think logistically, it can be quite difficult, but it's one of my my sort of dream projects, actually, is to combine all three in a concert so that the audience can hear all these different sonorities and how how we can express different things, even in the same music on different instruments. But I think it is valid to play to play this Renaissance music on the modern piano. I mean, I think even even then it could be played either on the harpsichord or vaginals or on the organ. And I think fundamentally, you know, it's not an arrangement that is still part of the same family. And I think I think it can work very well.
Lauren O'Brien
We need to make that happen. We need to Yeah, concert where, yeah, explore all the different keyboard instruments in one concert. That sounds amazing.
Mishka Rushdie Momen
And I think it's it should be a core part of our repertoire, because it's such glorious music, and it's so underplayed and yeah, I sort of I have the the zeal of an evangelist, you know, forcing people to talk about it.
Lauren O'Brien
Well, you're definitely not forcing us today we enjoy talking about.
Mishka Rushdie Momen
I mean, I think in general, in England, you really, you can't get away from from the Tudors. And I mean, Shakespeare is such a fundamental part of the culture and of the English language. And, and I think the music of that time needs to be brought to the fore more as well. And not not only in the context of early music groups who are wonderful, but I think it can sort of expand beyond that as well.
Lauren O'Brien
Have you done that is? Do you have examples of where you've done that before performances? Or do you have plans in the future of bringing that out more?
Mishka Rushdie Momen
Yeah, both. I mean, I like to combine it with with other parts of my core repertoire, like I'll often play about Fantasia in, you know, in the middle of the programme, perhaps, in between, I don't know a piece of Beethoven then a piece of coffee, if it could be almost anything I think there are, there are links to be made between later repertoire, which are not always obvious. I mean, they might have more to do with character or texture. It's I don't think that we have to, we have only to play sort of one period of music at a time. And I think with, with great pieces that can sit, sit very well sit very well with other with other pieces. I think one thing I particularly love about bed is how comfortably the secular and the religious sit together, which I think is a feature of, of a lot of really profound music. I mean, I think that's, that's obviously true in bar. I think that's true of Mozart as well. In bed, there's, I think, just as much profundity and joy and lightness to be found in, you know, in in the GALLIARD, as there might be in one of his plain song arrangements.
Lauren O'Brien
Are there parallels then would you say between you know, the Elizabethan music and repertoire that is more modern, like the repertoire today?
Mishka Rushdie Momen
Yeah, I think I think absolutely, that's true. I think for example, if I, if I think about fantasies that were written at that time, they have a sort of freedom of approach, which which is very much a part of, I think how our music is written today and in the 20th century. In general, there are a lot of parallels can really striking parallels between the Elizabethan period and the modern day. I mean, there's, I think, coming out of COVID, we're very aware of the feeling of plague, the threat of terrorism, recession, isolation from Europe. I think all these things are kind of really quite remarkably similar. But also, maybe on a on a deeper level. There's, there's perhaps the sense today that things can change can change very quickly and that sort of the pendulum can swing in one way or another. Um, I mean, when I think about bad, who's born in sort of the last years of Henry the eighth's reign, in the Reformation and then and then Mary, Bloody Mary comes back, and then it's Catholic again. And you know, yesterday's orthodoxy becomes tomorrow's heresy. So I think we were grappling with with a lot of those issues as well today.
Lauren O'Brien
Are there any particular sort of career highlights up to this date that you like that you have? Like, is there anything particularly that sort of sticks in your mind as a particularly amazing, like experience for you as a performer? Yeah,
Mishka Rushdie Momen
I think, well, sometimes a lot of the really important milestones or internal ones, sort of when you feel you've, you've developed your understanding of a certain piece, or you rise to another level, in a performance, I think, actually, during the pandemic playing in streamed concerts from Wigmore Hall was, was pretty unforgettable experience just playing in an empty hall and, and yet having this feeling of connection with people listening all over the world. And I think all the performers who, who gave streamed concerts in that period were, were very conscious of how hungry people were for music and how much it meant to them that they were still able to experience that in a way. And then when audience started coming back again, it was, it was just it was so special to feel everybody's energy in in the hall and feel how much this music meant to them. Which is why I think just going back to what we said earlier, it's so it's more critical than ever, that we that we protect that. Because I think that the public has a great appetite and need for classical music, which is perhaps not not recognised by the government or not recognised by politicians, but it doesn't mean that it's not there.
Lauren O'Brien
Absolutely. And I think, if anything, those sort of months, or a year or so of locked down actually showed how much live music, how important it is to our life is yes, we were so lucky that you know, people like you performed on a digital platform so that we could all experience still that music even when things seemed
Mishka Rushdie Momen
quite bleak. It was yes. Well, I think as well, the presenters who made that happen, were were very courageous. I mean, the Wigmore Hall is absolutely incredible. Doing that it was a real lifeline, I think both for, for audiences and for for performance. And
Lauren O'Brien
I suppose following on from that, is there anywhere that you would love to perform, and I'm thinking it could be a venue or a particular country, like it's anywhere that sort of springs to mind that you'd really love to perform in?
Mishka Rushdie Momen
It's quite hard to say because different venues can be special for different reasons. I mean, there are so many kinds of intimate places which are, you know, exquisite and then of course, there are the the numerous great halls of the world on an entirely personal level. It's my dream to go to Hawaii.
Lauren O'Brien
There any music venues. And actually, we've got to make that happen. Yeah. I think it'd be lovely to explore your interests around the instrument because obviously your career is performing but are there is there anything else that you know beyond the instrument that you enjoy? Then you're you're interested in.
Mishka Rushdie Momen
I love to go on long walks with my dog. I go for a walk every day will often go to Highgate woods, which is an ancient woodland. absolutely exquisite, very near to where I live. We'll walk across the heath actually locked down was pretty it's an awful thing to say. But in a way it was there. There was something delicate about it because because because we have this amazing spring with sunshine every day and we'd go for these long walks across the heath and what what do you have? She's a wizard.
Lauren O'Brien
Ah, lovely.
Mishka Rushdie Momen
Yes, she's she's gorgeous. And I love to go to art galleries and look at paintings. I particularly love Renaissance paintings. One of my one of the big highlights for me recently was the was last year there was a referral exhibition at the National Gallery, which was incredible. I mean, I don't I don't actually know that much about art. But I when I look at paintings, I sort of love to compare them to different pieces of music. I mean, they might not be music of that period. Like sometimes I'll look at a Raphael painting think oh, that looks like a Mozart area or, you know that, you know, that looks like a boyfriend or something like that. So it's just it's wonderful actually to make these connections between colours in in painting and the colours that we're trying to express when we when we play.
Lauren O'Brien
Definitely and I think we're so lucky in London that we have these amazing places that are just free. Sadly Yeah, like coat holding shoe at Somerset House. house that we're where we are today. And like you said National Gallery like yes, we're very, very lucky to exactly.
Mishka Rushdie Momen
Yeah exactly. And I love TV.
Lauren O'Brien
You can't beat a bit of Netflix, in my opinion. So we've talked a little bit about composers that have inspired you, you know, Schubert, but what about actually living composers? Like, is there anybody you'd love to to collaborate with?
Mishka Rushdie Momen
I think I think it's really important that we, as performers engage with the music file day. We're very lucky as pianos set the repertoire is already extremely rich and inexpensive, but we can always add to that. So far, I've I've very much enjoyed commissioning a couple of solo pieces. I commissioned a short piece by the wonderful composer Nico Muhly, and by my friend, the American composer, Vijay Iyer, which was nice because it had sort of jazz influences, and in it, which spoke to his background. And more recently, in collaboration with the return festival where I was able to make my debut last summer, I had the opportunity to commission a piece by Héloïse Werner, who's a wonderful singer, vocalist and, and composer, a brilliant fantasy for the piano, which fitted in very well to fantasy sort of themed recital that I did there. And I also I love I love Brett Dean's music, particularly also George Benjamin, I really adore and Mark Anthony Turnage, for example, there are so many brilliant composers. I mean, Thomas Adès, of course, is, you know, one of the greatest living composers. Yeah, I mean, I could go on the list.
Lauren O'Brien
We almost sometimes programme seems to put a large emphasis on these amazing works that have, you know, that have been around for a very long time. And it's it's, there's so much rich repertoire out there from modern composers.
Mishka Rushdie Momen
It is striking actually how quickly things can become core repertoire. Like when I think of the Le Getty studies, which written in the 80s. And they're now absolutely standard. I mean, every every conservatoire student is learning them and playing them. And I think that's becoming true for Tom Adès pieces as well. So I think I think we do have this immediate response to two great pieces. I think when when we hear something great, we know it, and it immediately, I love that it immediately gets absorbed into the into the canon.
Lauren O'Brien
Thank you so much, Mishka for joining us for this Culture Bar podcast. It was really lovely to have you on and hear your experience and your interests. And yeah, we can't wait to see what the year brings.
Mishka Rushdie Momen
Thank you.
Lauren O'Brien
And that is it for this episode of the culture of our podcast. We hope you enjoyed it. I'd like to thank Mishka for joining us for this particular podcast. Thank you to Merlyn Thomas, our editor, and Robert Coultran who compose the theme tune music. Please do subscribe or leave us a review. You can visit Har​rison​par​rot​.com for more information. Do also take a look at the rest of the Culture Bar podcasts for more on important topics in the arts and music world. See you soon.
Elise Jennings
Senior Artist Manager