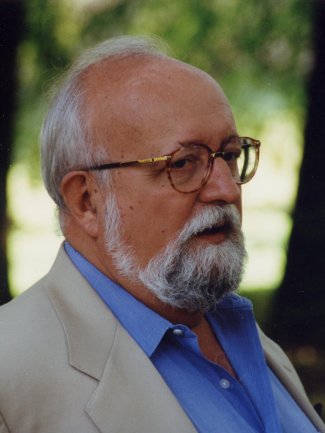 ©
Photo: Schott Promotion & Peter Anderson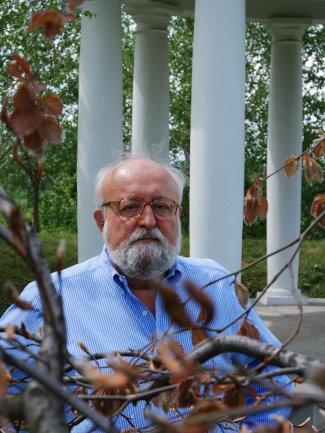 Krzysztof Penderecki (

1933

 — 

2020

)
Conductor / Composer
Federico Hernandez
Associate Director, Artist Management
"The level of vision, nuance and polish that Penderecki consistently demonstrated during the concert revealed a conductor of the highest ranking"

(Dennis Polkow)
29.03.2020. It is with great sadness that HarrisonParrott has to announce the passing of Krzysztof Penderecki . Our thoughts are with his family at this very sad time.
Multi-award winning Polish composer and conductor Krzysztof Penderecki was one of the world's leading and most distinguished musicians of his generation.
Works like Threnody for the Victims of Hiroshima (1960), St. Luke Passion (1966), Cello Concerto No.2 (1982) written for Mstislav Rostropovich, Polish Requiem (1984), Symphony No.3 (1995), Violin Concerto No.2 ​"Metamorphosen" written for Anne-Sophie Mutter (1995), Symphony No.7 ​"The Seven Gates of Jerusalem" (1996) and the Double Concerto (2012) written for Janine Jansen and Julian Rachlin, to name a few, are now considered masterworks of our time.
In over 60 years of composing activity, Krzysztof Penderecki has created nearly 150 pieces of varied orchestration, size, composing techniques, genres, forms and symbolic message. He also used to write for theatre, and wrote many compositions for children. He was also an active teacher, for 15 years he held a position as Rector of the Cracow Academy of Music, which since October 2020 will be named after Krzysztof Penderecki. He was also professor at Yale University. He composed for Mstislav Rostropovich, Jean-Pierre Rampal, Boris Pergamenschikow, Anne-Sophie Mutter… His music was conducted by Eugene Ormandy, Zubin Mehta, Lorin Maazel, Kurt Masur, recently by Kent Nagano, and by many other conductors around the world. His works are published by Schott Music International.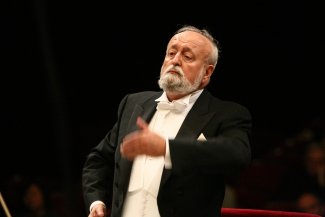 Aside from composition, Krzysztof Penderecki developed an outstanding career as a conductor over the years. He was guest conductor of both the NDR Elbphilharmonie and MDR Leipzig sinfonieorchesters, Artistic Director of the Casals Festival in San Juan, Puerto Rico (1992 – 2002), and Artistic Advisor to the Beijing Music Festival. Since 2003 he held the position of Artistic Director of the Sinfonia Varsovia during which he developed a wide range of projects. He also regularly worked with the Polish National Radio Symphony Orchestra and Sinfonia Iuventus – both of which he recorded several albums with – Beethoven Academy Orchestra, Sinfonietta Cracovia, and Warsaw Philharmonic Orchestra. In 2014, Anna Schmidt filmed a long documentary film on Penderecki's music and life, Paths through the Labyrinth.

Over the years, Penderecki garnered numerous awards both as composer and conductor – his most recent accolade was the fifth Grammy Award (2017) for Best Choral Performance (he was previously awarded in 1998, 1999, 2001 and 2013). Other awards include the Grand Art Prize from the federal state of North-Rhine Westphalia (1966), Prix Italia (1967), Sibelius Gold Medal (1967), Polish Composers' Association Prize (1970), Prix Arthur Honegger (1977), Sibelius Prize of the Wihuri Foundation and National Prize of Poland (both in 1983), Premio Lorenzo il Magnifico (1985), University of Louisville Grawemeyer Award for Music Composition (1992), Prize of the International Music Council/​UNESCO (1993), Music Prize of the City of Duisburg (1999), Cannes award ​"Living Composer of the Year" (2000), Premio Príncipe de Asturias (2001), Romano Guardini Prize of the Catholic Academy in Bavaria (2002), and the Praemium Imperiale (2004).

Since 1990, Krzysztof Penderecki held the Grand Cross for Distinguished Services of the Order of Merit in Germany and Chevalier de Saint Georges. In 1995 he became a member of the Royal Academy of Music in Dublin, and in 1998 a member of the American Academy of Arts and Letters and the Bavarian Academy of Fine Arts in Munich. He was made Commander of the Three Star Order in Riga, Latvia in 2006 and was a member of the Order of the White Eagle in Poland. In November 2017 he received an honorary doctorate from Indiana University, Bloomington. He was a member of the Royal Academy Stockholm and received honorary doctorates from the Moscow State Tchaikovsky Conservatory, Georgetown University, the University of St Petersburg, and Yale University among many others.
"Prague Spring had one of the most memorable finales in its history this year … Working without a baton and using short, fluid arm movements, Penderecki was able to draw out subtle shading in the sound, which at times almost vibrated with electric intensity. [His] conducting … was masterful."
(Bachtrack, June 2017)
"As a conductor, Krzysztof Penderecki is invariably associated with performances of his own music. But it was as an interpreter of other composers' works that he first took up the baton, and most notably considered Shostakovich's symphonies integral to his repertory. Penderecki did fine things with [Shostakovich's Sixth's] opening largo, in which hints of distant military threat intrude on a mood of sullen despair."
(The Guardian, October 2016)
"Of course, it's not surprising that a composer who takes up the baton should be able to make a fairly convincing case for his own pieces, but the level of vision, nuance and polish that Penderecki consistently demonstrated during the concert revealed a conductor of the highest ranking."
(Dennis Polkow)
Federico Hernandez
Associate Director, Artist Management