It is with great sadness that HarrisonParrott announces the passing of Krzysztof Penderecki
30/3/2020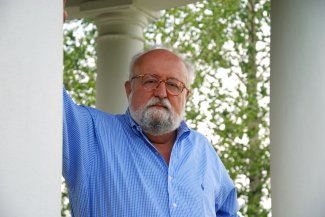 It is with great sadness and sorrow that HarrisonParrott has to share the news of the death of the great composer and conductor Krzysztof Penderecki. Maestro Penderecki has been one of the most outstanding composers of twentieth century with works including Threnody for the Victims of Hiroshima, Polymorphia, Saint Luke's Passion, The Seven Gates of Jerusalem and his Second Violin Concerto which belong to the history of music.
He worked tirelessly for teaching music – he was rector of Krakow Conservatory and held various other positions including Artistic Director of Sinfonia Varsovia and former Artistic Director of Pau Casals Festival and Krakow Philharmonic, and supporting institutions such as Krzysztof Penderecki European Centre for Music in Lusławice.
It is difficult to acknowledge all the honours he received during his lifetime but we must include the Praemium Imperiale from Japan, UNESCO Prize, Premio Príncipe de Asturias, Ordine al Merito (Italy) and several Grammy Awards for his recordings.
The HarrisonParrott family had the honour of working for him in his last years and would like to express our deep sadness and send our condolences and sympathy to Elzbieta Penderecka, his family and also from everyone at the Ludwig van Beethoven Association.
Jasper Parrott adds: ​"One of the greatest joys and privileges of my long life of working in this uplifting profession has been the honour of our collaboration with Krzysztof Penderecki, surely one of the giants of music over the last many decades. The memories of joining in the celebrations of his 80th and 85th birthdays in Warsaw will remain in my heart and mind for ever".
Due to restrictions on travel and public gatherings at present because of COVID-19 virus, plans for any funeral services and memorial events will be announced as soon as possible.
"The loss of Krzysztof Penderecki leaves a huge void in my heart as well as an enormous one for all musicians and music lovers around the globe." Anne-Sophie Mutter
"RIP maestro Krzysztof Penderecki. Thanks for all inspiration you gave to the world. So grateful to have been a part of premières and festivals with your music. May your spirit live on for ever. " Martin Fröst
"My heart is filled with sorrow upon hearing the passing of Mo Penderecki. I express my sincere sympathy to his devoted wife, Mme Elżbieta Penderecka. I'll always remember and feel incredibly lucky that I had occasions to work with Maestro in the past couple of years. My most heartfelt condolences." Sayaka Shoji
"Composing the quartet movement becomes a tribute to Penderecki who died this morning." David Lancaster
"His pieces make such wonderful sounds. I think a lot of people might think his work is stridently dissonant or painful on the ears. But because of the complexity of what's happening – particularly in pieces such as Threnody and Polymorphia, and how the sounds are bouncing around the concert hall, it becomes a very beautiful experience when you're there. It's not like listening to feedback, and it's not dissonant. It's something else. It's a celebration of so many people making music together and it's like – wow, you're watching that happen." Jonny Greenwood, Radiohead
"Quelle tristesse d'apprendre ce matin le décès de l'immense compositeur polonais Krzysztof Penderecki à l'âge de 86 ans. Le monde musical perd un musicien visionnaire et innovant qui m'a profondément marqué, un géant de la création. Pensées pour son épouse Elzbieta et sa famille. Rest in piece my dear friend." — Gautier Capuçon
Federico Hernandez
Associate Director, Artist Management