Remembering Jiří Bělohlávek,

1946

 — 

2017
8/6/2017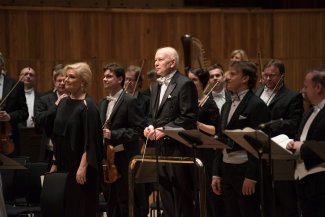 Last week we were deeply saddened to mark the passing of the great conductor, artist and Czech Jiří Bělohlávek. HarrisonParrott and our artists have been honoured to work with Jiří on many occasions, below are a few tributes from our artists.
…
Karita Mattila chose to publish one of her final emails to Jiří by way of a tribute.
Dear Jiří,
Hope this message finds you well!
Wherever you are, and Anna, you always have a special place in my heart. You have had such an influence in my singing, my artistry over the years that the more time goes by the more I value it, treasure it. Working with you has shaped me and my thinking as a singer, as an artist, and I have learnt so much from you.
Gratitude is the word. You are my hero, dear Jiří, and I am the luckiest of opera singers to have the privilege to have worked with you and hopefully continue to work with you in the future.
All these thoughts and feelings are pouring out of me, my heart, these days, here in Munich. Jenůfa performances running, me as Kostelnička, one more to go (Saturday). God I love this opera!
And I miss you so.
Yours truly, with all my love, Karita
…
"I am devastated by the news that Jiří Bělohlávek, a wonderful musician and human being, has passed away after a brave fight against illness. I have admired Maestro Bělohlávek since my teens as one of the very finest conductors. From him I had the honour to inherit a wonderfully spirited BBC Symphony Orchestra, and it has been a constant joy to build upon the foundations that he had laid. Maestro Bělohlávek's legacy with the orchestra will live very long after him. My condolences go out to his nearest family, as well as to all musicians who loved and cherished working with him, be it in the BBC Symphony Orchestra, the Czech Philharmonic Orchestra or anywhere in the musical world." – Sakari Oramo
…
"It is too easy to imagine that the character of a nation can be captured through a person that you know. Everyone knows that it's simplistic and primitive, yet we cannot avoid it. For me, the character of the Czech nation was epitomised by Jiří Bělohlávek. He was a fantastic talent whose humility was well known. He had a big heart and yet was an introvert at the same time. He was a patriot of his country, an open-minded musician and a citizen of the world.
I have rarely felt so comfortable, both musically and personally with a conductor like Jiří. We performed multiple concerti together; Mozart No.20 and No.21, Prokofiev No.1 and No.3, Chopin No.2 and Rachmaninov No.2 and No.3 and at every performance I experienced a great deal of support and attention from him.
The last time we collaborated was in Vienna last year. Physically he had changed a lot, but inside he had the same level of strength and will. He had a kind, Czech humour, without any hint of sarcasm. There was never any word about his illness, only an interest and curiosity about other people. He did all of this for the music and produced unforgettable concerts! I am so thankful that we live in an era where music can be recorded and that we can listen to his music again.
It is difficult not to cry, knowing that we are no longer able to attend his concerts. I send my deepest condolences to his wife, Anna, and family. Jiří and Anna were a wonderful couple.
A great conductor! A great musician! A great human being!
I thank God that I knew him and that we were able to make music together.
We who all love music and live in music, thank music that Jiří was among us!" – Nikolai Lugansky
…
"It is truly sad when a musician like Maestro Bělohlávek leaves us. It was in 2015 I worked with him. I had worked with the Czech Philharmonic Orchestra many years ago, but I was shocked with the difference of the sound under Bělohlávek's baton. By playing together, I was moved by the simplicity and sincerity in music-making that is something so precious in our time. I'd like to thank and cherish what he has left in my heart, through music." ­– Sayaka Shoji
…
Krzysztof Penderecki honoured his friend Jiří Bělohlávek, in the finale of the Prague Spring Festival, dedicating his monumental Symphony No.7 ​"Seven Gates of Jerusalem" to the Czech conductor – the concert was hailed as a ​"stunning convergence of transcendence and sorrow". (Bachtrack)
…
"With my deepest regret I would like to express my sincere condolences to his family, friends and all members of Czech Philharmonic on the passing of Maestro Jiří Bělohlávek. I'm one of those lucky musicians to have worked with him. It is a big loss for the world of classical music." – Behzod Abduraimov
…
"I first arrived in Prague in 1945 as an infant and since then have had the good fortune to be closely associated with Prague and the Czech musical world throughout my life. Jiří Bělohlávek is rightly revered as a great and noble musician and the foremost champion of his country's incomparable musical tradition. His passing will be deeply mourned." – Jasper Parrott