Jamie Barton
Mezzo-soprano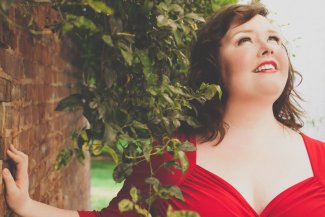 "The voice is rich, generous and vibrant, big but beautifully controlled, impeccably smooth throughout its range. It's the sort of instrument you could listen to all day, in any sort of repertoire"

(Hugo Shirley, Gramophone)
Gallery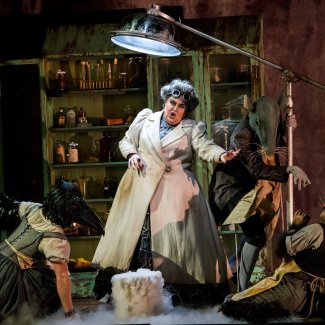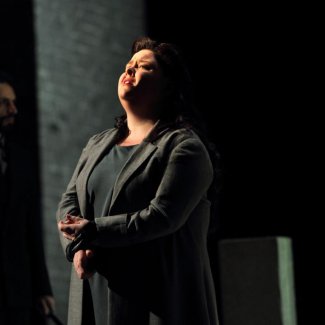 Since winning both First and Song Prizes at the 2013 BBC Cardiff Singer of the World Competition, Jamie Barton has established herself as a major dramatic talent on both sides of the Atlantic. She was named as the recipient of the 2015 Richard Tucker Award, subsequently performing in a star-studded televised gala at Lincoln Center's David Geffen Hall in the same year, and the Metropolitan Opera's 2017 Beverly Sills Artist Award, and further solidifies her reputation as a major artist of today appearing as the featured soloist in The Last Night of The Proms 2019, broadcast live around the world on television and BBC Radio 3, conducted by Sakari Oramo.
With an impressive string of debuts to her name, recent highlights include Azucena (Il trovatore) at Bayerische Staatsoper under Asher Fisch, Eboli (Don Carlo) at Deutsche Oper Berlin, concert performances as Leonor at Teatro Real Madrid and her Royal Opera House, Covent Garden debut as Fenena (Nabucco), alongside major new roles in the US such as Sara, Duchess of Nottingham (Roberto Devereux) for San Francisco Opera, Ježibaba (Rusalka) at The Met under Sir Mark Elder, and Sister Helen Prejean (Dead Man Walking) at Atlanta Opera.
Jamie makes a welcome return to The Metropolitan Opera in two new roles this season – as Orfeo in Gluck's Orfeo ed Euridice under Mark Wigglesworth, and Elisabetta in Donizetti's Maria Stuarda under Maurizio Benini, the latter of which is broadcast live in cinemas via The Met's Live in HD programme – and gives her first staged performances in new productions as Leonor (La favorite) for Houston Grand Opera conducted by Christophe Rousset, and Brangäne (Tristan und Isolde) for Santa Fe Opera conducted by James Gaffigan.
On the concert stage, Barton has already collaborated with a number of major conductors including Marin Alsop for both Brahms' Alto Rhapsody with the Orchestra of the Age of Enlightenment in her BBC Proms debut and Bernstein's Symphony No.1 Jeremiah for her London Symphony Orchestra debut, both Sir Andrew Davis and Sir Antonio Pappano for Verdi's Messa da Requiem with the Melbourne Symphony Orchestra and Orchestra of the Royal Opera House, Covent Garden respectively, Patrick Summers for Mahler's Das Lied von der Erde at the Aspen Music Festival, and Alan Gilbert for Fricka with the New York Philharmonic. This season, Barton sings her first Shéhérazade with the London Philharmonic Orchestra under Dima Slobodeniouk, returns to Iceland Symphony Orchestra as Fricka (Die Walküre) under Alexander Vedernikov, sings Eboli under Emmanuel Villaume in concert performances at Dallas Opera, and returns to Zankel Hall in a selection of Ives songs with the American Composers Orchestra under George Manahan.
An outstanding recitalist, Jamie has appeared at London's Wigmore Hall, New York's Carnegie Hall and the Tanglewood Festival. With pianist Kathleen Kelly, Jamie has appeared in Zankel Hall, the Celebrity Series in Boston, Matinée Musicale Cincinnati, and the Kennedy Center in Washington as part of Renée Fleming's VOICES series. This season, they return to Wigmore in a new programme exploring the works of female composers as well as the portrayal of women by composers of both genders, alongside further dates in the US including Park Avenue Armory in New York, Herbst Theatre in San Francisco and Spivey Hall in Atlanta.
"Jamie Barton led the cast as Sister Helen Prejean. For Barton it was a role debut, a genuine tour de force"
(Opera Magazine, June 2019)
"[in Haydn's Arianna a Naxos] She essayed the tragic emotions of the final aria in her glorious, richly coloured lower register, while delivering the concluding presto with blazing intensity…Acerba voluttà from Adriana Lecouvreur was sung with fiery authority and supreme technical command…it was a powerful reminder that Barton is a natural creature of the operatic stage and one of its brightest stars."
(Musical America, May 2019)
"Jamie Barton's portrayal of Fricka was brilliantly purposeful and vocally commanding. Her flamboyant mezzo-soprano, with its inky depths and flickering hues, rendered the character as guardian of legal integrity."
(New York Times, March 2019)
"Barton's dramatic performance, vivid and arresting with a profusion of expressive facial gestures, infused her character with sympathy, warmth, awkwardness, sorrow, and strength"
(Classical Voice North America, February 2019)
"She delivers powerful, show-stopping singing as Azucena, capturing the variously crazed, forlorn facets of this conflicted character"
(Chicago Sun-Times, November 2018)
"Jamie Barton deployed her opulent mezzo-soprano to eloquent effect as Fricka, the Second Norn and the Götterdämmerung Waltraute."
(Opera Magazine, October 2018)
"Splendid mezzo Jamie Barton as Sara, the Duchess of Nottingham, meltingly and sweetly expresses her guilt-ridden love for dashing Roberto Devereux"
(San Francisco Examiner, September 2018)
"A performance rich in pathos and cloaked in the thickly upholstered vocal colours that make her singing so irresistible."
(San Francisco Chronicle, September 2018)
"Splendid mezzo-soprano Jamie Barton, as Sara, Duchess of Nottingham, meltingly and sweetly expresses her guilt-ridden love for dashing Roberto Devereux, Earl of Essex."
(San Francisco Examiner, September 2018)
"As Sara, Jamie Barton deployed her velvety, richly-coloured mezzo with beauty and urgency to limn the character's desire and anguish."
(Opera News, September 2018)
"Near flawless singing and acting…a warm, round, mellow mezzo voice with great resonance."
(Berkshire Fine Arts, September 2018)
"The role of Sara is almost pure bel canto, and Barton's floating melodic lines was nonpareil."
(Classical Voice North America, September 2018)
"Jamie Barton's Eboli was a vocal and dramatic powerhouse."
(Opera Magazine, August 2018)
"Jamie Barton was a molten-voiced goddess…[she] brought verve and tonal warmth to the role of Fricka"
(San Francisco Examiner, June 2018)
"Jamie Barton brought power, nuance and beauty to Fricka, Waltraute, and the Second Norn, particularly her hurt, yet commanding, Walküre Fricka. That performance single-handedly raised the heat level on stage."
(San Francisco Classical Voice, June 2018)
"Jamie Barton proves she has vocal balls of steel, delivering a Fricka of power and considerable subtlety…The voice is creamy, but when the top notes fly, the audience is pinned to their seats."
(Limelight Magazine, June 2018)
"The fiery Princess Eboli is portrayed with appropriate tempestuousness and sly humour by mezzo-soprano Jamie Barton. Ms Barton's resonant deeper tones transitioned easily and swiftly into a thrilling and shimmering upper register. Ms Barton's aria ​"O don fatale" was an act of vocal mastery that left the audience enthralled and mesmerised by her sheer artistic brilliance. During this aria, Ms Barton made fluid transitions from one mood to another with a panoply of interpretation that was nothing short of breathtaking."
(DC Metro Theater Arts, March 2018)
"Jamie Barton was the best [of the cast], and the star of the evening, elevating the mezzo role of Princess Eboli from vengeful femme fatale to a wounded but sympathetic courtier, both perpetrator and victim of the palace's sexual intrigue. Her Veil Song was coy and sultry, and the showstopping ​"O don fatale" was a magnificent study in how an unhinged mind can still gather itself to a moral purpose."
(Washington Post, March 2018)
"With her sumptuous sound and innate feeling for expressive colour, the marvellous Ms Barton excelled as Adalgisa. She captured the novice's panicked confusion to find herself caught in a romantic triangle. Yet during impassioned passages Ms Barton's smouldering singing made clear that this outwardly meek character is a bundle of yearning."
(New York Times, Anthony Tommasini, December 2017)
"Fortunately, Norma's emotional journey is supported by mezzo-soprano Jamie Barton, in fine voice as the novice priestess Adalgisa. The women's duets, in particular ​"Mira o Norma", provide the most thrilling and memorable moments."
(Financial Times, December 2017)
"[the orchestra] made way for a terrifically impassioned Jamie Barton to sing verses from the book of Jeremiah."
(Neil Fisher, The Times, November 2017)
"Jamie Barton, in magnificently imposing voice"
(The Guardian, November 2017)
"Jamie Barton, making her LSO debut, wrapped her dark, glowing mezzo around the Hebrew texts warmly, drawing a fine balance between grief and nobility."
(Bachtrack, November 2017)
"Jamie Barton delivered the climactic Lamentation, her rich mezzo alternately oracular and caressing"
(Evening Standard, November 2017)
"Leonor's aria ​"O mon Fernand" roused the audience, [and] Barton achieved the high point of the night, in an interpretation full of personality, quality, variety of expression, authority in the extremes of the registers, and daring assurance."
(ABC Cultura, November 2017)
"her voice shines most in the higher range, and in her much applauded debut at the Real – and in this particular opera – she has left an unbeatable impression."
(El País, November 2017)
"Jamie Barton stole the show with top-notch singing and vibrant acting. Her sumptuous mezzo is based on a solid centre, with fresh colours and a beautiful, quick vibrato, crowned with powerful high notes. She does not just live off these natural gifts but she strives for technical excellence, displaying nuanced and contrasted phrasing, always coloured with a rich palette and by exciting chest notes. In the ecstatic ​"O mon Fernand" she showed how well she can control her voice with extraordinary piano singing and smooth legato."
(Bachtrack, November 2017)
"Debuting with an already fully developed interpretation, the justly deserved standout among the cast was the American mezzo-soprano Jamie Barton, who offered a magnificent Leonor. She has a big, velvety voice with an extensive range, but that's also delicate, with an attractive timbre and impeccable placement…All this was on stupendous display in her interpretation of Leonor's grand scena in the second act, ​"O mon Fernand""
(Codalario, November 2017)
"Jamie Barton was the rich-voiced Fricka"
(Opera Magazine, August 2017)
"Anyone who watched Jamie Barton sail serenely to victory at 2013's Cardiff Singer of the World competition will know what a fine signer she is. This debut recital from Delos only underlines the fact. The voice is rich, generous and vibrant, big but beautifully controlled, impeccably smooth throughout its range. It's the sort of instrument you could listen to all day, in any sort of repertoire. She's an intelligent, sensitive musician too, and evidently a good programme-builder, here offering Dvorak and Sibelius to complement her Mahler. It's all extremely impressive…The disc's highlight is the Sibelius, in which the mezzo pours her heart into grand, soaring accounts of some of the composer's most seductive songs…This really is an exciting talent, and a terrific disc."
(Editor's Choice, Hugo Shirley, July 2017)
"Wotan's wife Fricka is a weighty figure in the first leg of the Ring cycle, and Jamie Barton was a perfect match for the role, commanding respect with her presence alone. Barton possesses a powerful mezzo-soprano that she can fashion to fit various demands, summoning up a hard amber sound when she needed to project authority, and finding a much softer, more lyrical note in her lamentations."
(New York Classical Review, June 2017)
"In fact, Wagner's characters all feel human here. Fricka, Wotan's wife, sung with molten tone by Jamie Barton, isn't the traditional harridan, but sober and wounded."
(Zachary Woolfe, York Times, June 2017)
"Jamie Barton complemented [Eric Owens] as a solid, sensual Fricka"
(Financial Times, June 2017)
"A gorgeous [recital disc] debut from the 2013 Cardiff Singer of the World. Her rich soulful mezzo draws out Mahler's dark colours and soars in Sibelius's snowy miniatures."
(BBC Music Magazine, June 2017)
"Jamie Barton sang opulently as the witch Jezibaba."
(Opera Magazine, April 2017)
"The real marvel of the cast was Jamie Barton, who was absolutely sensational as the sorceress Jezibaba. Her voice was a wonder in itself, a full, shady mezzo with harrowing power, and fierce fire in her chest. Of everyone in the cast, she had the most success in navigating the cartoonish aesthetic of the production, hamming it up just enough to embrace the comic elements of the role, but never forgetting its essential darkness. Barton brings tremendous presence to the stage, coupled here with a specific and deliciously wicked vocal characterization."
(New York Classical Review, February 2017)
"Barton is wickedly devious as Jezibaba."
(Huffington Post, February 2017)
"Jamie Barton gobbled the lusty-nasty-witchy flailings of Jezibaba."
(Financial Times, February 2017)
"As the crusty witch Jezibaba, mezzo-soprano Jamie Barton dug into her lower range with some dramatically appropriate guttural effects…[but] maintained grace and musicality no matter how nasty her sentiments."
(WQXR, February 2017)
"Jamie Barton's devilish Jezibaba was the highlight. Surrounded by half-human, half-animal henchmen, Barton brought such electric charisma that it was hard not to find affection for the wily sorceress."
(Classical Source, February 2017)
"Russell Thomas, a tenor of gorgeously burnished power, and Jamie Barton, whose mezzo pours out like lava, are luxury casting as the star-crossed lovers, Ismaele and Fenena."
(Zachary Woolfe, New York Times, December 2016)
"A mezzo-soprano from the Deep South, she has already made her mark at the Met and Covent Garden, and her Wigmore Hall debut was ecstatically acclaimed…Barton has excellent technique, evenly spanning a cavernous lower register and a gleaming top; her breath control is apparently effortless, she sings perfectly in tune. There's something about Marilyn Horne about the silver sheen and focus of the tone, but the voice is bigger and broader than Horne's, and more than capable of firing the big guns demanded by Verdi and Wagner. She is also a born communicator, smiley and chatty and radiating infectious pleasure in the glorious noise she makes."
(Rupert Christiansen, The Telegraph, October 2016)
"The mezzo-soprano Jamie Barton, whose voice is majestically plush yet somehow always articulate, even conversational, made much of Elizabeth's hurt and dignity."
(Zachary Woolfe, New York Times, July 2016)
"What a voice…a true force of nature. Her mezzo is rich, smooth, creamy, voluminous, even up and down the scale, and used with style, taste and musicality."
(Musical Toronto, July 2016)
"Glimmerglass cast it powerfully, with Jamie Barton in redoubtable vocal form"
(Anne Midgette, Washington Post, July 2016)
"Making her Royal Opera debut as Nabucco's true daughter, the American mezzo Jamie Barton uncovered a good deal more in Fenena, impressing with her warmth and richness of tone matched by a purposeful line and convincing dramatic engagement."
(Opera Magazine, George Hall, August 2016)
"But this Fenena was Cardiff Singer of the World in 2013 and the winner of last year's Richard Tucker Award, the redoubtable Jamie Barton in her Royal Opera debut. This was luxury casting indeed, affording the extraordinary pleasure of watching and listening as, in the finale of first act, each ​'sister' anchored opposite sides of the stage and soared over the ensemble."
(Opera Magazine, Russ McDonald, August 2016)
"Jamie Barton is a first-rate Fenena"
(The Guardian, June 2016)
"The mezzo Jamie Barton (in her house debut) was strong as Adalgisa, possessing an even bigger sound than [her Norma]; that said, they worked well together and their voices blended in a particularly sonorous way."
(Opera Magazine, April 2016)
"Jamie Barton [was] mellifluous [as] Fenena. Barton's Act 4 preghiera was arguably the most touching piece of singing all evening."
(Opera Magazine, January 2016)
"Jamie Barton was Giovanna Seymour, singing with a well-placed, resonant mezzo of notable beauty."
(Opera Magazine, December 2015)
"As Norma's acolyte, Adalgisa, Jamie Barton made her L.A. Opera debut…providing an indelible demonstration of why the young mezzo-soprano has become the latest darling of the American opera scene. Her sound is the darkly creamy lager tha poured forth from altos of yore. Yet she displays the craft of a superior modern singer, which includes accuracy of intonation, alertness to rhythm and fine articulation."
(LA Times, November 2015)
"Mezzo-soprano Barton brought a luscious tone and caressing phrasing to the part of Adalgisa."
(Orange County Register, November 2015)
"Her voice exuded a buttery warmth and sumptuous tone."
(Seen & Heard, November 2015)
"Her Adalgisa was Jamie Barton, a mezzo with a burnished sound that was an impressive fit…it is an exciting and singular sound."
(Bachtrack, November 2015)
"[Anna Bolena] had a splendid foil and partner in the voluptuous-voiced mezzo Jamie Barton as Giovanna Seymour…their revelation scene in Act II was a thrilling high point of the evening."
(Wall Street Journal, October 2015)
"[Anna Bolena] had a splendid foil and partner in the voluptuous-voiced mezzo Jamie Barton as Giovanna Seymour…their revelation scene in Act II was a thrilling high point of the evening."
(Wall Street Journal, October 2015)
"The superb mezzo-soprano Jamie Barton sings Giovanna (Jane)…[her] sumptuous voice has utterly unforced carrying power. In head-to-head exchanges with Anna, Ms. Barton's Giovanna held her own, trading fiery phrases and bursts of skittish passagework. Yet she was even more affecting during tender moments…[where she] demonstrated how to send a long-lined Donizetti phrase wafting through the house. At 33, she seems poised for greatness."
(New York Times, September 2015)
"by the time the crucial Act II duet with Boleyn came around, [Barton raised] the emotional stakes for her and her counterpart to dizzying heights. There was urgent passion in her singing, and blooming sighs in her pleas for forgiveness, making this duet the electric highlight that it should be in every performance of this piece."
(New York Classical Review, September 2015)
"Vocal finesse shone from the Alto Rhapsody too, thanks to the wonderful American mezzo Jamie Barton. That joyfully dark, voluptuous and steady voice sucked us in from the first worried note to the last breath of emollient calm."
(The Times, September 2015)
"Her Brahms singing [at the Cardiff Singer of the World competition in 2013] marked her out as an important interpreter of his music, an impression confirmed by her Proms performance of the Alto Rhapsody…Where some interpreters ramp up the angst, Barton was notably restrained: the only moment of overt passion came, tellingly, in the heft with which she uttered the statement that ​"human hatred" has forced Brahms's traveller from his path. Elsewhere, the noble beauty of the sound was breathtaking."
(The Guardian, September 2015)
"Jamie Barton, an international prizewinner of considerable renown, is dazzling as Fenena, with a showstopper Act IV aria that displayed the lyricism and agility of this remarkable voice."
(Seattle Times, August 2015)
"Jamie Barton's passionate portrayal of Fenena [was impressive]…Her prayer in Part Four was a highlight."
(Bachtrack, August 2015)
"Internationally acclaimed recipient of the 2015 Richard Tucker Award, mezzo-soprano Jamie Barton gave an excellent performance…and stole the show."
(The Daily, August 2015)
"Jamie Barton was again a ripe-toned Fricka"
(Opera Magazine, July 2015)
"peerless mezzo Jamie Barton [portrays] everything about the character of Fricka in that bathed-in-fire voice"
(Houston Press, April 2015)
"With her warmth, sly sense of playfulness and a voice that just won't quit, Barton held the audience captive…Her programme showed off many of the qualities that won her the Main and Song Prizes at the 2013 BBC Cardiff Singer of the World competition: velvet tone, a clear focus and huge range and, perhaps most importantly, the joy of singing…particularly compelling Dvorak's suite of ​"Gypsy Songs," which displayed Barton's ability to switch styles and feeling without sacrificing the group's cohesiveness; she soared ecstatically in ​"When my old mother taught me to sing," bringing out the poignancy and yearning in her voice."
(Broadway World, February 2015)
"During her recital debut at Zankel Hall, she exuded immense likability and down-to-earth charm…The program, featuring songs in Spanish, French, German and Czech, as well as the world premiere of Jake Heggie's three-song cycle ​"The Work at Hand," showcased Ms. Barton's versatility…Ms. Barton's voluptuous voice, dusky and scintillating, with each note animated by an interplay of richly shaded overtones, was well served by the Chausson selections. Here, the languidly unfolding melodies created sufficient space for her to play with a mesmerizing array of tone colors. In ​"Hébé," she was able to thin out her voice on the final word, ​"divin," in a way that maintained its lustrous sheen. The broody melancholy of ​"Le temps des lilas" ("The Time of Lilacs") made the most of her dark low register."
(New York Times, February 2015)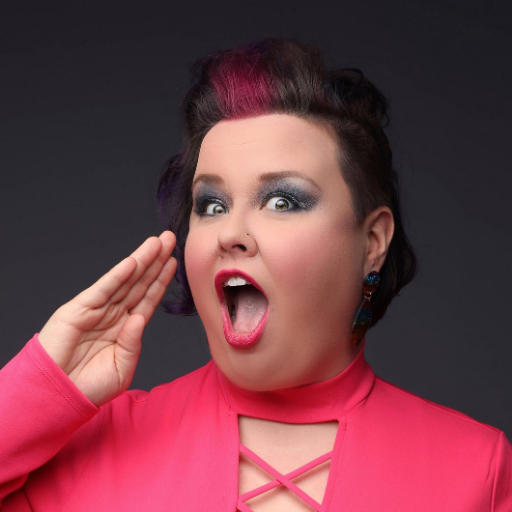 Jamie Barton
Hi, Twittersphere! I've been adjusting to life after
#LNOP
, and the Twitter notifications have been coming in at an…
https://t.co/HvISeaKTIP
16 Sep