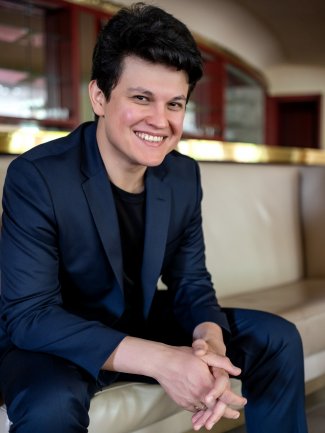 Aziz Shokhakimov opens his first season with Orchestre Philharmonique de Strasbourg
3/9/2021
Aziz Shokhakimov begins his role of Music and Artistic Director of the Orchestre Philharmonique de Strasbourg to conduct the Season Opening concert on 9 September. It marks the first season of Aziz Shokhakimov's three seasons tenure. He and the orchestra have invited violinist Nemanja Radulović to perform Prokofiev's Violin Concerto No.2. To complete the concert's theme of dance and celebration, he conducts Borodin's Polovtsian Dances from Prince Igor, the Bacchanale from Saint-Saëns' Samson et Dalila, Nuages and Fêtes from Debussy's Nocturnes, Kodály's Dances of Galanta, and Brahms' Hungarian Dances Nos. 1 & 10.
Aziz Shokhakimov's first encounter with the Strasbourg Philharmonic Orchestra dates back to 2014. The musicians' enthusiasm led him to return regularly, in 2015, 2017 and 2020. Each of his visits confirmed a prodigious talent and an impressive ability to conduct a vast repertoire, combined with great human qualities. It was therefore natural that a shared desire to begin a new chapter arose; a collaboration built over time, based on high musical standards and a deeper relationship with the musicians.
"It's a great honour to be chosen for the role of Music Director of the Orchestre Philharmonique de Strasbourg. Since my first appearance with the orchestra in 2014, I have had a great chance to get to know the outstanding musicians and I feel immensely lucky that we have a deep connection as well as shared mutual interests and values. I'm very eager to start this exciting and fulfilling journey with the orchestra to explore a wide range of repertoire and different styles of music." Aziz Shokhakimov
Aziz Shokhakimov's first opera production with the Opera du Rhin is Braunfels' The Birds, with its premiere in January 2022.
Throughout the season, Aziz Shokhakimov will be conducting a variety of programmes and takes part in special projects, details of which can be found on the Orchestra's website. He will be joined by soloists such as Patricia Kopatchinskaja, Alexandre Tharaud, Roby Lakatos, and Bernarda Fink.