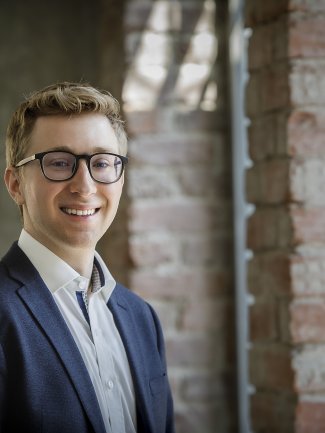 Patrick Hahn gears up for a busy summer
1/7/2022
Following his successful Der Freischütz debut at the Dutch National Opera in Amsterdam with the Concertgebouworkest, Patrick Hahn returns to Dresden Philharmonic on 2 and 3 July for the popular open-air concerts Filmnächte am Elbufer featuring film music by composers Ravel, Korngold, John William and Hans Zimmer.
Patrick makes his Kissinger Sommer debut on 9 and 10 July conducting Vienna Symphony in a Vienna focused programme under the Festival's Vienna, Budapest, Prague, Bad Kissingen theme this year. They accompany the sought-after soprano Lise Davidsen in Strauss' Four Last Songs.
Patrick then travels to Munich to conclude this year's Munich Rundfunk season on 15 July with their hugely popular Space Night in Concert, performing music from the trumpetist Nils Wulker's new album. This year's concert theme is Awakening, the host of the evening Dr. Sibylle Anderl (astrophysicist, philosopher and science journalist) welcomes Prof. Dr. Ulrich Walter (physicist, former science astronaut and science journalist) and Dr. Suzanna Randall (astrophysicist, trained astronaut).
On 6 August, Patrick makes his conducting debut with Mozarteumorchester Salzburg at the Klosters Music Festival, accompanying Arabella Steinbacher in Brahms' Violin Concerto. The rest of the programme includes Mendelssohn's A Midsummer Night's Dream Overture and Haydn's Symphony No.104, his London Symphony.
Patrick will be reunited with Klangforum Wien at the RuhrTriennale for the Organicum concert devoted to the fascination of various composers with physical phenomena that constantly awaken their artistic minds. The programme includes works by Iannis Xenakis, Lucia Dlugoszevski, Sarah Nemtsov, Márton Illés and Michael Pelzel.
Astrid Boissier
Associate Artist Manager