The Culture Bar: How to support the development of young artists
8/4/2022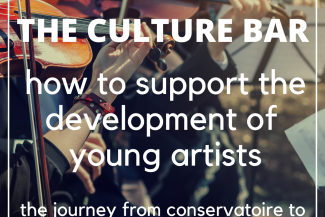 In this episode of The Culture Bar podcast series, we explore what the career paths of young artists look like, as well as how we can support up-and-coming artists. We will unpick barriers to entry for young musicians, as well as understand what skills are required, what success looks like, and what talent managers look for when signing a new artist.
Our incredible panel includes:
Lydia Connolly – Director

&

Head of Artist Management, HarrisonParrott
Randall Goosby – American violinist, Decca Classics recording artist, and former Winner of Young Concert Artists International Auditions, amongst many other accolades
Benjamin Woodroffe – President, Global Foundation for the Performing Arts
Hosted by HP's Henry Southern
This episode is part of our ​'Under the Spotlight' podcast series where we shine a light on ​'challenging' topics in the arts, and focus on guests living these experiences and who are working to create change in the sector.

The Culture Bar is a podcast series created by HarrisonParrott focussing on conversations in culture and the arts.

Find us on Spotify, iTunes, Google Podcasts, YouTube, Podbean, Deezer and all good podcatcher sites.

Use #theculturebar or follow us on Twitter @_TheCultureBar to keep up with our latest releases.

A special thank you to Robert Cochrane, the composer of the theme tune music, and Merlyn Thomas, our editor.
Transcription
Henry Southern 00:03
Hello, and welcome to The Culture Bar. I'm Henry Southern, and today we'll be discussing how to support development of young artists, the journey from conservatoire to concert hall. And to get to grips with this topic, we are very lucky to be joined by three delightful panellists, first stop someone from the home team, Lydia Connolly, Director and Head of Artist Management at HarrisonParrott. Next, Randall Goosby, American violinist, Decca Classics recording artist, and former winner of the young concert artists international auditions among many other accolades. And last, but certainly not least, Benjamin Woodrooffe, president of the Global Foundation of Performing Arts, what a wonderful panel. Welcome, everyone.
Everyone 00:49
Hi, everyone. Good to see everyone!
Henry Southern 00:52
Great to have you guys with us. So today, we are attempting to delve into some of the challenges facing young artists today. But this is also an aspiration to call out to young artists at the start of their career to demonstrate that there are many rewarding and exciting avenues to support them, launch and sustain their careers in classical music. So to act as a foundation for our discussion, it will be great for our listeners to find out a bit more about our wonderful panel here today and their relevant experiences to explore this interesting topic. So to kick us off, it would only appropriate to go to one of my bosses, Lydia.
Lydia Connolly 01:31
That's as a terrible word — boss.
Henry Southern 01:34
So will you take us away, please?
Lydia Connolly 01:35
Yes, of course, well, I am very proud to have worked with HarrisonParrott for my entire professional life. So I suppose also mirroring that path from very young apprentice to somebody fully established and immersed in the concert world. And during that time, I have also had the privilege of working with artists from a very young age and standing shoulder to shoulder with them as they develop their careers. And I would say that the, that role of protector, of guide, of coconspirator, of champion, there are so many roles that a manager plays alongside an artist that they are lucky enough to work with. And I think that watching a young artist develop and find their successes and make their way in the world is one of the most fulfilling and inspiring things that a manager can do. So that's been been my life's work.
Henry Southern 02:45
And what a life's work it's been. And I gather you were also, you trained as a violinist right?
Lydia Connolly 02:52
That is right, I decided, well, the realisation came I think, sometime during my teens that I was not going to hack it as a professional. And in fact, the world of, of the management of the concert business of musical careers, was sort of, I kind of stumbled across it, I didn't sort of come out of kindergarten saying I'm going to grow up and be an artist manager. I didn't even know that world existed until it sort of revealed itself to me through a sequence of happy accidents when I was at university, I was doing a musicology degree. I realised that it was not my heart's desire to be a performer. But I was so thrilled that I was able to get such joy and such satisfaction out of the successes of other artists, where I'd had a hand in helping them achieve those things. And that is, that continues to be one of the great privileges and joys of working in this, in this world. I play the violin very, very occasionally. But then listen to Randall and think. No, I should, I should leave it to people who can do it.
Henry Southern 04:01
Well, that's a perfect segway. So from one extraordinary violinist to another, Randall, take us away, please.
Randall Goosby 04:08
Sure. Well, thank you so much, Henry, for having me. It's so nice to be on the call with you all, especially Lydia, my manager. I am in short, I'm 25 years old. I'm a violinist obviously, and I'm completing my artist diploma at the moment at the Juilliard School, where I also earned my undergraduate and my master's degrees in violin performance. I actually did a few years of the free college programme at Julliard as well, so I'm surprised they haven't kicked me out yet. But yeah, I've been playing violin since I was seven years old. And it's really only in the past, maybe three to five years that I've really started sort of embarking on on a career, meaning that I've started travelling around and performing a good deal. One of my passions and the sort of, in the sort of bigger picture is using the work that I've put in to my music and to my violin playing, to inspire and to uplift and to encourage the next generation of classical musicians, not necessarily those who will be on the stages of our concert halls, but also those who will be patrons and consumers of this incredible art form that we, that we so enjoy. So I've been a student with Itzhak Perlman, and Catherine Cho at Julliard for the past, I'm not great at math, but I think it's something like 11 years. And I did a brief stint with Laurie Smukler and Donald Weilerstein at Juilliard as well. So very, very happy to be on the call and to share my experiences with you all. Thanks again for having me.
Henry Southern 05:41
Thank you, Randall. Um, and we're certainly digging a bit deeper into that later on in the episodes. Next up, Benjamin would be great to hear from you, too.
Benjamin Woodroffe 05:50
So once again thank you very much, Henry, it's a pleasure to be discussing this topic, because it's been my space of work and career for many years. I'm really glad that we can have a young artist that we're talking about on the chat with us today, because that's why we're here, or many of us are here. There's a whole world behind the performing artists that are helping, building, guiding, building platforms, introducing networking, championing musicians to achieve their full potential. And it's, it's really important that we, the sector comes together as we are in this in this chat to show that each of us plays an important role in realising artists' fulfilment. You can hear I'm Australian, in my accent. I come from the classical music competition space, I ran the Melbourne International Chamber Music Competition for many years, then I moved to Geneva where I'm based to head the World Federation of International Music competitions, to really modernise, to discuss to, to connect with the wider sector of the classical music world to introduce competitions to the, to the to the various players in the sector. And now I've founded the Global Foundation for the Performing Arts. And we work with the UN, advocating for culture at the highest level possible so that the performing arts have a future. But I really strongly believe that there are fantastic avenues and career paths available for young musicians and young artists. But every artist should choose their own path. And not every artist should be forced to do every opportunity. Rather, find the right opportunity, find the right competition, find the right manager, find the right group. And there are support paths to achieve your goals. So I'm really happy to explore this, this topic today on all its levels.
Henry Southern 08:00
Well, as you say, there are many different paths for this. And I'm going to come straight back to you, Benjamin — competitions. I mean, I'm going to ask a purposely flippant question, do they actually help to launch careers? I mean, you can look at the balance between sustained success versus one off success, and I know your ambition is to have constructive competition. So there's two elements that question one, do they work? And that's a flippant question. And two, what is constructive competition?
Benjamin Woodroffe 08:31
Henry, this is exactly where we need to have these discussions. And this is why we're having this this talk today. Some competitions help. Not all competitions help. Good competitions can make a huge difference. And now we come down to what is a good competition. In my opinion, a good competition is built for artists first. It's actually a platform where people can come together and performers can play as they wish, yes, under pressure. But they can learn about themselves. They can hear one another, they can perform for potential jury members that they admire. And hopefully the jury are performers themselves. A good competition can introduce you to other people, can introduce you to a wider audience than just those in the concert hall. It can, it can take you around the world via media and social media and streaming and broadcast and introduce you to a platform that you couldn't do on your own or through through your conservatory. So good competitions can be great. Unfortunately, not every competition can deliver these opportunities at this level. And so I think it's really about finding the right competition for you, finding the competition that the repertoire fits with you. Finding competition that um, that suits your capacity at that time, you know, your stage in the progress, you know, perhaps wait a little longer before you enter some of these big competitions. Take your time, prepare yourself, and then the competition platform can be remarkable. But I don't think every musician should enter competitions, per se, as a sort of requirement as part of their career development.
Henry Southern 10:34
That's very insightful. Thank you. And Randall, I wonder if you resonate with anything that Benjamin, I'm sure lots of things of course that Benjamin's saying there. Particularly around the topic of finding a competition that's right for you, because you won the Young Classical Artists competition, and that's helped from what I gather, launch your career, you were then given artist management there and nurtured and supported, objectively that sounds like it was the perfect place for you. And what were more generally, what were your experiences?
Randall Goosby 11:06
Yeah that's a great question. And really excellent points, Benjamin, I totally agree with with everything you said, there's certainly a line to be drawn as far as where competitions stop being constructive and where they can actually be destructive. I've never personally been a huge fan of the competition model in general, I find that simply the idea of competition in a field as individual and subjective as classical music. I found it a bit, I found it, I've always found it to be a bit a bit funny because it's, it's it's, it's the kind of experience where an artist, afantastic young artists, violinist, violist, cellist, clarinettist can go into a competition and play what they feel is their absolute best, and still come away with without a prize. And I can only imagine, well, I can imagine from personal experience what that does, to one sort of self of sense of confidence and self assurance, you know, if you can go out and play your heart out, be happy with the performance, and learn then that the jury members were not satisfied enough to give you a prize. It's hard to take, it's hard to to learn from that in a positive way, I think sometimes. In my experience, YCA concert artists certainly did prove to be, to be a great fit for me in terms of which sorts of competitions that I chose to enter. But I didn't necessarily, I didn't necessarily enter with the thought that this is the competition for me, you know, I was looking at the opportunities that YCA provides, which are personal and sort of close knit Artist Management, where the artist has a chance to work very closely and very intimately with the managers and also with the presenters to find out which performance opportunities, which repertoire, which venues are right for me or for any of the artists on their roster. But my mindset going into the competition was ​"I'm playing a concert," I'm not actually here trying to please any number of jury members or any number of audience members. I'm here trying to play what I feel is my best. So my mindset going in to any competition is ​"this is a performance." You know, I think for me personally, one of the things that that has thrown me off in competitions is the thought that ​"I need to play this this way, because this person is on the jury." Or, you know, ​"I need to make sure that everything is really well in tune. And you know, I have great articulation" and all of these very technical sort of boring things, that at the end of the day, nobody's actually listening for. I think, at the end of the day, whether you're auditioning for a school, or whether you're auditioning for a competition, the jury members are really there to try and get the best sense of who you are as a musician and what you have to say, through your instrument. And I think only then when you when you focus on those things, can you, can you truly perform to your best potential in any setting, but especially a competition.
Henry Southern 14:04
I think that's fantastic advice. Lydia, presumably with competitions, there's a fantastic shot window. And do you, when you're thinking about future artists signings, do you resonate with what Randall was saying there about what you're looking for for an artist?
Lydia Connolly 14:18
Randall Absolutely. I agree with everything that he has said. What I was going to say is that it also depends so much on the candidate, the young musician, if it is a young musicians competition, not everybody is a competition animal. And competitions can really serve certain individuals very badly and really have a negative impact. If, if they're not built for that sort of exposure, that sort of competitive exposure, who somebody is as an artist is about so many things other than whether they are better and how on earth do you judge better than artists X Y or Z? So I would say we as managers we treat competitions with a great deal of caution and circumspection. It's certainly not the be all and end all. We have been proud to work with artists over the years who didn't win. Maybe they came in well below the first prize, but there was something that caught our attention, or we found out about that person even before the final round of the competition came along that made us think this is somebody we really believe has potential for the long haul. And it's somebody that we feel that we can partner with to help them to realise their artistic goals and ambitions. The other thing that I think is crucial about the best kind of competition is the positive consequences that the competition delivers after the big event itself. So what sort of offers are then put in front of an artist? Do they have concerts automatically offered in interesting places over the next year or two years, there's no point having a big celebration of an event and then bang, the next morning, it's all over. And that artist is left completely unsupported, and there's no follow up. And that can also be part of the damage if there is a huge fuss, and there's a huge amount of press. And then that artist is sort of left stranded still somehow in the spotlight, but without any support network. And then there may be a feeding frenzy of presenters saying come and do this, come and do this. That's when somebody may be at their most vulnerable and really need support and good advice. And crucially, somebody who can stand by them and say, we're going to say no, we're going to say no to this, this, this, this and this offer, because that's not right for you yet. And don't worry, they will ask again, you do not have to say yes to everything that's coming. So consequences from competitions are also really important to bear in mind.
Benjamin Woodroffe 16:50
I really support that Lydia, because I think it's up to the competitions as presenters to realise what this undertaking is, I mean, a competition is a discovery platform, it's a support place, it's a place, it's an opportunity to introduce young talent that perhaps hasn't experienced media and attention on a level such as a competition might bring to a platform that's designed for them with support, with host families, with mentors, with support mechanisms behind the scenes, and with engagements afterwards that are there and have been built by the competition in partnership with venues or presenters or agencies that are not be all and end all locked in for prize winner number one, number two, number three, but rather, which is what we used to do in Melbourne, introduce the prize winners and let the agencies choose who they wanted to work with or take on board. I think working in the international space, every country has a different market and is looking for different different sorts of artists, every venue wants a different type of programming flair to their, to their festival, and it's up to a competition to in a way, present a balance sheet of, this is, this is some young, fabulous talent, invite everybody along with great respect and let them choose, let them discover, but don't force the prize winners on anyone and also don't force the prize winners to do things that are not within their remit, because that reflects, if they don't, if they can't manage the expectations or the pressure, it affects the competition badly as well. As well as the artists.
Lydia Connolly 18:37
I think that's right. And I think the other thing that's very important is that the best kind of competition will give an artist an opportunity to show themselves in different ways in recycled repertoire, in chamber music, in orchestral and then I would say and I hope Randall might speak more about this as a young artist right on, in the in the, on the face of it all right now, what a young artists responsibility is to themselves, to the community, to society at large. And why is anybody going to pay them to make a career doing this? What is it that they're going to do to really to to contribute and Randall I have to say you know when we first met, I had never heard anybody articulate that as well as you do yourself and I know how much from the heart that comes, sorry to put you on the on the spot there but I'm telling the truth.
Randall Goosby 19:37
Well, thank you so much, Lydia. I mean, this this to me. You know, growing up I always admired my current teacher, Mr. Perlman and such great sort of golden era violinists, and these sort of powerhouse violinists. And I always sort of looked up to them and sort of wanted to, without a really in depth knowledge of what it was that they did, sort of model my career and my life after what it was that they were doing. Now, farther along in my life, and at the beginning of what I hope is a really exciting and fulfilling career. I'm realising that the sort of fabric of the life of a performing artist and particularly a performing soloist, is very different now than it was even maybe 30 years ago. It's no longer only about not that it was only about this in the beginning, but it's much less only about how you play and what you bring to the stage. But it's equally if not more, so about who you are as a person and what you bring to the people that you communicate with, both on and off the stage. And I think part of what plays into that is, you know, do you have a sort of larger purpose for your talents and for your music, other than just going out and playing on stage and for me, I certainly do have that. And I'm thankful to have that, you know, this early on in my career. Thanks to the Sphinx organisation, the Sphinx organisation is a competition primarily, but also an arts education organisation based here in the United States, founded about 25 years ago, and they support and promote and celebrate diversity in the arts. And so they hold a competition every year in Detroit, Michigan, that is open specifically to black, and Latinex musicians, string players. And I was fortunate enough to win the first prize in that competition when I was 13. Following that competition, and this sort of goes back to what we were talking about, as far as what sorts of opportunities, your competitions, presented their artists following participation, and hopefully winning, and sphinx provided for me at the time, a once in a lifetime opportunity, which was for a year afterwards to travel around the country and perform with great orchestras, which they partner with. And as exciting as that was, in hindsight, the most valuable part of that experience was that, coupled with each one of these performances with orchestra were at least one, perhaps two, perhaps three more casual performances and visits to local schools, playing and speaking with and interacting with young people, many of which you may not have even heard a violin live ever in their lives. And so obviously, as a 13 year old, I was pretty nervous about what it was that that these kids might have thought I had to offer. But that ended up shaping my vision for myself, years and years and years down the road, which is that, you know, this isn't about me, it's so much bigger than me, it's perhaps even bigger than music, which is that we need to do everything that we can, or at least I feel that I need to, to support and uplift and, and encourage, like I said earlier, the next generation of artists, so everything that I do is with that sort of in the back of my mind, and I think that just helps to centre me and to keep me grounded in terms of, as you mentioned, Lydia deciding what is right for me, what opportunities should I should I go out for and what opportunities should I sort of hold back and say, you know what, I don't think that's it for me right now.
Henry Southern 23:11
Well, that's really inspiring to hear about that vision. And as you put it, sort of the larger purpose, it's more than what's happening on the stage. And I mean, also it's really interesting to hear about your experiences with Sphinx which is yeah, a fantastic organisation in the US. And it leads me on to a question which I have for you all about in order for a young artist to really break through in the industry and I suppose I mean, more for soloists and of course, there are many paths for young artists to develop a career in industry. But do they ultimately need a champion? Is this the elephant in the room? Do they need someone in the know, do they need someone to guide them? And does that also a link with an element of elitist and more lack of inclusivity because you need that in? Or am I completely off my rocker.
Lydia Connolly 24:02
I'll jump in there and just say relationships in our industry, as in every industry are absolutely critical, in a good way. The networking of course is a part of, a crucial part of how stuff happens. But it's not so much that you, knowing the right person, so they put in a good word for you and then abracadabra, everything starts to happen. What I was going to say earlier was also relating to the way it works between young artists and managers. I think there are in some cases, young artists who come out of conservatoires or who come out of competitions, who think that securing management will be a magic door that opens up every opportunity and their careers will just magically be ignited and then that's it, they're sorted. And Randall is a wonderful example of somebody who knows that that young artist has to take a great deal of responsibility for themselves. And then the partnership with managers and with other members of the team is enriched by the input that comes from both sides. It's not a one way street. So our most fulfilling and successful relationships with artists are where there is that equal, that sharing of ideas and initiatives of energy, of inspiration, and of taking responsibility and for young artists to look at the world around them and think, ​"Well, how do I sit in this? What is it that I'm bringing that's unique? How can I look at things around me to make stuff happen? How can I, for example, become, inform myself about, you know, grant applications? Or how to find funding for things that I think are important? How can I gather an ensemble around me because actually, I want to do more chamber music, maybe I'll start, I'll find a way of starting a chamber music festival, near my home, or I'll start a series of performances, visiting young people, visiting kids in schools or going into hospitals. That sense of self starting and taking initiative and taking responsibility is, is a critical part of getting and maintaining success.
Benjamin Woodroffe 26:27
I totally agree, Lydia, I think a musician becoming a career musician, it won't happen just through an introduction to somebody, one person then suddenly opens all the doors and miraculously it happens, what we're all looking for, and the best competitions, look for and the best young artist agencies look for, is an artist with a vision, an artist with something to say, an artist with opinions, an artist that wants to play music, you know, in a way that you, all of us, or some of us respond to in a way that we then want to invest in that, in that, in that vision. And so I think the vision has to come first. And I think conservatories, a conservatoire's a study, you know, really advocating that and building that now into their, into their education. But it's more than just playing well, it's about why you want to play, it's about the human story as well behind the musician. It's about your background, your history and where you want to be. But then, of course, you need a network, you need a support base, whether that's a manager, whether that's mentors, whether that's previous, you know, other musicians who are backing you, whether that's competition representing you for two years, or three years in between the editions of the competition, the types of support can vary. But the reason for wanting to play music has to come first.
Henry Southern 28:05
To say, starting out this conversation I wasn't expecting, I think it's, I wasn't expecting to talk so much about the artistic vision. And I think it's really promising to hear that, that's what you guys think is first and foremost, the most important thing. But Benjamin, you also mentioned about this being taught in schools more in colleges. And actually, there's a shift in focus.
Randall Goosby 28:27
Interestingly enough, not so much, at least in my personal experience, it just to address your question about sort of the idea of your connections or this person who gives you an in, you know, unfortunately, I think there is some truth to that, I think that it takes some luck, it takes some being in the right place at the right time, and you know, having your instrument out in front of the right people, to to, to sort of light the fire under some of these relationships that become so important in building a career. But I will say this, in my experience, any young person, whether they're in music, or whether they're going to be a chef, or whether they want to be a professional curler, needs a mentor. And I have been so so fortunate, basically, for my entire life to have people obviously, my parents were nothing short of nothing short of instrumental in in providing me the opportunities that I needed, which I'm so grateful for, but they also without, without them knowing sort of put me in those right places at the right times. And I'm fortunate to say that all of every single violin teacher I've had, has, in some way or another at some point demonstrated that my best interest was primary. I've had teachers say, I don't actually think that I'm equipped to continue teaching you, I think you need to find someone who can take you to the next level. I've had teachers say, I really think we're making some great progress, but we're not actually able to have lessons frequently enough, I'm going to help you find someone who can put you in that position and get you consistent instruction. And all of these people are still, if not personally directly, at least in my mind, sort of voices that continue to come back and continue to guide me. That being said, Mr. Perlman, my former teacher, another current teacher, Catherine Cho, I mean, these are people that I bounce ideas off of on a weekly basis. And I'm always asking questions, I'm always trying to get feedback as to what I am thinking, and whether or not that is something that I can actually use in a productive way, or whether I'm sort of going down, going down the wrong, the wrong track, in my thoughts. So I would say more so than sort of networking and connections for the sake of an in somewhere, I would say that seeking out an adult figure, or maybe it's, maybe it's even a slightly older young person than you who has experience in your field is going to be is going to be crucial. Because the field is always changing. The expectations and the requirements of some of these competitions, and some of these managers and presenters is always evolving, as we're talking about, you know, 30 years ago, we wouldn't have said that it's as much about your vision and who you are as a person and the complete package, you know, so you have to have someone to guide you through, especially these early stages, where you're really trying your best to just sort of navigate and get your bearings as far as who's where, and what's worth doing, and what's worth sort of letting drop by the wayside for now. So yeah, I'll sort of stop there before I, before I get too deep into it.
Henry Southern 31:36
No, not at all, it's good to get deep. And I think you're right. It's a very good advice that to find your voice as an artist as a foundation there. And the idea of mentorship to help build that up is a very, very incredible idea and good advice for people that are listening. But also, I would say, I would imagine you've got to have self drive and curiosity as well. I think that seems to be a theme from what you're saying. And Lydia, you mentioned about entrepreneurship to a certain extent about people actually finding funding. I mean, those all seem to be sort of essential qualities. So am I right to, to move forward?
Lydia Connolly 32:12
That's right. And I think what Randall was saying about mentors leads us to think more broadly about the important, it sounds obvious, but the importance of listening and learning and observing what other people are doing and drawing from that. And there is, there's often a great generosity about the the older, the established musicians who want to help nurture the next generation and young musicians who know that it's a smart thing to go and listen to rehearsals, and not to make a nuisance of themselves by you know, being all over in sort of too much in somebody's face, but but really observing and listening and being humble about how much there is to learn from others. And similarly, I mean, the flip side works as well, older artists, more established artists get a huge amount of inspiration and refreshment from the work that they do with younger musicians and hearing those young voices and different perspectives. And it's a symbiotic relationship, which is beneficial on both sides. So this is a sociable thing music, isn't it, it's about playing together, it's about listening to one another and learning from one another. And that applies to the, to the progress in a career as much as to being on a stage or in a rehearsal room with people and actually performing together.
Benjamin Woodroffe 33:35
So, if I can jump in there, some of the most rewarding aspects of running a competition from my experience, were when, and these happened offline or out of the public eye, were when a candidate formed a connection with a juror, and you have this amazing, and that that then continued privately after the competition, and a juror who particularly was enamoured by a particular candidate's performance or vision or situation, undertook a quasi private mentorship, lasting for years, aside from the competition and as an informal connection, and that helped both sides enormously to come together to inspire one another, and to act as a safe space for, you know, a performer to pass back wisdom to a young candidate about what they should do next, and where they should go. And perhaps where they should not go, which is just as important advice for young artists, what they should not do.
Lydia Connolly 34:44
Well, as I mentioned at the beginning, being able to say no, on behalf of a young artist is one of the most important roles and responsibilities that a good manager has. Because the, I think sometimes for young artists, there is a sense of fear about saying the wrong thing, or asking a stupid question or not behaving in a way that is expected and that that will somehow set them back. And that is such a dangerous and destructive assumption. And I would always say also to anybody starting work in our side of the business on the management side, there are no stupid questions. And it's much better to ask if you're worried about something, don't just think, I ought to know this. So I'm not going to embarrass myself by asking somebody I mean, that way disaster lies. So those who've been around for a longer time really have a responsibility to be approachable and as I said, to be generous with their advice, and, and not to intimidate but to encourage those who are developing their careers to you not to be afraid to ask for questions. I, as I say, I do worry sometimes when I realise somebody has been sitting on something they're anxious about, and and then finally it comes out and you think, ​"Oh, my gosh, I am so sorry you've been worrying about that." You know, that really, you can you can, you can always ask that question. And actually, you, you've got a very good point there. And you shouldn't assume that you were wrong. So listening. Yeah.
Henry Southern 36:17
I mean, I'm very used to asking stupid questions and case in point will be in this podcast. You're very kind, but just to shift the conversation a little bit. We've been talking in terms of largely, Randall I hope you don't mind me saying this, but within purely within those times, very sort of high calibre soloist terms, but actually, it'd be good just to get your opinions on how one can qualify success as a young artist. It's a little bit about Lydia what you were saying as well about that anxiety and pressure, which I'm asking you about. Because there are also many routes into our industry? It's not just one and equal merit. And just to pick that a little bit, Benjamin, I'm going to come to you.
Benjamin Woodroffe 37:07
Well I mean, I think perhaps what I was trying to say earlier about conservatoires is they're realising, I guess the more active ones or the more connected to the industry, are realising that musicians careers are multi faceted, and really multilayered. And they're going to go in all sorts of directions. Even a soloist such as Randall is doing things that perhaps he wouldn't have thought he'd be doing. When he, when he, when he joined Juilliard. I mean, you have to, you have to, musicians now, at all levels of teaching, advocating, speaking, you know, crowd funding, are doing all sorts of things to finding ensembles, of finding partners, doing their own programming, releasing their own recordings, or performances, online through all the, you know, through the, through the incredible democratisation of technology that we've been going through. So being a musician is a really open book. And measuring success, as that is, again, comes down to who you are and what matters to you. And I think, the sooner whether you learn it through competitions, through school, through mentors, through however you've learned that, the sooner a musician can become comfortable with themselves and recognise that, you know, they kind of know who they are, of course, we never ultimately, we're always learning, that as soon as a musician can feel content in their own skin, they can grow and adapt and flex to all the different opportunities that that can pass their door.
Lydia Connolly 38:51
I think authenticity is absolutely crucial. And being one's authentic self as an artist is the is the great aspiration and success and however each individual measures that success will only come with that authenticity, because if you keep trying to be somebody that you're not it's never going to work because they out there will see through it. And with the way communications happen instantly all over the world that every minute, there's no hiding place. So fakery will be found out instantly. It is not the be it isn't the be all and end all to, to feel that you no one is going to be invited to be guest soloists with the Berlin Philharmonic every season. That is not that is success for a very, very, very tiny percentage of wonderful, wonderful musicians all over the world.
Randall Goosby 39:54
Yeah, absolutely. I think that the point about authenticity is is just so huge. I mean, even in something as simple as a, as a, you know, planning a recital programme, you know, you have to find yourself in the music you have, you have to, you have to know why it is that you gravitate towards that music because that ultimately will empower you to give the most authentic and honest and meaningful and vulnerable performance for your audiences. And ultimately, that's what we're all trying to do, whether we're soloists or chamber musicians, or we're playing in an orchestra or for playing in a retirement home somewhere, you know, it doesn't, it doesn't really make a difference. And for for those young students who might be listening, you know, in or before or just after, conservatory, you know, in university, I would assume I didn't go to university I went to, I went to Juilliard. And, by my measurements, it's basically a trade school. But, you know, you don't, you're not expected to know what it is that you want to do, you're not even really expected to know sort of really who you are, when you enter, you know, higher education or university or conservatory whatever the case may be. So I would say, especially if you're really just not sure, you know, if you love music, but you're not sure where it is that you want to go with, with your instrument, dip your hand to as many different pots as you can, you know, try out, you know, playing in a in a mixed ensemble of different instruments that you would never think about, you know, really bring 100% of yourself to to your orchestra rehearsals into your chamber music rehearsals, really just soak in as much as you can. Because the opportunity to do that with such very groups of people and such varied coaches, and teaching figures, I mean, that opportunity doesn't really sustain itself. After college, you really have to actively create those sorts of environments for yourself, when you graduate. And so I would just encourage you, especially if you're sort of unsure as to where you want to go, try to try to do as many different things as possible. And hopefully, that will give you at least a little bit more of a sense of what it is that you really enjoy doing and what you gravitate towards. And ultimately, in my experience, whatever it is that you really enjoy, and you really want to do is what you'll most likely have the best chance of success in doing. So that's just a little, a little tip, if you will, for anyone who is sort of not sure what the next steps may be,
Lydia Connolly 42:21
I think that's such valuable advice. And also bear in mind that none of this is a kind of Second Class choice, or, you know, it's somehow you've, you've failed, if you, you know, you may have started off thinking, well, that's how I see myself as an artist in five years time. And then after a while, you begin to think I'm not sure actually that is, it's not a failure, it's not that you're not succeeding in your, in your dream, you you may find that actually, that goal shifts. And as you said Randall when you discover what it is that really brings joy, and where you've really feel you're making a contribution and you're making a difference, then that is the that's the top prize for you. And give that everything that you've got, and be as good as you can be in that.
Benjamin Woodroffe 43:07
It's absolutely correct. Because music is such a broad world. And there are so many elements of music, this idea of how we keep it going, how we keep the sector alive, how we provide oxygen to it, there are many roles and many paths. But as Randall was saying, find yourself as best you can. And find what your you know, your your repertoire, just the way you are and find your artistic voice. With as much confidence as you can, of course, it will change and adapt, but find yourself and then present that to the world and learn as you go. I think teachers play an enormous role, and provide a great deal of advice and practical skill and so forth. But ultimately, it's your decision. It's your future, it's your career, you will always have a teacher somewhere, but ultimately you have to be comfortable with the decisions and career paths that you take.
Henry Southern 44:10
Well, guys, my last question was going to be could you give some advice and distil as much as possible, a summary but you guys have done that already. I mean, we've spoken throughout the podcast, about entrepreneurship, about vision, about authenticity, but actually what it comes down to is enjoyment, I think, and that's one of the things which I think was innated towards the end, and I think that was a wonderful way to finish. So many thanks again for joining us Lydia, Randall and Benjamin. Thank you also to Holly Gedge, Fiona Livingston and our sound editor, Merlin Thomas. Our theme music is composed by Robert Cochran. We hope you've enjoyed this podcast. If you haven't done so already. Be sure to check out all the other episodes in The Culture Bar, with topics ranging from race and the civic responsibility of the arts, to how the arts can respond to the climate emergency. Or if you want something with a lighter touch, we have an eclectic speed pod series. And to get all that and more, please subscribe. See you soon.