THE

CULTURE

BAR

: Disability and Access in the arts
21/3/2022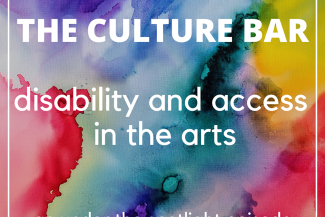 In this episode of The Culture Bar podcast, we discuss what inclusivity and inclusive practice means, stigmas around disability, how good intentions in EDI statements/​policies must advance into meaningful action, and guests share inspiring examples of projects where disability and access to the arts has been successfully implemented.
We are joined by three expert panellists from across the arts sector:
Kimberley Harvey – Director of Youth Dance Programme, Candoco Dance Company
Kira Grunenberg – Arts professional,

PR

strategist and music journalist based in New York'
Dougie Scarfe –

CEO

, Bournemouth Symphony Orchestra
Hosted by HP's Henry Southern
This episode is part of our ​'Under the Spotlight' podcast series where we shine a light on ​'challenging' topics in the arts, and focus on guests living these experiences and who are working to create change in the sector.

The Culture Bar is a podcast series created by HarrisonParrott focussing on conversations in culture and the arts.

Find us on Spotify, iTunes, Google Podcasts, YouTube, Podbean, Deezer and all good podcatcher sites.

Use #theculturebar or follow us on Twitter @_TheCultureBar to keep up with our latest releases

A special thank you to Robert Cochrane the composer of the theme tune music, and Merlyn Thomas our editor.
Transcription
Henry Southern 00:03
Hello, and welcome to The Culture Bar. I'm Henry Southern, and today we'll be discussing disability and access in the arts. To explore this important topic. I am delighted that we have three wonderful expert panellists. First up, Kimberley Harvey, Director of the Youth Dance programme at Candoco Dance Company. Next, Kira Grunenberg, arts professional, PR strategist and music journalist based in New York. And last, but by no means least, Dougie Scarfe, CEO of the Bournemouth Symphony Orchestra. Welcome, everyone.
Everyone 00:35
Hi. Nice to see you / hear you.
Henry Southern 00:39
Likewise, thank you so much for joining us and this is a topic which we at The Culture Bar have been wanting to explore for some time now. And personally, I feel that it's often neglected when we as artists, administrators, institutions, think about equality, diversity and inclusion. So my first question, I'm going to come to you first, Kimberley, do you think that's a fair statement? Is that the case? Is it is it neglected? And, and also, the second question to that, what does inclusivity and inclusive practice mean to you?
Kimberley Harvey 01:12
Oh, a meaty to start with, um, I guess, in my world, within working within Candoco and the dance sector, and I'm, I'm really aware of, like, it's my world and sort of working with, considering disability and difference is part of my world. And I'm really aware of how that sort of shapes what I see. And also the networks that we, that we work within. But I it is, it is a permanent job, if you like sort of that the advocacy and, and the being aware of, I guess the importance of visibility. I think for me personally and and, and also speaking on behalf of Candoco, I think inclusivity is about embracing difference, and really seeing the true value of that. And, and in our context at Candoco dance company, it's, it's, I guess you could say our area of specialism, if you like is, is disability. But obviously, inclusion can extend in many different directions.
Henry Southern 02:43
Thank you, and thanks for tackling that meaty question and being the first up. Dougie I'm going to come to you next before we skip over the pond to Kira. Do you resonate with some of those thoughts?
Dougie Scarfe 02:53
Yeah, isn't there that I can't remember who made that quote, that quote about equality has been invited to the party, inclusivity has been invited to dance. It's a, you know, for us… in a way, it's, it was quite a straightforward question. Our mission is to bring music into people's lives. And because we have a particular remit, which covers 10,000 square miles of the southwest of England, which is like massive, massive area, and it's meant over the years, we are very connected. And we see our communities in a lot of detail. And I think that that is really about 10 years ago, we just became aware that there were barriers that were stopping people being part of what we do. And you know, I I think we'll probably talk about leadership at some point. But, you know, myself, my colleagues, we took it, the, actually our role was to, to address that. And of course, as soon as you open yourself up to realising that you don't know stuff, that you've probably been wrong, and how you've done things over the years, and without even realising it made, you know, given lack of opportunity or stopped opportunity for people you you see you begin see the responsibility on to do something about it. And so for us, really inclusivity is about delivering our mission, our mission is to enable opportunity to participate, to be professional to be an answer to musicians, to enjoy music, to experience music, to participate in music, to enable music to be part of your life from Bournemouth Symphony Orchestra. And, and really that has changed our whole view or you know, for us it's also we've had a really a company wide change programme, you know, right across all departments that feeling about it. So, actually for us, it's been one of the most enriching things in my whole life, to realise just what a difference it is possible to make. And that's why we bang on about it all the time. Wow, that's really wonderful to hear that it's, well, it sounds like it's not just your professional life, it's your…personally, you're very passionate about it. And I, I was really inspired reading that your mantra, if you recall, a mantra of inclusion is not a project. When we got the RPS award for impact, I said that in my thing, because for us, inclusion is not a project. And I think it really does sum it up. And I saw everyone write it down on a piece of paper. So it is yeah, it's an easy, it's an easy thing, it's not something to be given to a particular department, you know, off you go and source inclusivity for us. No, it's about the world. It's about how you view your work, in my case, my company, what, you know, what, what we do, and, you know, orchestras aren't very accessible generally. And, you know, we've we've had to, you know, we've had to accept that it's, you know, it wasn't good enough, what we were doing, still got a lot to learn. But, you know, we've come an enormously long way. And it's been massively enriching for everyone.
Henry Southern 06:02
Absolutely. Kira, how about you? Both personal experiences, but also, with the institutions you've been involved with, in the US and elsewhere have have what is, how have you found it? And what does it say inclusion into you?
Kira Grunenberg 06:17
So, I appreciate you coming to me last, because it's gonna be a couple extra minutes just to, to process and think about this. Because, you know, like, we've been saying, this is definitely a meaty and loaded question. Certainly, from my own personal experience, as somebody who has sort of, you know, you know, paved their own way and worked as a freelancer, independent contractor for for much of my career, it's been a lot about, you know, I mean, you ask any freelancer, just the nature of the work means, you know, independent advocacy, just for your work to say nothing of, if there are any barriers. And, you know, I think, kind of going off of Doug what you said about, you know, that inclusivity is not a project, when I've spoken with, you know, over various interviews over the years with different companies, startups, especially startups, because, you know, those are companies kind of in their first, you know, their first steps and kind of defining who they are, you know, I've tried to reach the topic of, you know, how are you going to connect with the broad experiences of the world and people's different lived experiences. And a lot of times, I have found that the most well intentioned people in the arts world, you know, will say that, they have every intention, and it's, it's crucial and important, but a lot of times, it's, it's sort of met with, I don't know where to start, or I haven't encountered it. So, you know, it being, you know, different scenarios or needing to change how maybe they were planning on doing things. And so it's kind of ongoing to be aware of this. And hopefully, if it ever presents itself, I'll deal with it the right way. But in some ways, I think there's almost a little bit of an unfortunate feedback loop where there's sort of an established, you know, the established norm in a lot of places, because a lot of companies see inclusivity, and diversity as a product is, oh, we're deviating from how things have always been. And so because that's kind of the vantage point people are coming from, they're not used to seeing how to sort of change protocols, and therefore, the saying, well, I'll change it when it becomes different, but it won't become different until I change things. And so you kind of have this, which came first the chicken or the egg sort of dynamic. But generally, and in the last few years, especially, I think, overall, there's a lot more discourse, online and in the real world, and people just being more comfortable talking about, you know, accommodations, and about different lived experiences and about the kinds of shortcomings and maybe challenges and pitfalls that organisations might not be meeting, whether it's, you know, deliberately or unintentionally. And because just because we're talking about it more, I think it's made that aspect of awareness, kind of just become where people are coming from now. So they don't have to like wait around for a specific person with let's say, a specific disability to apply for a job in order for them to say, oh, I should start changing my mindset and start thinking about how I view the world and how my, you know, how my company or how my startup will interact with those things before they start making changes.
Henry Southern 09:59
Well, thank you for sharing those experience Kira, and there's been nodding along in this virtual room that we're in here, I mean, if you don't mind Dougie, I'm gonna come to the next desk because I'd imagine what the experience is you were describing in Bournemouth Symphony Orchestra, there was institutional change and change of mindsets and picking up on what Kira was saying, deviating from the norm, both within your organisation but also within the sector more broadly. Is that, is that fair to say?
Dougie Scarfe 10:27
Yeah, I think, I think there is and for us, it was always about, you make small steps. You know, one of the inspirations for for right back in the start of this journey was that you know, when we do our schools concerts to 1500 primary school children at a time and those who aren't able bodied are at the back in the wheelchairs because of, because stairs in the hall and you see that traditionally, you ask that everyone stand up, sing a song, as soon as you ask everyone stand up, your are on a different perspective than than others. And then when you notice that, actually, of course, their way of of expressing the song is probably a Makaton signing rather than traditional singing or a combination of the two. Well, you know, over over a period of a year or so the next time, everyone sat down, and every person in the hall did the Makaton signing, because actually, that was a way of everyone communicating together all on the same language. I have never seen a smile as big on a young person's face when they see 1500 people doing the same communication as them, then you realise that actually, the whole thing about the social model of disability, which I still find it extraordinary that, you know, so many major organisations haven't adopted that as a core value. As soon as you adopt the social model of disability, which has been around for 60 years. It makes you view your decision making in a different way. What was quite interesting for us, I'm just picking on something that Kira said, I think one of the other resonances is that actually the public are already there. A lot of public resonate with the sort of inclusivity that we're all aspiring to achieve. And I think just to follow on from Kira's point about when do you do, when do you make that change? One of the things that was interesting for us that actually, we made the change for all the reasons that we made it in the change makers programme with James Rose and actually, we what we saw was by doing that, and by talking about that, and by becoming known, we were having a more diverse group of people applying for work with us, we weren't changing our processes in that way. But people would say, well actually, clearly, BSO is an organisation, it's, it's, you know, they will embrace me as as me. And so I think, actually, you know, I demand, I push people to make the change, because actually, it's only by making change and by seeing to make change, change, and, and having those things in place. And then people will change. Our disabled audience numbers in the first year after change makers went up by 19%.
Henry Southern 13:21
Fantastic, so there's a measurable impact.
Dougie Scarfe 13:23
It's a measurable impact. And we you know, and that's their decision to come to us, you know, people want to come to us, and I think that's why we are, you know, so passionate about wanting people to change before, like you say, before you get that application and think ​'Oh I need to do something about it.' That's too That's too late for me.
Henry Southern 13:40
Yes, and it's interesting, you're saying how the audience is ready, I think you told me the fact about 23% of the working population in the UK is disabled, and it's a huge proportion of society which is perhaps as I said before, perhaps neglected but actually reflecting that on the stage in out our arts institutions and that civic responsibility that we have is vital. Kimberley, I'm gonna come to you next as you're workin at Candico as well, and just related to this. We've spoken before about how people who are disabled are perhaps seen as less, rather than a differently functioning body and actually be able to celebrate the unique and powerful attributes that disabled people have is not often seen actually had been, in Dougie's case as he's demonstrated when there was that inclusive approach is something wonderful to be celebrated.
Kimberley Harvey 14:32
It is and I think, from from my and Candoco's perspective, with working with disabled and non disabled dancers together. It just broadens the palette of possibility so much. And then by extension, there's questions around allows us to challenge perceptions or dance, of who can dance or what dance is, I think which is a constant, a constant source of discussion for contemporary dance for sure. Anyway, I think and I think what's really interesting for Candoco is, so we're now in our 30th year, and I think, Dougie your point about audiences, I think, I think there is a really interesting shift from maybe where Candoco was 30 years ago, and actually the role they played, then it was actually Oh, my gosh, there are disabled people on stage to, to now we absolutely we have people that know about Candoco that are followers of Candoco that, and of course, they'll always be new audiences and new people, we want to reach and engage with, but the idea that now there is also the exciting possibility of, of, you know, there are a lot of people that already know that this is, this is happening, that there is disabled people working in the sector and, and almost in how can we celebrate, and evolve and continue evolving? Because I think that's, that's also what's important, it's not to go ​'Okay, so we've done it', you know, they're done sector or the, or the arts sector sorted. Is that how can we keep challenging perceptions? And because I think there's always more work to be done. And I think, yeah, I think, the, and what I, I, I really enjoy being able to engage both with those who are very used to working in the sector, and that sort of what they know, and it's, you know, you can get really into the detail and sort of keep pushing, but then also the importance of also going back to those foundation conversations of actually, for those people that it will be a first time or a first experience. And yeah, there are times when you are, for want of a better expression, repeating yourself or, or you know, as a as a disabled artist myself, where you are saying the same thing or hearing the same thing. But that's also difficult at times, perhaps it's also part of the work. If you're, if you're in if you're in the sector, if you feel if you're doing that, then it is part of what you do. And that's sort of my own personal perspective on it.
Henry Southern 17:47
Yeah, and it's really interesting what you're saying about keeping that momentum, keep challenging those perceptions, I would imagine an important part of that is also creating a body of work for disabled artists, which really, we've got this huge canon of work, be it in dance, or the orchestral sector, or whatever other traditions. And I know commissioning is an important part of what you guys do. So do you think actually, commissioning programming must surely play a very crucial part in this momentum?
Kimberley Harvey 18:19
Yeah, I think there's something really, really exciting in the role that Candoco has as a as a reputable company because as you say, we do we do commission choreographers, and over the years, I remember hearing choreographers saying, you know, up until this point, I haven't worked with disabled or disabled doctors, let alone a company of disabled and non disabled dancers. So actually, for them, that's potentially there's a, there's a shift that happens for them while they're working with us. Or, you know, and the dancers are very much part of the process. It's, you know, the dancers are, Candoco are a company, where it's, you know, it's not just the choreographer coming in going, ​"Okay, we do this, we do this, we do this, we're done," it's very much working with the, with the dancers to, to explore to find out, to find what works for everybody. And it's more collaborative in that sense. Because there has to be a getting to know process with the dancers. And I think, and you know, Candoco work with choreographers from, from all over the world. So I and, and it also comes from a very genuine place of who was exciting the artistic directors at the time. So what I also love is that it also comes from an artistic perspective. So that's still the root of everything, but inclusivity and that approach is woven into the artistic drive of the company.
Henry Southern 20:11
And I imagine, Dougie as I was saying for BSO resounds, right, I mean, commissioning bespoke works for that ensemble and you guys have an extraordinary success with performances at the BBC Proms and wherever it might be. Is that, would you say that's fair?
Dougie Scarfe 20:24
Yeah, I mean, commissioning is absolutely key, as Kimberley was saying, obviously, there's a there's a particular interest and challenge and focus for us. Because adaptive instruments, so for example, the instruments or headspace, you know, they don't have, you know, Brahms didn't right for those. So, you know, there's a whole question about how do you make an inclusive orchestra if you'd can't include those instruments. And I think that's sort of that's phase 1A phase, you know that what we're looking at at the moment is to ensure that, you know, there is really, really fine music from a range of composers written for inclusive ensembles include these instruments that don't take part in the traditional canon. When BSO played at the problems actually, we did write an instrument and the Holst planets, and Shostakovich… overture which was great. You know, there's probably a challenge doing that in some other concert environments. So I think that's interesting. And I think it's also, also picking up on Kimberley's point, for me, I'm wanting to commission a range of composers who've not composed for for adaptive instruments as well, because it's only by having more people even understand how to write for an instrument, that they will then go well actually when I write my next work for whichever orchestra, I want to include an instrument because it's a great instrument and I wanted in my piece, you know, before 20th century composers, not lots of composers wrote for critiles or different types of Indian bowls or stuff but actually, they do now, it's very common. So we're playing one later on today with both those instruments in. So you know, what I would like to see is that when mainstream in inverted commas, composer writes, at a work further on, they think, well, actually, what I want is the colour of an X adaptive instrument which so for us more composers, having the time to work with us and other inclusive ensembles, will then over time start to change, start to change the canon and actually broaden people, the audiences as well as performers and managers and administrators minds.
Henry Southern 22:40
Yeah, for us, it's it's almost, I don't know if it's the right word, normalising it, and in turn, influencing the composers with their work beyond BSO resounds.
Dougie Scarfe 22:51
Exactly. Exactly. Exactly. Yeah, exactly.
Henry Southern 22:55
I'm hearing all of this and Kira, I'm coming to you next, thank you for your patience. And feeling very proud of the UK sector with the work that Kimberley and Dougie are doing. And I don't, this is not to shame or anything, but I do find. And, of course, there's still more work to be done. But I do find that in the US. There are similar approaches, in terms of incorporating or adapting performance practices to, to embrace disabled artists. Are there any sort of schemes which are all or activities you think particularly successful in this regard?
Kira Grunenberg 23:32
I do. There are definitely, you know, broader organisations, nonprofits, larger or endeavours that I think have become more inclusivity minded. One of the first ones that comes to mind, one that I have quite a few personal experiences and connections with is an organisation that's based in New York, in the city, called the filament and D'Agostino Greenberg music school. And this school is focused on teaching, and has several performance ensembles. And it's about helping people of varying ages and skill levels, to learn to read music, to perform together, and to help bring visibility to the challenges of doing both of those things for people with vision loss. So I have both been a student there, and also worked with people who are on staff and written about several of the events that they've held over the years. You know, I think at the end of this month, they're supposed to be doing a perform-a-thon for a fundraising event, and it's this whole massive undertaking of, I think 24 hours of constant performance and the school gets really, you know, hyped up and motivated about it. And it's a, it's a really great community, both within the organisation, but just the spirit of, you know, kind of coming around the creative process of making music and not being concerned about, you know, are we doing it the traditional way or, or the, you know, kind of old fashioned way of doing things in terms of composing or reading or how people perform, and just loving music for the sake of loving the art form. So, that's definitely one that I know, kind of, from a first degree basis, that has been doing work for, I think this school's been around for over 100 years now. Um, so, but kind of, in a broader sense, um, you know, to go from that which I, which I will sing the praises of for, you know, a long time, to kind of be a little bit more honest, and say, from my own personal perspective, as a single individual in this broad landscape, and in this very diverse country. I do think, maybe from my experience as a, as a music journalist, and somebody that writes kind of about commercial bands, and that sort of less fine art space and traditional art space, I do think there are a couple of ways that maybe the community could become a little less hesitant, there are a lot of discussions I find with, you know, peers that do the same kind of writing work I do. Other colleagues have, where we have encountered things like going to live music going to different performance spaces, whether it be a formal concert hall with with regular seating, or a general admission show of, you know, a traditional rock band, things like, you know, safety, and, you know, physical accessibility and ease of mobility and things like that, that don't necessarily tie into the performative aspect of the arts, but are every bit as important because if you make art and then nobody is able to come see it, did it actually happen? It's kind of like that whole did it, you know, if a tree falls in the forest, and no one hears it, does it make a sound? But that is something again, that I have definitely experienced firsthand. And it's not something that makes me happy as someone that both loves music and, you know, appreciates, after I've paid for a ticket to see some live entertainment, that should my experience be lessened because there is a factor of like, a shortcoming with accessibility or some other insufficiency with the experience, you know, that that I think needs to be addressed. And it needs to be something that when people bring it up, is taken seriously and given, you know, a measure of weight that is as important as who gets put on a bill. You know, what gets presented at a festival, who gets, you know, the the headlining performance slot, and all those other typical questions that people think about when it comes to something like like the live music sector.
Henry Southern 28:33
Well, thank you again, for sharing his experiences. And I think you also shared it very diplomatically. Describing, I think you used the words hesitation, from some cultural bodies to necessarily consider how they improve the accessibility and I think I'm just gonna open this up now because maybe this is naive on my part, but I don't, I think there's there is goodwill and intention, but delivery might not be. But it is not simply in many cases, really, coming up to scratch when it comes to accessibility and lots of arts and cultural bodies have EDI policies, which are again very well meaning but it's actually how do we move that good intention to meaningful action and putting it into practice? And I'm going to open it up — anybody wants to dive in on that?
Kimberley Harvey 29:27
I can give it a shot. I think it's I think it's really over.. sorry, I hate to mention the pandemic. But over the last two years, I think there's there's, I think disabled people have been, we've all been through so much, but I think for disabled people and then by extension disabled artists. There was a real risk around losing visibility and opportunity given what happens with the going back to, quote ​"normality", and the speed at which that happens in can happen for, for different individuals. And I remember being in a meeting with the, with the ​"we shall not be removed movement" here in the UK. And there were real discussions around what organisations and venues were doing to support disabled artists, were they considering what it meant for disabled audiences to come back. And some really were, and some really weren't. And they, they developed the seven inclusive principles, that a lot of venues and organisations sort of embraced with the idea that it wasn't just about good will, but actually, if you you know, if you agree to them, then then then it's, it's gonna be a prose of holding you to account. And I, and I think it speaks to also, you know, for a lot of national portfolio organisations, again, in the UK, there's a lot of furious NPO writing going on right now, around EDI plans. And, again, I really think there is an arts council and other cultural bodies and arts organisations, we have a real responsibility too. And not in a, not in a negative way, but to, to hold each other to account of actually what it means to to be more inclusive. Because actually, I think, good intention, now is not good enough. It's actually what are you doing about that? And I think, also there is a, there is a real negative connotation to, for in some cases to, it can be referred to as sort of calling each other out in a really negative sense. But actually, how can we hold each other to account in in, in as supportive way as possible? To to say, actually, I really want to engage with you, but currently, the way you're operating makes that nigh on impossible. And actually these really frank conversations with, I really want them to happen with where the organization's to go. ​"Are you interested in being inclusive, genuinely that are you interested in being inclusive?" And actually, I would love it if some of them have the guts to say, ​"You know what, actually, no." Because actually, for those that aren't, it's like okay, we're actually going to stop wasting our time for now, trying to convince you that you're the one we want to focus on and actually we'll focus on the partnerships that have got potential and real desire and drive to change and make change.
Henry Southern 32:51
Yeah, no, hear hear and that will definitely stay with me, good intention is not not good enough. And you mentioned about NPO, national portfolio organisations and one of their investment principles. This next round of funding is interested in seeing relevance. Dougie, I'm sure there's lots of synergies here what Kimberly was saying and your approach as well.
Dougie Scarfe 34:00
Yeah, I think Kimberly was being incredibly polite if I'm honest. I mean, I agree with every word you said particularly about the partnerships, we are not you know, this this I want to work with people are actually interested in in what we do. There is not enough work. There is not enough inclusivity in music, in the national portfolio of the large organisations — fact, and you know, it needs it needs to be called out, I think Arts Council. I think the new strategy I think has been a really, really positive about it. But there is not enough in the large you know, the large funding musical organisations. The last time that Arts Council did create a case for diversity ratings, 13 Music organisations who got over a million pounds and only one of them was rated strong. And, you know, in dance, it was seven out of seven theatres, I think was 10 out of 12. No music was one out of 13. And you know, there is more than needs to be done. And for me it is also, I mean, it's incredible what Candoco do. You know, music there is there is not enough diversity on the stage. And there's not enough move to get that diversity on the stage. And particularly, we're talking about disabled artists. Every member of BSO resound was told in music college, they wouldn't make it as a professional musician because of their disability. That's a fact. And this is in the 21st century. We did a concert the other day with BSO Rosand and we had for members of the National Open Youth Orchestra in the audience. And honestly, they looked at members of BSO Rosand and like, like, sort of, you know, pop stars, because for them that that is their that's their aspiration, there aren't enough progression pathways for young musicians to come through because there's no, there's not the level of aspiration for what they want to do. I think dance is better. I think there is more in theatre, in music, there is not enough. So if you are a young disabled musician at the age of 13, 14, 15 16, who do you look, who do you look? You know, and there's some great examples, power orchestra, fantastic, you know, what's going on in Newcastle, but there's, you know, the limited number of examples, and that's Kimberley's point about, you know, partnership, who's who you know, who is interested, is not about the money. It's about decisions, it's about the decisions that you make. You know, I'm not saying we get everything, right, of course we don't. But there needs, there needs to be more actual actions. So that, therefore, people coming through, people playing music, at a younger age, have some aspiration to go, you know, when I was 10,13, 14, I was playing the French horn in the National Youth Orchestra. There were loads of people I looked up that I wanted to be like, we need to provide those role models. And then and then also address the fact that the gatekeepers in the middle, the teachers, the people who have the influence, the people who have the ability to give someone their first first gig, are being inclusive in their decision making, because they're the gatekeepers. And it's not a matter of what diversity that person has, it's about their decision making. And, you know, we need to call out when that decision making is wrong. And if you can get in, I feel free, I feel really passionately about it, that music has, you know, there's some great things, but we've got a we have a long way to go.
Henry Southern 37:30
Wow, absolutely. And, you know, passion, we love passion, that's all good. It's interesting. I mean, what Firstly, it's great that you guys Kimberley and Dougie, are providing this platform for role models. And for the National Open Youth Orchestra, for example, having that aspiration and giving them that aspiration there and these role models, is also linked to your both touching a little bit about pathways into the profession, both on and off the stage. Kira, I just wondered if you'd be willing to share your experiences in that regard, and how easily you found it both as a performer but also as administrator. I mean, you look quite despondent when you when Dougie was talking about the experience of the of the musicians who said they'll never make it professional musician.
Kira Grunenberg 38:17
Oh, I guess that was one of those moments, I should have, you know, been wishing that maybe my camera was turned off. Um, but you know, I, part of my despondence a little bit about it is that, you know, I have definitely had my fair share of experiences, but thankfully, it's long in the past, but when I was still, you know, in, in school, and then when, you know, applying to university, and kind of going for these important opportunities that particularly when I was on the precipice of trying to get into college, you know, needing to sort of achieve certain milestones to help myself stand out. I had just particular individuals that I've, you know, been connected with in the past that saw me a certain way. And then, you know, I'd reach a certain point where my own vision impairment kind of became more of a hurdle. And this is before iPhones were really prevalent, before we had so much text to speech, before there was dictation before Zoom, before any of this. And you know, there were a lot of moments where I'm kind of stuck just recording things via cassette tape, and doing things sort of in a very, almost digital but not quite there. method. And there would be people that were kind of in a position either to help teach or to help advance or to make like we've been talking about key decisions. And I think the juncture looking back on those moments now, if I were them, would be ​"Okay, here is a new situation, here is a new juncture I'm at where there's a challenge and how do I meet that? And how do I meet this person where they are?" And instead of saying, ​"Okay, it's a little scary, but we're both going to work through it, and we're going to work through it together, and there's gonna be a positive outcome," there would be, again, this hesitancy and in some cases, with certain individuals, you know, just kind of an almost defensive reaction, which, you know, I don't, I don't hold it against, against those people or against others who might have a similar reaction, I think it's, it's somewhat human nature, when you don't understand something, to have maybe a slightly negative reaction to it. And you know, at the time, being younger, it, it was painful. But, uh, you know, I consider myself grateful that I've been able to sort of weather through those things, and then look back on them now as like, how can people that I might encounter in the future, see, you know, those those stop gaps, and maybe see those moments of hesitancy and not meet them with frustration. And just to kind of backpedal a little bit to where we were talking about experiences, and, and how people, you know, can be met with action rather than just intention. I absolutely agree with that. And I think in terms of choosing who you're going to work with, who you are going to create art with, who you're going to help elevate, I don't even think it's so much that people need to announce, ​"I'm not interested in being inclusive," so much is it's, there's a personal threshold, if somebody says, I'm going to get to it, I'm going to get to, it and I'm going to get to it. And it's been a year, five years, 10 years, and it's just not happening. I you know, it's it's, you know, when people show you who they are, you know, believe them. And if the inaction is continuing, or the or the indifference is unchanging, that speaks for itself. And I think people who, for whatever reason, if they're not willing to move themselves mentally, or logistically to make changes, that eventually they sort of set that, set themselves apart from the more, the more open and more motivated sector of the arts who like want to bring more people in and to fold in more experiences.
Henry Southern 42:43
Well, certainly, and it's, well, firstly, it's a testament to your resilience, that and so it's amazing what you've achieved in your career, despite these setbacks, some other individuals, and that you're helping others work through this as well. But I think that soundbite is probably is of action, not just intention, probably summarises a lot of what we've been talking about today. But I wanted to just come back a little bit to, as we come towards the end of just perhaps celebrating some pathways to the profession, or things we can highlight people who are listening to the podcast, be it as perhaps disabled artist or arts administrator looking for ways to get into the profession, what support they can have on board, also, in turn, to inspire arts institutions and cultural leaders to to look at these various programmes as they actually this is something we could either support or do ourselves. Are there any examples? I mean, I know, Dougie I'm going to come to you first, because with your change makers programme, as well has been particularly successful. But that aside, any others you'd like to share?
Dougie Scarfe 43:55
Yeah, I mean, we did an independent evaluation on our change makers, which was a two year programme of training and mentoring with conductor James Rose and the formation of BSO resound is and we, you know, we set ourselves open for, you know, external evaluation and reflection back to us. And I think that made, that brought us to what we call our programme for cultural change. So, for me, it's about cultural change that will lead to this change to be looked at. So I would encourage anyone to do that. Clearly, you know, things like power orchestra, national open youth orchestra, BSO Resound as I've said, you know, great examples, look them up, watch them play, watch them play. It's amazing what they, just amazing what they do, in our, in our music, certainly from our perspective in music, and you know, in terms of arts institutions, you know, every leader of the arts organisations should know what the social model of disability is, and if you haven't looked up it up, look it up, and you'll find it has been around for a long time, and then question yourself ​"What are the barriers that you're putting in the way?" Even if you don't mean to, what barriers, you can be honest with yourself, what barriers are there that you are putting in the way? And, and then other things like there's a great sort of discussion, reflection programme, run by music masters called ​"I'm in", which is, you know, it's a very good way to get all of your team involved in, you know, answering some difficult questions, you know, we've got, we've got a group of diversity champions across all department, not just the orchestra, but not just the ministers across the whole company, you know, we meet together to actually address some of these issues, you know, talk to your staff, your staff may actually tell you things that you, you know, they didn't want to hear, or that you do want to hear, you know, and be and be brave enough to do that, because actually, it's your responsibility. Particularly, for those of us who are receiving public money. You know, we as as can we so eloquently said earlier about the lots of frantic NPO writing going on at the moment. So you know, look at all of the tools are out there, all of the examples in Dance Theatre, so inspiring. And, and look at your, you know, look at your own processes. I'll, I'll just finish with one final thing. In a lot of orchestras, for example, in America, particularly, but also in the UK, they do screened auditions, which are where you do auditions and you put a big screen up so that the panel can't see the auditionee, and he put carpet down so you can't tell whether they're wearing high heels or low heels or whatever, as a way in is seen as a model to show that you don't have you know, you're not putting prejudices into your in, you know, not what you see it's what you hear. I remember pointing out someone who runs a large American orchestra. Yes, okay, but what about a member of my disabled lead ensemble, who can play all the orchestral excerpts you might ask her to use but if he puts a screen in the way she can't lip read you when you say which accept she wants to do, therefore she has to identify as having a hearing impairment. So you know, by putting by something that you do, you're actually excluding other people from your, from your thing, or they're you're standing up and saying, you're doing great stuff. So question yourself, as what barriers you put in the way and then see what you're going to do to do about it. And don't worry, if you can't change it immediately. It's about you know, it's little steps but continual steps willl make that larger change.
Henry Southern 47:31
Kira, go for it.
Kira Grunenberg 47:33
I just, I found that example to be just very enlightening. And I just wanted to add on to it that, you know, it's certainly something where you could be trying to solve one problem, or one, one shortcoming. And in doing so, kind of creating a second one, and I, again, kind of speaking from my own experience, can definitely relate to that, because, and I think this kind of goes with where I'm coming from. I think that where I see the biggest difference, and a lot of the great things we've been talking about, is that from where I've stood and how I've experienced, kind of my relationship with the arts in here in the US is that A. I kind of feel that the view of how the arts are perceived just as a medium. In the overall cultural landscape varies, I think, somewhat from the UK and how it's valued in, in education, in schooling, in public life. And I think that just by itself as a founding, starting point, can affect everything that comes after it. Because if art as a medium is less valued, then how can you expect people to tackle anything that might be a shortcoming within the sector of, of the arts, and to just when you know, when you finally do find someone or find an organisation that is willing to sort of look at themselves in the mirror and say, ​"Well, where are we sort of falling short or what, what things do we have to detangle?" I definitely think that it's good to have that mindset. Dougie, like you were saying, you know, if if you can't change things right away that as long as you're willing, as long as there's, again, action and continuous, you know, improvements. I think that's what matters. But I think, for me, what I have viewed is that people need to really value art as a concept before they can even be willing to sort of tackle making it a fully inclusive space and sort of realising that state of being to its full potential. And, you know, I think when people are afraid to sort of, for lack of a better phrase out themselves, like where they, you know, they're trying to be seen for their talents, for what they make as an artist. And then there's a barrier maybe where the choice is either to try and remove bias or to have to say, ​"Oh, I'm disabled. And I'm hoping once you know that, that you're not going to change how you view me or view, the art that I make," that if there's that hesitancy and that fear in trying to break into an arts organisation, or trying to put your art out there, that that needs to be addressed before you even get to, you know, heads of organisations deciding what to do with policy. So again, I think it's about mindset. And just from my own experience, I think that's still a big hurdle. And it's kind of a, you can't treat it as a linear problem, you can't say, well, we'll get to the policies once we deal with this other thing, because I think mindset is very hard to change. And you kind of have to work those two things concurrently. So you have to work on changing people's views of the world, while also changing what you actually do in your organisations. And so that's kind of where I've experienced things. And I think the more that we're able to do those things concurrently, and it sounds like in the UK, there's a lot of great initiatives that are sort of tackling goals. I think the better off the industry will be as a whole.
Henry Southern 51:27
Yeah, I'm sure we can all resonate with that, and, and the broader power, that culture has to influence these discussions. And both of you are also talking about that bravery, looking at yourselves. And I mean, the bravery, for example would be BSO for having the independent audits, I mean, and also the internal discussions, HarrisonParrott similarly have done that music musters ​"I'm in" initiative, and it's, it was a very revealing, and we had very transparent conversations and highly recommend other organisations to go through that process. And Kimberley, you started us off, I'm going to come to you to finish us off no pressure. So just yeh, coming back to the original question of pathway to profession to celebrate, but also advice for our art institutions, hopefully a positive takeaway, as well so that people can enact.
Kimberley Harvey 52:21
So I think my big one is for the, those in the sector that either want to learn more, or to become more interested in their approach is to be brave enough to have those conversations with those that are doing it already. And that can be across art. That doesn't have to be that dance stays within, dance theatre stays within theatre, music, save the music, because actually, I think there's learning to be done cross sector, I think we can learn from each other in terms of what we're all doing, I think, within the dance sector, what, what is becoming more, I'm gonna say in inverted commas, ​"more accepted" now is this idea of bespoke training pathways. So the idea that actually, traditional training routes are not going to work for everybody. And it didn't work for me personally. And so this idea of actually you can create your own way into the profession. But what this then requires is it requires, number 1) it puts a lot of onus on the individual. And therefore for those of us that are working inclusively, it feels like there is a real responsibility to put ourselves out there as organisations, as inclusive practitioners who are working to sort of show what we're doing, to try and because there are gatekeepers, there are and there are questions around reach, and who are we not reaching? And I'm really, really aware of that. And that is a constant. area of work is like, where are we putting ourselves, who are we not reaching? And I think because so often, they, and it's the same for me also as a young disabled dancer. If I hadn't have met Candoco at the age of 12. I wouldn't, I wouldn't be, I wouldn't become a dancer, I wouldn't be doing the job I am now. So it relies on that first experience. And I think just to remember how crucial that is, whatever area of the arts, and just for those companies, organisations that are doing it, to just acknowledge that importance and to push for that reach even more. And because you will play a part, hopefully, in guiding and supporting those individuals, and it might be within your own organisation. So within Candoco, we have, for example a learning department that we work, that I work in, that we're constantly offering programmes and opportunities and whether that be for young dancers or artist development but also knowing about signposting and knowing what else is going on in your sector, because we can't do everything. And also, we might not be what somebody is looking for, but maybe Mind the Gap in Bradford are maybe it's another company, maybe, you know, we have links with national youth companies, or maybe they've also be excited about that. And so it's it's not just about us, it's about where we can support them in going.
Henry Southern 56:04
Kimberley, many thanks for that and amongst many takeaways that cross arts discipline learning is something which certainly I'll be taking away from from this discussion, amongst many other things. But many thanks again for joining us, Kimberley, Kira and Dougie. Thank you also to Holly Gedge, Fiona Livingston and our sound editor, Merlyn Thomas. Our theme music is composed by Robert Cochrane. We hope you've enjoyed this podcast. If you haven't done so already, be sure to check out all the other episodes in The Culture Bar, with topics ranging from race and the civic responsibility of the arts, to how the arts can respond to the climate emergency. Or if you want something a bit lighter touch we have a wonderful speed pod series with contributions from the likes of Poland, Switzerland, and even Wales. To get all that and more please subscribe. See you soon.