The Culture Bar: Race and the Civic Responsibility of the Arts
26/10/2021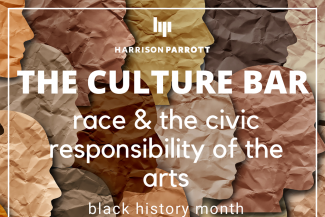 A special podcast episode for Black History Month, we delve into race and the civic responsibility of the arts.
In this insightful and inspiring conversation, we are thrilled to be joined by these wonderful panellists:
Michael ​

'

Mikey J' Asante – producer, composer, musician, dancer and

DJ

; co-founder and co-artistic director of the hip-hop dance company, Boy Blue
Kaya Brown – Artist Coordinator at Polyarts and Creative Access alumnus
Cliff Fluet – Joint Head of Media

&

Entertainment at Lewis Silkin, Chair of the Ivors Academy Trust, and Help Musicians Trustee
Samir Savant –

CEO

of St George's Bristol and trustee for the HarrisonParrott Foundation
Hosted by HP's Henry Southern
This episode is part of our ​'Under the Spotlight' podcast series where we shine a light on ​'challenging' topics in the arts, and focus on guests living these experiences and who are working to create change in the sector.
The Culture Bar is a podcast series created by HarrisonParrott focussing on conversations in culture and the arts.
Find us on Spotify, iTunes, Google Podcasts, YouTube, Podbean, Deezer and all good podcatcher sites.
Use #theculturebar or follow us on Twitter @_TheCultureBar to keep up with our latest releases
A special thank you to Robert Cochrane as the composer of the theme tune music, and Merlyn Thomas our editor.
Transcription
Henry Southern 00:00
Hello, I'm Henry Southern and today on The Culture Bar, and as part of our Under the Spotlight series, we'll be discussing race and the civic responsibility of the arts. And to explore this vital topic, we are delighted to be joined by four wonderful panellists. First up, Michael Asante, aka Mikey J, producer, composer, musician, dancer and DJ. Mikey is the co founder and co-artist director of the Hip Hop Dance Company ​'Boy Blue'. Next, Kaya Brown, artist coordinator at Polyarts and Creative Access alumni. We also have Cliff Fluet, joint head of media entertainment at Lewis Silkin, chair of the Ivors Academy trust and Help musicians trustee. And last but by no means least, Samir Savant, CEO of St. George's, Bristol and trustee for the HarrisonParrott foundation. What a panel Welcome, everyone.
Everyone 16:07
Hello, hello.
Henry Southern 16:10
Great to have you guys with us. Now for the purpose of this podcast, we are going to use the language of ethnically diverse backgrounds, communities or heritage. We recognise there isn't necessarily a consensus and the appropriate terminology is constantly evolving. And we hope it is clear that our intentions are respectful. So turning to our panel, following the murder of George Floyd in July 2020, there was heightened media coverage for the Black Lives Matter movement which led to profound public action. In light of this, many organisations within the arts culture media responded with racial equity and social impact statements. So Mikey, coming to you first, ​'Boy Blue' is resident at the Barbican, and in June, Barbican stories was published, there was a record of discrimination in the workplace written by current and former employees have experienced racism at the Barbican. So with all that in mind, it's quite a big place to start off. Do you feel there's been meaningful change?
Michael Asante 17:10
It's interesting. So, yeah, that's a big question to start off with. I think the thing for me and my experience thus far, and obviously, we've been artistic associates for like 10 years now. We're coming up to the 11th year next year. And a lot of the work was beginning then, you know, that 10 years ago, a lot of the people that I've been affiliated with, a lot of people that I've been working with, have been connecting with me talking with me, entering into some of the other kinds of opportunities with us prior to that moment. So I was always I've always felt like I've been in good company in that regard, that it wasn't a reactionary thing. And I would never ever align myself with any individuals that were doing it after the fact if I'm honest. So all the people that I had connected with and that I've been working with prior to that moment, you know, it was just.… it's gonna sound really raw, essentially. But it was business as usual, we were already preparing and motivated to do these things prior to that moment, if anything, it just, it just lit even more of a fire in everyone's soul to kind of see the change that we want. We've always wanted to see. But yeah, I think what it did do in in a roundabout way, because to see, you know, your answer, your question was, have we seen the change? I don't know, if we've seen it, we're seeing it, we're seeing the conversations become a little rawer, a little more honest, a little bit more challenging, and, and an open arms to that challenge. And it's just allowed us to kind of really just go a little deeper, I would say, and I think with time, you know, everything becomes even more liberal, things become a little bit more understood, because there's still so much more nuances within the community anyway, that still needs to be kind of unearthed, discussed, and even challenged even more. So. Yeah, I would say the change is not here. But it's, it's coming and it's it's moving slowly. And I think it's on the right trajectory.
Henry Southern 19:21
Well, that's really, really encouraging to hear. And as you say, perhaps it's, it's premature to have that distance. And if you say to ongoing I wonder, Samir, in Bristol, I know you've only been in that position for a few months, but what's your perspective from there and also from your other experiences?
Samir Savant 19:39
Um yeah, I mean that there was a real spotlight on Bristol, of course, as a result of the murder of George Floyd and subsequent Black Lives Matter. The statue of Edward Colston, the slave trader was removed and then thrown into the Avon and then he's subsequently been fished, fished out of the Avon and hae'sbeen put into, into To the M shirt. And, back to Michael's point about honesty, you know, like, you can go and see the statue which is covered in graffiti. And you can say what you think should happen to that statue, you can take part in the debate. And, you know, I lived in London for 30 years and coming to Bristol, I really feel genuinely that the conversations about race are much more like it's much more part of the the Civic makeup of the city, the history of the city, like no one is in denial about the fact that, you know, the, you know, the all these people that made huge fortunes in in Bristol, it was on the back of the misery of the slave trade, you know, and the, you know, 1000s and 10s of 1000s, hundreds of 1000s of men, women and children who are enslaved and treated abysmally during that time. And I just feel that there's a real honesty maybe, because in Bristol, it was so, you know, people are very close to this, you know, being a major trading city like like Liverpool, or London, but I, you know, there is an honesty here and there, there was real acceptance that we, you know, we need to kind of look at these issues, you know, with great clarity and honesty and try to move on. In terms of my own work here at St. George's, you know, we are unrelated to my career, I mean, Chineke! came down for a concert, and Osborne Clarke who are a local law firm here, who they're running their own kind of diversity and inclusion initiatives. And they wanted me to speak very much openly about my experience. And I, I kind of said, I picked the two wrong careers, the worst careers I could have for being a person of colour. One is classical music. And one is, and the other one is fundraising. And so I was fundraising in classical music, so double disadvantaged, and so used to being the only non white face at conferences or at events, concerts even. And, you know, these things have to change. And this is why I'm proud to be a trustee of the HarrisonParrott Foundation, because we're all about making change from within the industry. But also, you know, we've all got to take steps. And I think sometimes people are just frozen into this stasis of inactivity, because they don't know what's the right thing to do. And they need signposts, and they need people like us saying, you know, this is something you can do, that's actually going to make a difference tomorrow. So we're advertising currently for to two vacancies, Head of Marketing and commercial Events Manager, if anyone's interested, just saying, but one of the things we've really put our neck out and very few arts organisations shamefully are doing this are saying that if you self identify as disabled, or from black and ethnic minority community, and you meet the essential criteria, you're guaranteed an interview. So it's just things like if it's not enough to say we welcome applications from all areas of the community, that is just such a weak statement. So you know, I'm really keen that we move forward with with real positive activities, ways of engaging with different communities.
Henry Southern 23:06
Well, there's a whole host of stuff there, which I think will definitely come back to programming, fundraising, also implying positive discrimination, which is something we know we want to talk about, but also a slight plug as well. We've done a contested heritage podcast where we talk about the cost and status shoe, so check that out on the Culture Bar from a few months ago. But Cliff can I come to you about with this question in mind about the accountability and the response of arts organisations, perhaps within the recording industry context? And also your experience more broadly?
Cliff Fluet 23:38
Yeah, I mean, I do think that yes, the death of George Floyd has been a watershed moment. Really. You know, I've been in the industry for the last 25 years. And Rodney King and Steve Lawrence, too many, you know, black people being brutalised, murdered, assaulted, and many ways (…) which doesn't put up with this shit, which is great. I think a lot of it had to do with the heightened emotions of the pandemic. And I found myself now in a strange position, which I'm sure many of my colleagues here is you turn around and you're suddenly the most senior if not only black person of power that you've got, and I don't know quite when that happened. And then I realised I became a spokesman, but then it became a duty to speak up. So I found myself convening panels across the entire music industry, across the legal industry, across the world of arts, etc, etc. that I've never had before, in 25 years. I've had colleagues of mine, partners of mine in terms of legal perspective, and business partners say to me, I've never understood my white privilege before, or please explain to me what it was like. And again, there's a lot of emotion and there's a lot of weight in there. But what I really do welcome and again, we should lead into it is actually I do genuinely sense, a real change, certainly the recording business, you are seeing positive action, we come back to the process of discrimination point as well. And all of that comes after a genuine open dialogue, I think there's a long way to go for colleagues that may feel bought, you know, burdened by their privilege or feel that they can't speak up, or they're not in a position to speak to those areas. And I think it's incumbent upon those of us of colour and those in leadership to actually help people with everything from terms of reference to nomenklatur, and creating safe spaces. In order for that debate to continue. I think the thing that will really, really shut down debate is any kind of fear of cancellation or fear of being accused of all the things that we hate the most. And actually, if we can now really lean into positive action, and I do think as well, that it is incumbent upon those of us who have gained some, you know, in my case, I'm waving my fingers around power in the industry to wield it for good, and actually be part of that change.
Henry Southern 26:20
Hear hear, there's lots of nods, which of course, won't carry across the podcast format. But Kaiyaou are nodding as well, quite furiously Do you? Do you've also feel there's a sense of real change and open dialogue for saying,
Kaya Brown 26:35
I do. I'm quite new to the music industry. And from my experience, and since this is since 2020, I think everything that happened in 2020 opened the conversation, and that was really good. And people are starting to ask more questions, and listen to each other and share experiences and talk about how we can move forward. I think, Michael's things interesting actually, is, why weren't we questioning these things before? And it's about sort of, now everyone is sort of waking up or sort of having these discussions? How do we move forward from that. But not in a way where it's sort of like, this is what we have to do. And we're doing this because we have to do, we should be doing it because we want to, and it's the right thing to do. And if I think whoever it is in their businesses or industries, I think you need to be doing it because you know that it's what you should be doing. And you want to I don't think it should be because you feel like you have to or your products won't sell because you're not doing this and you're not meeting the quota.
Michael Asante 27:46
I think that's the challenge Kaya in the sense that you now have to and I don't know whether anyone else on the panel is focused or seen this in any way is that you now have to be careful of who's trying to align when you who's trying to talk with you, who's trying to do it from a pandering point of view or from a performative point of view. And that's become the the annoying part of some of the work now since that moment, is that now you're getting bad actors who know their bottom line is affected if they do not be seen to be doing X, Y and Z. And then on the other side, that has become just people making the wrong decisions or getting the wrong people in place. Because they want to have that placeholder of they're doing the job. So that's the other thing you'll get in just just, people being gung ho with who they're putting in those positions who aren't ever had the right experience. And then when that comes into play, what ends up happening is it fails or it's tainted by that experience, because you didn't do your due diligence in finding the right person with the right experience or supporting that individual to get to that level. So that's something that I think I've I've seen ebbed and flowed during my 20 year career in music and dance in the entertainment world is that you find people bring bought into positions, but even with the wrong support, just because it is a pandering, more performative exercise. But in this particular situation, it's nicer just for me. Now having that amount of time and I'm guessing for some other people on the panel as well is that you are able to lend an ear in that way, or lend a voice in that way. Because yeah, it's kind of challenging to Cliff's point just in the sense of you find yourself in rooms upon rooms, conversations upon phone conversations, Zooms upon Zoom's having to kind of be the person the spokesperson, but yeah, you know, it's better now in that regard, because time has gone on and more people with more experience and more, I guess the right language are able to speak on these subjects.
Henry Southern 29:52
Thank you both. Yeah, that's that's very insightful. I mean, would it is it too simple to distil this topic of positive action as I've spoken to all of you about fear of tokenism versus meritocracy. Cliff, I know you've had a full 180 on this recently, it'd be great to get your insights.
Cliff Fluet 30:12
Yeah, I mean, it's actually it was preceding 2020. And again, it's just advancing years, or just having grown up in a system. But I was somewhat seduced by other specious view that we live in a meritocracy. And that would somehow be patronising or wrong for people to be preferred. But when you actually break down that the idea of meritocracy is based on the fundamental lie that everyone starts from the same place, or that certain people aren't being specifically denied or kept down. Or there are specific advantages that people can buy or be born into. So that somehow realises that it's not really a meritocracy. And actually, what we do is that we've got a hierarchy. And the real question is, is people don't even aren't aware of it, they don't know how to navigate it. So I think that's it from the biggest element. I suppose boiling it all down, where I've gotten to is that there has not there has never been any positive change without positive action. You know, it's like, well, women that just waited long enough that have got the vote or that have waited long enough that have been able to control the reproduction, or, and that's why I think positive action, you know, the word discrimination is so weighty, it carries so much in and of itself prejudicial terms, that actually, we should move it away to positive action. And actually, if you are going to do positive action could be as much as you know they're doing now is blinding surnames or blinding schools, in relation to application forms. You know, so you're not giving cues as to where or how someone grew up or what their background was, etc. So as soon as you said, you know, having, you know, sort of guaranteed shortlisting, or indeed, just a guaranteed interview, you know, just the whole idea that you'll at least have a shot, where it can do. And, you know, I'm in the position, not to pride or anything like that. My kids are independent schools, and they've had the lowest number of Oxbridge applications in a decade, because there's positive action going on. And genuinely, I'm delighted with that. I think there's, I think that's great. I think it's absolutely great. And I've got no problem with that whatsoever. You know, and again, I've got endless anecdotes, as I'm sure have in relation to discrimination, out and out racism. And actually, you know, a lot of the received pain of what I thought was a meritocracy didn't involve as a kid having excrement put through your door, or, you know, the the pain of seeing some oil going through your door and someone trying to put a lighted rag through it, you realise that actually, in the context of that, of where and how I grew up. The idea that it's a meritocracy is frankly, ludicrous. So we have to put that aside, and realise that it's all about positive action, and there's no negativity, there's nothing, there's no commentary in relation to people's back. You know, people can't help being born white privileged, as much as they can be helped born with a certain colour or any other attribute. But really what they shouldn't be is negative discrimination. So positive action, not positive discrimination. That's what I strongly believe.
Henry Southern 33:37
Thank you, and thank you for also showing, those frankly, very shocking stories. Is it? Right then to say it's equity rather than equality? Would that.. there's nods there, that's good. Samir, just picking up for some of the things was Clifford saying that the classical music, blind auditioning has been more prevalent and seem to be very successful and helping with diversity on the stage. Have you had an experience that that's all aware of schemes that are doing this well?
Samir Savant 34:04
Well um, I was at a Association of British orchestras conference a few years ago, and they had people over from the states talking about blind auditioning. And I understood also for this famous production of Amadeus, at the National Theatre was Salieri, famously a black man, a black actor, and that was all based on blind auditioning. Because the thing here is it's not out and out racism. I don't think any of our white colleagues in the creative industries, they would be horrified if they were considered, they would consider themselves to be liberal minded, anti racist, but they you cannot eliminate unconscious bias. This is the thing. And really, this whole thing about positive action is about eliminating barriers to success. Because, you know, I was going to talk about two aspects to this one is, is it are audiences in the music industry and the other one is about the the performing artists. And in both cases, I'm just keen that here at St. George's on my watch, the people that are coming through our doors reflect the city of Bristol. And similarly with the artists and even more so with the artists, because I think artists from a range of backgrounds have had different life experiences, it shows in their art, the artists so much more rich and engaging, you know, whatever their genre, if we've got artists who are not from one very narrow demographic, and that I'm really passionate and keen about that, so the more I can do, to bring down barriers to people accessing these opportunities, and being able to tell their story, that that's really what I'm keen on.
Henry Southern 35:55
I suppose it's not just on the stage, it's off the stage as well. And Kaya I know you've experienced this through through creative access. Can you tell us more about that please?
Kaya Brown 36:07
Yep. So um, how I got involved with HarrisonParrot and Polyarts to begin with was through Creative Access, which is an organisation mainly for ethnically diverse people, people from different backgrounds, you know, different classes, everything. So I signed up there. And then they offer a lot of opportunities to different people, such as internships and getting them involved in the creative industry, which is very hard to do. If you're, if you don't have, you know, you didn't go to university and you didn't do a music degree or you don't have these sorts of qualifications. And I found it really helpful, because, for me going to school in Lambeth, London, there wasn't a lot of opportunities in secondary school to, to really explore certain subjects like music, which is, you know, they cut it out of our GCSEs, we weren't allowed to do music. We weren't allowed to do psychology, all of these sorts of subjects that a lot of schools who have the funding, do study, and we didn't get that. So I remember thinking, ​'Oh, I really want to do this, and I can't.' And the only way to get involved was, you know, sign up to a music class outside of school, but then you have to pay for that. So it's just about these opportunities are not there for everyone. So I think there needs to be definitely with education, there needs to be more more people interested in education and educating young people on not just science, maths and English, and more opportunities. And I think, yeah, programmes like Creative Access have helped me personally. But it's, it'd be nice to see this happening more with younger people, not just when, when you're at the age of 20, you can sort of sign up for these things.
Henry Southern 38:12
Would you say that then? Also, socioeconomic issues also affects accessibility to the arts? And that's not from education perspective, also for from education through to concert halls? Is that, is that fair to say? Is that something you have found?
Kaya Brown 38:25
Yeah, 100%, I think a lot of people I know would not have been able to go to a concert in, you know, the Royal Albert Hall, if it wasn't for a school trip, or a teacher who's, you know, interested in, sort of got tickets fo students. And it's really sad, because a lot of people really want to do go to these things. And I think, me personally, I just don't think I would have had, I would have been able to have the experience if it wasn't through different programmes, or me signing up, and working really hard. So that way, I can get, you know, something to go to one of these things. And it's just really inaccessible for a lot of people. And I think it's, yeah, it's definitely got to do with socio economic issues, as well as racism. But the reason why I, you know, it's sort of there's big grey area is because I think a lot of schools, like the one I went to, is there was predominantly black and Latino. This was a black and Latino school that I went to, and in areas like Lambeth, these are where most of us going to school. But it's just interesting that these are the schools that are getting the least amount of funding, the least amount of attention, and it's not a coincidence. So now I think I think these conversations really need to be happening.
Henry Southern 39:59
Hear hear. Mikey, you seem to be nodding furiously at this. And also, I listened to your interview recently with Danny Boyle, we're talking about the usually eclectic experiences that you had in your musical education, Stravinsky and Mozart and Bach, you were saying was a big influence as well. Which is not something I expected. But tell me more about your experiences.
Michael Asante 40:22
Yeah, I mean, so I guess my dad was a Roman Catholic. And so it meant that when we was growing up, that's where we would end up going to school. So I went to two Roman Catholic schools, from primary through to secondary. And yeah, interestingly enough, music was on, you know, on both of that, you know, that that schools curriculum, so to speak, because I learned violin, guitar, and I found out I could sing, by the time I was at primary school. And then that took me to the county choir. And then that's when I found the learned about harmony. And that really blew my mind, you know, and it was like the best kids of all the county. So you sit in there and obviously, I'm like, I think I was like nine or 10. And so I had like sixth formers down to my age group. And then I'm hearing like 7,10, part harmonies, and I was just totally blown away about this thing, you know, because I think I didn't really kind of fall in love with hip hop, specifically til my teens, actually, because it hadn't totally come over to the UK in the format that it had come in. And there was a track by I think it was NWA called Appetite for Destruction or something like that. And I remember hearing that and thinking, ​'what is this, this is incredible', you know, and I think that was like 1993, or something like that. So by that time, it was over here, it was this thing called techno that was being played, and then jungle was kind of coming in, and then all of a sudden hip hop. And it just felt right, because everything that else we had was more dancey it was. So it was like Snap, it was, who else, it was Salt and Pepper. So it was all kind of like bouncy kind of hip hop style music, then this rap thing became really dominant. And then it was gangsta rap, essentially, that I was listening to at that time, I didn't know. But so the school experience gave me all of the classical elements, because I ended up then going into grade eight singing, which became my GCSE and my A level music period at school. But then at the same time, I had, you know, my parents who, I guess it through a combination of love and just seeing the thing that I'm interested in, allowed me to do all the other things outside school. So that's where the socio economic thing that when when, when Kaya was talking about it, when you guys were talking about I was thinking, yeah, my parents really, my dad specifically put his hand in his pocket a lot of the time, and sent me to go and sing in this one singing place up up in a mare street. So I was doing these things extracurricular as well, you know. And so these two words are parallel, because at that time r&b And I guess the whole love song kind of era of r&b was out there, you know. And, and that was a thing that I was really, really into the idea of singing in that way. So I had these two lives, so to speak. But then they totally merged when, you know, all of a sudden, I started making music at the age of 14/15. And then 16. You know, I mean, I love strings. I love the idea, all of that. And that's where learning about Stravinsky, Bach, Mozart, all of these different things were kind of coming into my head. And then it's obviously taking me to where I am today where I compose for theatre, I compose for film, I've composed for the TV, you know, and an artist and it's always a different edge people like, ​'Mike, you do that thing so well, but it's my thing.' And yes, it's come from all of those influences. So to be honest, the Roman Catholic energy, because even singing hymns, all of these things were important to that of the upbringing of our school experience. So yeah, it's it became a hodgepodge. And then oh, what I cannot not say then the African background I have, my parents are Ghanain. And, and so that music was around me all the time. And specifically, a lot of people know me for my string work, my drums, and then obviously, the sensibility of music in itself and understanding of instruments. And so you can see my life in all its facets in that that way drum work from the African part of me. It's my full time and study, A level with the strings and then yeah, just just understanding all of the different musical things. Because I played so many different instruments as well. So yeah, it's it's it's made me who I am today. What can I say? I don't know. But yeah, when you made me think about it now that's that's pretty crazy.
Henry Southern 44:55
That's so cool, thanks for sharing that story. And Samir I know you had a choral background. Do you want to interject?
Samir Savant 44:59
Yeah, I just wanted to jump in and kind of, I've had a similar background to Mikey in that I had singing lessons in Indian classical music and in western music at the same time. And it was only because in 1970, South Manchester, there wasn't such a range of musical opportunity. So I ended up joining a boy's choir and then and then singing really for the rest of my life. But, you know, it could have gone either way. And the techniques for Indian singing and techniques for western classical singing are very different. So I had to make a choice. And it was just about opportunity. But just picking up on what Mikey and Kaya have said, there is a there is of course, the socio economic barrier, but there's a barrier, an intellectual barrier as well. And I wanted to make a point that this is for me, this is kind of the last vestige of bias. Because all our all our young people we're always encouraged to send our young people to give them free tickets to, you know, the Royal Albert Hall or, you know, the Southbank Centre and, and to listen to music that is written by dead white heterosexual men. And, and yet there are you know, Mikey, you're saying, your parents from Ghana, you know, my parents, I grew up, I was born actually in India, and like, all of these countries have a wonderful musical heritage. And yet, we're all supposed to aspire to Western classical music as being the highest form of art. And yeah, and I think that just puts so many people off. And yet if we, if we so here at St. George's, we have a lovely Somalian youth group. And they're really being encouraged through a Somalian youth leader to engage with their own culture, their own music, because they don't know that stuff growing up. And often as in my case, you know, with first generation immigrant parents, they want to assimilate, they want their children to speak perfect English, without an accent, they want their children to be like little white people, you know, because that's the experience of being an immigrant. And so the kids miss out, which I think is a real shame and, and, you know, Western classical music shouldn't have to be this kind of aspiration ideal. It should be, be the best thing, whatever music you love. And, you know, the moment that hip hop becomes like a, you know, on the national curriculum, you know, and studied as an academic subject, I know it's already starting to happen. I say bring it on, I really you know, that it shouldn't have to be about orchestral, symphonic music.
Michael Asante 47:27
I have to add, I mean, what's interesting for me is I went to university at 19 I'd been the first person in our family to ever do something like that essentially, I then drop out and at the age of 20, and then decided to go and do this music thing gung ho start doing it, you know, eventually get published, my first publishing deal at 25 and stuff had been released, you know, I'm around, Grime is the music of art of my time. At that time, I'm doing all of that. And then my whole journey has brought me to where I'm a professor now at Guildhall School of Music and Drama teaching there, I've got my own course that I've built. And I'm building a course surrounding Hip Hop artistry, the idea of seeing it as excellence, because it is for years 40 plus year now an art form which has done so much more and has so much sub genres which need to be studied. And I think it's just so strange that literally what you said Samir. Literally, what you said Samir is the thing is, is understanding that what you do is excellent, regardless of the space that it sits in, and that's the thing that I sit with on my back and I think the fact that I dropped out has made it even more potent because I've got here without the traditional elements, you know, I've got to that space without traditional elements. And when I teach I say they can do it too, regardless of the background, you can just flip what you're doing and turn it into something and then kind of just to cap it off. What ends up happening is I then do take my parents to my graduation which was I was given a fellowship at Guildhall you know, and eventually given a scroll and given it to my parents at the end. So it really does draw home the idea of whatever you're trying to do, find the excellence in that you know, I just had to kind of say that because yeah, there is always this way of getting there that people try to put in front of young people specifically when really especially with what electronic and digital music has allowed people to do is allowed it to be in people's rooms on their laptops, and they can just get stuck in so yeah I'm a true 100% advocate of that.
Henry Southern 49:43
Thank you and well virtuosity takes many different forms and it's interesting to get your insights about classical music shouldn't just be put on that pedestal, I think Mikey we have one of your works set as a working GCSE syllabus. Is that correct?
Michael Asante 49:55
Yes. So so yeah, we have a piece called ​'Emancipation of Expressionism', myself and Kenrick made that piece back in 2013. And yeah, it finds itself on the the Selected Works that students have to study. So there's a possibility they will get that on their, you know, on their end of year exam. So yeah, it's, that's crazy. I would never afford anything that that would happen. I don't even know how you get your stuff on there. But yeah, geezer just came up to us and was like, ​'we want to put that work on. And it's the first hip hop piece of work, dance work that people have taken on.' So yeah, the connection with education has always been there in terms of hip hop in itself. Because hip hop, as an art form, it requires you, you know, it samples it takes from you. And then you overlay yourself onto that thing with just beats, or wherever. So I've always found it crazy that we're there, but rightly so hip hop like Samir is saying it needs to be studied, because it draws out the thing in people, as opposed to places the thing that people need to be on them.
Henry Southern 51:03
Cliff, anything to add on to that?
Cliff Fluet 51:06
Well, firstly, I'd like to celebrate my esteemed panels, inspiring stories. And again, I think that the, the thread that I sort of, you know, run through all of those things is early opportunity. You've just seen that the opportunity and, you know, for many of them, it may have been luck, rather than judgement, or to say, what denomination or what school they were in, etc, etc. But the one thread is giving opportunity early. Now, I was in East End school where there had to be a you know, there wasn't enough instruments. I didn't ever had, it's one of my only regrets. I spent the rest of my career in the music industry, but never had the opportunity to properly have that, that mastery. But I was also I was given an opportunity at the age of 14, to study at Oxford for a summer for a trust for poor gifted boys. And it changed my life, I'd never been on a train, let alone to a university, the life at the age of 14 and had my life completely transformed. And it's just the horizons and the horizons of walking in St. John's Oxford, or walking into the Royal Albert Hall or walking into a cathedral. And when you're not born of that world, those places are seen as not for you. You know, I remember when I was a kid, my dad said, I wanted to take us to the theatre. And I literally said that place isn't for us. It's not law, it's not for the likes of us. And, you know, I wish it was just a relic of how old I am. I know a number of people that wouldn't see a theatre or an opera house or any of those places as for that. And to anyone listening to anyone in a position of power, just one opportunity one afternoon, one week, whatever could change an entire lifestyle. And just in just in terms of the artistry, that comes out of those wonderful serendipitous moments. So let's make serendipity and create opportunity, no matter how small, it will have an impact.
Henry Southern 53:08
Hear hear, and as we've heard, it's, it's not decided to think about clearly as a foundation for people's careers on this panel in some cases. And that is wonderful. What also it's not just about that, I think it's about building our culture, and giving us opportunities. And as you say broadening horizons, inspiring people has overwhelmingly positive impacts, but I don't think we need to persuade anyone on this panel about the power of the arts. But one of the ways which I feel that we can make these places concert halls, theatres, etc more accessible is through programming, commissioning and recording industry that's A&R. And Samir, I'd love to come to you first, because you mentioned earlier about your programming, trying to represent the city of Bristol, but also about your fundraising experience. And I just wonder those two questions one great to hear about your programming. And if you think that doesn't de-broaden audiences, but also can, do you think philanthropists can influence programming, are there perhaps vanity projects, which naturally the funding, we might not necessarily be reflective of the diversity of a city?
Samir Savant 54:16
Yes, I think I'll start with your first question. First. Sorry, your second question, first around philanthropists and impacting change. I mean, I've got positive stories of philanthropists. You know, for example, the shocking lack of female conductors and philanthropists interested in funding schemes which promote opportunities for female conductors at conservatoire level upwards. So I think philanthropist can can make a difference. And what I would say to any fundraisers on the call is just don't be afraid to say no to your donors. If your donors are pushing for projects or initiatives that don't sit right with you then then just don't be your donor. When respect you any the least, or probably won't, you know, may still carry on giving money to you or give money to another project. But you have to stick true to your principles. I think that's really important. In terms of programme, absolutely, you know, there's no point it's back to what I was saying about classical music, you know, being perceived as this the ultimate art form. And, you know, no matter what kind of ticketing schemes or marketing initiatives we do, here at St. George's, people are not going to come to a concert if they don't feel the language that has been used amongst the panel, just by Cliff now is that, you know, it's not for us. So rather than doing that, you know, we will, we will do a whole range of concepts with musicians from different genres. And you know, classical music is actually just around 40% of our programming in any case. We have a lot of spoken word events, we have the wonderful LGBTQ activist (…) coming tonight, and it's pretty much sold out, we've got a way, way later in the season. So we do a lot of spoken word events. But again, it's just reaching out to communities and doing the stuff that I know they want to engage with. You know, we've got a wonderful coffee bar extension, which was, which is open now again, after lockdown, you know, it's the perfect place for cabaret and drag, I think. So you know, that kind of thing, having the diversity approach on programming. And something I'm very keen on is, is bringing two genres together, as well. Because it just it speaks to the society we live in today where people are living on streets, where people from different communities… And I think one thing lockdown has done is bring us all together in this country as a community and recognise our neighbours and literally going out and clapping for the NHS and actually seeing who your neighbours were, because I lived in North London. And traditionally you don't know who your neighbours are, and you come out on the street, you can actually see them. So that was really, really nice. And I'm just want to you know, I, I'm just really keen to bring different art forms together, this word serendipity Cliff used, you know, like, let's just bring two artists in a room together, let them talk to each other through their own musical languages. And let's see what come as this comes out. And that, to me speaks to a really modern Britain, you know, not not kind of just trying to repeat tropes from decades before, but just kind of making something that's real for today.
Henry Southern 57:27
Absolutely, and I mean, Kai, you work a lot of multidisciplinary programming with with poly arts and what have you found from your experiences?
Kaya Brown 57:34
Yeah, I was just thinking about poly arts as you're speaking some. Yes, it's all about work, I enjoy working for Polyarts' because it's what we represent is, it's a no size fits all approach to, you know, the music industry, it's about, we are working with a lot of classical musicians. But we're also working with musicians who want to not just stay in this bubble of classical classical music, they want to work with other artists in different genres and explore different, different ideas. And that's why that's why I really like it. But also, for an example, we work with different composers who are looking at spoken word, jazz, looking at the history as well of jazz musicians, and what can we do now? And how can we mix this with classical and sort of present it to everyone, so everyone who can receive it the way that they want to? And, and like you said before, it's not about classical classical music, it is sort of on a bit of a pedestal, in the sense that this is what's presented to us in schools and so on, as this is what we should aim for, when really, the exciting thing about music is that it's creative, everyone has their own thing to add. And that's how new genres are made to begin with so I think yeah, I think that's I think that's that's what should be encouraged. I think that a lot of people are trying to encourage it to be honest, which is what we're trying to do.
Henry Southern 59:26
Thank you and Mikey, I know that you have a broad range of influences in your programming and it's also in sometimes grounded and live experience so red I think was was about different stages of grief. Black, white, grey about it, you said to me the days about your experience as someone who is definitely diverse and being black and, and how that's portrayed in this in this extraordinary triplw bill. Do you think, well for you personally, but also for the arts and culture more broadly, do you think it's important that the, we authentically tell these stories?
Michael Asante 1:00:01
Yes, I mean, there is there's two sides to that, because essentially like with the, the film world, something that I know, just between my friendship group and other colleagues in in other areas, the idea of focusing on black pain has been something that you know, has challenged a lot of people in regards to what's being programmed, what is the things people want to see from us, as black people, more often than not, they're not wanting to share our joy, they're not wanting to share the great things that kind of happened with it. And and I think, when I when making black, white, grey, it did come from that place of pain, but where it ends, for people who haven't seen it, where it ends is the idea of the hope of what could happen next. And, and I think that that's the main thing, it's it's trying to, to have a balanced idea of what people really need to see and, and I think if we're making sure that it's not always the pain that's on the stage, it's not always the the trope of the drama that the bad side of things like, I mean, not to name drop, and kills. Another piece of work. It was really interesting, as I'm a soprano fan, right, I love the sopranos, when finding it in my 20s. And watching it, you know, we're just like, wow, this is crazy than the, you know, the Africa, I forgot how to say the name, but the Newark thing came out. And, you know, they brought, you know, his son in to kind of be the Tony Soprano, the young Tony Soprano. And watching it, it just felt so random that they put in put in the black story of it, which was, you know, these riots that happened in Newark, which they tried to kind of put alongside this soprano story, come to find out that initially, you know, David Chase had wanted to make a story about the riots. And that was his original plan. And it was just like, why, this is about the Sopranos. Why does this have to be in there, and it did feel like it was in there to kind of satisfy the concepts of what people want to see on their television, television screens now, or seem to be doing now. And I think when traces are made like that, it's really, really painful to me, because it's a lost opportunity to talk about something else that matters that people can see, rather than trying to satisfy the idea of the quota that needs to be on your screens or in your space. And yeah, you know, black, white grey, as a show was me trying to create something that was excellent. It wasn't me trying to tell a story, I have no other story. Because I have one life, I am who I am. So I'm just going to tell my thing, just as every other person did, I want to make something excellent. And it's always challenging, because the reason why also black white grey was made was from a programming point of view to a degree, because when we come to them with some of our other shows, which the price tag is probably the same as like a ballet piece. They're like, I can't sell this, the tickets don't make any sense. Because essentially, what you'd have to play when you hear a hip hop show, you're thinking kids, young people, you know, the tier that you have to put it in as a ticket is going to be much lower, you can't go for that 90, that 80 pound ticket. So all of a sudden, when you see the price tag, even though it's trying to be excellent work, it's good work. Did you enjoy it? Did you like it? But then you know, you can't sell it. This is when we have this you know, this this kind of debate between business good business, and what is good and what should be on your stage. And and I think that's the thing that we're finding tricky for ourselves from a programming point of view, the sense that you want to try and put something excellent. And essentially, that's why we made black white grey, actually quite cheaper to number one tour to be out there. It has no props, do you know the show I'm talking about what's called the Five and that had like, it was a manga Shaolin Kung Fu, hip hop mashup. And it had projection screens and manga stuff going on, it had a massive piece of set, you know, this black, white grey was actually quite small and lightweight. And, and so yeah, we're having to battle that, you know, which is trying to do good business, but and also at the same time still provide excellence in the vein of what is hip hop. And I think I don't have the answer, but I would definitely say it's the challenge that I find myself and the company finds itself in this time now is that people don't think they can sell our work in the same way they could sell another piece of work because it just makes much more money.
Henry Southern 1:04:47
So do you feel that for certain topics for your work, themes of your work firstly undervalues um, hip hop or is it Hip Hop more generally?
Michael Asante 1:04:57
It's it's more I guess the connotation of what Hip Hop as an art form, says to people who are really, number one probably quite ignorant on or number two aren't really schooled on what hip hop is, as an art form, they don't know that it has filled, you know, the concert hall at the Barbican, you know, with Miguel Atwood. And he him taking J Dilla. Who is one of our pre, you know, prima donnas as a hip hop producer. He can feel that space, but they don't see that they don't know it. They don't know that that word can fit in that space, and can command because number one as well, it's not only poor, you know, people of colour from a particular part of town that love the music, it's everybody, it hits all parts of the world, there's loads of people who, who are going to be in their 50s and 60s who grew up with it, who grew up with hip hop, who grew up with that genre as a part of their day, they could, they could probably talk about their life in hip hop songs, you know, but when you have that indifference when you don't understand that part of the world, because you're just not exposed to it. You might look at that ticket and think if we can't sell that, or that can't make sense, or we can't find a way to make it work, you know. So I would definitely say it's the less challenge of us it's more people kind of being exposed to that or being open to try and to see how deep, literally, the rabbit hole goes with what our art form is essentially, I hope that answers the question by the way.
Henry Southern 1:06:40
No it does. And it's a recurring theme of this is opportunity, exposure from all genres and terminating perceptions. And I think that's just really important. Cliff, I'm going to come to you and hopefully you can help round us up in a in a wonderful way. I'm sure you will. But what are your, do you resonate with some of these experiences and reflections and or from an a&r recordings point of view, but also more generally?
Cliff Fluet 1:07:05
I just think that, again, it's a loaded term. But the more diversity, you know, it's just leads to even more creativity, even more genre, even more inspiration, and also, most importantly, to take the state of the art forward. A lot of what I do, it's about bringing together technology, which of course, is a great leveller. In terms of opportunity, and giving people the opportunity to create and curate as well. It gives people the opportunity to be able to experiment and develop all of that. And for me, this incredible melting pot from an arts perspective. And everything that Mikey and Samir and Kaya have talked about as well are, represents a fantastic springboard for even greater art, the idea that this stuff is being diluted, rather than actually what's really happening, which is an opportunity for it to be developed, and be stimulating it further. It's a tremendous opportunity. And, you know, for anyone that thinks that great art is lost, rather than actually really what it needs to do is to be remixed, you know, it needs to be embraced as a remix, you know, remix is something that's seen as something that comes of hip hop culture, its sampling, etc, etc. But actually, really, that's just another word for, you know, creative sparks and new places to take things, you know, some of the pieces which I have experienced, actually, that Mikey was talking about, as well. And seeing that kind of cross collaboration that fertilisation, that pollenization really represents the exciting place where the arts can go. And you know, this is why it needs to be celebrated, you know, so anyone listening that thinks that topic of diversity is a ​'ughh' moment, without actually realising it's an ​'ahhh!' moment, you know, it's an opportunity to really be seized. And with that, as well, you know, we've got entire art forms that have been built on the most marginalised in society, in relation to sexuality, race, gender, etc, etc. Let's celebrate it. And if you actually rather building on the back of these people, but actually have these people lifting it up further, it's going to be even greater.
Henry Southern 1:09:31
Well, that was brilliant on a wonderful note to finish on. So thank you very much. And thanks to all four of you to Mikey, Kaya, Cliff and Samir. Truly, you provided extremely insightful and inspiring contributions to the discussion and we have only just begun, we will be back for more on this topic. So listen out for that. Thank you also to Holly Gedge, Fiona Livingston and our sound editor, Merlin Thomas, our theme music is composed by Robert Cochran. We hope you've enjoyed this podcast. If you haven't done so already, be sure to check out all the other episodes from The Culture Bar, with topics ranging from women in publishing, to how the arts can respond to the climate emergency. We've had guests from the BBC to the British Museum, from former professional football referees to members of the UK Parliament. And to get all that and more, please subscribe. Until next time.