The Culture Bar: COP

26

reflections — the future of dialogue

&

cultural exchange
7/12/2021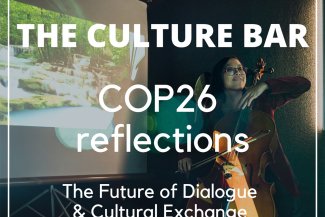 In this episode of The Culture Bar, we reflect on the learnings and outcomes of the COP26 conference in Glasgow and how these can be integrated into delivering global creative projects whilst still conserving the planet. Our discussion also considers the merits (or not!) of digital and virtual experiences vs in-person interactions, as well as discussing what future methods are out there to ensure that cultural exchange still takes place.
We are joined by four expert panellists to share in these reflections:
Brandon Ferderer

– Director of Global Community, Shared_Studios

Samantha McShane – Head of Artistic Planning, Royal Conservatoire of Scotland
Rosanna Lewis – Creative Commissions and Culture

&

Development Lead, British Council
Lauren Livesey – Partnerships Manager, Curatours
Hosted by HP's Henry Southern
The Culture Bar is a podcast series created by HarrisonParrott focussing on conversations in culture and the arts.
Find us on Spotify, iTunes, Google Podcasts, YouTube, Podbean, Deezer and all good podcatcher sites.
Use #theculturebar or follow us on Twitter @_TheCultureBar to keep up with our latest releases
A special thank you to Robert Cochrane as the composer of the theme tune music, and Merlyn Thomas our editor.
Transcription
Henry Southern 00:06
Welcome to The Culture Bar, a panel discussion, podcast exploring, dissecting and shedding light on important topics in the arts and music world, which matter to you. Hello, and welcome to The Culture Bar. I'm Henry Southern, and today we are taking a moment to have some COP26 reflections. And we'll discuss the future of dialogue and cultural exchange in our climate conscious world. This is a big one, and we couldn't have a more informed and charming panel to guide us through it. First up, Brandon Ferderer, Director of Global Community at Shared Studios. Samantha McShane, Head of Artistic planning at the Royal Conservatoire of Scotland, Rosanna Lewis, Creative Commissions and Culture and Development Lead at British Council. And last but by no means least, Lauren Livesey the partnerships manager, at Curatours. Thanks for being with us. Welcome, everyone. Thank you.
Everyone 01:00
Thank you for having us.
Henry Southern 01:02
Thanks, guys. So now to kick things off, I think it'd be wonderful to hear more about our panel and for you guys to introduce yourselves. And I'm going to come to you first Rosanna because what's brought us all together today is a British Council initiative called the Creative Commissions which we've all been involved with in various capacities. There are grants available to support projects leading up to and during COP26, to a sport, explore climate change through art, science and digital technology. It's been quite extraordinary. But I also emphasise, of course, that this podcast is not just about how great those projects were and how wonderful the British Council was, but is rather which of course, the British Council is wonderful. But amongst other things, we want to share learning from the experiences and talk about this topic more broadly. So anyway, we're gonna open that justice. So now to kick things off, it'd be wonderful to hear more about our panel. And for you guys introduce yourselves, so, Rosanna, I'm coming to you first. And you're part of the reason that's brought us all together with a with a wonderful British Council initiative. Can you tell us more about that please?
Rosanna Lewis 02:05
Yeah. Thanks, Henry. And it's a pleasure to be here with you today. So my name is Rosanna. I lead on the Creative Commissions for the British Council. And the British Council is all about building trust, understanding and connections between UK and people around the world. And we do this through arts, education and the English language. And in the lead up to COP26, which most of you have heard about the Conference of Parties for climate change that happened in Glasgow last month. Earlier this month, actually, the British Council felt like we needed to look at the work that we're doing in our fields of speciality and develop a global programme that had resonance with people that we engage with. And that was really going to make a difference to the world and try and tackle climate change in different ways. So we developed the Creative Commissions which were awarded earlier this year. And there are 17 Creative Commission's that combine arts, science and digital technology and address a range of climate themes from rising sea levels to deforestation and protection of biodiversity. And one of those projects was Climate Portals, which was led by HarrisonParrot in partnership Shared Studios. So I'm delighted to be here with you all today, and to meet the rest of the team and to have this discussion.
Henry Southern 03:36
Thank you. And one of the other wonderful partners for our climate project was also the Royal Conservatoire of Scotland. We've got Samantha here, from from the conservatoire up in Glasgow. Samantha, can you tell us more about yourself and your role and, and, and more around this topic?
Samantha McShane 03:52
Absolutely. Thanks, Henry. And so I'm the head of artistic planning at the Royal Conservatoire of Scotland. And at the RCS, we are a higher education institution primarily. And we have music, drama, dance, production and film all under our roof. And we also have a number of venues within the building. And we put on various productions throughout the year, hundreds of productions actually throughout the year, for all of the disciplines that sit within it. So my job within the RCS is to lead on the artistic strategy with colleagues particularly in the School of Music. So that involves programming, orchestral performances, smaller ensembles, all of our performance CDs, working with any partners, professional partners that we have and masterclasses. And so talking about digital work and actually how the pandemic has, has kind of forced us to make a change is is really sort of at the forefront of our mind right now and how we continue doing that. But as, as we've said, we are so lucky to have worked with HarrisonParrott, Shared Studios and the British Council, and Scottish Ballet to have the portal outside our door. And to see how that has opened up, our ability to, to work with people from around the world from all different backgrounds in order to inform our artwork in practice in general. And so, really excited to talk through that with everyone here today.
Henry Southern 05:35
Thank you Samantha. And please, listeners indulge us just for a little bit longer about how wonderful our kind of portal project was, and of course, how wonderful the British Council is. But it makes sense, I think, to segway to Brandon with it, because without Shared Studios, this project wouldn't be possible as you provide the technology to realise these these conversations.
Brandon Ferderer 05:53
Yeah, thank you so much for having me. And it's wonderful to be in conversation with such an incredible group and, and to talk more about the Climate Portals and and to talk more about the as Samantha was saying, just the future of digital technology, and what that means for how we might engage one another around the world and in effective conversation. I'm the Director of Global Community for shared studios. And shared studios really exists to bring people together from around the world, across distance and difference for transformative conversations with the purpose of really creating a better world. And that's a lofty goal. But we do so in a couple of different ways. One is through virtual conversations, we call them journeys, where we bring people together across enterprises, education, and arts and cultural institutions to have transformative conversations about all sorts of pressing global issues, climate being one of them. And the other, which I think we've touched on a bit here already is through portals, which are immersive spaces, where it's a repurposed shipping container. When you step inside, you're in a full body face to face conversation with someone in a similar container in one of 25 countries around the world. And we've been so happy to have been a part of the Climate Portals and partners with both HarrisonParrott, the British Council, and especially The Royal Conservatoire. They've been a delight to work with and really allowing us to understand the ways that we can use this technology and art to create more impactful conversations about climate issues. So happy to be here and to continue that conversation.
Henry Southern 07:28
Thank you, Brandon. Yeah, well there's lots to unpack already, I can see with Samantha, you were talking about all the wonderful live programming that you're doing, Brandon with the future of digital technology. And we're going to move on from Climate Portals now we're going to go to another creative commission. Our fantastic guests here, Lauren from Curatours, who did a project called Museum of plastic. And I mean, digital technology is what all you're all about creating these immersive experiences, is that right?
Lauren Livesey 07:56
That's correct. I'm Lauren. And I'm also very happy to be here and join this wonderful panel. My background is museums, I work for Curatours, which is part of corporate innovations. They're an immersive tech studio. And we have put together Curatours, which is a platform for social cultural, virtual tours of museums and cultural spaces. And the really important thing there is that there can be accessed on smartphone, tablet laptop or a VR headset. So that you know we acknowledge digital poverty is is a real issue. But we want to make conversations that happen in a digital space, be as accessible as possible for as many people as possible. The platform launched earlier this month but the way that we intersect with with the British Council's Climate Commissions is that they very, very kindly supported us with through their programme to put together something that we've called the Museum of Plastic 2121. It's a speculative museum with the future set 100 years from now with a, a world that's being explained. So the Museum of plastic 2121 is a speculative museum of the future set 100 years from now, which aims to explain to the people of that time what single use plastics were, how they came to be such a huge part of the 20th and 21st centuries, why one thought they're a good idea, and how we came to really have a sea change in our behaviour and reliance on them. That launched earlier this month, but it features partners from South Africa, the Artists Collective Green Pop, the artist collective Bazaart, and the NGO Green Pop, and researchers academics from across the globe as part of the University of halls circular plastics collaboratory, but it has been up for a few weeks now and it's available for download on Oculus and steam so I have to put in that that little plug there. But yeah, I'm really excited to kind of be part of this this panel discussion today.
Henry Southern 09:53
Plugs are all welcome. No problem. And I look forward to checking that out. Thank you very much. Now one of the things which you mentioned, I wasn't expected to get this deep this quickly. But we're gonna dive dive straight in, you guys don't mind I can tell. Digital poverty, accessibility. I think that's really fascinating because it's all very well us saying, The Future of dialogue and cultural exchanges on digital, but actually, in the UK and worldwide, there's specific.. not everyone has the latest iPad or smartphone, whatever it might be, and how can, how are you tackling that.
Lauren Livesey 10:24
And so within kind of Curatours, that the meat of the platform that the tech magic that I can't begin to understand, because I'm a museum person, not a tech person, is being able to create a digital space that is accessible in the same way, no matter how you access it, whether that is on a really expensive VR headset for a full body immersive experience, or whether you're coming in on a really, really cheap kind of tablet or laptop. So, you know, absolutely, there's an acknowledgement that not everybody has got access to even this level of digital kits. But we do feel that by continuing to push the envelope, by making the technology usable, accessible on all different platforms, all different types of hardware, you continue to push the boundary of who can be included, and to kind of make it more difficult for people to not include others. So if you can do something digitally, if you can bring in somebody on a really cheap sub 100 pound tablet or laptop, and you choose not to do that and to meet physically in a way that would exclude anybody who couldn't afford airfare, etc, you really have to ask questions about the decision that you've made to do that. So it is an on going problem and not something that we've got the answers to right now. But I think it's something that's really important to acknowledge within the tech industry, not everybody can, can have that access, but to state what you as an organisation are doing to try and ameliorate that as much as is possible.
Henry Southern 12:01
So actually, in some ways, the barriers or entry from a financial point of view are less than say, as you say, a flight, for example, and all the other things that go around.
Lauren Livesey 12:10
Absolutely, you know, in the vast majority of instances, international airfare is going to come to significantly more than you know, access to a tablet or laptop. So that's an investment that can lead to long term continued and sustained dialogue. I think the sustainability in terms of something happening not just once, but continuing and having a real legacy that can grow and develop is is really important.
Henry Southern 12:36
That's a very good point. Rosanna, are the British Council do anything to address this?
Rosanna Lewis 12:41
Yeah, I mean, obviously, this is digital poverty is a topic that has come up a lot in our work, we're about international collaboration connection. So we really have to think about how can we connect online or remotely, especially in the world of COVID today, where international travel is less possible. And with the climate change issues that we're facing, we're also trying to limit our carbon footprint across the organisation. So with Creative Commissions, what I love about them is that they all bring something really unique and different. And the Curatours project Museum of plastic and climate portals do rely heavily on digital to have that interaction and that connection, but you're also through climate portals, and I'm sure Brandon can say more, by providing that shipping container space around the world, you're also giving communities who don't have digital access, access to a platform. But what we've tried to do across the 17 is have a real range of opportunities to engage so that it's not all digital facing, that there is community workshops and activities happening and some of the projects that are then platformed on digital platforms. But that's not the primary purpose of the activity in the creative process that they're going through in that project. An example of this is listening to ice, which has sent some sound recording devices to a glacier in the Himalayas, and worked with local communities to listen to the sound of the melting glacier and to better understand in their community, what it means to them. If their glacier disappears, what does the ecology look like? What's the effect on flooding further down in the Himalayas? How are they aware of it and what stories and even songs have emerged from their relationship to frost, to snow to their landscape, and a documentary will be created as well as a record of songs from from the local community that will go beyond the lifetime of the project and be a legacy for them, as well as an experience they've had that isn't digital but still has a digital reach beyond the project itself.
Henry Southern 15:05
Wow, that's fascinating. I never would have thought of something like that. And one of the things which, which I've personally found quite challenging with this brief, and actually has to be approached more programming going forward, is how you can credibly marry the arts with, say, climate change or other themes within the arts, science and digital technology. But Samantha, how have you found that at the Conservatoire?
Samantha McShane 15:28
Yeah, it's really interesting, because when the portal first came, … started speaking about the the portal. Initially, we were thinking, Okay, what performances can we have within the portal to, you know, share with people from around the world. And actually, what has been and is in line with what Rosanna has just been saying, what has been just so fruitful is having basic human interaction in the portal, it might be on a really basic level, one instance was of a student speaking about their love of coffee, where it's produced, what is their shipping process? What is the, you know, everything around something like foods, and just having that basic conversation, taking it, and then creating artwork from it. And not only that, the artwork is shared with everyone locally. So it's almost like, you know, you're connecting globally, in order to make that impact locally. And what we're trying to do, then, what we're then trying to do, as to, you know, motivate people and our local communities to realise what's going on around the world, and what the impact is the true impact of some countries, that climate change is happening, because some of us are fortunate enough to, you know, not be so aware of all of that, because it doesn't have a direct impact. So it's about using the art. And the artwork that we create, to tell that story, I think.
Henry Southern 17:03
And Brandon, I mean, we've mentioned this, with the others just now, but one of the extraordinary things about the portals is its locations around the world in Uganda refugee camp, or in a tech hub in Gaza, and in many ways that that does reduce barriers, it allows anyone and everyone to have those conversations, right?
Brandon Ferderer 17:22
Yeah, I think something that that is emerging here is that when it comes to digital poverty is it's not just about how do we connect communities, but it's who are those communities, who are the people that we're connecting and, and the the work that shared studios does, and a commitment that we have is it whether it's in the the immersive space of the portal, or even in a virtual conversation, is really to highlight the voices of those folks who are generally not the ones who are getting hurt. So whether that be climate activist from Nakivale in Uganda who aren't able to attend COP, but have a lot of things to say about the way that the current climate crisis is impacting their communities, or like you mentioned, Henry, a tech hub in Gaza, which is a place where a lot of people may not have the opportunity to travel. And so I think there's there's a, there's a poverty here, a digital poverty in terms of the kind of ways that we can provide internet and digital access to communities. But there's also kind of a human poverty here, in that we're only hearing from the same people again, and again and again. So to Samantha's point, on, you know, being able to connect to these communities and just engage one another at a very human level, just around coffee, you know, we used to start portals with a simple prompt of what would make a good day for you. And you realise just how much you have in common with people around the world. But it also inspires different forms of connection that I love to hear, you know, are, are inspiring forms of art that then live in the local communities, but are grounded in this global context is, is really fantastic.
Henry Southern 19:04
So that actually raised an interesting point as to how you said by starting with something quite human. And one of the questions I wanted to ask you all was, how can we elevate the digital and virtual experience and Brandon, you and I spoke before about having grounding it in just something quite normal? And then to build from there? And I think you've you found that to be effective?
Brandon Ferderer 19:30
Yeah, I think even so it works in the immersive space of the portal. But I think that it's equally as important in our virtual interactions, as well. Whether that be a meeting that we're having with colleagues over zoom or whether it be you know, a conversational journey that Shared Studios is putting together for an enterprise. It you always have to create an atmosphere for human connection. And when we're specifically in the virtual space. It's really difficult for us to connect human to human because I've got my notes open on this side of my computer, I've got my email pinging in the back. And so it takes a bit more care and thought to create moments where we just start to get to know one another in the beginning, start to understand, you know, I love coffee, oh, you know where some is produced? Oh, that's fantastic. Let's, you know, that creates an atmosphere for us to remain connected. The beauty of the portal is it does a lot of that work for you, you're standing full body face to face. And so you're able to kind of dive into things more, more quickly. But I think in terms of digital technologies, in general, we need to be thinking a lot more about and, and really pushing to be more thoughtful about how we engage the human rather than rather than and I'm really interested actually, to hear from Lauren on this, you know, how do we centre the human in digital interactions, as opposed to the technology, even though the technology is essentially what's enabling us to have that interaction in the first place?
Henry Southern 20:55
Absolutely. Lauren, take it away. What a great setup.
Lauren Livesey 20:58
Thank you, Brandon. No, it's everything that I've been hearing has just been chiming on so many different levels. And but certainly the the ability to have a conversation with somebody and that that's the thing about Climate Portals, you see somebody you know, you see the whites of their eyes, you can absolutely have that conversation. When you move into a digital space with the digital avatar, do you have that same level of connection? Well, obviously, my stance very much is yes, that is still absolutely available. You know, it's been great to track the development of the creator of platform as we've moved it along. When you're in the space, you're a digital avatar, a kind of spongy, humanoid looking shape collection of kind of shapes, but it's, it's, it's something that has personality and interest. And when we were able to kind of add the functionality of being able to raise your hand, or being able to wave or being able to kind of cheer or do anything, that moment that we were able to integrate that just simple way of making, making some kind of behavioural gesture, the kind of authenticity, and the enjoyment of being in that space absolutely skyrocketed. So I think being able to inhabit a space with somebody physically inhabit, especially digitally where you can see them, there's a real strength there. And but I also think that there's really something to be said, for inhabiting a space with somebody in a non humanoid form, almost being able to see somebody where you're all just a collection of polygons, you can all be in a space, you can set aside any ideas that you might have around people, backgrounds, appearances, any of those things, and just have a conversation with somebody. And I think that's something that we've been really enjoying getting to do within the museum of plastics. The idea is that somebody in Iceland on an Oculus headset can join somebody in Buenos Aires on a tablet with somebody in Papua New Guinea, on a smartphone, you know, you can all join together at the same time, you might do that, intentionally, you might do that completely accidentally. But that accident of digital proximity, I think creates a really, really fertile space for discussion and imagination. And when you're able to bring in stewards of the space, whether that's a curator, whether that's an expert, who can lead a tour, who can spark imagination, and ask a question or answer a question from the audience that maybe just pivots the way you're seeing things in a slightly different way. I think those opportunities for discussion that are filtered through different perspectives, different life experiences is what's absolutely so fertile and interesting.
Henry Southern 23:40
Absolutely, yeah, it's fascinating. I mean, Rosanna, I don't suppose another project you'd come across other than examples where the digital interaction has been elevated into another level that we haven't previously, or it's been surprising to you and has been particularly successful.
Rosanna Lewis 23:58
Yeah, I mean, definitely, the Museum of plastics is probably the example where that digital interaction is in that VR space. But we also have another project called (…) which is capturing green urban spaces in Botswana and working with local communities to develop a creative green space in their urban communities, and they're working with the local authorities and decision makers to make those spaces actually happen in reality, but they're creating a VR and 3D experience of what that space would look like if it were there. And I think beautifying and making spaces green in this way, creates that sense of imagination and possibility that in the climate change space, the Hope Behind those projects is really key that people don't lose sight of what is possible. And I think with Museum of plastic it's quite similar. It's rather than than saying, look at how terribly we treated our planet and all the plastic that's around and that we've never been able to get rid of in 100 years. It's saying what, how can we show a different reality, a more healthy evolution in humanity of our relationship with plastic, and look back at it in a in a way to say, yes, it was part of our history. But we've changed and we've managed to evolve. And we have a very different relationship with it now. And it's sitting in a museum, which I think it's the really fun and creative side of museum of plastic, creating that virtual space. So yeah, that there are those are the kind of most digitally evolved, I'd say. But what I found really interesting about what Lauren was talking about is the different ways people can interact, whether it's accidentally or purposefully. And also, I think, with climate portals, just the experience of the people involved in the creative process, not just in the portal, but without and within their communities going sort of taking the project and that experience beyond the actual digital platform is something that I find really fascinating from project management, Creative Commission's perspective.
Henry Southern 26:23
Yeah, that's certainly extraordinary amount of the outlet to, I just think you call it digital evolution, or how digital has evolved. And it's amazing how it's enabling interaction. Samantha, I wonder if there any other experiences you can share from your work with the Conservatoire. But also, let's face it, right? I'm asking a flippany question here. It doesn't beat live performance or in person interaction, you can do what you like with digital, that's never gonna, gonna beat it, right?
Samantha McShane 26:53
Well, I think that, yeah, it depends on what kind of cultural interaction and exchange we're talking about. So if I'm thinking right now, from a perspective of where we're at, in terms of technology, and its accessibility, I don't think that having musicians here in Glasgow, playing alongside musicians in Rwanda, for example, would be the best way to interact with each other and, and expecting it all to work well, I think, yes, in a room with each other, that that is the best way forward. However, everything, you know, everything does have a cost, doesn't it? And, you know, the cost, the financial costs of making that happen, that the cost of the climate, and the time as well involved in doing that. And so I think that when we, when we talk about cultural exchange, we just have to adapt the way that we think about it. So instead of thinking that, traditionally, we're all supposed to be in one room, let's come away from that, let's start it online, and then take it from there and see what's possible from there. And I think the pandemic has, as we've seen before, has absolutely helped us to begin working in new ways. I really hope that in the future that VR will become much more accessible, you know, and I hope that we're able to use it within within the ICS and other higher education institutions. I remember, I think it was years ago now where the Philharmonia had set up their VR, you know, experience within the Orchestra. The Virtual Orchestra. The Virtual Orchestra, exactly. And so I hope that VR will go even farther in the future. So that, for example, at the moment, we might do master classes with someone in Australia over zoom, it works well, we've got the setup now to make it work. But imagine what it would be like if we were both sitting with VR headsets on and they feel like they're there together. And so I think that's all I feel like, that's all to come.
Henry Southern 29:08
Absolutely, I mean, with VR, we were just the tip of the iceberg. We've got these big chunky headsets. Now, I mean, look at what a mobile phone was like in the 80s. They were massive and look at them now. So we're only the only way is it's going to get smaller and more subtle and more immersive. But finally, what do you think of my flippant comment that you can't beat live right? You can't beat an in person interaction.
Brandon Ferderer 29:27
I just building off of what Samantha said, I think one of the important things there is that it's, when we are limited to just being in the same room. We're also limited to the types of people who we can interact with in that room. And the digital opens up an opportunity for us to engage people who are from areas we may never go visit from communities that we may never have had access to, to learn things about their culture that we may not have ever learned. I think it's really exploded our ability to engage in productive cultural exchange. And and I think it's it's inviting new people into into that room because it's a digital room. I also am interested in the the ideas of of VR, one of the things that I think is is really impactful about the portal and is that it, it grounds the each participant in the physical space of their own community, while simultaneously engaging the space of the community in the other country where they're speaking. And then it creates a third space where these two things merge together in the confines of the shipping container. And I really see the future of digital technologies as being less VR focused and more AR focused. Imagine to go back to Samantha's example, we're doing a cooking class, but I'm in my kitchen, and I can see my kitchen as well as see the kitchen of the other person without having to put on a headset. And I think eventually we'll get there where the VR and the AR will kind of come together and will no longer be limited to those headsets and the complete divorce of our bodies from our own physical space. But it'll be a merging of the physical and the digital that I think is most exciting.
Henry Southern 31:23
Absolutely, it's very exciting about the potential and it's interesting what you're saying about it. We were talking about digital poverty earlier, and the diversity and inclusivity discussion. But actually, you're right, you aren't just limited the people in the same room. And you've got so many other possibilities when when you enter into the digital world. Lauren, I'm sure you've got lots to unpack about this, and particularly also with the VR / AR discussion as well.
Lauren Livesey 31:48
Yeah, I mean, so many things that are being said, here are just so fascinating. I think we could probably all just sit down and talk for hours on any one of the the kind of things that come up, but the kind of the conversation about, you know, will the digital ever kind of supplant or replace the physical connection? I don't think it will. I don't think that that's not something that I think Curatours is designed to do. But I think it's there to supplement and to extend connection. If we limit ourselves to only connecting with one another when we can physically be in a room, then absolutely, that room has got very few voices in and it's often going to be the same voices and the same type of people. If you are having a conversation about a impact, like the climate emergency, and you're only preferencing voices from the, you know, the global North, and you're not including the global South, that's not a conversation of the parties. That's a conversation of a few people who are very often as I think Samantha or Rosanna mentioned earlier, not the people at the sharp end of the problem. And I think that's what is so interesting and central about digital ways of connecting. We don't have the excuse to keep ignoring people and leaving them behind. If we can offer a climate portal in, you know, a Polynesian island, or we can include access to the Museum of Plastic to somebody in lowlying parts of Southeast Asia, and we choose not to do it, then we have to make our peace with the fact that we are making a decision not to engage with people. And I think that is what is really going to be an interesting shift as we embed the digital because we have to come to terms with the people we choose to speak with, and that sometimes maybe we're gonna hear conversations, points of view, perspectives that don't reflect all that well on us, but are absolutely vital to hear.
Henry Southern 33:46
Absolutely, I mean, global conversations is what the British Council is all about Rosanna, right?
Rosanna Lewis 33:51
Yeah, exactly. I mean, it's such a joy to hear all of you speak about these topics, because it's so in line with what we do, and also, you know, the way that I, the values that I live by and believe in as well. And what we've really tried to do with Creative Commissions is ensure that each project is in partnership with an organisation from what we call an official development assistance country. So in sort of the formal policy terms, a developing country, that can benefit from that international connection with the UK, but also that the UK benefits from the connection that's made with that country. And what was really important to us is that these projects platform, the voices of people with lived experience, and people that are actually in those countries and in those contexts that are looking for local solutions that work for them based on their needs. So that we're not coming in and you know, parachuting and taking control and having a conversation that we want to have with with people, but actually we're listening to their needs and what they want to be doing on the ground, and partnering and connecting people, so they're able to make that happen. So that was really important to us with the Creative Commissions and in all of our work in the British Council is to, for that connection to be mutual, of mutual benefit. And, and to platform, as many voices as possible so that we are being inclusive, that we are listening, and eventually building that trust and understanding. And it's not a given, we can't just assume that these relationships will happen on their own, language is another big barrier. And some of our projects, like living language land, have really had to work with intermediaries to be able to connect with communities, and understand what words they would choose to highlight ahead of COP26 that show the connection between them, and nature and their ways of living. And that requires a trust and a relationship that is already there, and that can be fostered and that can be sustained. So all of these projects, we're hoping will have a life beyond COP, and that COP26 — yes, it's a moment in time, that's really key and really crucial to get right now. But we have commitments, and we have a duty to the planet, beyond our jobs, beyond policies, you know, in our day to day, and it's a topic that connects us all, because we're all interconnected through the different channels that, you know, just through the weather itself, but also nature and the systems that we've put in place that are creating the climate emergency that we're currently living.
Brandon Ferderer 37:02
Yeah, that what what's really fascinating to me, listening to all of you speak as the emergence of a kind of a few key things, this idea of accountability, Lauren, that you you were really driving home as if now that we have the technology that's enabled us to communicate with people who who might not otherwise be in the room, if those people are not in the room, then we have to be accountable for why that is because we no longer have the excuse of oh, well, we can't get them in the room. And then this this connection, Rosanna as you were talking about lived experience and really understanding people from the experiences of their own lives, their own communities. And, and and starting from that place, as opposed to I think we particularly when it comes to issues like the climate crisis, we have a tendency to immediately jump into what are the policies that need to be passed? What are the things that the developed world needs to do? What do we and and if we really just start from let's start with a story from someone who's you know, experiencing food shortages in Zimbabwe, I think there's an incredible climate activist Elizabeth Gulu Gulu, from Zimbabwe, start with her story, and then you might get a better understanding of what policies need to happen. And by hearing that story, and allowing that story into the room, it circles back to this idea of accountability. Now, you're accountable to that story, and you're accountable to that person in the room?
Henry Southern 38:25
Absolutely. And I mean, the conversations we've had at Climate Portals, they were so paying people on the ground, as you guys were saying earlier, was they were so insightful and and humbling, and that element of also reciprocal exchange was was really important. Lauren, I think you got something to add towards this.
Lauren Livesey 38:43
No, I mean, I absolutely agree with everything that Brandon was saying there and I think the point he was raising about starting with stories, starting with people is just absolutely integral, you know, the work that my career as, the work that I've done in my career predominately within museums, I see museums as a space to tell stories, stories about who we are, why we think we are a certain way why we the stories that we choose to tell and who we choose to tell them about. And I think that is, you know, to kind of come back a little bit to the topic of this conversation. This podcast is, you know, what can the arts have, what can an artistic response to any issue really add? Where do the arts come into the climate conversation? Well, where don't they would be my response, you know, an artist in the way that an artist whether that's a filmmaker, a musician, a photographer, a writer, the way that they see, distill and articulate these issues, particularly issues that are so global and so on, you know, affect everybody so much. The distillation of that experience, I think is absolutely vital and if the digital can uplift that enable that, that distillation to reach more People, then it's absolutely a huge string to our bow. And that's why the work that something like the British Council do is so, so hugely important. I've encountered so many people in the work that I've done in the arts and literature who kind of go this, this isn't this isn't your space, this isn't about you. This is about policymakers, this is about economics, this is about finance. Maybe on some level it is, but for a very long time, the people who have been about haven't necessarily done a huge amount, and the space that is provided when an artist from South Africa, like the ones who were working with a museum of plastics, when a musician, you know, the sort of First Nations musicians who were were were speaking out around, COP26. When you hear those of us I think it can, it can give you an understanding that you would never have been able to get through a few kind of bald pages of policy. And that is the human connection that can be, you know, is absolutely vital in this discussion.
Henry Southern 41:03
Yeah, and I don't know you're speaking to but you know, culture has an inspired policy in our society for hundreds of years and continues to do so. I mean, Samantha I'm sure you agree with that. And it'd be interesting to get your insight on how the arts has played an advocacy role, I can play a hugely influential role in our society.
Samantha McShane 41:24
Yeah, I think that going back to the pandemic, and everyone was thinking, okay, how can we share what we do on a global level? And, you know, there was so much amazing artistic content that reflects all of this sort of global challenges that we face on Earth right now. And, and that was fantastic. However, I think we'll all we all kind of have heard people saying, especially recently, oh, if I have to watch one more, you know, online concert again, then, you know, I just, I just don't know if I can take it there was too much, almost online. And so I think the role of the artist as the digital, you know, it is their role as an artist to learn more to hear those stories, to take that on a digital level. And then kind of similar to what I was saying before, and then spread that on a on a local level as well, I think the power and the emotion that any of the arts can evoke in people is more powerful than anything, as you say, who would want to sit and read through pages and pages of policy, when actually you can get a much more powerful message from, from whatever genre of art it is. And I think you know, that the arts is constantly every day evolving and changing itself. But at the RCS, as we see students come through students who are super passionate about the climate emergency and climate change, they you know, not so many of them want to traditionally go into an orchestral role and set the playing music by dead composers a lot of the time, actually, now they want to be clear in their own work about all of these challenges that we're facing. And I think you know, that the, the next generation of artists are key and keeping the arts alive through telling those stories, and, and making change globally as well.
Henry Southern 43:32
So exciting to see what I come up with. And it's, it's also creating those credible responses as well. It's actually fascinating.
Rosanna Lewis 43:40
The arts and culture can really translate data, the climate change data that is coming through and the policies into something that is more relatable and understandable for people. And one of the Creative Commissions Nine Earths really does that by capturing quotes and stats about the climate emergency and the effects on the world. And translating that into an immersive experience of film, and music in a space where you can watch people walking around in their daily lives and talking about their carbon footprint, as alongside the hard stats around climate change, that that have come out and emerge through IPCC reports, and some of the conversations around COP26. So I think arts and culture can also have played that role in translating hard data that it's scientific and very difficult for policymakers and scientists to get across to a wider audience.
Henry Southern 44:49
That's a really good point. The arts can make those sort of things far more approachable and far more entertaining and far more impactful. Now then, just as we come to a close the last few minutes, we were the title of this podcast was also about COP26 reflections. And we've, I think we've all reflected that there's no need to travel quite so much, digital can still be just as impactful, if not more so sometimes. But I wanted to ask you guys, what's next? What's the future of digital technology and interaction? I mean, there are say, if it's not digital, and if it's not live, is there something else which which we're not thinking about? What what do you think? What's your crystal ball telling you? Brandon, I'm going to come to you first.
Brandon Ferderer 45:37
Oh fantastic, though, to me first. I mean, I think I'll echo something that I said earlier, I really think the future of digital is in the layering of realities. Or maybe that's the the world I want to live in, I want to be able to, to feel the comfort of being in my community around the people who are like me, while still having an opportunity to interact with others who may be very different from me and understand their cultural context as well. This sharing of space, I think that's really what was central to the idea of the portals in the first place, when Amar Bakshi first kind of thought of the idea and put a portal between New York and Tehran is, is sharing space with someone different than yourself. And I hope that that as digital evolves, it finds, we find more and more effective ways of sharing space with people who are different than than ourselves. That's really my hope for digital technologies, regardless of what they, what they look like.
Henry Southern 46:41
Absolutely, that's very inspiring. Samantha, what are your thoughts?
Samantha McShane 46:47
Um very similar, actually, I've owned a AR, and I mean, I've watched so many CDs and films where, you know, the explore what it might look like, in 50 years time and feel incredibly scared by the prospect of, you know, all of the data that's shared, and how vulnerable actually it makes us all? And will we all start to will human interaction be as important then. And whatever it is, I just, and I really know that this will be the case. But I really just hope that that basic human interaction is still as special as it always has been. I hope that for you know, in the world of music, that we are able to share performances with, you know, some kind of headset where it feels like you're at a festival, you're there at the live gig, but you don't have to travel. But I think yeah, basically, it's all around AR. And it's exciting, but also quite scary as well.
Henry Southern 47:57
Absolutely. Oh, watch this space, Rosanna, the British Council. Have you got any, any exciting things coming up that we should watch out for in this area? Well, we did a digital collaboration fund last year. And this year, we've just launched an international collaboration funder and in the process of selecting those projects, but I think what's really key is that the any digital connection really builds that empathy that Brandon was talking about, around understanding cultural contexts and people in their stories and their needs, their wishes, their desires, and having that human connection, but also connecting on some of these global challenges, like climate change, and looking at innovative solutions and creative ways to respond to the world around us. One of my fears, though, I think I share with Samantha is around currently, the digital space not necessarily being very safe, a lack of understanding of where our data is being stored, who's responsible for it, how it's being used. So I would like to see a reduction in our digital footprint as well for kind of environmental reasons, and also a safer space for people to interact and gather, that is open and not restricted, where in some countries and contexts. There's not that digital freedom that we experience here in the UK, for example. Wow, that's a I mean, that's the podcast in itself, data and our digital footprint. That will come back to you on that one for sure. But Lauren, can you finish us off with the, I'm sure something inspiring and exciting about the future holds, no pressure.
Lauren Livesey 49:44
No pressure at all. I mean, I've just been trying to marshall some of my thoughts while listening to all these incredible kind of points of view here. And I think one of the things that's interesting is the pace of change. If you look back 30, 40 years did we think we'd be walking around with little supercomputers in our pockets that can connect us to anybody anywhere in the world where I can order food for three days time, where I can turn on my heating from the other side of the country, you know, I think some of the changes that are going to come along are stuff that we can't even begin to conceive of right now. And that's really exciting. But as you know, as far as NSS, there are, there are some one more worrying elements that I think we really need to continue thinking about and not just hold up digital as the be all and end all that will answer everybody's everybody's questions and fears, and to continue doing work digitally, as part of international collaboration. And in a way that isn't just one off projects, you know, the British Council very much, invests in sustained legacy to make something not just be a one and done but to acknowledge that conversations progress, and they take time and building trust, and bringing in different perspectives is not a one off exercise. But I think as we continue to make a digital world. And at the moment, you know, post pandemic, we are really kind of developing best practice as to how we're going to keep doing things. You know, we all got used to using zoom and putting ourselves on a mute. And you know, if a kid walks in, or if your dog walks in, you have to show the dog is the dog tax, you know, that kind of these little things that we've got used to doing. We need to set up a best practice for using digital in the world and we need to not bake it. We need to make sure that we're providing the same opportunities to as many people as we possibly can. And if there are instances where and we don't currently have a way to provide the opportunity, we don't just shrug and go, Oh, that's too. Too bad. We find ways to to extend the opportunity for conversation because that's the way we get anywhere, I think.
Henry Southern 51:47
Well, thanks for that, Lauren, and many thanks again to all our wonderful panellists, Brandon, Samantha Rosana, and Lauren. Thank you also to Holly Gedge, Fiona Livingston and our sound editor Merlin Thomas. Our theme music is composed by Robert Cochran. We hope you've enjoyed this podcast. If you haven't done so already. Be sure to check out all the other wonderful episodes from The Culture Bar. We have topics ranging from race and the civic responsibility of the arts, to how the arts can respond to the climate emergency. We've had one on ones with MPs, we've had chin wags with members of the House of Lords and natters with cultural leaders and inspiring artists. To get all that and more. Please subscribe. See you soon.