Virtual Circle blog: A practical guide to running a digital event
22/9/2021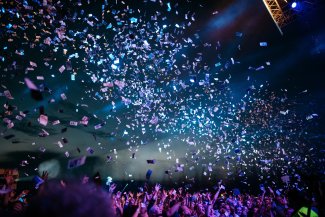 Questions to ask yourself before holding an online event:
1: Why are you holding an online event?
Think about your objectives. How is this event is going to help you meet your goals and connect with your audience? Your ​'why' is the most important element to running a successful event, whether that's online or in a concert venue. Write out your objectives and goals and see what events you can run to meet these and engage your audience.

You might want to host an event to:
Perform a concert
Promote a new album
Run an educational workshop
Host a Q

&

A or talk show
Whatever your why, make sure it is true to your values and what you stand for and is not just a ​'fill-in' because you are worried about losing presence or you have a fear of missing out (FOMO).
2: Do your research!
Research is important to finding your niche or a trend that inspires you. Do this by looking at what type of events are other people doing within your industry. Then you can broaden your research scope and see what other industries are creating and see if these can be adapted to suit your skills/​content.
There are some factors to bear in mind which may impact the quality of an event or your ability to deliver it:
Do they have a full production team?
Is it filmed from a laptop?
What software did they use?
Was it sponsored?
Don't forget that finding a balance between content you can produce which is meaningful to you and your audience if really important, but you need to have the appropriate manpower and resources to make it happen.
3: How will you engage with your audience?
In a physical concert hall, we get an instant connection with the atmosphere in the room which builds excitement and connects us to everyone else there. The challenge is to try and recreate this connection online. What techniques are you going to use to ensure that your audience stays hooked on your performance?
Here are some techniques you could try:
chat function during the performance
a green room Q

&

A
special offers
Audience shoutouts
4: Free or ticketed? – this is an important question to think about
You do not want to devalue your content or your personal brand by offering everything for free. Some small pieces of content for free are fine e.g. a teaser, but you should really consider charging a ticket price or asking for a donation for any long or complex content that you create to cover your costs.
5: The tech!
Finding the right platform is just as important as your content as it supports the content creation and experience you want to create. It is also important to consider usability for not only you but for your audience. This might be a concert platform such as Virtual Circle, YouTube Premier, or Instagram Live. To help you decide, you need to consider what are the main tech features you think are important for your event?
Here are the different types of functionality you should be thinking about in your platform selection:
Tech support 
Free platform
Audience interaction features e.g. chat
Bespoke ticketing
Audience reach
Global or local
Once you decide what functionality you are looking for when selecting the right platform will become much easier.
To find out more about Virtual Circle and our events sign up to our mailing list, or follow us on Instagram and Twitter for latest updates.
Fiona Livingston
Associate Director, Marketing & Communications