Virtual Circle blog — NFTs and the music industry
2/7/2021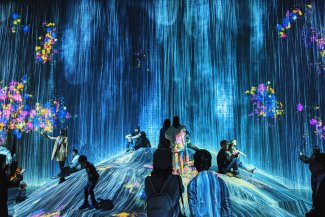 In this article, we try to shed some light on the hot topic of NFTs, what they are, how they work, and what benefits they can potentially have on the music industry.

What is an NFT?
It is a Non-fungible token. ​"Non-fungible" means that it's unique and can't be replaced with something else. For example, a one-of-a-kind collector's trading card is non-fungible. This is because if you traded it for a different card, you'd have something completely different. NFTs can really be anything digital (such as drawings and music), but a lot of the current excitement is around using it to sell digital art.
How do NFTs work?
Most NFTs are part of the Ethereum blockchain. Ethereum is a cryptocurrency, like bitcoin or dogecoin, but its blockchain also supports these NFTs, which store extra information that makes them work differently from an ETH coin.

How are NFTs used?
A lot of the conversation around NFTs focuses on their potential to evolve fine art collecting, especially with digital art. Two high profile sales have been made which you may have already heard about: $390,000 for a 50-second video by Grimes and $6.6 million for a video by Beeple.
You can copy a digital file or digital art as many times as you want, including the art that's included with an NFT. But NFTs are designed to give you something that can't be copied: ownership of the work (though the artist can still retain the copyright and reproduction rights, just like with physical artwork). To put it in terms of physical art collecting: anyone can buy a Monet Water Lillies print, but only one person can own the original.

NFTs and music?
NFTs have begun to pop up in the music world. 3LAU and Eminem have both sold or announced the sale of NFTs associated with their music. Ideas have started appearing such as looking at ​'programmable music' where an interactive piece of music is created and various ​'layers' of the music are sold as NFTs. Each token holder will have the ability to control certain elements of the piece.

This ​"new" digital art/​music market offers a host of benefits according to its fans: democratisation, since anyone can access it via a screen; secure ownership recorded on the blockchain; more transparency; speedier payment to the artists, as well as royalties paid on resale. Digital art/​music allows direct contact with buyers, so bypassing the traditional gatekeepers.

Because of the royalties that NFTs generate, musicians can theoretically use NFTs to build a steady stream of income. Anyone who creates a non-fungible token will receive the initial windfall of money when it is sold for the first time. NFTs can also be created so that they give 5 – 20% payoffs to their creators each time they change hands. NFTs can help to ensure that musicians receive more income from their music sales than through traditional routes such as music streaming or album sales.

NFTs and the environment
NFT creators have been the subject of quite a bit of pushback from critics who say the practice is bad for the environment. Conservationists also point out that digital art or CDs/​albums aren't crated or shipped, thereby reducing the carbon footprint of this part of the industry — although this is cancelled out by the current cost of mining currencies and minting NFTs. However, NFT proponents have argued that the creation of non-fungible tokens is less than the environmental impact of the traditional art industry, including the carbon costs from travel, and waste produced by physical events. You can read more about the environmental impact of NFTs, energy-efficient proof of stake (PoS) networks, and how you can make decisions on using the best platform here.

There are huge opportunities for musicians to use NFTs to secure more income from their music, cut out the middle man and retain more control of their creative outputs. It will be very interesting to see how this new landscape evolves!
To find out more about Virtual Circle and our events sign up to our mailing list, or follow us on Instagram and Twitter for latest updates.