Virtual Circle is an online concert and event live-streaming platform where you can watch classical music concerts, album launches, performances and workshops from across the music and arts world.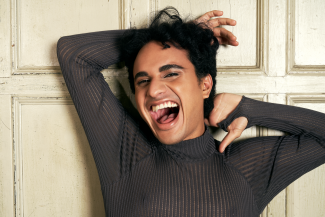 Virtual Circle: A

VOICE

FROM

ANOTHER

WORLD

 — 

MALE

SOPRANO

SAMUEL

MARIÑO

MAKES

HIS

LONDON

DEBUT
Samuel Mariño​'s unique vocal range and musicality have allowed him to break the boundaries of repertoire like no other singer before him; and in this programme he pays homage to some of the finest compositions ever written for both the male and female voice.

​"He is a gender-defying artist, looking fetching in his high heels and a range of skirts and spangly slacks. He performs with the utmost assurance and confidence. […] His first Decca album is released at the end of this month and isn't to be missed. He is a real phenomenon." David Mellor, Daily Mail
See more

Programme

Come again — J. Dowland — First Booked of songs — 2:45
Amarilli — G. Caccini — Le nuove musiche — 3:30
Hai Lulli — P. Viardot — 4:00
E pur cosi… Piangero la sorte mia — G.F. Handel — Giulio Cesare in Egitto — 6:30
Non sara poco — G.F. Handel – Atalanta — 6:50
Ave maria — F. Schubert — 4:40
Tristes apprêts — J.P. Rameau — Castor et Pollux — 5:00
Che faro senza Euridice — C.W. Gluck — La festa d'Apollo: Orfeo — 3:40
Voi che sapete — W.A. Mozart — Le Nozze di Figaro — 3:40
Cara parte — D. Cimarosa – Orestes — 6:00
Song to the moon — A. Dvorak – Rusalka — 6:00
Oh quand je dors — F. Liszt — 4:50
Havanaise — P. Viardot — 5:00
Tu sola, o mia Giulietta — V. Bellini — I capuletti e i Montechi — 4:00
Bel raggio lusinghier — G. Rossini – Semiramide — 6:30

Samuel provides a special introduction to the concert and the works performed.

Performer
Samuel Mariño Male Soprano
Dylan Perez Piano

Tickets
£5
All upcoming HP Futures concerts can be purchased in a special discounted ticket bundle.

The concert was recorded at St Martin-in-the-Fields on 22 April 2022.

This concert is part of the HP Futures concert series. A collaboration with St Martin-in-the-Fields, showcasing outstanding artists to audiences at the iconic London venue.
We are excited to bring live-streamed classical music concerts into your home and giving you a unique digital concert experience. As well as ensuring that artists and orchestras are properly supported, we understand how important it is that audiences feel connected to each event. Therefore multiple audience interactive features are a core aspect of our platform to ensure you feel involved in every performance including a live chat feed and audience applause button.
Our concerts are live-streamed from across the globe with world-class musicians, orchestras and venues performing stunning concerts with special extra content exclusively for digital audiences such as behind the scenes footage, Q&As and interviews.
We hope you enjoy your Virtual Circle digital concert experience and join our community on Instagram and sign up to our mailing list to make sure you never miss a concert.