Virtual Circle blog — 

9

tips on how to re-create the concert hall buzz in your own home… digitally
1/3/2021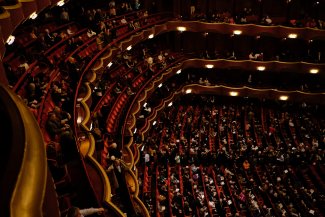 Some people predict that it will be 2021 or later before big concerts finally return to concert hall venues. But audiences having to wait that long just isn't viable — nor is it for the artists who want to perform. So, what can you do to fill your event gap before we can all head back to concert halls as normal?

Since the outbreak of COVID19, many virtual concert platforms have been created to fill this gap — like Virtual Circle — and existing sites have been utilized to greater effect, such as YouTube Premieres and FacebookLive.

But live-streaming a classical music concert or other events from home can initially seem daunting. How do you make sure to create an uninterrupted experience, and how will you stay engaged with the concert (especially if you are working from home and sitting at your laptop all day)?

The Virtual Circle team have put together some tips to help you overcome these issues and ensure you have a smooth and enjoyable concert experience from your own home.

Our 9 tips for creating the perfect home-concert atmosphere:

1: Make sure to have a good internet connection to get the best experience of an online performance (minimising feed disruptions).
2: Decide which medium you will use to view it e.g. phone, laptop, TV screen. If you are going to watch the event from your phone, remember that the quality of the video will be reduced due to 4G signals.
3: If you're watching on a TV screen you can use apps such as Chromecast or AirPlay: AirPlay will help to give you better sound, and Chromecast will beam the video onto your TV screen so you can get away from that laptop for a few hours!
4: Get comfy! Find a seat and settle in. Perhaps turn off other distractions and put your phone on silent.
5: Be on time. You don't want to miss the beginning of the event (and you probably won't get a refund if you miss the concert!)
6: Go the extra mile. Maybe dim the lights, have a glass of wine, or make a nice dinner to add that extra ​"special something" to the occasion.
7: If you are home alone, maybe ask friends to join you virtually, or by phone on loudspeaker. Many platforms have a chat function, and you can use this to connect with other people during the performance to share thoughts and opinions, and maybe ask some questions of the performers or chat moderator.
8: Take part in any online event activities e.g. voting for an encore, polls, submitting questions for a Q&A, and virtual CD signings to make you feel more involved in the event.
9: Most of all — enjoy the event! Just because you are watching the concert from home does not mean that you should have a less interesting or involved enjoyment of the concert. Make the most of being at home and experiencing an event — sometimes you will have a more inclusive experience than you would at an in-venue performance e.g. green room interviews, introductions and enhanced programme notes at your fingertips.
Even though we all miss in-person events, there is a place for digital events to not only fill the current gap but to also run events alongside in real-life events to create enhanced experiences and reach new audiences. We hope that these 9 tips help you create an atmospheric at-home concert experience and we hope to see you at a Virtual Circle online event soon!
Find out more about Virtual Circle and sign up to our mailing list.