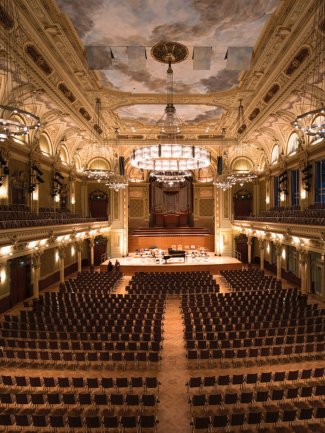 Patrick Hahn opens his first season with Wuppertaler Sinfonieorchester
27/8/2021
On 1 September, General Music Director Patrick Hahn conducts the internationally celebrated soprano Marlis Petersen, at the beginning of the first season of his term at Wuppertaler Bühnen und Sinfonieorchester. The gala concert includes Six Pieces for Orchestra by Anton Webern, and Richard Strauss' An Alpine Symphony and Four Last Songs. The concert is streamed live on the orchestra's website and YouTube channel.
Patrick Hahn commented: ​"I am beyond thrilled to be opening a new chapter with my dear Sinfonieorchester Wuppertal, and I couldn't have wished for a better partner in crime for my inaugural concert than my beloved friend and wonderful artist Marlis Petersen. Being able to perform this landmark programme of Webern and Strauss for a full audience after all the difficulties the worldwide pandemic has brought upon will be nothing short of a cathartic experience for everyone, both onstage and in the audience. A free live stream will bring the concert from the breathtaking Historische Stadthalle Wuppertal to everyone's homes, who can't attend in person."
Patrick Hahn's first opera production with the Wuppertaler Buhne is Wagner's Tannhaeuser, with its premiere in March 2022.
Throughout the season, Patrick Hahn will be conducting a variety of programmes and takes part in special projects, details of which can be found on the Orchestra's website. He will be joined by soloists such as Alban Gerhardt, Noa Wildshut, Lucienne Renaudin-Vary and Thomas Hampson.