Virtual Circle Blog: Music Industry

&

Tech Podcast recommendations
6/8/2021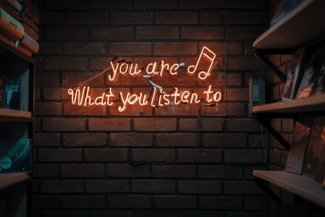 We have compiled a simple list of our favourite podcast episodes from around the music and tech industries, which talk about where we are now and what the future might look like for the music industry and society in general.
The Culture Bar: Tech, COVID & the Future - One of the most popular episodes from HarrisonParrott's The Culture Bar podcast exploring, dissecting and shedding light on important topics in the arts and music world. This lively debate with classical music label professionals from IDAGIO, Pentatone and Naxos, talks about how we consume music and where we get our music fixes from, be it live or recorded, and how COVID-19 changed where we get our music from.

Inquiring Minds: Generating the element of Harmonic Surprise with David Rosen — This long-running show is a weekly in-depth probing of the collision between society and science in an effort to sharpen everyone's critical thinking skills. This episode discusses how music producers have tried to predict what audiences want to hear while at the same time advances in science and technology have taught us a lot about what happens in the brain when we listen to music that we love.

Music Tectonics: Is VR the future of Music Learning? This podcast series goes beneath the surface of the music industry to explore how technology is changing the way business gets done. This episode explores the evolution of immersive social media powered by virtual and augmented reality and discovers how the pandemic lockdown accelerated innovation.

MTF: Anouk Wipprecht Robotic Couture — The MTF Podcast features in-depth conversations with brilliant minds from the worlds of innovation and music technology, bringing together artists, scientists, industry, and academia. In this interview episode, MTF looks at how our future wardrobe could look, what it can mean, and how it can help as we embed more technology into what we wear.

Art + Music + Technology: Podcast 347 Andrew Huang — An interview podcast where they talk to people that are engaged in the connection of art and music to technology. Andrew Huang is a YouTuber who does tutorials, gear demos and production technique tricks/​tips, and talks about new his new iOS app called Flip Sampler: a sample-based music-making system that is super-intuitive while still being functionally significant.

A.I. Nation: The Promise and Pitfalls of A.I — Instead of taking a speculative approach about what may come in the near and long-term future, A.I. Nation explores how artificial intelligence is already changing our society. In this episode, they look at AI in three different settings: medicine, work, and warfare, asking how it affects our present — and how it could shape our future.

A fun bonus episode recommendation about sounds: The Curious Cases of Rutherford and Fry: the noises that make us cringe — Why do some people find noises like a fork scraping a plate so terrible? Rutherford and Fry endure some horrible noises to find out the answer.

If you have any podcast recommendations please share them with us, we'd love to listen to them!
To find out more about Virtual Circle and our events sign up to our mailing list, or follow us on Instagram and Twitter for latest updates.
Fiona Livingston
Associate Director, Marketing & Communications