Virtual Circle blog — Virtual Reality concerts: friend or foe?
30/3/2021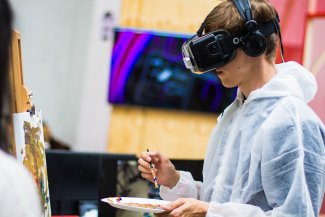 The use of digital technologies in classical music and arts events has come on leaps and bounds since 2020 — advances which would have taken five years took hold in three-six months, and changes are still happening even now. Even though the world is slowly, but surely, starting to open up again and the hope of in-real-life music experiences is just around the corner, there are still significant steps being taken in the tech world to enhance the at-home event experience.

What is Virtual Reality?
Virtual reality is not a new phenomenon and has been around, particularly in the gaming world, for a number of years. It describes a three-dimensional, computer-generated environment which can be explored and interacted with by a person, usually wearing a headset. That person becomes part of this virtual world, or is immersed within this environment, and whilst there, is able to manipulate objects and/​or perform a series of actions. Essentially, it is the creation of a virtual environment presented to our senses in such a way that we experience it as if we were really there. What makes the development of virtual reality worthwhile? The potential entertainment value is clear. Immersive films and video games are good examples. The entertainment industry is, after all, a multi-billion dollar one and consumers are always keen on novelty. Virtual reality has many other, more serious, applications as well, such as training surgeons.

But is there a place for VR in arts and culture?

Cirque du Soleil recently announced a virtual reality circus event: Masks of Luzia, a VR journey through an imaginary Mexico. Watch this trailer to see an example of the type of VR experience they are creating.

French electronic pioneer Jean-Michel Jarré went beyond the standard ​"living-room" concert and created a VR first concert experience drawing hundreds of thousands of views across both VR and non-VR streaming options like YouTube, and allowing fans who were using headsets to interact with one another through virtual avatars.

Friend?
There is huge potential for virtual reality to enhance a concert or cultural event experience. Being able to walk around an art gallery, or go backstage at a concert, sit in on a virtual interview, or get up close to instruments being tuned, can really elevate an at-home concert by allowing users to experience things they would not be able to experience in the concert hall.

Foe?
VR technology is becoming cheaper and more widespread, but is still considered a luxury item and perhaps still a gimmick. The main issue is accessibility and cost. A more heavily-based VR experience can still be clumsy and glitchy, and VR headsets themselves still aren't very widely adopted. The general consensus is that VR won't hit mainstream popularity for a few more years.
To find out more about Virtual Circle and our events sign up to our mailing list.
Fiona Livingston
Associate Director, Marketing & Communications