Virtual Circle Blog — Audio cassettes

&

the importance of innovation
3/5/2021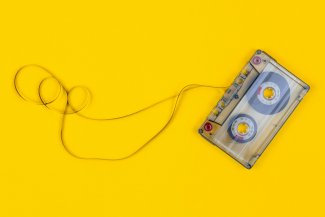 In this month's Virtual Circle blog article, we are taking a small step back in time to consider an important innovation in music experiences: the audio cassette.

Back in March this year, Philips engineer Lou Ottens died, at 94 years old. He was the inventor of the audio cassette. More than 100 billion cassettes have been sold since its launch in 1963. Twenty years later, the same Ottens and his team developed the CD. Incredible!

Watch this video clip below where you can listen to composers Kid Baltan (Dick Raaijmakers) and Tom Dissevelt explaining how electronic tape music is made (in Dutch):

The original purpose of the compact cassette tape was for dictation, not music. Later on, a different kind of Philips cassette was also used as the first mass storage device for early personal computers in the 1970s and 1980s. And around the same time, Philips established ASML — now the largest supplier in the world of the machines to make computer chips.

But why are we talking about audio cassettes? Many of us grew up with audio cassettes, a physical connection to music that we could hold in our hands. These types of social objects were rare, hard-to-find, limited production, that we shared and cherished. Books, records, and the best of all: mixtapes. Your own personalized selection of the world of music pulled together from records and radio recordings (The Guardian published some lovely mixtape stories). Concert performances were also hyperlocal. These were physical shared experiences either at a live event or through the physical keeping or sharing of music.

Now in 2021, with a few taps on our keyboard, we can find all of the above and more in seconds. We can listen to any music we want and when we want, and watch concerts taking place anywhere in the world. Now that we can access music instantaneously is it still valued in the same way or treasured as a cassette or IRL concert?

Either physical or digital, events still do something special: they bring us together in one moment. In a world of 24/7 content, maybe being together like this is even more valuable than it's ever been.

Online events are here to stay as a conduit for being in the moment, a way to create value, giving the gift of the singular experience, something to share.
We just need better ways to be online together
Better formats, better online presence, other kinds of connections, actions, and interfaces. Perhaps we can take inspiration from the audio cassette innovation, creating something beloved, rare, and creating its own memories and shared experiences to digital events.
To find out more about Virtual Circle and our events sign up to our mailing list, or follow us on Instagram and Twitter for latest updates.