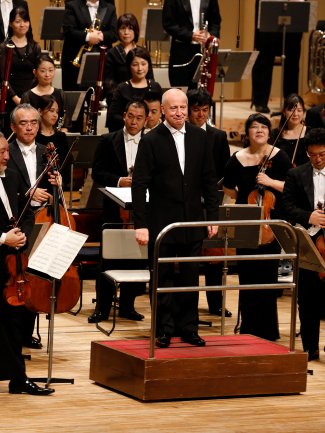 ©
Photo: Takashi Mochizuki
NHK

SYMPHONY

ORCHESTRA

,

TOKYO

RETURN

TO

EUROPE

FOR

2020

TOUR
4/2/2020
Following from the indisputably successful European Tour of 2016 and 2017 which left Europe wanting more: "​thrilling: fabulously disciplined, crisp and purposeful, and yet also expressive…" (The Guardian), the NHK Symphony Orchestra, Tokyo make their highly anticipated return to Europe in 2020 for an extensive tour led by Chief Conductor Paavo Järvi, who recently had his tenure at the Orchestra extended until August 2022.
Starting in the capital of his home country, Järvi takes his Orchestra to Tallinn for the inaugural concert on 22 February in the Estonia Kontserdisaal. On to London where they perform at the Royal Festival Hall on 24 February and across to our neighbours on 25 February in the Paris Philharmonie. Travelling eastwards, the orchestra perform on 27 February in Vienna's Konzerthaus, in the Kölner Philharmonie on 28 February, 29 February in the Dortmund Konzerthaus, Amsterdam's Concertgebouw on 2 March and 3 March in the Berlin Philharmonie. The tour concludes in BOZAR, Brussels at their Centre for Fine Arts on 4 March.
Two of the biggest classical soloists of their generation Sol Gabetta and Khatia Buniatishvili join the tour. Gabetta performs Schumann's Cello Concerto in Tallinn, London, Cologne, Dortmund and Amsterdam. Buniatishvili performs Beethoven's Piano Concerto No.3 in Paris, Vienna, Berlin and Brussels.
Other works as part of the tour programme include Japanese composer Tōru Takemitsu​'s How Slow the Wind. Järvi discusses the work as one of his personal favourites; ​"It is," he says, ​"very atmospheric and full of beautiful colours in the orchestration. What I like about it is a certain orientalism, the kind of music which instantly leads you to think it could be Japanese. Takemitsu gives you a motive which never ends: you never achieve closure." (Bachtrack, Alexander Hall, December 2019)
Completing this already rich programme, the NHK Symphony Orchestra, Tokyo perform Bruckner's Seventh and Rachmaninov's Symphony No.2 throughout the tour.
Viola Frankenfeld
Associate Director: Creative Partnerships & Tours