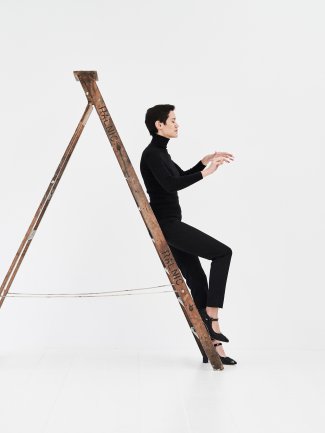 Stephanie Childress leads first

HP

Foundation workshop
12/12/2019
On Monday afternoon, 7 October, the HarrisonParrott Foundation team headed to The Lyric Theatre in Hammersmith for the first ​'Artists for Inclusivity' session with our partner Tri-Borough Music Hub, where conductor Stephanie Childress joined their Junior String Ensemble to lead for the day's session as conductor.
There was a tangible excitement in the air as the 26 students aged between 7 and 12 prepared their instruments for the one hour workshop. One twelve year old girl told the Foundation team before starting the rehearsal with Stephanie that it ​"will give us a feeling of how it [feels to play] in an actual proper and professional atmosphere. It will help us to be and feel more professional".
For the next hour, students from different schools, diverse ages, and music levels, all engaged and communicated in the shared language of music. Stephanie listened to the needs of her young ensemble and started singing the notes to help the first violins take the lead on Three Reels, marking the cellos on how to set the base in Seventy Six Trombones, and encouraged each section to listen to each other. By the end of the session, there was a shared feeling of accomplishment amongst the students, and Stephanie autographed numerous violin cases which we hope will accompany these students on their musical journeys for many years to come.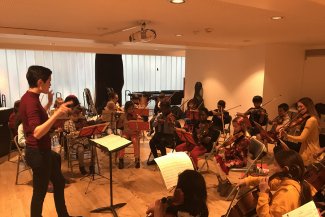 Afterwards, we reflected with Stephanie about the session to shed some light on the significance of these kinds of initiatives, the role of music in education, and the power of professional musicians to promote inclusivity in the arts.
HP: What were you expecting from the workshop vs. the outcome and engagement from the children. Any particular highlights?
Stephanie Childress: A highlight was seeing how each musician engaged with those around them, and how this changed throughout the session. Many children were shy at first, but by the end they were smiling, listening to each other's ideas, and playing like a united ensemble which was amazing to watch. I hadn't expected as much positivity from them, but by the end it had filled the room!
HP: Why have you chosen to take part in an HP Foundation workshop?
SC: I have always been interested in communal music-making, and since I did not experience this as a very young child, I was keen to get involved in any way possible. Conducting and leading a group can be inspiring if done right so I was so pleased to have been given this opportunity.
HP: What did you think you gave to the children, and vice-versa?
SC: I hope I gave the children a sense of what the music we were playing was about. Understanding a piece of music's character is a great way of unlocking our own imagination, whether it's to do with a story-line that fits the overall piece, or how to obtain certain sounds that might serve a passage's mood. In my case, I was reminded of what an amazing gift music can be, especially to young people, and I was suddenly very aware of how it had shaped my life.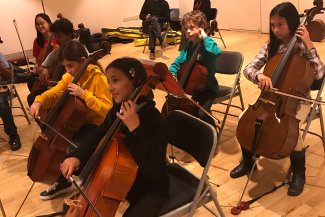 HP: What do you think the role is of professional musicians promoting inclusivity in the arts?
SC: I do believe that those who have a voice in any creative industry also have a responsibility of using it to benefit others. The creative arts have infused and enriched our lives to no end, and sharing that with others when possible is a privilege none should avoid.
HP: What do you think the role of music is in education and its advantages?
SC: The benefits of music in education are limitless. I recently read Kent Nagano's book ​'Classical Music: Expect the Unexpected', and it truly made me understand how music had shaped my life and how it might shape others'. Music is considered a means unto itself, which is somewhat true. However, what other educational sphere will encourage healthy introspection from a young age? What other subject will make you serve something that is, creatively speaking, bigger than all of us? And what group activity will bring you closer to your peers than striving for the same emotive, artistic goals? I do believe that music makes for better, more empathetic people, and to this end it is as important as any other subject.
Artists for Inclusivity is a new initiative for HP Foundation in partnership with Tri-Borough Music Hub. The aim of the programme is to allow young musicians at the beginning of their musical education, experience working with leading international artists. In the following months, ensembles will work with Ollie Howell and Susan Bullock.