MEET

LUCY

MADARAS

:

HARRISONPARROTT

/

CREATIVE

ACCESS

INTERN
21/8/2019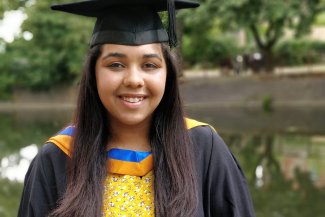 Interviewed and written by Alina Pullen
Where are you from?
I was born and raised in Luton and still live there now but my grandparents are from Hungary and Barbados which is where my heritage comes from.
What are your interests and passions?/What did you study?
My two main passions are theatre and travelling. I love both plays and musicals; my favourite musical at the moment I would say is Hamilton. Whenever I can, I love to travel; I spent a month in Costa Rica working in schools on my gap year which was incredible and I'm going to Mexico in September which I'm very excited about because I haven't been there before!
I studied at De Montfort University, Leicester and I have a Bachelor's Degree in English Language and Media which I graduated from in 2016 and a Master's Degree in Media which I graduated from in 2018.
How did you come about the Harrison Parrott Internship through Creative access?
At the time, I was working in the radio industry and was starting to consider a change in direction but something still related to music. I got to attend a master class at the BBC which was run by Creative Access and was amazed I hadn't heard of them before. I immediately looked them up and created a profile. After applying for a few things, I was approached by the Creative Access team about a possible internship at HarrisonParrott. I applied and came to the interview — the rest is history! Artist Management wasn't something I had ever considered because it's not a role that was accessible to me before and I know I wouldn't have come across it at all, if not for Creative Access.
Fun fact about you:
I volunteered in Borneo at an orangutan sanctuary which was an unforgettable experience. There was no internet or hot water, we had to hand wash our clothes, everything was very much ​"back to basics", which I really enjoyed. We stayed in the middle of a National Park. I think it is a great way to experience a country — you are there, learning about the culture, yet doing something important.
Your future aspirations?
To be honest — just to be happy. I've never quite known exactly what I wanted to be, but I did things that I was passionate about and that made me happy. I believe Creative Access have come at the right time because I was looking for a change and this transition has made me happy — I'm learning a lot about this job and the industry and that's what matters.