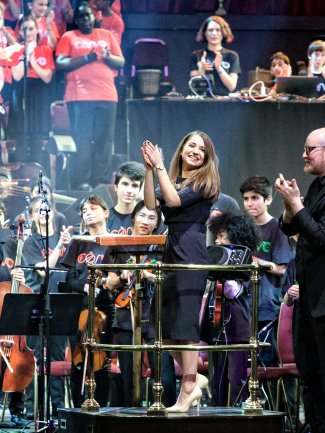 Tri-borough Music Hub composition wins award
9/12/2019
Composer Charlotte Harding has won the prestigious Ivors Composer Award for Community or Educational Project, with her work Convo. She created the 72-minute piece with students from Tri-borough Music Hub and it received its premiere at the Royal Albert Hall in March 2019. She has recently created a chamber version, which will be performed at Wigmore Hall on 30 May 2020 to raise funds for the new HarrisonParrott Foundation.
In developing the composition over two years, Harding ran workshops in eight primary, secondary and SEND schools, generating ideas and music with the students that went into the final work, which was performed by more than a thousand young people at the Royal Albert Hall, including a massed choir, chamber choirs, an orchestra and a folk ensemble.
Harding explained: ​'The basic concept of Convo is that we all have a voice as musicians and that we need to listen to the younger generations. We wanted to spark their enthusiasm and show them that composition is accessible and something we can all do throughout our lives. I hope that's what they took away from it. There's such a sense of empowerment when you create something, and it's so important that young people have the opportunity to see music as their own vehicle, something they can take into the future – whether they want to be composers or musicians, or just to have a musical backdrop to their lives.
The original work was structured in three movements that tell the story of music as a form of communication, from its very beginnings to music notation and through to the impact of technology. For the Wigmore Hall concert, it will be pared down to six movements, involving around 30 young musicians from the project, who will perform alongside Ollie Howell and Jess Gillam, who are serving as trustees of the HarrisonParrott Foundation.
The event will raise money for the HarrisonParrott Foundation, which was created in October 2019 to support inclusive and high-quality access to music education, in partnership with the Tri-borough Music Hub and Creative Access.
Lorna Aizlewood
Chief Operating Officer & General Counsel, Head of Birdsong Music Publishing