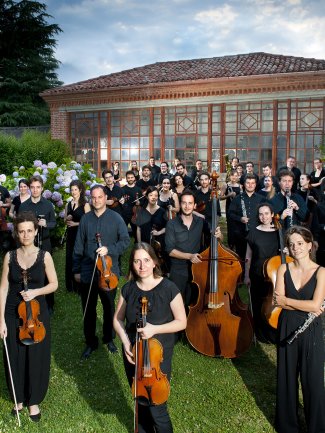 ©
Photo: Giancarlo Pradelli
Spira mirabilis performs at the Kissinger Sommer festival
31/5/2019
Spira mirabilis performs their Haydn Day at the Kissinger Sommer festival in Germany on 22 June 2019, where they perform Symphony No.6 in D major ​'Le Matin' (The Morning) at 10:00, Symphony No.7 in C major ​'Le Midi' (The Noon) at 13:00 and Symphony No.8 in G major ​'Le Soir' (The Evening) at 19:00.
For Spira mirabilis, performing Haydn is a celebration where they are amused, astonished, tricked and mocked by his music. Playing on period instruments, the orchestra reveals the theatrical nature of Haydn's musical language and gives a fresh and spontaneous interpretation of his work.
Spira mirabilis is a group of committed and passionate musicians who perform without a conductor and instead, each musician takes equal responsibility for the orchestra and reach a joint decision between themselves on each piece they perform, where they create music together in their ​"musical laboratory".