Spira mirabilis give the world premiere of Colin Matthews' Spiralling at Aldeburgh
30/10/2014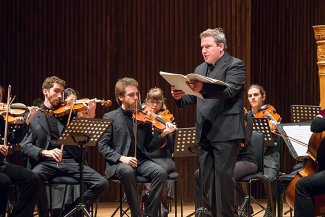 Pan-European un-conducted orchestra Spira mirabilis recently appeared at Aldeburgh Music's Britten Weekend (24 – 26 October).
This year's Britten Weekend was built around Nocturne, the composer's song cycle on themes of night, sleep and dreams, which Spira performed on the opening evening of the weekend with tenor Robert Murray.
Spira returned on 26 October to give the world premiere of Colin Matthews' Spiralling, a new piece which he composed for the orchestra.
Prior to the performance, Jessica Duchen's impressions of ​'the orchestra without a conductor' appeared in The Independent and she noted that ​"there's no doubt, listening to them, that exceptional they are indeed."
The orchestra next perform at their base in Formigine, Bologna on 5 December and at Modena's Teatro Comunale on 7 December.