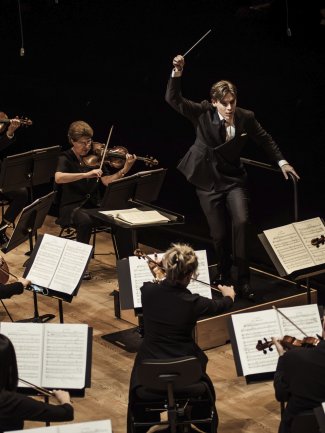 ©
Photo: Mathias Benguigui / Pasco and Co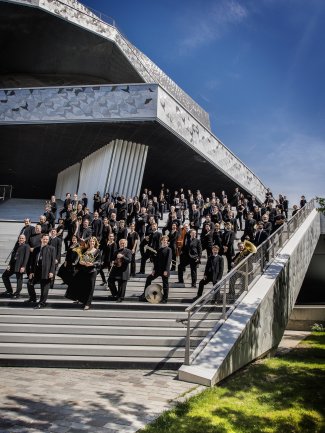 ©
Photo: William Beaucardet
Viola Frankenfeld
Associate Director: Arts Partnerships & Tours
Rafi Gokay Wol
Director & Head of Arts Partnerships & Tours
"The conductor-orchestra couple has taken flight, in the magnificent creation of Unsuk Chin's very virtuoso Spira, and in Mahler's Symphony No. 1, which takes the time to unfold freely towards the climax. The suppleness of the conducting, the warm opulence of the sound, the continuity of the phrasing, all blossom in the sound space of the Philharmonie."

(Le Figaro, Christian Merlin, 24 September 2021)
The heir to the Société des Concerts du Conservatoire founded in 1828, the Orchestre de Paris gave its inaugural concert on 14 November 1967 under the direction of Charles Munch. Herbert von Karajan, Sir Georg Solti, Daniel Barenboim, Semyon Bychkov, Christoph von Dohnányi, Christoph Eschenbach, Paavo Järvi and most recently Daniel Harding have followed Munch as music director. Since September 2021, Klaus Mäkelä is the tenth music director of the Orchestre de Paris for a six-year tenure.
After many migrations in the course of its half-century of history, the Orchestra became Principal Resident of the Philharmonie de Paris when it opened in January 2015. It found this building designed by the architect Jean Nouvel a venue ideally suited to perpetuating its French tradition and tone colour. In January 2019, the Orchestra embarked on a new stage in its rich history by becoming an integral part of this cultural hub unparalleled anywhere in the world, as a specific department situated at the very core of the artistic project of the Philharmonie de Paris.
The Orchestre de Paris, France's leading symphony orchestra, gives around a hundred concerts with its 119 musicians each season, at the Philharmonie de Paris or on international tours.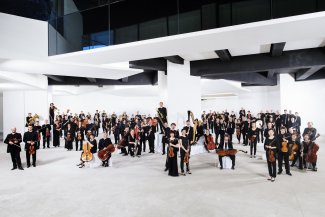 The Orchestra's strategy places its activities in the direct line of descent from the French musical tradition, and therefore plays a key role in serving both the repertories of the nineteenth and twentieth centuries, and contemporary creation through the hosting of composers in residence, the premieres of numerous works and the presentation of cycles devoted to the tutelary figures of the twentieth century (Messiaen, Dutilleux, Boulez and others.).

Strengthened by its position at the heart of the artistic and educational facilities of the Philharmonie de Paris, the Orchestra more than ever views its work for young people as a top priority. Whether in the various spaces at the Philharmonie or outside its walls – in Paris or its suburbs – it offers a wide range of activities, open to schoolchildren or families as well as to citizens who are further removed from musical life and in situations of vulnerability.

HarrisonParrott is delighted to be working with the Orchestre de Paris on a selection of international tours.
"The second half brings a welcome moment of hope, peace and serenity with Maurice Duruflé's Requiem, a vast prayer in nine movements, in which Klaus Mäkelä delivers a reflective vision full of fervour. The excellence of the choir, the elegance of the direction, the richness of the orchestration and two irreproachable soloists, are brought together in a close complicity that reaches egregorial powers."
(Resmusica, Patrice Imbaud, 12 March 2022)
"A concert that showed a rare intelligence of conception, even if the composers paired together did not seem to have an obvious relationship. Often, programmes seem to be made up of bits and pieces, with clichéd titles that try to give a why or how to the works proposed. But, for this concert by the Orchestre de Paris with its charismatic conductor Klaus Mäkelä, everything fitted together and converged towards a subtle end. From Mozart's Masonic Funeral Music at the outset to the oppressive Adagio of Mahler's 10th Symphony, it was like a descent, if not into Hell, then at least into a deep awareness of an uncertain future."
(concertoclassic.com, Jacqueline Thuilleux, 18 March 2022)
"Playing two hits from the repertoire, pairing them with two pieces for solo strings and making an exciting evening of it is a consummate art of programming. By opening the concert with Fugue and Grave in G minor, a very rare piece by Hasse … Klaus Mäkelä shows a deep musical knowledge without being gratuitous. With forty strings, he turns this piece, already archaic for its time, into a fascinating object, a kaleidoscope of nuances and expressions. Under his baton, the contrapuntal writing becomes a playground for the musicians of the Orchestre de Paris with a very united and luminous sound, without any heaviness, with a theatricality of great style."
(Altamusica, 13 February 2022)
"It is not often that one remembers hearing such a dramatic, even dazzling, vision of Mozart's masterpiece … The musicians are at one with their conductor, reacting instantly to the slightest impulse."
(Diapason, Rémy Louis, 16 February 2022)
"The conductor-orchestra couple has taken flight, in the magnificent creation of Unsuk Chin's very virtuoso Spira, and in Mahler's Symphony No. 1, which takes the time to unfold freely towards the climax. The suppleness of the conducting, the warm opulence of the sound, the continuity of the phrasing, all blossom in the sound space of the Philharmonie."
(Le Figaro, Christian Merlin, 24 September 2021)
"Klaus Mäkelä, who succeeded Daniel Harding as Music Director, also showed great affinity with Mahler … The conductor likes to emphasise sounds that are voluntarily rustic or rocky, as if he wanted his Mahler to be as un-metaphysical as possible, with both feet firmly planted in the Bohemian soil. The generous use of rubato requires the musicians to concentrate at all times … allowing for formidable accelerations, and making the finale an absolutely jubilant and justly acclaimed triumphal march."
(Le Monde, Marie Aude Roux, 17 September 2021)
"Rarely have we seen the musicians of the Orchestre de Paris so completely at one with their conductor, embracing his reading of a work with such enthusiasm."
(premiereloge-opera.com, Pierre Brévignon, 17 September 2021)
"The very disciplined Paavo Järvi, current chief conductor of the Parisian orchestra, seems like an excellent fit [for the orchestra]… He brought rigour and restraint to both Britten and Arvo Pärt's Cantus in Memoriam Benjamin Britten, and kept his players bubbling away beautifully during Berlioz's Le Corsaire. I suspect the dash, swagger, and unashamedly grandiose tone of Saint-Saëns's Organ Symphony — the soloist the equally incisive Thierry Escaich — was their own."
(Neil Fisher, The Times)
"We tend to think of Saint-Saëns' Symphony as grandiose, and with Thierry Escaich at the organ, the pomp and circumstance of the finale dutifully brought the house down. But Järvi also reminded us that beyond the sonic largesse lurks a work of great structural ingenuity and developmental complexity. Music by Bizet – the Galop from Jeux d'Enfants, the Farandole from L'Arlésienne – formed the encores, played with electrifying precision and bags of charm."
(Tim Ashley, The Guardian)
"Under its current Music Director Paavo Järvi, the Orchestre de Paris gives a stunning account of itself… The closing section, which the 1919 Suite lifts from the conclusion of the original ballet note for note, invokes a tingle factor which goes off the scale! Järvi's Rite is savagely controlled and cumulatively overwhelming in its visceral impact. The seductive and languorous version of the Prélude à l'aprés-midi d'un faune is most persuasively conducted by Järvi and beautifully and sensitively played by the orchestra."
(Michael Jameson, International Record Review)
"Paavo Järvi conjured up incredibly wonderful pianissimos with his orchestra. Never before have I heard the leading motif in the final of Sibelius' Valse Triste (perfomed as an encore and probably intentionally dedicated to this audience) played so quietly, that it created an image as though the grief which was wrapped up within the sounds came from as far away as Finland. Anyway, I just managed to hold back my tears of emotion."
*
Viola Frankenfeld
Associate Director: Arts Partnerships & Tours
Rafi Gokay Wol
Director & Head of Arts Partnerships & Tours