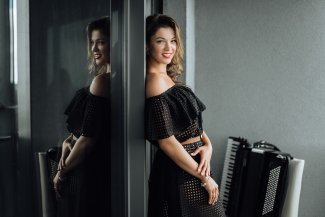 Ksenija Sidorova
Accordion
"Sidorova is eager to blow your mind with the vast and dazzling possibilities of her instrument that go leagues beyond the stereotypes"

(ZEALnyc, August 2017)
Praised as ​"revelatory" (New York Times) with ​"breathtaking virtuosity" (The Observer), Ksenija Sidorova is the leading ambassador for the classical accordion. Both a unique and charismatic performer, Ksenija is passionate about showcasing the vast capabilities of her instrument. Her repertoire spans from Bach to Piazzolla, from Efrem Podgaits and Václav Trojan, to Erkki-Sven Tüür and George Bizet, as well as new accordion concertos composed especially for her, plus a multitude of chamber projects.
In the 2020/21 season, Ksenija will perform with – amongst others — Deutsche Kammerphilharmonie Bremen (Paavo Järvi), National Orchestra of Belgium (Aziz Shokhakimov), on tour in France with Orchestre National d'Ile de France (Mihhail Gerts), and on a European tour with Münchener Kammerorchester and MILOŠ in celebration of Piazzolla's centenary. She will continue her collaboration with artistic colleagues, touring with Avi Avital for appearances including Wigmore Hall and at the Bodensee Festival; and with Camille Thomas performing in KKL, Lucerne. Ksenija will also perform a solo recital programme in Carnegie Hall, Princeton, and Library of Congress, Washington.
Ksenija works with leading orchestras including NDR Elbphilharmonie Orchester, Orchestre Philharmonique du Luxembourg, MDR Sinfonieorchester [Leipzig], Stuttgarter Philharmoniker, Kammerorchester des Bayerischen Rudfunks, Atlanta Symphony, Tonhalle Orchester-Zurich, NHK Symphony Orchestra, Tokyo and Hong Kong Philharmonic Orchestra, and prestigious conductors including Paavo Järvi, Thomas Hengelbrock, Vasily Petrenko, Kristjan Järvi, Michał Nesterowicz and Jan Willem de Vriend.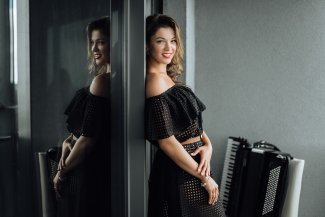 She regularly collaborates with Avi Avital, Nemanja Radulovic, Andreas Ottensamer, Miloš Karadaglić, Camille Thomas, Leticia Moreno, Goldmund Quartet, Tine Thing Helseth, Brazilian DJ Gui Borratto, Juan Diego Flórez, Nicola Benedetti and Joseph Calleja. Ksenija often appears at Ravinia, Cheltenham, Mostly Mozart, Schleswig-Holstein, Gstaad Menuhin, Verbier and Rheingau music festivals.

Ksenija will release her next album in 2021. This follows her previous successful releases: Classical Accordion (Champs Hill Records, 2011); Fairy Tales (Champs Hill Records, 2013) recorded with BBC National Orchestra of Wales/​Clark Rundel; and Carmen (Deutsche Grammophon, 2016) — a new take on the score — recorded with the Nuevo Mundo band and the Borusan Istanbul Philharmonic Orchestra/​Sascha Goetzel. For the latter, Ksenija won the ECHO prize for Instrumentalist of the Year in 2017.

Encouraged to take up the instrument by her grandmother steeped in the folk tradition of accordion playing, Ksenija started to play the instrument aged six under the guidance of Marija Gasele in her hometown of Riga. Her quest for more exposure to both classical and contemporary repertoire took her to London where she became a prize-winning undergraduate and postgraduate at the Royal Academy of Music studying under Owen Murray.

In May 2012 she became the first International Award winner of the Bryn Terfel Foundation, and in October 2015 she appeared at the Royal Albert Hall as part of his 50th birthday celebrations alongside Sting. She is a recipient of both the Philharmonia Orchestra's Martin Musical Scholarship and Friends of the Philharmonia Award, as well as the Worshipful Company of Musicians Silver Medal. Since 2016, Ksenija has been an Associate of the Royal Academy of Music.
Gallery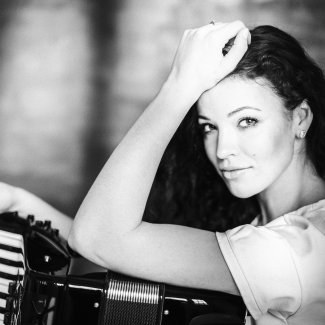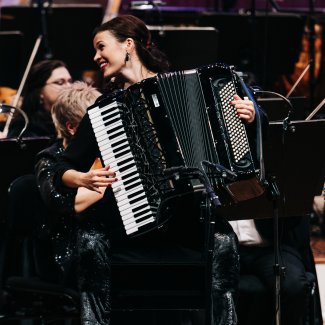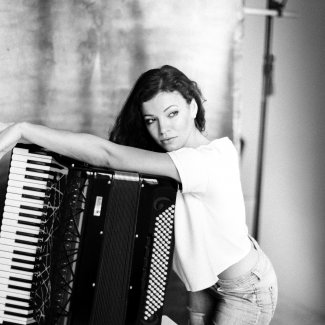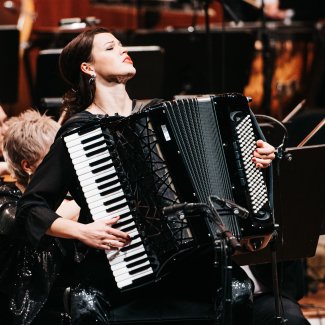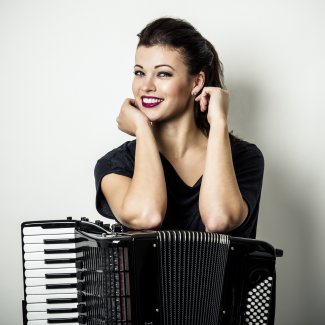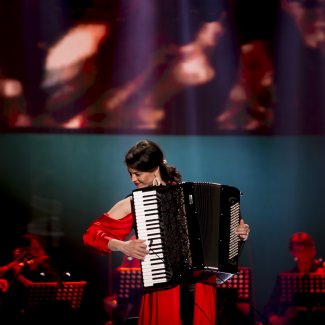 "Sidorova demonstrated her agile playing and incredible skills on this unusual concerto instrument".
(Bachtrack, Leighton Jones, March 2019 - World premiere of Montero's concerto with RLPO & Petrenko
"Sidorova's effervescent style and phrasing proved a perfect fit for Montero's dramatic and colourful – and deeply melodic – concerto"
(Arts City Liverpool, Catherine Jones, March 2019 - World premiere of Montero's concerto w/ RLPO
"It needed to be something special to cap off a splendid Utzon Series at Sydney Opera House and Latvian piano accordionist Ksenija Sidorova delivered in spades. Starting off with some JS Bach – the Ouverture from Overture in the French Style from Part II of his Clavier-Übung – Sidorova highlighted the subtleties of this work from the majestic, ceremonious slow opening to the fast and furious fugue with its intricate dovetailed treble and bass lines, here fingered faultlessly with the keys of her right hand and buttons of her left. While all this was going on Sidorova was controlling the dynamic by precise use of the bellows, making for a highly nuanced reading of this lovely organ work. […] As an encore she brought the house down with Piazzolla's motoric Libertango complete with finger clicks, drumming on the bellows and some swirling runs on both the keys and buttons".
(Limelight Magazine, Steve Moffatt, December 2018 (Solo recital at Utzon Music Series)
"Sidorova's exceptional technical command and vivid characterisations in Alfred Schnittke's Revis Fairy Tales made these satirical works the high point of a thoroughly enjoyable and — for anyone unsure about the accordion — revelatory experience."
(The Advertiser, Stephen Whittington, December 2018 (Solo recital at UKARIA)
"Ksenija Sidorova's ​"Russian Accordion" program was yet another great discovery. The Latvian-born musician, with a runway model allure, an easily engaging personality, the storytelling skills of a practiced actress, and a virtuosity that enables her to turn her weighty instrument into something of a full orchestra, instantly banished any cringe-worthy memories of old Lawrence Welk Show polka players. Her repertoire is bold and out of the ordinary – with works by such modern Russian composers as Kusyskov, Arkhipovsky and Voitenko, along with pieces by Bach, a tango by Stravinsky transposed for accordion, and a quirky little piece by Alfred Schnittke inspired by a Gogol story."
(Chicago Tonight, Hedy Weiss, July 2018 (solo recital at Ravinia Festival))
"Ksenija Sidorova conjured up dreamlike to passionate music on her accordion. […] It was a musical moment of glory, which made the audience smile and wonder of such mastery. With incredible ease and visible joy, Sidorova played even the most difficult passages."
(Luzerner Zeitung, Gerda Neunhoeffer, May 2018 (solo recital in Luzern))
"Latvian virtuoso Ksenija Sidorova appeared in ​"A Little Night Music," the Mostly Mozart Festival's late-night concert series, and her performances were revelatory. They displayed not only her abundant musicianship and that of the masters whose music she presented, but also the continued development of the instrument itself, which now enables the player's left hand to roam far and free beyond an oom-pah bass. The repertory consisted mostly of catchy miniatures, but if you want real substance, try this transcription of the opening movement of Bach's French Overture in B minor, and watch it catch fire in the fugal section."
(New York Times, James R. Oestreich, August 2017 - Mostly Mozart Festival)
"Sidorova played with verve, style, and attitude, as well as impeccable virtuosity and an amazing dynamic range. Her music-making included a considerable amount of showmanship, as if she were creating performance art, not just playing an instrument. In the panoramic, multi-movement Autumnal Sceneries by Anatoly Kusyakov, Sidorova continued to display the startling timbral potential of her instrument: amazing richness and fullness of sound, with an unexpected array of colors. It was a dazzling cap to one of the most purely enjoyable musical events of the season."
(ZEALnyc, Joshua Rosenblum, August 2017 - Mostly Mozart Little Night recital)
"The final piece of this excellent festive jigsaw comes in the slight form of virtuoso Latvian accordion player Ksenija Sidorova, whose wonderful dexterity, tone and sheer sense of fun makes the instrument something of a revelation."
(Liverpool Echo, Catherine Jones, December 2017)
"The boldness of Sidorova's concept, the thoroughness with which she and her colleagues deconstructed the original and the flights of improvisation that peppered the performance made this a singular experience. … It was the musicianship of her playing that left the deepest impression during her Ravinia debut. … The way Sidorova shaped her phrases, toyed with her tempos and shaded her tone colors made even the most understated gestures satisfying to hear. … In all, a tour de force of imagination, instrumentation and improvisation."
[Carmen recording] (Howard Reich, Chicago Tribune, August 2016)
"..Benedetti is joined by star accordionist Ksenija Sidorova in a show-stopping performance which will have you on your feet! The warm acoustic of the Decca recording comes in appropriate widescreen sound."
(Gramophone Magazine)
"… the glorious Latvian accordion player Ksenija Sidorova and the versatile Thomas Gould, whose violin playing reaches the parts few others do, gave a short recital at the intimate 1901 Arts Club, near London's Waterloo station. Works ranging from Bach to Schnittke demonstrated the exotic colours of both instruments, which sounded at their Gypsy-like best in Bartók's Romanian folk dances and Monti's Csárdás. Piazzolla's Café 1930, from Histoire du Tango, had a luxuriant, sexy melancholy. Gould and Sidorova, sparks flying, introduced each piece. The audience chuckled and cheered in response. This is the second time this year I have raved about a squeezebox player after a lifetime's silence on the entire topic. Something is stirring in the bellows-driven, free-reed aerophone undergrowth. Simplest formats are the most revealing, starting with Orpheus and his lyre. These two young musicians showed what they can do, and what can be done, with their instruments. In so doing, they repurified our cluttered world of ordered sound."
(Fiona Maddocks, The Observer)
"The silver lining was Ksenija Sidorova […], for she has the ability to steal a musical heart."
(The Telegraph)
"Before you say a word, Latvia's Ksenija Sidorova takes them out of your mouth: ​"It will be a while before the phrase ​'I play the classical accordion' doesn't sound unusual or funny." Her determination to extend the instrument's reputation from its folk roots is formidable. She studied at London's Royal Academy of Music and has won numerous prizes. You can see why. Technique and phrasing in Mozart's 12 Variations on ​"Ah, vous dirais-je, Maman" are subtle and witty. Her chosen repertoire embraces Nordheim, Bach, Berio, Scarlatti, Schnittke, Takahashi and (with the Sacconi Quartet) some smokily beguiling Piazzolla, all played with light, shade, delicacy – and breathtaking virtuosity."
(Fiona Maddocks, The Observer)
"Scarlatti and Mozart are played with delicacy and grace. Modern accordion classics by Arne Nordheim and Berio get atmospheric outings: Berio's Sequenza XIII emerges as a masterpiece of suppressed emotion. Schnittke's sardonic reworkings of Mozart and Tchaikovsky are superbly delivered."
(The Times)
"The accordion's sound world is characterful but somewhat constrained. It needs a virtuoso such as the young Latvian Sidorova to show just how flexible the instrument can be…In transcriptions of Bach, Scarlatti and Mozart, Sidorova is simply brilliant and staggeringly precise."
(The Sunday Times)
"Sidorova here demonstrates the remarkable potential of the accordion, not an instrument generally appreciated in classical circles…[The Bach] is fascinating, with Sidorova making the accordion sound like a miniature organ…An attractive and unusual disc."
(Awards Issue, Gramophone Magazine)
"Anybody disinclined to take the accordion seriously as a classical instrument should listen to the opening track here…[the Nordheim and Berio] are advertisements for the accordion's expressive potential, mining its virtuosic possibilities…a debut recording full of panache and communicative musicianship."
(BBC Music Magazine)
Ksenija Sidorova
A while since I tweeted last, BUT! I've been working on something a lot lately and I hope you join me here:
https://t.co/OTn1qM9mJq
22 May