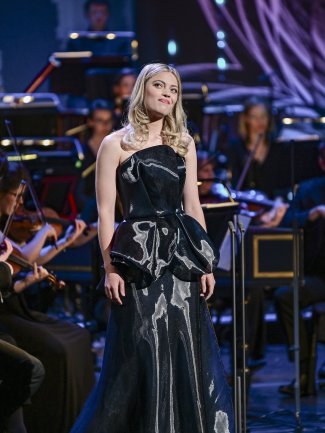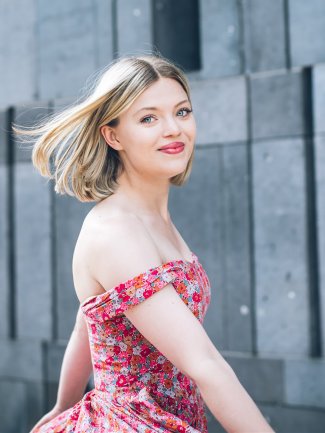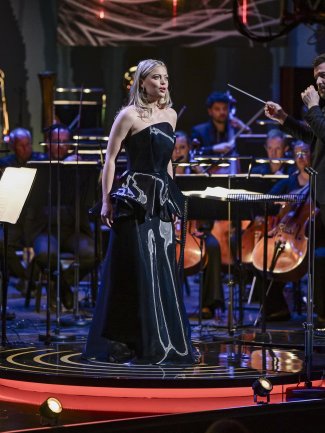 Shirley Thomson
Director & Head of VOICE
Zoe Band
Senior Artist Manager
Peppie Johnson
Artist Coordinator
"A singer of remarkable charm"

(Hugo Shirley, Bachtrack)
Swedish soprano Johanna Wallroth's journey began at the Royal Swedish Ballet School where she initially trained as a dancer before shifting her focus to voice. Johanna Wallroth went on to graduate from Vienna's Universität für Musik und darstellende Kunst (MDW) and she gained international attention in 2019 when she secured first prize at the renowned Mirjam Helin International Singing Competition. Johanna Wallroth was honoured with the prestigious Birgit Nilsson Scholarship in 2021 and, following her remarkable debut as Zerlina in Mozart's Don Giovanni with Swedish Radio Symphony Orchestra and Music Director Daniel Harding, she was named Swedish Radio's Artist in Residence for the 2022/23 and 2023/24 seasons. From September 2023, Johanna Wallroth joins the BBC Radio 3 New Generation Artist Scheme further solidifying her status as an accomplished and exciting young artist.
In the 2020/21 season, Johanna Wallroth joined the Opernstudio of Wiener Staatsoper for two seasons showing her musical and dramatic versatility on stage in a number of roles during that time including as Barbarina in a livestream performance of Le nozze di Figaro under Music Director Philippe Jordan, as Giannetta (L'Elisir d'amore), Une voix céleste (Don Carlos), Ida (Die Fledermaus) all under Bertrand de Billy, as La Contessa di Ceprano (Rigoletto) under Marco Armiliato and as Fortuna, Damigella and Amorino I in the new production of L'Incoronazione di Poppea under Pablo Heras-Casado. Johanna's exceptional talent earned her a return to Vienna's main stage in the 2022/23 season as a guest artist where she joined Barrie Kosky's captivating new production of Le Nozze di Figaro, reprising her previous success as Barbarina under the baton of Philippe Jordan.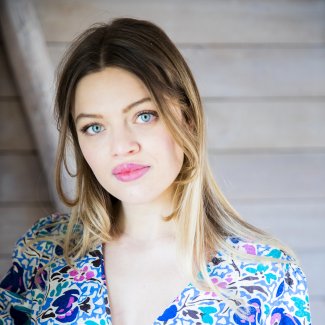 Wallroth's operatic experience extends beyond Vienna and includes recent debuts at Opernhaus Zürich in a ballet production based on Monteverdi's Madrigals, choreographed by Christian Spück and conducted by Christoph Koncz, Leocasta in Vivaldi's Il Giustino at Sweden's historic Drottningholm Festival accompanied by the Drottningholm Theatre Orchestra under George Petrou and Belinda in Purcell's Dido and Aeneas at the Internationale Barocktage Stift Melk with Stefan Gottfried and Concentus Musicus Wien. As Eurydice (Orfeo ed Eurydice) she performed at MDW Wien, as Despina (Così fan tutte), Gretel (Hänsel und Gretel) and Susanna (Le Nozze di Figaro) at Vienna's Schlosstheater Schönbrunn, Pamina (Die Zauberflöte) at Moscow's Gnesin Academy as well as both Sandmännchen and Taumännchen (Hänsel und Gretel) at Norrlandsoperan, Umeå.

Included in an impressive array of engagements in Johanna Wallroth's 2023/24 season are a tour with Oslo Philharmonic and Klaus Mäkelä of Mahler's Symphony No.4 with concerts in Oslo, Hamburg and at the Rheingau, Edinburgh and Luzern Festivals, a debut with Orchestre de Paris in Mahler's Symphony No.8 (Mater Gloriosa) under Daniel Harding, Nielsen's Symphony No.3 with Swedish Radio Symphony Orchestra under Alan Gilbert and first performances with Danish National Symphony Orchestra in Debussy La demoiselle elué under Barbara Hannigan. She joins Dalia Stasevska and Swedish Radio Symphony Orchestra for their annual Epiphany Concerts, televised live from Stockholm's Berwaldhallen, collaborates again with Concentus Musicus Wien and Stefan Gottfried in Schubert's Mass in A flat Major at Vienna's Musikverein and sings Mozart's Mass in C minor under Andràs Schiff at Italy's Vincenza Festival. On the opera stage, Johanna Wallroth will make debuts at both Opéra de Rouen as Zerlina under Ben Glassberg and at Glyndebourne Festival Opera as Cleopatra in David McVicar's dynamic staging of Handel's Giulio Cesare.

Already with an enviable experience on the concert platform, Johanna Wallroth has performed with Sakari Oramo both at Helsinki Music Centre in Mahler's Symphony No.4 and with Stockholm Philharmonic Orchestra in a programme featuring works by Barber and Stravinsky; she joined Daniele Rustioni at Opéra de Lyon in Mendelssohn's A Midsummer Night's Dream, sang Mozart's Requiem with Orchestre Philharmonique de Radio France under Barbara Hannigan and was soloist on tour to Antwerp, Amsterdam, Dortmund, Köln, Hamburg and Luxembourg with Daniel Harding and Swedish Radio Symphony Orchestra in Mahler's Symphony No.4. As part of her first season's residency with Swedish Radio Symphony Orchestra, Johanna Wallroth performed Berg's Sieben frühe Lieder with Daniel Harding, an all-Mozart programme with Martin Fröst and Schubert's Mass in E‑flat with Andràs Schiff. Wallroth's performances of Osvaldo Golijov's Three Songs for Soprano and Orchestra with Gävle Symfoniorkester under Vincenzo Milletari were met with unanimous critical acclaim, she sang her first Beethoven Symphony No.9 with Rundfunk-Sinfonieorchester Berlin under Natalia Ponomarchuk, joined the soloist line-up for Schumann's Das Paradies und die Peri with Czech Philharmonic Orchestra and Daniel Harding and made an impressive debut at Festival d'Aix-en-Provence in a chamber version of Mahler's Symphony No.4 and Strauss Lieder with Kirill Gerstein.

In celebration of her award of the Birgit Nilsson Scholarship, Johanna Wallroth and pianist Magnus Svensson appeared in recital at the historic Birgit Nilsson concert hall in Båstad and with Malcolm Martineau, she appeared as part of Spain's Schubertiade series in both Vilabertran and Cantabria. Other recital appearances include at Stockholm's Konserthuset with Svensson and at the Savonlinna Festival with Kristian Attila and this season she performs as part of the Grandi voci series at Göteborgs Operan and the Helsinki Seriös.
"Johanna Wallroth, for her part, delighted the audience during her moment before the grand finale, with sparkling high notes and flawless legato"
OLYRIX, November 2023
"Soprano Johanna Wallroth gave an eloquent reading of a child's view of the angels and saints on high complete with details of the feast they would cook up."
The Scotsman Susan Nickalls, August 2023
"soprano Johanna Wallroth, clad in shimmering gold, brightly sung of the joys of heaven. Where do we go from here? For a minute, paradise."
The Times, August 2023
"Soprano Johanna Wallroth's wistful, melancholic contribution secured yet another subtle conclusion to an otherwise mighty masterpiece."
Edinburgh Music Review, August 2023
"The mixture of depth and lightness with which the Swedish soprano Johanna Wallroth made this idyll glow in the company of the Oslo Philharmonic Orchestra and its chief conductor Klaus Mäkelä, was a fine highlight of this year's Rheingau Musik Festival focus series on Mahler's works."
Frankfurter Allgemeine Zeitung, August 2023
"Picking up the no-small-roles mantle, Johanna Wallroth was an excellent Barbarina."
Chanda VanderHart, Bachtrack, March 2023
"The soloist was last year's Birgit Nilsson fellow, soprano Johanna Wallroth. She is the Classical Artist in Residence at P2 this season, so there are good opportunities to hear more of her on the radio. And who does not want to after this concert, she interpreted Goliyov in an incomparable way. "
Camilla Dal, Gefle Dagblad, September 2022
"Johanna Wallroth's performance of Osvaldo Golijov's ​"Three Songs for Soprano and Orchestra" was the strongest and most emotional we have heard in the concert hall in a long time."
Lars Westin, Arbetarbladet, September 2022
"Wallroth's voice and the music explored and expressed pain, sadness, longing and so much more. Here was depth and intensity borne out by a voice that captured every nuance with clear, strong and burning intensity."
Lars Westin, Arbetarbladet, September 2022
"A concert you'll never forget: Wallroth's voice created pure magic."
Lars Westin, Arbetarbladet, September 2022
"The soprano Johanna Wallroth should be applauded for her beautiful clear projection."
Irma Foletti, Bachtrack, April 2022
Shirley Thomson
Director & Head of VOICE
Zoe Band
Senior Artist Manager
Peppie Johnson
Artist Coordinator