Lydia Connolly — My relationship with music
14/4/2023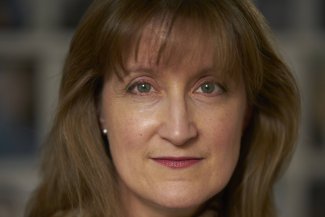 A personal blog article from HP Foundation trustee Lydia Connolly
I have been extremely lucky. My relationship with music has been central to many of the most significant and transformative moments of my life. I never forget how privileged I am to have had such opportunities.
The soundtrack to my childhood was pretty eclectic and I have no shame in admitting to a heavy BBC Radio 1 habit along with the ritual of Thursday night Top of the Pops on TV. At the same time from the age of 5 or 6, I was introduced by my family first to the piano, then at 9 to the violin and at 14 to the church organ. Homework evenings were accompanied by the sounds of Poulenc, Brahms, and Weber being played by my mother's clarinet pupils downstairs – while piano music by Debussy, Chopin and Schubert were early (and lasting) loves. At a moment when my violin skills were considered adequate, I was pointed in the direction of the local choral and orchestral society — Messiah and The Mikado featured among my earliest concert experiences. Playing in the school orchestra and chamber ensembles my familiarity with composers of instrumental music grew – while singing in the school madrigal group brought me to Morley, Dowland and Weelkes. In my teens I had the chance to play the organ and sing in the choir at our local church where the Director of Music ran an ambitious and excellent programme: to this day the sacred music of Byrd, Tallis and Purcell holds a very special place in my heart – not to mention that of Bruckner, Howells, Durufle and many others. Painstakingly working my way through Bach Fugues on the organ remains one of the most satisfying studies I ever undertook.
I played with an enthusiastically led local youth orchestra– then stepped right outside my comfort zone when I successfully auditioned at the age of 15 for the National Youth Orchestra of Great Britain. Finding myself for the first time away from home alone, for two weeks on my first residential course, I'll never forget my first tutti rehearsal – frozen in disbelief and terror as Christopher Seaman launched into the Overture to Mendelssohn's A Midsummer Night's Dream. I'd had the part to prepare in advance but … I had NO idea of the tempo! Three incredible years with the NYO followed – nine programmes packed with iconic symphonic works and concertos. This experience was truly life-changing. Too many highlights to mention but amongst these were certainly a performance of the Beethoven Violin Concerto with the incredible Kyung-Wha Chung as soloist; Prokofiev Piano Concerto No. 3 with the breathtakingly talented Terence Judd who passed away tragically just a few years later; Mahler 5 with Sir Charles Groves; Tchaikovsky's Francesca da Rimini with Riccardo Chailly for the BBC Proms at the Royal Albert Hall which marked the end of my final course with this extraordinary group of fellow musicians. The tears which overcame me on stage continued for at least another two hours as I left behind an experience which profoundly changed my life.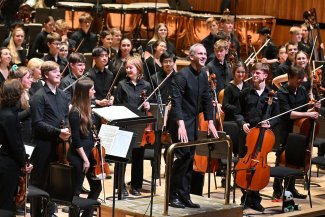 I was fortunate enough to win a place at New College Oxford – the first woman ever admitted to read music there as an undergraduate – and spent three wonderful years playing the violin and singing (and fitting in the essays between) , my violin-playing years culminating with a performance of Mendelssohn's E minor Violin Concerto with New College Chamber Orchestra conducted by my tutorial partner, the extravagantly gifted Nicholas Kok. I also knuckled down during my second year to take a violin teaching diploma – the LRAM. While still having no idea what I would do with my life after University, I figured it couldn't be a bad plan to be a qualified violin teacher.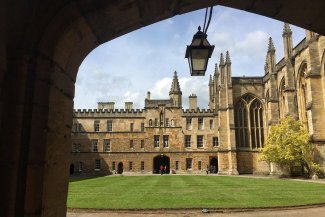 As I completed my degree a different path beckoned – a career at the BBC seemed to be a popular pick amongst fellow music graduates — but the choice was taken out of my hands … I failed the second interview. A friend's thoughtful sharing of a newspaper advert for a vacancy with a classical music PR started to lift the curtain on an industry which existed BEHIND the concert platform – one I'd had no grasp of before that moment. A few speculative applications later, I was invited to come and ​"help for the summer" at a management company named HarrisonParrott which seemed to represent a few important international conductors and instrumentalists whose names I was already familiar with. Within just a few weeks I was absolutely certain I'd found my professional home – thankfully HP decided I'd be useful for more than one summer.
Friends used to ask – and new acquaintances sometimes still do – whether I miss playing the violin … whether hearing the world's greatest artists play concerts several times every week inspires me to start practising again … or has their luminous artistry and master of their craft discouraged my feeble efforts for ever? Hand on heart I have always replied that I could not imagine a more inspiring, fulfilling, creatively and intellectually challenging professional life for myself than the one I've been fortunate enough to enjoy. Music has given me the opportunity to travel the world, to share my professional journey with the most talented and brilliant creative partners both on stage and side by side within the company I work for. I've sat in the most beautiful concert halls with tears in my eyes listening to artists who touch my soul with their playing — knowing that I'm sharing this miraculous experience with hundreds of other music lovers in the same space and that I have played some part in making this performance possible.
Looking back it was those life-changing musical moments and opportunities during my education which made this life possible and I shall be forever grateful: for the early music lessons; lively music life within my school; the chance to play in NYO GB; the opportunity to spend three years amongst the dreaming spires of Oxford; the curtain raised by a college friend which allowed me to step into the music management industry. And without taking that step, neither would I have been fortunate enough to meet my husband and life partner.
Part of my responsibility now is to try to make comparable opportunities possible for new generations. While I continue making the best contribution I can to the careers of brilliant artists, partnering with them to help them achieve their artistic goals and ambitions, I spend an increasing amount of time mentoring and supporting younger managers who are making their own paths in our industry as well as young professionals across the creative arts. I am deeply committed to promoting equity, diversity, inclusion and accessibility to and within music – and as such am honoured to be a Trustee of the HarrisonParrott Foundation. It's a great deal more difficult for any young person these days to follow a path such as the one I was lucky enough to pursue – given the provision of music in schools and local communities is now so reduced and music lessons are commonly available only to those with the money to pay for them. Through my own training and experience and with the platform I have available at this stage in my own career, I have a chance to contribute to making more and better choices available for young musicians and young professionals in the creative arts. What could be more rewarding?