Meet Siobhan Joseph: Creative Access Intern
7/4/2023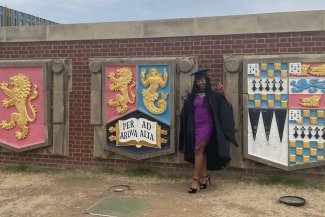 Siobhan Joseph is our Finance Intern
Where are you from?
I was born in Southwest London but grew up in a small seaside town in Kent called Broadstairs. It has got amazing white cliffs and beautiful beaches so it's a great place for a staycation.
What are your interests and passions?
I love to sing, play electric guitar and make music. I've been singing all my life in choirs in both school and church but I've only recently picked up the guitar during the first lockdown. Later on, during in final year of University I started to write my own songs with help from some music students. I plan to continue and improve my skills in this area as I love expressing myself through my songs!
My other hobbies include rollerskating, playing video games, and visiting museums and art galleries.
What did you study?
I studied Business Management at University of Birmingham for 3 years and just graduated last summer. I decided on this course, as I loved doing Business Studies and Economics during GCSEs and it's a degree that can open up many career paths.
How did you find out about the Harrison Parrott Internship with Creative Access?
My career tutors at university told me about Creative Access since they knew about my desire to work within the music industry. So, I have been browsing the website since I graduated. I initially applied for a different role at Harrison Parrott however I was unsuccessful. But, that is when the team introduced me to the Accounts Assistant Internship!
Fun fact about you?
I have a yellow belt in Jiu Jitsu and I also know some Muay Thai Boxing!
Your future aspirations?
I would love to continue to work in the music industry and be around people who are equally as passionate about music as I am! I'm really enjoying my current internship at Harrison Parrott at the moment so I would be open to going down a Finance and Accounts related route in this industry.
I would also like to become bilingual! I'm currently learning Spanish and picking it back up from GCSEs.