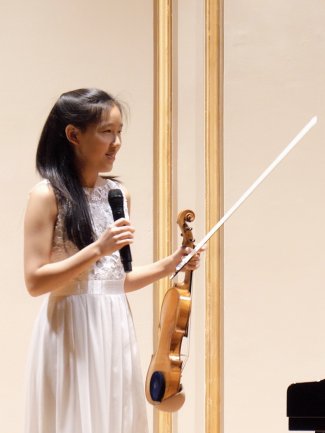 Leia Zhu — My Relationship with Music
1/11/2022
A personal blog article from HP Foundation patron Leia Zhu
I have spent my entire life listening to music, something I consistently do. Even if not actively listening, I perpetually immerse myself in a sea of vibrant harmonies, thick textures, rich melodies, and munificent nuances. Whilst writing this blog, an enthralling recording of the Beethoven Violin Concerto (which I will perform next month) is in the background! Quite simply: music is the embodiment of my life.
A curious yet passionate yearning to play the violin and master soulful music has transported me on a musical journey unanticipated by myself or my non-musical family.
At the grand age of sixteen, I am just beginning to realise my lucky disposition. To have been exposed to and supported in my career from such an early age is a true blessing.
Music and Mood
Nothing can top the hysterical experience of watching a petrifying movie without music. This comes from someone who gets scared the living daylights out when encountering a moth.
That's a great illustration of how music can affect one's mood; music amplifies mood, making it possible for us to undergo suspense or amusement, euphoria or valence, ecstasy or melancholy.
Music is the most evocative and eclectic language, creating an avenue for empathy and understanding. Who would think an infinite combination of twelve notes could invoke our souls individually and collectively? It is a medium that translates and articulates unexpressed feelings; it unites people around the globe regardless of their backgrounds, experiences or circumstances; it overcomes internal and external barriers.
For some people, music is therapeutic, alleviating stress and anxiety. For others, music is a way to connect, facilitate self-expression, and provide a creative outlet for emotions.
For me, music is my way of life; it is my oxygen, my Bible, and my best friend.
Impact of Music on Personal Development
A quick search on Google regarding the benefits of music provides an avalanche of research demonstrating correlations between participating in music programmes and enhancing human cognitive functions.
In addition to these positive neurological effects, there are countless beneficial impacts on social and personal life.
For example, music helps children learn to work together as a team. Producing captivating music requires everyone in the group to articulate their ideas concisely to achieve the desired sound. This application of effective communication is essential in all walks of life — from musical settings to academic and professional contexts.
Music excites passion, stimulates the imagination, and demands persistence. In short, it prompts us to learn how to count (Maths), how to describe (English), how to narrate a story (Drama), how to appreciate diverse cultures (History), and how to be sympathetic and compassionate, enabling us to develop as human beings.
Embracing music
Hans Zimmer stated, ​"The operative word in music is play." When it comes to playing music, there are few things more crucial than having fun.
Whatever your level of interest is, there are many ways to get involved in music as a musician or a music lover. It can be a fun and rewarding hobby or even a career!
You can start simply by listening to music you enjoy — a great way to become acquainted with contrasting styles and genres and find music that speaks to you, inspires you, provokes thought, or offers contentment.
There are many instruments you can learn to play, and each one offers its unique challenges and rewards. I chose to learn the violin as my first instrument because the exquisite sounds it is capable of producing fascinate me the most.
Patience and attitude are the most vital yet often overlooked characteristics of a healthy relationship with music. Learning a new skill takes time and effort; if early attempts to master a piece seem futile or frustrating, then with persistence and a good mindset, anything is possible! The sheer elation I experienced when I managed to play Twinkle Twinkle Little Star for the first time will stay with me forever.
The creativity of music is endless; the indulgence is limitless. When I revise a piece I haven't touched in a while, I find my musical tastes have entirely altered. It is a constant path of changing, discovering, and implementing new methods of interpreting the same passage.
As a musician, my pinnacle of fulfilment is being able to construct sounds from my instrument that make my heart weep and cry with joy and sorrow.
Irrespective of your musical expertise, don't be shy about letting your guard down and having fun. At the end of the day, playing music should be satisfying! It will enrich your life, giving you lasting gratification and exultation.
I hope you embark on a fantastic musical journey!
This blog article is part of the HarrisonParrott Foundation's Music Access Awareness Week 2022