The Culture Bar — Speed Pod: France
19/1/2023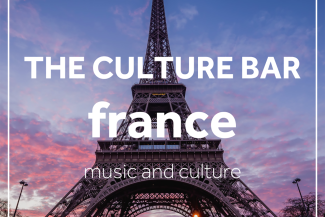 Speed-pod series of 15 minute podcasts focusing on music and culture from around the world
In our ​'speed pod' mini-series of quick insights into music and culture from around the world, we talk to music industry professionals about the music of their homeland, to give us a view into different music, composers, sounds and instruments which make music both unique and universal.
This time, we will be talking to HarrisonParrott Social Media Officer Lucie Rivet to tell us more about the sounds of France. Lucie tells us about what influences there are on French music, the musical sounds that are associated with the country, unique musical instruments which teach canaries how to sing, and introduces us to several French composers. As well as providing listeners with a wealth of musical insights, Lucie also gives us her personal recommendations for a French book, album and film, so we can dive deeper into understanding French culture and its contribution to the world.
Lucie was interviewed by HP's Fiona Livingston.
Lucie's Recommendations:
Book: The Stranger by Camus
Film: Portrait of a Lady on Fire (2019) trailer
Album: Olivier Derivière for the video game ​"A Plague Tale: Innocence" (2019) , and Music Narration and Structure explained by the composer on YouTube (spoiler warning)
Video of a serinette
The Culture Bar is a podcast series created by HarrisonParrott focussing on conversations in culture and the arts.
Find us on Spotify, iTunes, Google Podcasts, YouTube, Podbean, Deezer, Stitcher, Pocket Casts and all good podcatcher sites.
Use #theculturebar or follow us on Twitter @_TheCultureBar to keep up with our latest releases
Transcription
I'm Lucie, I'm from France and I'm a Social Media Officer at HP. I played the harpsichord for 10 years at the conservatoire, and I studied chamber music with a viola player and a flute player for a while. But I don't want to pursue music as a professional musician. I'm still very much surrounding myself with music, but from a more carefree perspective.
What has Influenced French Music?
Voice is one of the most important components of French Music, and has been since the Middle Ages, starting with composers from the Notre-Dame School. There was a sacred element to music at the time, with religion being an influence.
Beyond that, the social setting played a part in defining French Music: thinking of Louis XIV who used the Arts as a means to express and expand the power of France's political and economic supremacy — music was definitely part of that, and it focused on moderation — even restraint — something very intellectual aimed at sharpening your vision.
Something very typical of French Music was elegance — what was often referred to as ​"Good Taste". For that reason, it was focused on the social scene embodied through the French Court and the French aristocracy.
Music was going along with Dance and Ballet, this very Refined side of society in the Palace of Versailles.
It also goes along with the French landscape with the Jardin à la Française — the French Formal Garden — which is always symmetrical, organised — and it reflects the strong supreme presence that France had back then.
With all of that in mind, French Music can be very visual and tries to tell a story:
Lully collaborated with French playwright Molière and codified the French Opera, creating the comédie-ballet which combined theatre, ballet and music.
In addition to that, Camille Saint-Saëns was the first person to compose music for a film with L'Assassinat du Duc de Guise (The Assassination of the Duc de Guise) in 1908, underlying the importance of Programme Music, so of course this was an important step in French cinema, and cinema as a whole.
Lastly, Politics and Social Awareness are big influences, and some French singers and rappers are singing and rapping about it today, with songs dealing with mental health, social equality and prejudice.
What sounds define French Music?
Polyphony is significantly used in French Music (this is a concept with two of more simultaneous lines of independent melody).
Polyphony is used in Motet — a vocal composition that comes from the French ​"mot" — meaning word — and is composed with texts that revolve around themes like courtly love odes, political attacks or religious devotions.
Motets were sacred songs or chamber pieces with a basso continuo (in Baroque Music). They could also be secular, and could include massive choirs and an orchestra — Lully and Charpentier composed this kind of motets – so instrumentation did matter and focused on eloquent restraint, with emotion being subtle and implied rather than stated.
For the most part, French instrumentation favoured the lute, the harpsichord, the viola and the theorbo. Those were the familiar sounds you could hear, with the plurality of voices being dominant in French Opera.
Are there any instruments you can only find in France?
The Serinette is a mechanical musical instrument with a small barrel organ — similar to a traditional pipe organ, but it's activated by a person turning a crank, or by clockwork. It has bellows and pipes in a wooden case; and the case of the Serinette is quite small. The sound is similar to the piccolo.
The word Serinette comes from the French Serin, which means ​"canary". And indeed, this instrument was used to teach melodies to canaries. People would just repeat the same tune over and over with the Serinette, and the canaries would eventually pick it up and reproduce the melody.
Spotlight on French Composers exemplifying French Music
I've already mentioned Lully and his impact on Opera, with one of his most famous pieces being Marche pour la cérémonie des Turcs (The March for the Ceremony of the Turks) from Molière's Le Bourgeois gentilhomme. It's a very lively piece — part of Lully's innovative mark on ballet and the Royal Academy of Music.
There are many other composers that I could mention, with Couperin, Ravel, Rameau, even Elisabeth Jacquet de la Guerre who was the first woman in France to compose an opera and she performed in King Louis XIV's court.
But I would like to focus on Debussy, because his style was very unique and innovative, partly inspired from Impressionism — with the importance of melody over harmonic progression and rhythm, and fragmentary melodies — he used rhythm in a non-metrical way. He was really pushing boundaries. It can clearly be heard with Clair de Lune.
Recommendations:
The album I've picked is the Original Soundtrack of a Video Game.
It comes back to this idea that French Music is deeply connected to storytelling, and a soundtrack focuses on narrative intent.
The album I have chosen was composed by Olivier Derivière for the video game ​"A Plague Tale: Innocence" (2019). It takes place in France during the Hundred Year's War, and during the plague. My favourite track is ​"Beyond the Horizon".
My favourite book is L'étranger by Camus (The Stranger). I've always loved the kind of literature that is more modern, and Camus introduced some themes and a style that many modernist writers would get inspiration from. His focus on the Absurd — questioning the meaning of existence.
Finally, my favourite movie is Portrait de la jeune fille en feu (Portrait of a Lady on Fire) directed by Céline Sciamma (2019). It is the story of a young woman painter who is commissioned to paint the wedding portrait of a woman without her knowing. Interestingly, there is no soundtrack for this movie — the ambient noise, the voice of the characters, their movements, the waves, the wind, silence is part of the music. The only moment when you hear music with an orchestra is at the last moment — the last scene — where the emotion of the character just overflows, and you finally hear Vivaldi's Summer Presto section starting.
Lucie Rivet
Website & Social Media Officer