THE

CULTURE

BAR-

SPEED

POD

:

ICELAND
23/2/2022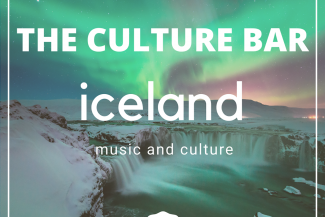 Speed-pod series of 15 minute podcasts focusing on music and culture from around the world
In our ​'speed pod' mini-series of quick insights into music and culture from around the world, we talk to music industry professionals about the music of their homeland, to give us a view into different music, composers, sounds and instruments which make music both unique and universal.
In this episode, we talked to HarrisonParrott Artist and Project Manager Arna Jonsdottir to tell us more about the sounds of Iceland. Arna tells us what influences there are on Icelandic music, what we can expect when listening to Icelandic music, and introduces us to two Icelandic composers. As well as providing listeners with a wealth of musical insights, Arna also gives us her personal recommendations for a Icelandic book, album and film, so we can dive deeper into understanding Icelandic culture and its contribution to the world.
Arna was interviewed by HP's Fiona Livingston.
Arna's Recommendations:
Book: Independent People by Nobel laureate Halldór Laxness
Album: Önnur Mósesbók with Moses Hightower
Film: Woman at War by Benedikt Erlingsson
Rímur: Listen to Icelandic folk traditional singing
Traditional Icelandic langspil and fidla (fiðla) instruments: Find out more
Bathroom Dance, from the film Joker composed by Halldór Úlfarsson: Watch here
The Culture Bar is a podcast series created by HarrisonParrott focussing on conversations in culture and the arts.
Find us on Spotify, iTunes, Google Podcasts, YouTube, Podbean, Deezer, Stitcher, Pocket Casts and all good podcatcher sites.
Use #theculturebar or follow us on Twitter @_TheCultureBar to keep up with our latest releases
Transcription
Hello, my name is Arna Jonsdottir and I work as a project manager at HarrisonParrott. I previously worked at Harpa Concert Hall and Conference Centre in Iceland as a marketing associate and I also managed Víkingur Ólafsson music festival, Reykjavik Midsummer Music in 2019. I am a graduated jazz singer; I have a bachelor's degree in compositions and I also play the piano.
What has influenced Icelandic music?
Up until the 18th century the traditions and style of Icelandic music was relatively untouched by foreign influences due to the country's isolation, and it was not until outside musical instruments entered the country that they began to influence the sound. Looking at classical music, it came to Iceland comparatively late, and the first proper orchestral concert didn't take place until 1921. As the world opened the foreign influences on Icelandic music became more notable – especially in regards to popular music.
Today, there is a quite widespread assertation that the unique natural environment in Iceland can be seen as the main influence when it comes to music creation in the country. This is actually a very popular motive when reading foreign articles about the music life in Iceland. Many musicians in Iceland are actually getting quite tired of being asked about how nature influences their creativity. This assertation also fails to acknowledge many social factors that influence the music scene. The close proximity due to the music scene being relatively small results in exciting collaboration and allows people to work across various music styles if they like (and many musicians are members of several bands that represent different genres). Older established musicians often work with young up and coming musicians and provide guidance and assistance. It is often said that instead of a music industry we have more of a music community so to say and I think that influences the scene and perhaps makes it more free and somewhat experimental in a way. There is also good access to music education in Iceland and many children learn to play a musical instrument when they are young.

What sounds define Icelandic music?
For centuries, Icelandic folk music was the long-standing popular music of the country. Rímur (or Rhyme in English) is the earliest form of the music and dates back as early as the 14th century. They were chanted at evening sessions from written manuscripts. People in Iceland mostly turned their backs against rímur in the 20th century when the world opened up and they realised that compared to Mozart chanting rimur made us look quite primitive. Rímur were therefore almost lost, and the folk music tradition in Iceland changed dramatically.
Today popular music is probably what Icelandic musicians are best known for, ranging from indie and pop-rock to electronic music. There are also musicians breaking boundaries, working across many musical styles, and experimenting with new sounds. Perhaps we can say that the experimental sound could be seen as a characteristic now since many musicians in Iceland are unafraid to combine styles and experiment with new sounds. I think this also goes for classical music, but many of Iceland´s leading classical composers are using sounds and nuances in their works rather than focusing on harmonies for example.
Are there any instruments you can only find in Iceland?
Yes, we have Langspil, which is probably the most recognised Icelandic instrument. It is a simple member of the fretted zither family and dates back to the first half of 19th century or earlier. The typical set up is one string positioned over a fret board for playing the melody and two or three drones, but other variations also exist. The instrument can be played with a bow, by hammering or by plucking the strings.
There was also the Icelandic fiddle — a traditional Icelandic instrument that was somewhat similar to the langspil – but its uses began to die out by the middle of the 19th century.
Spotlight on two Icelandic composers who exemplify Icelandic music
The first composer I want to highlight is Academy Award winner Hildur Guðnadóttir an Icelandic composer, cello player, and singer who has been manifesting herself at the forefront of experimental pop and contemporary music. I think Hildur is a great example of what I previously mentioned about Icelandic artists being experimental. She is unafraid to explore new sounds and used Halldorophone, a purpose built electro acoustic string instrument based on the cello developed by Icelander Halldór Úlfarsson when creating the score for the Joker in 2019 — which secured her the Academy Awards for best music (Original Score). I recommend listening to Bathroom Dance from her Joker Score where the Halldorophone takes centre stage.
The second composer I want to highlight is the late Þorkell Sigurbjörnsson, an Icelandic composer who was born in 1938. He composed the music to Heyr Himna Smiður,a medieval Icelandic hymn by poet Kolbeinn Tumason written in 1208. This is one of the best-known choral pieces in Iceland and has been performed in many countries. I recommend listing to the album Þorkell where Hamrahlíðar Choir performs many of his greatest choral pieces.
Book/​album/​film recommendations
Book: Independent People by Nobel laureate Halldór Laxness which is a book that most Icelanders have read. It is about the hardship of the poor farmers in Iceland back in the early 20th century, struggling to keep their independence on isolated farms. The book revolves around the idea of independence, at what cost it must come, and what should be worth giving up achieving it. On a side-note Iceland did not gain independence until 1944!
Album: Önnur Mósesbók with Moses Hightower, an Icelandic soulband who write brilliant lyrics (in Icelandic unfortunately for some…) Their music can always get you into a good mood. If you can write a song about coffee and get 1.5 million plays on Spotify you must be doing something right!
Film: Woman at War by Benedikt Erlingsson is a film about Halla, a choir conductor and eco-activist. While fighting to save the planet she tries to reconcile her illegal activism with her upcoming adoption. A brilliant film about one-woman-war on the local aluminium industry, where the beautiful scenery of the Highlands of Iceland is at the forefront.
Arna Margrét Jónsdóttir
Manager: Arts Partnerships & Tours