Cyclists of

HP
25/11/2022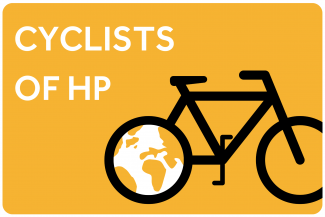 It is more important then ever to choose green ways to travel. At HarrisonParrott, we try and be aware of this when travelling to and from the office, with a lot of our colleagues cycling to work, whether that be London, Paris or Madrid. Here is what they had to say about why they choose to cycle.
"When I'm not working from home, I cycle the 10 kilometres to the office. My ride along the Isar River is beautiful at any time of the year and I like to feel connected to the weather. I like to have this time to fully wake up and sort my thoughts. Then I arrive at the office fresh and warmed up for the tasks that await me."
Maria Wagner — Assistant Artist Manager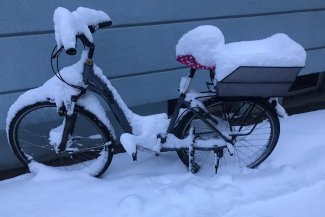 "The office is around 25 minutes from my home and mainly down hill, so cycling back home takes a bit more energy. Paris still needs some improvements for cyclists, but it's getting better. It's beautiful to cycle around the streets of Paris on a sunny day, between the legendary monuments, at the bank of Seine, across the bridges and through the parks."
Paris has invested a lot in cycle lanes. Roadworks haven't yet finished, so it's a bit tricky to zigzag between the trucks and suddenly ending cycling lanes. Since Covid, so many Parisians have chosen the bicycle as their way of transport (very Amsterdam-look), which is great. In rush hour you see cyclists of all kinds; some who race like mad, some who barely can keep their balance, those who respect the traffic lights, and others who don't. The courtyard of our office is so full of bikes that it's not always easy to find a place to lock it up, but then you must be creative (against the traffic signs on the side of the street)."
Maarja Saue — Associte Artist Manager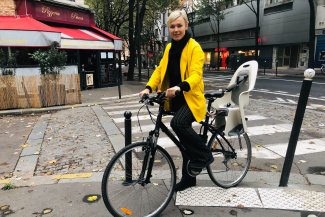 "I wouldn't choose any other way to get to the office. London has some excellent cycling infrastructure which means cycling to the office feels not only safe but incredibly fun. My route takes me past Buckingham Palace, the Royal Albert Hall, Big Ben and the London Eye. All the sights of London whilst getting to the office. I always get to work feeling those endorphins, and it puts me in the perfect mood for tackling the day. I am a big campaigner for more people to cycle in London, ditching their cars and choosing greener ways to travel. And cycling is the perfect alternative, especially considering it is far quicker than any other form of transport."
Lauren O'Brien — Digital Communications Officer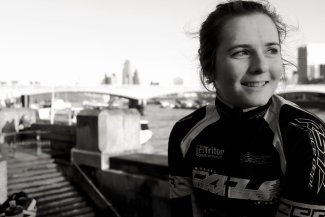 "Living in South East London, my route to the office is usually relatively quick by bike (around 30 mins). On a mild (and not rainy!) day I love to cross Blackfriars Bridge where there's usually a great view of St Paul's Cathedral and I often arrive at Somerset House feeling energised and ready to take on the day! I've been biking at least part of the way to work for a number of years and have always felt there's a sense of community amongst cyclists, people often look out for each other which is nice."
Camilla Walt — Artist Manager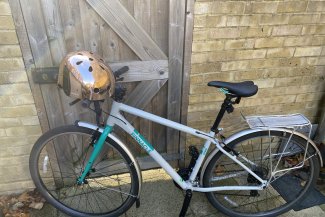 "I live in Munich, which is a real bike-friendly city. There is a bike road – known as the Isar Highway – which runs alongside the river Isar from the south of the city. It is only for bikes and there's not a car in sight (you have the river on one side of you and a woodland path on the other). I'm lucky to live only 500 metres from this bike road and – 5 kilometres later – the office is a few minutes away via a safe bike path running alongside the cars. I admit I am very much a fair-weather cyclist, but in the Spring, Summer and early Autumn I really enjoy it. I find it a refreshing way to start the day and enjoyable to decompress after a busy day in the office. Post-pandemic and since becoming a new mum, I tend to work from home more often, but on the (dry) days I'm in the office, I love going by bike."
Charlie-Rose Blockley — Manager: Composers & Artists
"I have commuted by bike all my working life, in most weather and I love it. It keeps me fit and I find interesting beautiful routes. To cycle the 10km to Somerset House I start the commute along the Thames path, seeing the different moods of the water, and then onto the cycle superhighway taking me past many iconic London sites. Then a warm shower to set me up for the day. I have just become a member of the Serpentine club so in the summer I intend to stop off for a swim."
Antonia Hearn — Senior Assistant Accountant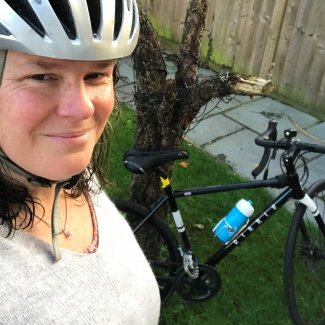 At HarrisonParrott, we believe in the power of classical music and the arts to make real change to the climate emergency.
We set up an internal Environmental Working Group which meets every quarter to discuss HP's carbon footprint and reduction strategies, as well as keeping our ​'offices green', and filtering our knowledge to our artists and touring clients.
HP was carbon footprint assessed in January 2023 by Carbon Footprint Ltd, and has been awarded a Carbon Neutral Plus status for carbon offsetting.