THE

CULTURE

BAR

NO

.

10

:

UNDER

THE

SPOTLIGHT

 — How the Arts can respond to the Climate Emergency
22/4/2021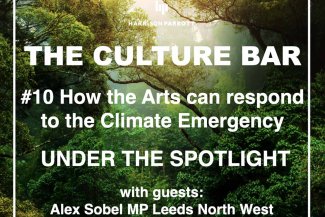 Under the spotlight mini-series episode
To celebrate Earth Day (22 April 2021) we discuss how the arts can respond to the climate emergency.
"if we can turn those powerful machines and those artists and those platforms into the direction of normalising the changes that need to happen, and the shift that people need to make, and the sacrifices that people need to bring into their lives, supported by government, then I think the arts is going to be one of the most powerful influences. ​'Culture eats strategy for breakfast'… we just need to make sure that art can survive, can proliferate, be back to the same capacity that it was a year ago. And that we're supporting artists in helping to paint a better future, for everyone" — Sam Lee
We are delighted to be joined by three expert panellists:
Sam Lee - Mercury Prize-nominated folk singer, conservationist, song collector, and award-winning promoter, broadcaster and activist.
Alex Sobel - MP for Leeds North West and Shadow Minister for the arts, heritage and tourism.
Crispin Woodhead — Chief Executive of the Orchestra of the Age of Enlightenment.
Hosted by HP's Henry Southern
Useful links and resources
Connect with Sam:
Website: samleesong
Instagram: @samleesong
Sam Recommends:
Music Declares Emergency: @musicdeclares
Nest Folk: @nestfolk
Friday for Futures: @fridaysforfuture
Julie's Bicycle: @julies_bicycle
Connect with Alex:
Alex Sobel: alex​so​bel​.co​.uk
Twitter: @alexsobel
Instagram: @alexsobelforleedsnorthwest
Connect with Crispin:
OAE website: oae​.co​.uk
Poland and Hungary Tour: press release
Instagram: oae_​photos
Facebook: @orchestraoftheageofenlightenment
Twitter: @theoae
Earth Day is an annual event celebrated around the world on April 22 to demonstrate support for environmental protection. First celebrated in 1970, it now includes events coordinated globally by the Earth Day Network in more than 193 countries.
This is the third episode in our​'Under the Spotlight' podcast mini-series where we shine a light on​'challenging' topics in the arts, and focus on guests living these experiences and who are working to create change in the sector.
The Culture Bar is a podcast series created by HarrisonParrott focussing on conversations in culture and the arts.
Find us on Spotify, iTunes, Google Podcasts, YouTube, Podbean, Deezer, Stitcher, Pocket Casts and all good podcatcher sites.
Use #theculturebar or follow us on Twitter @_TheCultureBar to keep up with our latest releases
A special thank you to Robert Cochrane as the composer of the theme tune music, and Merlyn Thomas our editor.
Henry Southern 0:03: Welcome to The Culture Bar, a panel discussion podcast exploring, dissecting and shedding light on important topics in the arts and music world, which matter to you. Hello, I'm Henry Southern, and today on The Culture Bar, and as part of our Under the Spotlight series, we will be discussing how the arts can respond to the climate emergency. And to explore this vital topic we are delighted to be joined by three expert panellists. First up Sam Lee, Mercury Prize-nominated folk singer, conservationist, song collector, and award-winning promoter, broadcaster and activist. Next, Alex Sobel, MP for Leeds North West and Shadow Minister for the arts, heritage and tourism. And last, but by no means least, Crispin Woodhead, Chief Executive of the Orchestra of the Age of Enlightenment, welcome, everyone.

Everyone 0:54: Hi everyone, nice to see you.

Henry Southern 0:56: Thank you. Wow, as a starting point, and for a foundation for discussion, I think it would be great for our listeners to know more about your experiences and the proactive measures you've all been taking to tackle the climate crisis head on, you all have very distinctive and unique approaches. And Sam, I'm going to come to you first if that's okay. You are part of a movement called Music Declares Emergency. Can you tell us more about that place?
Sam Lee 1:21: Indeed, MDE. We've been running operating for about two years now as a voluntary led gathering of industry members who have come together over a unified inclination towards changing from inside the music industry, making it carbon zero by 2030. And tackling all the different points of impact where music as an artistic expression, from the studio to the live, to the travel, to the audience movement, in every aspect can be, can be changed, and bringing about the movement, both from the industry but also an encouragement of artists to engage with climate awareness, the ecological crisis, and we've achieved an incredible amount. In fact, two things that connect, I think the three panellists here is one of our probably smaller campaigns is about the train rail card for musicians to try and, and allow cheaper rail fares for musicians to disincentivize them from having to drive and also fly. I know Crispin's been doing good work with that and the orchestra. And Alex has been a great supporter of that campaign, too. So we've yeah, we are essentially trying to both both advocate for artists to really embrace what that means on their platforms within their, within their social media. We're running a No Music on a Dead Planet campaign at the moment, which has got hundreds of artists of enormous calibre wearing our T shirts and putting our statement and set of principles across.
Henry Southern 3:04: Fantastic, thank you. And I hope the rail card also extends to music management as well. That would be lovely. Alex, I think I'm sure there's some synergies there. I'm aware you took the initiative and formed an all parliamentary group, all party parliamentary group in 2019, aiming to reduce carbon emissions to net zero as quickly as possible. It'd be great to know more about that. But also just to pick up on Sam's point about being carbon zero by 2030. I'm aware of these interim targets, and the main one I gather is 2050. Bill Gates in his in his book recently was advocating to aim for 2050 not for interim targets in 2030. It'd be great to get your thoughts on on all of that.
Alex Soble 3:44: Yes, so we set up the all party group on net zero, because although we have an all party group on climate change and on energy use, on a whole range of issues, there wasn't anything specifically about driving to that target. And when it was, we're still in the bidding process, but it was fairly clear that the UK would have a role in hosting COP, which it now does is the main host of COP in Glasgow in November, that we need something to drive to that net zero, we needed the next COP which should have been last November, but because of Coronavirus it's this November, to have a binding netzero agreement. And that's why we did it, that because it's an all party group and we have members of all parties we don't have a date because the parties can't agree but from a personal point of view, I still want us to aim for net zero at 2030 so the 2050 date is a general date, it's the date the Biden administration are now looking at, it's the data UK have legislated for, the EU are also aiming at that date or or if possible, an earlier date. But I still think we need to drive it at 2030 and so you know the fact that for instance, we're only going to be banning the sale of internal combustion vehicles around then isn't good enough because that means there'll still be a lot on the road. So So I've got a higher level of ambition. But but but it's good to hold the government's feet to the fire and global leaders feet to fire at COP and and if we get a net zero 2050 I won't say that that's terrible. I'll say that that isn't my level of ambition, but it is, it is a forward movement and it does raise our ambition. That's what it should all be about is about raising ambition. And not just about ambition, we need the practical steps behind it. So Sam, mentioning the the rail card, the work to reduce the emissions of touring musicians is important. Obviously at the moment, unfortunately, there are no tours and the UK Government haven't made it easy for musicians touring the EU. But when all of that is resolved, we need them to be travelling on on trains and not planes.
Henry Southern 5:49: Okay, thank you. I mean, there's there's lots to unpack there, which I'm sure we'll come to later. And actually, as a quite a nice segway to you here Crispin talking about all things trains, because I know you've undertaken a tour very recently, all by train, is that correct?
Crispin Woodhead 6:03: Yeah, I'll come to that in just a moment. I mean, the the crucial thing here is that, you know, we've got whether we're 20 years to one point or another, we have a sense of direction. And that we've all got to move in that direction. And one of the things that interested me was that when you want to go somewhere, you normally know where you're starting, right? And what I found quite surprising was how little there seem to be in terms of awareness about where we actually were, everyone has this nebulous idea that there is a big problem. And they see some significant statistics about, and not only statistics, but also they see evidence or or relatable, alleged evidence of what's going on in terms of our activity, we can see the change in our climate, we can see what's happening in the camps. And we see some pretty disturbing figures that come out of various reports that tell us, you know, how that relates to activity, but when when you go down to a sort of individual business level, the operational awareness of what you're doing, and what consequence that has is quite low. And it isn't mandatory for people to assess. And in fact, there was a government direction in 2018, that organisations ought to go through some kind of audit and understand what they're doing. And actually, this is not required, and people don't do it. And so to produce a carbon budget, to be it to be able to do something, which is, you know, according to the sort of greenhouse gas protocol, you know that sort of standard, that can, articulate in terms of relevant and quantitative, accurate, complete, consistent, comparable and transparent. That is not a standard practice for any organisation in the UK, just isn't. There are only a few that report that actually determine what their approach is going to be. Do they have a financial control approach? In other words, are they looking at their impact in terms of their balance sheet? What scopes are they applying to the admission, and you know, I've actually analysed it properly. So we did this. And we didn't know how to start, we've got advice from the wonderful professor, Cathy Lewis, in Oxford, who's a leading biodiversity specialist, who was very generous with her time, she gave me the first piece of (08:16: phrase?) she said, ​'You've got to stick to your balance sheet.' And I thought, ooh, that sounds a little bit punchy. But I mean I'm absolving others and all myself of responsibility, and actually, it's a practical step, if you are accounting properly for what you do in terms of carbon, or CO2, or environmental impact, with the same diligence that you have, when you go to your auditors with pounds, shillings and pence, then it's really clear what you're doing. And then it becomes even clearer what other people need to do to fit in, so that you have an interlocking pattern of responsibility around corporate activity. And that feeds into individuals and their behaviour. And so we started on that programme, and we went through, against all sorts of stumbling blocks, like if you go to promoters in huge venues, and you say, how much energy do you consume? Do you convert into heating? For example, how much energy do you get for an a day for a day? They don't know. They don't know, they can tell you. Very few can, Cecil Sharp House could actually. So we created a unit. That sounds like w're looking down on all the other venues, it's not their fault. It's just that no one told them that was coming up. So we created a unit called a Cecil Sharp House, which is the amount of energy you need for a venue in a day like loo flushes, water, you know, the whole lot. And then we thought, well, that's about eight Cecil Sharp Houses. So you know what the impact is if you have a much bigger venue, right? Well, that's the challenge. organisations don't know. And then if you go to, you speak to colleagues, and I'm not, I was the same, you say, well, what is the difference between, they don't know the difference between rail and international rail or long haul and short haul or even is a hotel room the same or… it isn't depends on the, the the local climate and how much they use central heating and air conditioning and the state of the building and everything else. And actually, when you're transporting things around, different vehicles have different entirely different consequences. And then you realise you're not just talking about CO2, but you're talking about the five greenhouse gases. And that includes incredible exotic things like, like, I don't know, the sulphur hexafluoride and the perfluorocarbons ​'these exotic animals, they're part of it too. So you just have no concept. So we just had to start from basics and work it out, and actually work out just how bad we were. Because until you know how shocking your behaviour is, you can't really articulate any kind of improvement, they became obvious. So there's an instant, obvious determination. You could guess this, but it wasn't worked out. Three quarters of our impact is air travel. That's it. It's a place to start, isn't it?
Henry Southern 10:47: Yeah, absolutely. And so therefore, you undertook a tour last February, all by train, 72 hours by train, I gather to Poland and Hungary, which we'll talk about more later. I think one of the things which was quite a few things to unpack there. But I would say one of the debates for our industry is a belief, perhaps an international cultural exchange, versus our responsibility for the environment and how we balance those two things. And also the commercial and artistic aspirations that go within that. Sam, how do you sort of become at ease with that, with that balance?
Sam Lee 11:25: Well, I mean, Crispin's raised some really important points about the bluntness of the tools that we're using and the complexity of when you're dealing with, you know, the chemical impact and the ramifications of that, be that just on planes, greenhouse gases, plane, greenhouse gases, carbon, and methane, but then all the other nuances of the behaviour of packaging materials, that sort of thing. And then also, as an artist, you know, what, how does one embrace that? How does one communicate that? It's, it's an absolute minefield, it's different for every individual person, and then their practice as an artist where they tour, whether they're, you know, heavy freight, or whether they're a light singer, songwriter. And also, particularly in the sorts of venues they're playing, there's a lot of benefit to people being in venues that are centrally heated, the the gathering people, there's a lot of counter arguments of why certain things are actually very good. The biggest output of festivals, carbon emissions, is the travel of the audience it's about 89.. 80 something something %. So when we, you know, pin the artists, obviously, it's different for orchestra, but when you put the implication on the individual, it has to come as a unified change and shift. But at the same time, the other big challenge for me that's more critical is is that that needs to happen, but also an awareness of what why we're doing it and what the implications are. Because I think this is the separation from, from the actions on a very abstract impact that's happening at different rates in different parts of the world to different people, particularly the global south, obviously, is how do we communicate that sense of responsibility and accountability? I'm very keen to look at biodiversity loss, I work specifically with looking at nature decline in the UK, I work specifically with looking at birds such as the nightingale and the turtle dove, all set to go extinct through habitat loss. And you know, there's you know, there's complexities here the HS2 scheme, which I'm intrinsically opposed to, because it was devastation of habitat, is at the same time advocating a transport that I'm in support of yet, it's about what are we trying to hold on to, what are we what are we prepared to lose? I think there's a wider issue of how we manage, steward our natural habitats, our eco ecosystems and our local ones, and also realign us as a nation with a sense of relationship to the natural world as a point of artistic inspiration as much as a place that's going to help keep us alive for a little bit longer. So there's these big meta and micro issues that we're all dealing with, which is very hard work for a musician who's generally just trying to work out what the next song they're gonna write is, or where thrtr next gig is going to come or how they're going to pay their rent.
Henry Southern 14:27: While certainly I think we'll talk later about the enormity of this challenge from an individual level and versus that on a systemic level as, as well. But Alex, I saw you nodding furiously about all things HS2, I mean in your brief, you're Shadow Minister of Tourism, surely you want to be encouraging UK arts organisations to be travelling and it's soft power is vital and in turn, people come into the UK to to experience our wonderful art institutions.
Alex Soble 14:55: I mean, that that's absolutely right. And part of my sort of internal brief on this is to encourage more domestic tourism, which, which, which doesn't hugely help here, but but in essence, a lot of our festivals, you know, if we can, if we can attract people to come without the need for air travel, and those festivals and events are still financially viable, then all the better. And we've now got the, you know, we're using this technology that we're on today. And we and that is a great leveller as well, we've seen lots of musical performances, which a lot of people wouldn't have been able to experience either free or much cheaper online, then, although I, you know, I'm, I'll be honest, the sort of gigs I go to, I probably go to a little bit those sorts of things that Sam plays at, but not so much once Crispin plays at, I'm more likely to be found in the mosh pit than in Glyndebourne. But you know, it was an experiential… is that oh, well, there you go, maybe it's for me. And so that sort of an experiential level, he can't get that over zoom. But we're in a sort of situation where the, the, the big, the big strategic, and legislative indicators mean that it's much cheaper to fly than it is for rail travel, we need to reverse the subsidies and the tax incentives, so that the costs change. And you know, because there's two factors here, one is cost and the other is time. So obviously, in terms of time, it's never going to be quicker to go by train than it is to go by plane. But there are ways of shortcutting some of that, night trains is a good example. So that cuts down the need for high speed rail, and utilising rail capacity, off peak rail capacity, which isn't being used during the night means that we can, we can travel much greater distances, we just need to refit the trains and have that have the capacity available. And that also would really speak to touring musicians. Because if you think about it, the two elements in touring is one, are the buses that take the musicians that they sleep on the other one, the the trucks that take the equipment, if you could refit trains, one for night trains that had the capacity to take the musicians but also had freight, freight cars or equivalent freight cars to take the equipment, then you could refit and re engineer the whole way that people talk. But it's going to take, one it's gonna need pressure from Sam and Crispin, their whole industry, and abroad arrangements in the film industry is another one again, that could utilise the same sort of technology and other creatives, art exhibitions, etc. But also it's going to it's going to need that government action and for us to push as well. And it's going to need us to work across Europe on this.
Henry Southern 17:53: So realistically, it does need government change in order to enforce individual change, be it from audiences, but also touring ensembles or individuals as well.
Alex Soble 18:03: I'd say it slightly differently, it needs to come to facilitate the change, right? So at the moment, with the best will in the world, you've got a tour manager with a tight budget based on ticket sales. And what tips, the tour from being in profit to being lost is moving transport from aviation to rail, then they're not going to do it, because they're not going to run a loss making tour. But if the government then flipped that and make rail cheaper than air, then actually the tour manager might default to the rail because it, it flips the, it flips the tour into profit from loss. And so you get both the benefits. But unfortunately, our legislation, our systems aren't designed for that. So a really stark example at the moment is although they're crying about it, the aviation industry, they have been given a package to help them through COVID again in the budget yesterday, but where was Eurostar's support? Eurostar have had zero support from the British government. If Eurostar goes, the everything I said collapses because that is the gateway to Europe for the UK. There is no other real gateway. You know, ferries aren't gonna work with rail, only Eurostar is going to work with rail.
Henry Southern 19:18: Blimey, yeah, that puts it into stark contrast. Crispin, do you have some direct experience about all things green touring?
Crispin Woodhead 19:27: Alex Soble for president, please, now…it's really startling to hear somebody who's not in our sector, who is in politics, rattle off pitch perfect the issues that make life difficult. I mean, you know, if you take the Eurostar and it has to be protected, it is just unconscionable to allow that. I mean, what is the point, the lives were lost digging, not many, but some people died digging that bloody tunnel. What is the point of allowing the main transit network that connects Great Britain with the European continent, that what is the point of allowing that to fall into disrepair and disuse, it's just absolutely criminal. And in a way, it shouldn't even be a matter of finance, it should be a matter of absolute solemn social responsibility that that system is maintained. And also that there is proper freight for people who have travelling with equipment, not just, of course, I'm thinking of double basses, but I'm completely sympathetic to those who have to lug camera gear or PA equipment or whatever it is that they need for their, for their work, it just moves straightforward, and also temperature controlled and dry, so that when it turns up at the other end, it doesn't completely blow a fuse as soon as you plug it in or need a week to dry out. I mean, this is really important stuff. And it's not difficult to put in place. And it could be sustainable. And you're absolutely right. There's, I'm gonna talk about the train thing in a minute I promise, but this crucial issue of, you know, facilitating local, local individual decision making, that's really important, I'm still very much of the mind that big change, the movement in the centre of the people who sort of bumble around looking for their slippers, who, who actually hold the balance of, of the environment in their activity. They need, they need direction from from boards and from governments who feel the pinch of accountability, if they take decisions which don't look right and feel right, which is why I'm a sort of big fan of Client Earth, making people, making making organisations think actually, we just can't afford to fall out the planet, because it's bad for business, and we'll get kicked off the board. Anyhow. So I'm delighted to hear a politician who gets it, it's fantastic. And someone who understands it in a way, which is not to signal a singular rising one art form rather than another. It's not orchestras and their special bijou needs, it's everybody who needs to get on tour and be part of the soft power cultural exchange, who doesn't by the way, when they're doing it want to ruin the environment in the programme. Just briefly about our train trip to make the point we, we, you know, you wouldn't normally take the, take a train to go to Budapest or to Szczecin in Poland to give a concert. And the reason you wouldn't normally do it is because it's very, very easy to go to the airport and get on a flight. And two hours later you arrive, if you get the train, you have to get about seven of them, and you spend the day. And so the changes, it's a it's an incredible increase in the number of hours, it's a 14 hour trip each way to go to Szczecin in Poland by train and two and a half hours on the plane. But when you unpack that, and you look at what you're doing to the environment, if you fly for 20 people, it's about 3.4,000 kilogrammes of CO2 that you're stuffing into the environment. If you take the train, it's 240.
Henry Southern 23:01: Can I just add to that, I will ask the question, you know, aviation only contributes 2.5% of carbon emissions…
Crispin Woodhead 23:07: So three quarters of what we do. And if you say, Yeah, fine. But that's like, that's just getting off the hook, isn't it? It's like more? Yeah, no, officer, I think you'll find I was only doing 35. And most of the serious accidents happen. You know that. So you really should know that. I don't understand that sort of moral calculus. Everybody has to do their bit. Everybody has to contribute to progress. And if we think in absolute terms, or what about-ism, we'll just run aground. Those are absolutely the havens of people who would rather not do anything. And the thing is when you imagine people listening to this thinking ​'oh bloody trains' actually it was fun. It was fun to go by train to Szczecin, it was fun to go by train to Budapest, it was a bit more expensive. But actually it was fun. And if you've got hmm, 20 very talented people on a train together for three days or four days. Could you do something of financial benefit to themselves and of value to the world? In that time? Yes or no. So it's just a test of imagination. So you've got like this captive workforce. They had a great time. And it was wonderful. And if you've not arrived by a train in Budapest, Grand Central Station, you've not lived. And people, the other thing is that people don't realise what the country looks like, as you travel from France, to Poland, they've got no sense of it, they've got no idea. So it's a good thing for me to talk about soft power and understanding the world is a brilliant thing. And then you have a bit more of a sense of what the environment is and how it changes, and how different things grow in different places. And you sort of get it's like a lesson in biodiversity just by looking out the window. But the fundamental thing is that the the impact difference on the environment is just unconscionable. And so, you know, I sound like someone who's about to start sort of, you know, shouting through letterboxes at people that that take short haul flights, I'm not. And I think that it's just about making progress. And my advert to people was, actually it was fantastic fun. It was a bit more expensive, but you know, you could spend your money on worse things. And it was a far less stressful experience. If you go for an airport on a short haul flight at five o'clock in the morning, do a concert the same day, you are taking weeks off the lives of those artists really, what you're putting them through, the duress that people undergo. I've seen older players, you know, sitting on their briefcases at Heathrow Airport catching their breath, because they're done in, it's no way to live.
Henry Southern 25:54: Well, I think these measures you put in place for greener touring is certainly very admirable. I know you've also been working with a woodland trust and looking at reforestation offsetting, but do, and this is a question for all of you do all these measures, as I say extremely admirable measures, do they go far enough? Because I mean, Alex, you mentioned this earlier about audiences. At what point do you, can you legitimately say everything is carbon neutral at this engagement. Sam, do you want to?
Sam Lee 26:26: Yeah, I'll respond. I mean, this is a this is, as you say, is an aspect of the impact that we are doing, I want to draw attention to the wonderful organisation Julie's bicycle. And their work over the last 15 years of looking at the the kind of wider implications of touring and their green rider scheme, which is a brilliant downloadable pack that artists can minimise all points their, their carbon output. One of the big ones that is not talked about enough is actually the diet of the musician while on tour. And one of the things that I've made sure that my band adhering to everywhere we go that our, that we ask at all venues that all our food is vegetarian, if you start looking at what the carbon cost of beef, pork, chicken, and also habitat loss for the feed for those creatures to be eaten, is so utterly devastating at every end, that actually, the impact of just choosing while one is touring to have a relatively healthy and vegetarian diet is really important. That's, that's one that a lot of, not a lot, I wish it was a lot, some festivals are starting to really advocate that they minimise the amount of meat that is on sale relative to the World Health Organization's recommendation of how much meat should be eaten per week, and having that amount available as opposed to the enormous amounts of meat that's brought into festivals. Festivals, like Shambala, which is a world leader in sustainability is practically carbon neutral now as as a 30,000 person festival, has for the last three years been vegetarian and in 2019, went dairy free. The other really vital part of wHere musicians and music industry can make a huge impact, And a dent is in the wallet of the real offenders. And Music Declares is working on a campaign with Switch It and Move Your Money, encouraging musicians and organisations, record labels, arts institutions to stop banking with the real climate offenders such as Barclays, HSBC, that are directly investing the money that is banked with them into fossil fuel companies. That's somewhere where you can really make even at a small level, a massive difference about looking at whether the economics of your, of your artistic practice are going, where you're spending who you're paying to do the work. If there's more and more artists that are calling to, to work with packaging that is sustainably sourced is not using enormous amounts of plastic, then the cost of those what was generally more expensive, my record label cooking vinyl, charged me more back in the day to have the more sustainable packaging. Because of the nature of, of, you know, the mass production, there wasn't simply the demand for it. But it's, if as a community, we start to call upon things like rail travel, we have, we have weight as and can actually start to drive the prices down of where things have generally been more expensive for their ecological benefit. And there's an enormous amount of research going on at the moment to just adjust all aspects and it's really exciting times but it needs to happen as a unified, you know, Crispin the work you're doing is not in silo but we we need a widely unified voice, demanding these changes and being able to call on mass for the ability to be able to practice at the moment, you know, music is so hard hit and artists are struggling so much that we we can't often afford to take the more expensive choices. And that's a real tragedy, we're having to make a more ecologically impactful decision. If we're to do things at all. Don't even start me on the impacts of Brexit and what that's going to mean, European travel.
Henry Southern 30:33: You're absolutely right. It's interesting what you're saying about how individual choices can also collectively have a bigger change. And it's picking up what we were saying earlier by saying government and policy facilitating that individual change. But just going back Alex to the idea of greener touring, all these measures being well and good, but does it go far enough? I mean it sounds like with your parliamentary group, and you personally, are holding government to account, you're extremely ambitious, with the targets? What, what more, if anything, can we be doing at this stage?
Alex Soble 31:05: I think there's a conceptual thing here. And I think Sam just touched on it, if we think about everything that we do, having a cost in carbon, not a cost in pounds, or dollars, or euros. And, and the heavier the carbon cost or the greenhouse gas cost, the more expensive it is. And the government or governments can effectively balance issues out. Because what they can do is they can say, this is heavier on carbon, therefore going to tax it heavily, you can replace a whole load of taxes, just we just think carbon tax, and then Sam's issue around the packaging would go because cooking vine will be like, well, actually, it's cheaper to produce the bamboo packaging than it is the plastic packaging. Because the ban, there's 120% you know, sales tax on plastic and 0% sales tax on bamboo. And people who say this is you know, fantastic or it doesn't work. But the real world practical example of this is in Norway, where they completely changed how they taxed vehicles, personal vehicles. So petrol and diesel vehicles, the taxes went went through the roof, and electric vehicles were effectively zero rated on tax and and included an element of subsidy. So now or in 2019, sorry, 55% of sales in Norway of personal vehicles were electric. That was just down to the actions of the government. That wasn't really driven by consumers. The government also have obviously put infrastructure in place. So consumers were like, which which cars cheaper, the electric cars cheaper, I'm buying the electric car. And that is how we can drive consumer behaviour, you just you just need to weigh in, in pounds, the amount of carbon each option has and make the lowest carbon option the cheapest by utilising the tax system. For flights, I wrote an article in the Independent in September 2019. So I'm not a recent convert to this around a frequent flyer tax. And so this also answers the question around equity around, you know, working class families wanting to go on holiday, you know, once every two or three or five years that you have a frequent flyer tax where your first flight in a period three year, five year period has is untaxed, then your second flight is taxed more or less at the level it is now then your third flight is, effectively you double or triple each time the flight. So if you for musicians, if you go on tour, that quickly makes the tour unviable if you're flying from destination to destination, around your report or globally. But if you if you plan your tour around rail, or buses and lorries, particularly if they're electric or hydrogen, then then obviously it will reduce the cost of the tour. And the government, no government has yet taken up the free comply tax idea. But it does need global action. Because if one country, because obviously it's transnational activity flying in most cases, most flights aren't domestic, they're international. And but again, the cops have huge opportunity for this. Maybe thing I'd say is there's an opportunity for artists and musicians and people with a voice, either because they have fame or because they have locusts to come to Glasgow in November and make that voice heard. And so I'd invite Crispin and Sam and all of their colleagues to come with me and the politicians to go to Glasgow to make that voice heard.
Sam Lee 34:49: Can I jump in and ask Alex a question because it's, the response that, the reasoning behind the failure of the government to create a free movement of artists over to Europe, post Brexit has the, what I'm hearing is that it's because they are so cautious about creating an exception for the arts industry, that that then opening the door for all other industries. And I wonder how that works with, you know, with why should, why should the arts get privileged treatment, this as contentious question come from? Why did the arts get privilege treatment in, you know, in in lower taxes on flights and and and other industries, which are also keeping the economy going and bringing pleasure to people's lives, not have that same privilege? If that makes sense?
Alex Soble 35:43: It does. I mean, on the first, on the first part, I'm gonna address that I think people are really interested in that and it's like, you know, I was listening to on, on the radio data, radio X and there was they were talking to Wolf Alice, and he had a discussion about that, and that's commercial radio, that's not, you know, radio six, or BBC or anything. So, I was on the phone when this was going through parliament having a debate, talking to Stuart Murdoch, and Belle and Sebastian about this. And that, and that the issue is, is that is, is that it's, it's multifaceted. So it's not it's not solely around around the work permit issue. There's the cabotage issue as well. There's the issue of hiring and purchasing, well more hiring of equipment. There's, there's there's a whole, and what is what has happened is, is that that because it touches all of these areas, I think it became too complex in negotiations for the government, if it was just one area, then the government probably could have sold it, because they didn't make an exception one area, but because there's all these different overlapping areas, I think that's what that that complexity, made that complexity, but then moving on to the environmental, that is analogy to the environment. I don't think I was suggesting that the answer would get an exception. So when there's frequent flyer tax, I'm not saying that, if you're going on tour, you'd be exempted from the tax will say that you would pay the tax, and that would shift the behaviour of tour managers, but also it will create demand, you know, create demand in the system. If rail companies and and others, you know, manufacturer of hydrogen buses, which we have two in the UK, but they can't sell any the buses anywhere, you know, create the demand, then it would then, then these things would happen. And you said right at the beginning, that music and arts in general in this country have huge soft power globally. Huge, soft power. You think about the biggest selling artist globally, you know, your Ed Sheerans and your Adeles and people like that, you know, you think generationally back generationally starting, you know, with the Beatles, the UK has had a huge soft power in this area globally. Now, what we're saying is we're going to dump that soft power, I don't think so. I mean, that's more related to Brexit and the environmental question, but, but that we need to understand that the arts and culture in this country is replacing the things that we used to have. And our influence globally, which is the whole aim of Brexit was that we're enhancing our influence globally, our ability to trade all those things, that actually we are taking a backward step. And so I think that both on the environmental front, and on the Brexit front, the government needs to refocus and recalculate the effects because in two years, it's gonna see, you know, we're gonna have a whole generation of visitors coming through you're established Sam, you've probably be all right. But it's somebody, you know, you if this was 2000, or 2005, you might not have a career now, you might be working an office job because of what's going on. Yeah, absolutely.
Henry Southern 38:52: Question. Before I move on, do you want to pick up on that?
Crispin Woodhead 38:57: I think there's possibly potential to look at because I wouldn't want I wouldn't want the any kind of preferential treatment of the arts to then be counterproductive, either to political progress or indeed to the the welfare of people who work in culture, I my feeling is that the sort of guidelines may be of work. One way to look at this is to look at not for profit, and look at cultural activity, including sport as a group, because I think that's much easier for people to understand. If these people are not making a profit, they're not allowed to make profit. They were workers, charitable entities, and they're working in a sector which relates to everybody, that I think it's much easier to see that as a group. And I think it's much easier then to relate that to the sort of cultural, you've right national relevance that we have. All great states look after the people who do those things. And I don't think that there's a good argument for stopping to do that now just because of changes that are taking place either politically or environmentally around us as a result of actions that we may have taken in the past. So I mean, I think that's probably a starter. But I can see why for example, on Brexit, I can see why this fell off the table because if you were negotiating Brexit, you would probably start somewhere else and get into deep down there first. Then time would run out and we all the, we've seen it, we know the story, you can understand why so many important things have been neglected, of which this is one.
Henry Southern 40:32: Yes, absolutely. Well, as we near towards the end, I'm going to endeavour to try and see if we can finish on some semi positive note. Or you might disagree. But I, it's been said that the pandemic is a dress rehearsal for the climate emergency. And so with that in mind, do you sense say, Alex on a governmental level, with all, Crispen with industry bodies, Sam, with your with your peers and other organisations you're involved with. Do you sense that the tide is turning? I hope the answer is yes. And so I'm asking for a positive note. But go for it. Tell me what's what's it like, on the front line at the moment?
Alex Soble 41:10: I mean, I think that that the, one of the lessons of pandemic is how quickly human behaviour can change. So, we saw, you know, if you said two years ago, you'll be able to effectively locked down everybody in the country for months, people would've said, ​'No, it's not possible', people just won't wear it. But basically, that's been achieved. Now, the thing is, is that there isn't the problem with the climate emergency, it's like, it's like a, it's a slow motion pandemic. It's gonna take a long, long time, and you know, sort of descending into it. And so the urgency isn't there. So you need to create the urgency. I don't think the government's doing that. I think that we all have responsibility to try and create that urgency. And I feel that that I'm doing that certainly feel that Crispen and Sam are doing that after meeting them today. But we all need to do to create that urgency, to get those, to get that that mentality across and then for the government to respond to it in kind. I think that's where we are. But I my view is things can change very quickly. And the biggest event that's happened recently, that gives me hope, is the win in America of Joe Biden. And that complete transformation of views on the climate, the appointment of John Kerry as the envoy, I had a meeting with John Kerry, last week, not not like this, there was a few more of us. I don't I don't I'm not operating on that level, where I've like small means to John Kerry. But and, and, you know, John Kerry said, you know, this, you know, that COP is our last best chance to avoid catastrophic climate change. Nobody in Trump's administration would have got anywhere within a million miles of that, I don't think our government is quite there. They're in like the league below, you know, John Kerry's in the Premier League, then, you know, our governments in the Championship using the sports analogy, and we need to get into the Premier League in particular as COP President. So I think that one, things can change very quickly. And two, I think that there's room for optimism, but that that urgency is really needed.
Henry Southern 43:14: Crispin, you want to go next?
Crispin Woodhead 43:19: One of the problems? Yes, I think it's true, I completely agree with Alex, that, you know, it's remarkable how people can change in their behaviour. I keep thinking of smoking, and how attitudes to smoking have changed completely. I mean, I know there's a lot of vaping and you know, that sort of sideways, there's been a sideways move, but you know, in that you see sort of imagination and technology and industry taking, taking up the baton. And I think Alex you were pointing to that, weren't you saying that if you if you drive taxes, what you'll do is you'll stimulate another area of the economy, which will take up the slack and give people the advantages that they've lost, in the one that you want to defavourize. So I think that, that that'll make sense to me that we can change behaviour, we're looking specifically at COVID. You know, it is, you know, it's good to look at the positives that have come out of it. But let's not ignore the manure that it dropped on everybody. And, you know, I'm not going to be some poor bleeding heart about the arts, because I don't think the arts are served by people whinging. Actually, I think we just have to get out of work and be positive and serve. And I don't think you should be in the arts unless you're interested in service. But nonetheless, for anyone in that in operating that sector, or a similar one, and you know, there are many and they don't have to be charitable, that COVID has been devastating. And it has had a massively retardant effect on the ability to make progress because I think Sam was saying earlier that, you know, one of the really significant issues is that you're looking at organisations with reduced balance sheets, with extremely troubled profit and not not just for this year. But for five years, organisations which have never had particularly competent or strong reserves, which have been decimated, and then, you know, how are they going to be able to invest in the sorts of changes that are needed? So they're going to have to take choose between? Do I die now as an organisation? Or do my children die tomorrow because of what I'm doing. And it's an impossible dilemma. And people tend to respond to the things that are under their nose rather than just beyond the garden fence. And so I think that, you know, what we've been through indicates the scale of the challenge, because it's all about the money. And it's all about confidence with money. And it's a brave soul who goes in front of a board that has its its standard expectations of fiduciary responsibility, and then says, I' think we should be spending more at the moment' when all they can see is a downward line, not many people pull that off. And not many boards, acting as they should, within charitable law with auditors at their heels, will allow that.
Henry Southern 46:04: It sounds like you have pulled that off or are pulling it off.
Crispin Woodhead 46:08: Well, I have a very enlightened board. And they are extremely supportive, but they're not stupid. And they know the cost of these things. And and I think, you know, we do need to signal. I think there's a counterintuitive thing. Last thing I'll say on this is a counterintuitive thing we need to try and achieve here. I completely agree. I think that that the people who are leading the people who are setting, setting schedules, setting frameworks, at the government or superanational level, I think they need to be uncompromising, and demanding. But I think there needs to be this other thing that's going on, which is appealing to the bumblers, to the people in the middle, to the people who look no further than the end of their nose. That makes the right decision. Yeah, that's me too, that makes the right decision easy and accessible, and not a not frighten them into doing it. Because if you if you say you must do all of these things, x, y, and z and if not, you're a failure in your data, and you've done all that, then I think you're likely to get slower progress out of it. You know, which, which is why I also think we need to be very careful about even though it might be a great statement, I'm very nervous about making statements like carbon zero and carbon neutral about even though, I think that's dangerous. And I think that people get into a bad habit of thinking, they write a cheque to the woodland trust, which is a great organisation, and suddenly they're off the hook, like the system of Catholic indulgences, I think everybody needs to get wise to what they're doing and be part of a consistent programme, like the shift of culture around smoking, for example. And the the improvement in in trends towards equality and dignity in the workplace, that you just keep bringing everybody in with rational, inclusive arguments until they're just doing the right thing with a shot from the top.
Henry Southern 47:44: Here here, Sa, I'm sure you'll share some of those feelings as well.
Sam Lee 47:48: Yeah, absolutely. And maybe the what I can add here, is that a sense of long term-ism and darkness and lightness just you know, in response to that, the initial question. Certainly, the pandemic has been a preparation for what grief means, and actually how we experience grief on a community, national, international level. And, and the interconnectedness which is something I think societies have lost a sense of, in recent times. So I think that that sense of accountability to the impact of our actions has been sharpened. I think it's really highlighted that ability to adapt, as was being said earlier. And, and I, but the thing that gives me hope in all of this is that the change needs to come fast, you know, we are we are set for catastrophe one way or another, you know, climate change, ecosystem collapse is happening already around us, it's not going to be a pretty next 50, 100 years, we're going to see a decline. It's just a matter of where it happens first, and who it happens to first. So I think that sense of building resilience, and how we strengthen as communities to support each other, and allow those changes to happen, the way that we are emotionally supported, and community and supporting the ways that actually are essential to us as human beings. The things that give me hope are the youth, seeing movements like Friday's For Future is is inspiration and seeing the rising up of young people and how woke they are to the issues and the importance of addressing it and they're outspokenness and that sense of activism that is there within people who when I was their age, would never have dreamt of going out and taking over Trafalgar Square and places like that. And I'm deeply grateful for those movements and other movements that have had a great impact such as extinction rebellion, whether you like them or not for the sort of change that they have initiated, and the openness to talk about these things, but the arts plays such a pivotal role. And I think you know, what we're all talking about here and how we can do what we do a little bit better. Ultimately, I've lived by the mantra that to beat the opposition, you throw a better party, and that the arts is, is ultimately the the most powerful weapon in bringing about social change, music at its heart has been, has been at the heart of protest, particularly folk music, maybe less so these days. But ultimately, all the big social movements in the last 60 years have had music and soundtracks as their anthem and the glue and the most the motivation, the momentum. And if we can, if we can turn those powerful machines and those artists and those platforms into the direction of normalising the changes that need to happen, and the shift that people need to make, and the sacrifices that people need to bring into their lives, supported by government, then I think the arts is going to be, it's going to be one of the most, you know, yeah, one of the most powerful influences as the other saying I love which is that ​'culture eats strategy for breakfast.' And we just need to make sure that art can survive, can proliferate, be back to the same capacity it was, you know, a year ago. Better still. And that we are, we're supporting artists in really, you know, helping to paint a better future for everyone.
Henry Southern 51:33: Wow, what a fantastic sentiment to finish on, let's all throw a better party.
Alex Soble 51:39: I'm coming.
Sam Lee 51:42: Apparently, very soon. Cheers that that party?
Alex Soble 51:46: Yeah. Yeah, absolutely.
Henry Southern 51:50: Wow, throw a better party. What a great sentiment to finish on and many thanks again for joining us, Sam, Alex and Crispin.Thank you also to Fiona Livingston, and our sound editor Merlin Thomas. Our theme music is composed by Robert Cochrane. We hope you've enjoyed this podcast. If you haven't done so already. Be sure to check out all the other episodes from The Culture Bar. We have topics ranging from celebrating women in music, to LGBTQ+ awareness of representation the arts. We've had guests from the BBC to the British Museum, from former professional football referees to other members of the UK Parliament and to get all that and more, please subscribe. See you next time.