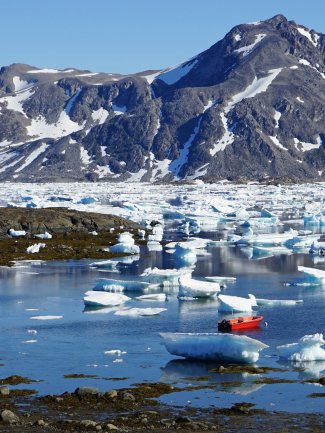 ©
Photo: Bernd Hildebrandt
HARRISONPARROTT

LOOKS

TOWARDS

A

SUSTAINABLE

FUTURE
16/1/2020
 The classical music industry can no longer ignore the global climate emergency and its responsibility to future generations. HarrisonParrott is committed to engaging with both short and long-term solutions for classical music artists and the industry as
"… faced with undeniable scientific evidence of manmade climate change, music and arts professionals must take a stand rather than blindly continuing with business as usual. We have a responsibility to galvanise our industry and question the established way of working in order to mitigate its ecological impact" says Jasper Parrott, HarrisonParrott's Executive Chairman, in a recently published article in The Guardian on how classical music must play its part in tackling the climate crisis.
This acknowledgement is felt by many musicians and arts organisations as the impact of climate change becomes increasingly obvious and pressing. This concern is voiced by Tabita Berglund, the Norwegian conductor and one of HP's roster of artists that it manages: ​"for musicians, most of our environmental impact is specifically due to travel. I am part of the problem – living where I do means I have to fly often in order to do my job. That's the way the business is organised at the moment. There's no way I can be a conductor without polluting."

According to NASA, the planet's average surface temperature has risen 0.9°C since the late 19th century – most of that in the last 35 years – driven by increased carbon dioxide. Greenland lost an average of 286 billion tons of ice each year between 1993 and 2016 and the global sea level has risen 8 inches in the last century.

Musicians depend on travel for their living and a great proportion of HP's work lies in supporting their careers by sending them to far-flung places and arranging their air tickets. In the face of the realities of the irreducible values of the creative life, HP is committed to working with all of its artists to meet the challenge of finding more sustainable models for them and the industry, both on the ground and in the air.

To this end, midway through 2019, HarrisonParrott set up an Environmental Working Group, made up of members of staff from across the company. The working group has established an Environmental Policy for the company which includes a commitment to ​'embedding environmental thinking across all our activity, from artist management and touring, to our choice of materials and services and our on-site operations.' It also looks further afield, with a pledge to work towards the goal of limiting the increase in the average global temperature to no more than 2°C above pre-industrial levels, as per the Paris Agreement.

The objectives of the group are:
To ensure environmental sustainability is at the heart of

HP

's practice

To set year-on-year carbon reduction targets

To report on progress annually

To share experience and learn from others within the wider sector
Alongside a set of ambitious and far-thinking goals, progress has been made in conducting a comprehensive assessment of HP's carbon footprint by an external accredited expert with a focus on energy consumption at HP's three sites and all employee business travel. This assessment was completed at the end of 2019 and led to a decision by the HP's Board to invest in carbon offsetting programmes sufficient to bring HP to a carbon neutral position.

The Working Group has also identified ways in which we can improve our working practices to become more environmentally sustainable, from the way we make coffee to how we use consumables and materials in our workplace.

While air travel may necessarily remain an integral part of the classical music industry, part of the work going forward will be to investigate ways to reduce the travel of our staff and develop alternative touring models for our artists and touring clients.

Jasper Parrott concluded: ​'We can't ignore the impact we are all having on the environment. At HP, we take this responsibility very seriously. We are committed to working with others inside and outside arts and culture to find ways to change the patterns of behaviour in the classical music industry. Our strongly held belief is that music and the creative arts must remain at the heart of a caring, inspirational and sustainable future for our planet. We will strive to equip our artists and touring clients in mitigating the ecological impact of our actions with this in mind.'
HarrisonParrott staff voted to offset our carbon emissions by supporting a project focussing on UK Tree Planting and Protecting the Amazon.
Katya Walker-Arnott
Artist & Project Manager