The Culture Bar Podcast: No.

1

Green New Deal and The Arts
15/7/2020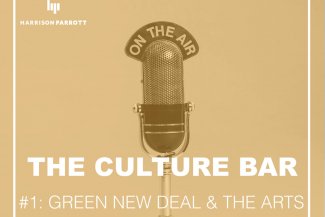 We are delighted to be joined by Jasper Parrott HarrisonParrott's co-founder and executive chairman, and Professor Anatol Lieven of Georgetown University in Qatar. Professor Lieven is author of ​'Climate Change and the Nation State, the Realist Case' published this Spring by Penguin. Jasper and Anatol will be discussing the UK government's so called ​'Rooseveltian New Deal', the importance of a green new deal, and how the arts and culture might be affected.
Introduced by Henry Southern.
.
The Culture Bar is a panel discussion podcast exploring, dissecting and shedding light on important topics in the arts and music world which matter to you.
Find us on Spotify, iTunes, Google Podcasts, YouTube, Podbean, Deezer and all good podcatcher sites.
#theculturebar
The Culture Bar is a podcast series focusing on conversations around culture, music and the arts which matter to you. A special thank you to Robert Cochrane as the composer of the theme tune, and Merlyn Thomas our editor.
The Culture Bar: Green New Deal and the Arts (Episode 1)
Transcription
Henry Southern 0:28
Welcome to the culture bar, a panel discussion podcast, exploring dissecting and shedding light on important topics in the arts and music world, which matter to you. Today, we are delighted to be joined by Jasper Parrott, HarrisonParrott's co-founder and executive chairman and Professor Anatol Lieven of Georgetown University in Qatar. Professor Lieven is author of ​'Climate Change and the Nation State: The Realist Case', published this spring by Penguin. Jasper and Anatole will be discussing the UK government's so-called Roosevelt's New Deal. The importance of a green New Deal, and how the arts and culture might be affected.
Jasper Parrott 1:09
Well, it's a great honour to have you and to be able to talk to you. Also because I think you will help us enlarge our thinking about actually where our perspective about the value of music and the arts in this very changing and dangerous time how, in a way we can try and extend its reach and protect it in a way from being somehow swept aside in the sort of chaos which we all expect from so many different areas of the consequences of COVID and also climate change and how we can actually try to defend the idea that the arts and the creative industries are somehow, absolutely, as essential as in a way, all of the other primary services which of course have been so correctly lauded and prized in these last terrible months.
Professor Anatol Lieven 2:13
Well, the idea of the green new deal is of course based originally on Franklin Roosevelt's New Deal of the 1930s, which, in response, of course to a colossal crisis of capitalism and democracy, which in parts of Europe, finished off democracy, very nearly finished off democracy for good, of course. And although the legacy of the New Deal in America now looks very battered, it did achieve for two generations or more, a hegemony over the American political and economic steam, which meant that in its main outlines, not just democratic presidents, but republican presidents as well: Eisenhower and Nixon, you know, whatever their other faults, followed the lines of the New Deal at home. Of course, in the 1980s, Reagan and Thatcher in Britain set about demolishing as much of that as they could, thank heavens in Britain Thatcher did not go so far, in America it went further and established a new hegemony and so since the 1980s you've had the exact reverse. You've had democratic presidents, Clinton and Obama, to a very great extent following republican radical free market policies. And so what I would hope to see and hence, well, not just me and, obviously, so many other people, hence the phrase ​'Green New Deal' would be a comprehensive, new, social and economic strategy, aimed at moving our economies radically away from fossil fuels, but as part of a much broader programme of social solidarity, and I would hope as well cultural regeneration. And I've always been deeply attracted from that point of view to what was called in the 1930s the federal arts project, whereby the state subsidised artists, writers, photographers, basically, to go out and, on the one hand, record America, ordinary Americans across the country, their lives. But on the other hand, this was also very much geared to the idea of art in the service of society. In other words, not art for art's sake, not simply individual creativity or not, but an art which was explicitly supposed to enhance the life of communities. And obviously in the context of a Green New Deal, I would hope that this would also be linked to not perhaps a new idea of nature, but to regenerating older ideas of the fundamental links to nature, and our duty to protect nature and the central importance of environment, the natural environment, to shoot individual human happiness and well-being and the happiness and well-being of our societies. So that, that is why the New Deal for me, you know remains an image of great power and importance.
Jasper Parrott 5:53
Yes, I entirely agree, and it's fascinating to me that Boris Johnson seems to want to, in a way, he wants to get the credit for the sort of aspirational side, but within the very uncomfortable, sort of, squeeze which he finds himself in, both in terms of the expectations of the right wing of his party, and also the realities of what actually he's faced with. I mean, I find it extraordinary that actually, it should be, that he should have felt it necessary to say that he was not a communist. One of the more bizarre, you know, political insecurities that I've heard. But I mean one thing that you've just said, what it made me think about was, am I right, do you think that in the United States for instance, the sort of idea about the green side of the New Deal or that the relationship with nature, actually carried over and continued quite a lot more strongly than we sometimes know. There were these, all of these sorts of communities and arts associations and training grounds for artists in, sort of, beautiful mountain sights. I can't remember, I saw there was one wonderful exhibition at Tate Modern about, sort of, textiles and about getting back to the, sort of, natural side of actually creating an environment and also an art form based upon nature. The Taos school for example? That's right. Exactly, yes.
Professor Anatol Lieven 7:29
Yes, yes. Well, I mean, that's why, another argument of my book is that, you know, in the struggle against climate change, and, you know, defence of the environment more broadly, the environmentalist camp, the left wing environmentalist camp should not reject natural allies on narrow ideological grounds, because you know, there have been all these warnings on the left about eco fascism, and some of them are legitimate. But sometimes, and it seems that, you know, even the most moderate English or American Conservative who loves, you know, the national landscapes of their country and wishes to preserve them, is somehow suspect and on the way to being a Nazi, you know, the Sierra Club is not like that. Now, one may well have criticisms of the Sierra Club for its elitism and, let's face it, very much an upper middle class organisation. But, I mean, if as I believe, climate change is a truly dire threat to the future of humanity, in general, and individual countries as well, then you know this this requires a collective effort. And, you know, people need to prioritise that threat and not of course abandon their other differences but put them second, and that's what priority means and climate change for me is not just a priority, but pretty much the priority for generations to come, not the only one, but priority means something comes first.
Jasper Parrott 9:24
Well, I think I entirely agree with that and it seems to me that in some ways now with, despite all of the sort of financial and other challenges. it seems to me that there is no choice. I mean that there is, there is no better time there will be no better time for instance, to create the opportunity for employment. And for a change in society, for instance, by making it possible to replace all of the gas boilers around the country. I mean, this seems to me to be so essentially urgent and so achievable in that context, and it'll never happen again. And if we don't do it now, we will miss one of the greatest opportunities.
Professor Anatol Lieven 10:08
I absolutely agree, and the updated paperback edition of my book coming out next year is going to make that case, really strongly. You know, I'm obviously trying to write wherever will publish me at the moment about that because, absolutely! You know, we will need to get over the effects of the pandemic, we will need, you know, a massive programme of public investment. And, yes, I mean this is the perfect opportunity to turn this, you know, into both, you know, a massive job creation programme which will be necessary, but also to transform our economies in a green direction, because what we must not do is do what Bush, but the Obama administration as well did, you know after the financial crisis of 2008, which is basically just, you know, give the money to corporations, flood the economy with money with no direction, which unfortunately is very much what they've done, again, in the first tranche, you know of the pandemic Economic Recovery Act. Nor, of course, but I think here we're in less danger of that, you know, must the recovery be followed by an austerity programme, as imposed by Osborne and Cameron in Britain? I mean that would be truly, truly catastrophic. But I must say I mean I've, you know the book also of course argues for a reduction of geopolitical tensions and, you know, a recognition that great powers or great power rivalry is really not the biggest threat, you know, to our societies, and the state of humanity in general, and I mean from that point of view I think what we're seeing today is positively tragic in the US government, principally, but the democrats too in the US and other governments as well, you know, use the pandemic as another reason to ratchet up geopolitical tension. My God, talk of a new Cold War, when in America, let alone anywhere else, the pandemic has already killed more Americans than the Korean and Vietnam wars put together, and they want a new Cold War? I mean, really?
Jasper Parrott 12:31
Well(…) Speaking more domestically about also within this country, although of course it applies just as much to almost every other major society where, you know, industry is changing and old industries are either flagging or disappearing, and in some cases of course being maintained irrationally, and against the principles of course of climate change, against the exigencies of climate change. But you know, I was thinking back to, the sort of, the Mrs. Thatcher and you know in a way that the consequences of the, of the reduction of all of the mining world and everything else, and it seemed to me that this was one of the very greatest failures of what I would describe as the societal responsibilities of government, which was that there was nothing offered in return. I mean, essentially, the only offer was that you leave where you've been brought up and where your family is and go and find something which you're not trained to do in some foreign, I mean not, I don't mean abroad, but some other place. And I think that the consequences there rest with us and because that's probably one of the reasons for the, the political upheaval recently and I wonder whether this isn't also going to repeat itself, in the sense that there will be a sort of money for shiny new mobile activities which could just as well take place in London or Manchester, but actually nothing will be done in order to foster the, the genius of the various different places and what actually can be done in order to restore the communities and to make a wider sense of the satisfaction of living in a more rural and less centralised environment.
Professor Anatol Lieven 14:18
Yes, I entirely agree. I mean the coal mines had to be shot, and for economic reasons but also as we would all agree, for ecological reasons, you know, in the battle against climate change and the failure to look after the people who suffered the entire communities, the entire regions of the country, which suffered as a result was morally shameful. And it's not as if, if you know, doing something about this is some wild radical impossibility if you look at what the Germans did in the Rhineland, Nordrhein-Westfalen after closing the coal mines there, then closed the wall, unfortunately. But there was a much greater directed effort to maintaining those communities, you know to replacing the lost jobs. And in the case of the coal miners in Britain, there was, you could say a patriotic argument for this as well, because after all, it was coal, unfortunately. But it was coal which powered the growth of the British economy originally; and which also of course powered British economy in both world wars, and also of course if you look at the casualties of coal mining in the past, you know, the number of coal miners who died, either directly, you know from disasters or of course from the health effects of mining, you know, these were communities which made, (.…) but they made a tremendous sacrifice for the sake of the country and I think is part of, you know, a sense of national moral contract that the state, the community as a whole, owes something in, in response. So yes, I would say at present, politically, but also to a degree morally, it's absolutely essential that job creation, as part of the green New Deal, should go first as far as possible to those areas which are going to suffer as a result of the abandonment of fossil fuels. Because, you know, one sometimes finds, I have to say a somewhat disquieting feeling or impression. And we're talking to some environmentalists and basically the people in West Virginia can go to hell (.…) and we don't need to care about them, that I think is is fundamentally wrong, we need to, to try to look after these people as part of the programme. I mean for political reasons as well.
Jasper Parrott 17:08
Yes. What you just said that made me think that, you know, there's all this discussion at the moment about statues and everything else and, but on the other hand, one could make a case for that the three crucial elements in the building of the British economy and Empire were slavery, coal, and opium. And it's not a very admirable trinity of things and actually of course what I feel is the fact that, you know, after that there has been so little, in the sense of again, responsibility for the damage that has been caused and this sort of sense of recognition, if you like, of how things could be done, and should be done better and differently. There's one point I would very much like to talk to you about because you, in your writings, you've been, I think if I if I don't misunderstand you, you have been quite a strong advocate for what I would describe as the National Unit. And in a way through it, the sense of, I don't know whether you describe it as patriotism, or of engagement with your own community as opposed to the other. And I have to say I feel very differently about that. It may be to do with how I was brought up and where I was born and my early life, etc etc. But, and also perhaps a little bit cynically I'm reminded of what Samuel Johnson (.…).
Professor Anatol Lieven 17:39
As a scoundrel.
Jasper Parrott 18:52
That's right. Exactly. Although he was rather more polite about the Patriot as opposed to patriotism in his dictionary, where he described it about somebody who loved his country. But at the same time, I mean I do worry desperately about the fact that there is this sort of cult at the moment of the idea of us against the other. And that, I think that one of the victims of that is also, of course, the cultural world, and the creative world, and I'm one of the few remaining old timers who was actively involved in the pre single, you know, mobility of labour, of when it came in and I remember so, so clearly how negative this was, all of the quotas and the permits and the bureaucracy and the negativity about the other. And, you know, just having seen what an incredible flowering has come right across Europe and indeed the world, but particularly between Britain and Europe, and how much we have gained from access to a much more generously funded market and activity than we have ourselves. It is terrifying to me because the politicians of the day and the civil servants of the day, none of them experienced that, they don't remember that, they don't know about it.
Professor Anatol Lieven 20:34
I mean like you I regarded Brexit, of course as a catastrophe. And it should be remembered though that you know the vote for Brexit I mean absurdly, in logical terms, but was very heavily driven by anxiety about immigration. So, one can't, you know, one cannot simply ignore the fears that exist or if one does, one is liable to pay a terrible political price. I mean on the patriotism business, what I would say is, except for the environmentalist side, and climate change, which obviously didn't exist or rather wasn't seen as a threat, I mean I'm basically a mid 20th century social democrat — Labour Party if you, if you will. And I always point out to people that, you know, Clement Attlee would not have seen patriotism, as in any way, a dirty word or a bad thing. Nor would anyone have blamed Clement Attlee and all his whole generation, for being patriots. You know this was seen as something that a progressive social democrat, moderate socialist could perfectly well be without of course implying that this you know involved chauvinist hostility to anywhere else. Racism, I mean of course there was racism around, but it wasn't you know inherently tied to that. And, and so I would say that there is the possibility, in the progressive tradition, of patriotism in the sense of a particular attachment to your own society, and above all, and I think this is critical, a sense of responsibility to your own society, primary sense of responsibility, which does not, in fact imply hostility to others or, let alone, my god an aggressive, you know, external programme. The reason I stress responsibility is that, by the way i mean i should say that this is a position that I myself, you know, came to somewhat unwillingly, two things — 1) I have been struck I must say, you know, during my time first as a student, living in different countries, you know, then as a journalist a foreign correspondent for many years, then, you know as an international researcher, I had been struck by the immense gulf between Western language of responsibility for other parts of the world. And in so many cases, the radical lack of a real sense of responsibility. Because, you know, in the end these places that are far away people don't know much about them, they don't understand them, that's for sure. And, but also it must be said, you know, including some of our age officials, they, they cannot really be bothered, you know, to go and really live there and understand them, at least if this is going to involve, you know, real sacrifices and risks. Whereas I do feel that there is more of a chance of pinning people to a real sense of responsibility, in other words a sense of responsibility which involves action, when it comes to their own societies, and one can also judge them accordingly. Whereas you know if, I mean how many of us really could judge in practical terms the effects of British aid in other parts of the world, it's probably, it's been much too small to do any real(…).
Jasper Parrott 24:14
So, I think, I think you make a very, very good point and I think, you know, that there's certain things which actually I think one laments the passing of. Also, although there was of course I suppose some element of old colonialist attitudes, but the whole programme which when I was growing up, of being able to go away for a year and working in Africa or in India or wherever, in support of some local community or what is or adding additional value as a teacher or whatever it is — I can't even remember what the programme was called, but it seemed to me to be something that did an enormous amount in also making people understand better how other people lived and also what their aspirations were and what their qualities were in terms of their own local integration with also the environment, which of course in many cases in Britain post World War years, people had very little sense of. So I agree with you, very much that we, we should be careful about just being superficial in seeing that you are sort of having a, an internationalism, and that we should indeed take care of what we have at home. I remember what you were talking about. Actually, but, you know, Jenny Lee was by far, I think, the most visionary, sort of, what you might call cultural secretary, and he did things and achieved things, even though she had no personal sort of engagement with many of the things that she did, she just knew it was really essential to society.
Professor Anatol Lieven 25:49
Yes, exactly. She had a deep social sense, you know, and a sense of, of how the arts could contribute to… yes, I mean society, to the community at, you know, I do feel, you know, in an era of dead sheep — Damien Hirst and co. and Jeremy Koons, restoring some of that, in the world of the arts is a sense of responsibility to society. And just to, well not just to your society but to humanity, do something for people is really important. And it gives me, I think, I think it's not only important to society but I also think it gives a, it gives a real focus as well to art and literature, which otherwise is perhaps liable for just, you know wander off into, well at best personal obsessions but of course some rather more into (.…) & company, you know, not not art for art's sake but art for plutocracy's sake, art for speculations sake. Yeah, so,
Jasper Parrott 27:02
No I mean I think, I think also with regard to, you know, the green New Deal, and the idea of climate change — I think that, and I think there are very strong parallels with the creative world of music and the arts, and actually of education. I think that the we have a very depr(…), and it's not only in this country, and maybe it's also because of there is a lack of responsibility again, but we have such a, an astounding lack of leadership, and lack of actual willingness of people who are, in a sense, the primary agents, if you like, for advocating the values, how timid they are, how little they stand up, I mean I've been so frustrated by this since middle of March, is how few, you know people who have power of communication, how few people have stood up and said, ​"You know, this is something which is absolutely as important in our society as anything else", and people are afraid to say that because they think somehow that by doing so that one diminishes the importance of the, of the front line in the, in the health service and care and I find that such a completely ridiculous argument, and actually one of the thoughts that I had, which I think is also very much related in my sense of the world with this green new deal, is that it's a sort of sad irony or tragedy that one of the greatest movements for changing society, which was this ​'el sistema movement' in Venezuela, which I mean really transformed the lives of hundreds of thousands of poor people and of people who had no sense of their own capability to do better. And that this great enterprise should now of course have sort of, in a way, lost its way and lost its its its coherence and its credibility because it's in this degraded Society of Madura. And I think somehow, we need to get back to that, which I think comes back to your sense of responsibility. Because if we build responsibility for our society, which is also then building the society for the people who are our own contemporaries, who come from abroad, who come from different waves of migration and immigration and everything else. If we can include them, and if we can include the people who are, who never have that… otherwise the opportunity, if we can do that then I think that is actually part of a very powerful green New Deal.
Professor Anatol Lieven 29:48
Yes, and it must obviously be said for Britain, that any sense of British patriotism, or English if it comes down to that which I hope it won't, and a sense of a collective national culture must of course, in future be multiracial, it cannot not be. It must have, and it must have very strong elements of cultural pluralism, and the trick somehow of course is to combine that with at the same time, you know, a sense of what's been called a community of fate that you know we're all in, in the same boat, irrespective of our origins, you know, we have an ability to keep it afloat, to bale, to plug the holes. Yes. And I mean, what I would very much like to see as part of any green New Deal is, is obviously a massive programme of building of parks. I mean, one of the great types of artists we need for the future are the new capability brands but no not, you know, designing parks for aristocrats, but for the people in general, and programmes of reforestation which will not simply plant endless rows of pine trees so that they can be more easily cut down and turned into wood pulp, but will be designed to restore and enhance our landscapes.
Jasper Parrott 31:23
I think you are, you couldn't be more right and I think that, in some ways, you know there is a lot of debate about the vulnerability at the moment, and also maybe some of the wrong terms that the, the Southbank Centre has taken. Yet I think that the Southbank Centre its own way, is one of the most advanced experiments in if you like, offering participation to everybody in the arts and in a way, we need to think about our parks in a similar way. They ought to be the sort of playgrounds and the sort of theatres and the inspirations and also the access to nature. I mean, we all, so many of us, I mean I've been in 98 daily morning walks at six o'clock in the morning, around Chiswick area and I have never had such a wonderful set of contact with, you know, birds and flowers and nature and the feeling of the value of these things. So, I think that, that I love that idea I really do think that's very, very important and I think also the conversion of obsolete buildings, and of the new thinking about what buildings should be. I'm going to participate in a very interesting meeting in Oslo in September, with the people who come from Snøhetta, the Norwegian architects who built the most wonderful opera there, but they are, and I have been talking a little bit about why are we still doing things which are basically 19th century middle class temples. Why are we not thinking and re, re-imagining what are the creative spaces of the future, which will enable people to feel well in them and to sort of want to be a part of them. That's also I think part of the Green Deal.
Professor Anatol Lieven 33:15
In Sweden, (…), I can't remember its name, and most of Stockholm, there's a wonderfully restored factory which has been turned into, not just, you know, a showcase — the whole factory has been turned into a work of art, you know, glorious mass experience. Yes, absolutely. And in America it is, I mean quite apart from the dreadful social picture of the hollowing out of urbanism, um, it is tragic to see these urban landscapes, you know, with these very Victorian but often very grand actually, and sometimes even beautiful public buildings. And yes, these huge abandoned factories, which of course cost so much to build, I mean so much went into them, not just in terms of money but also in terms of the work of the people who work there. And now they are all that human effort, you know from the past is just being allowed to to rot away because economic times have changed. Yes, that creates a fantastic opportunity for…
Jasper Parrott 34:31
It does, I mean I think that one of the great work, also in this country, but also one of the great opportunities, again, which comes as we were talking about earlier about how we must sort of invest in the change in the provision of energy. So, we should invest in, I mean, car parks, I mean how many car parks are there going to be which are going to be useless and obsolete. Those car parks could be made into the most wonderful facilities for so much that would be positive in our society. So, I mean, there ought to be a bit you know, Boris Johnson talking about infrastructure and spending money there ought to be a ministry of reimagining because…
Professor Anatol Lieven 35:16
I was thinking you know as well that tower blocks and council estates in Britain got such a bad name, and that's partly of course because so many of them were shoddily built, sometimes with tragic results. But also, if you look at the way their surroundings were landscaped, what once again i mean it's tragicomic in its, it's sheer incompetence apart from anything else. You know, it's spaces that nobody can actually use, spaces that are not spaces, either as aesthetic or social spaces. And I don't know how much good it would have done, but if there had been an attempt to set, to use the space created by tower blocks which, given the size of modern populations unfortunately we do need, but to surround them with true spaces, you know, of, well, aristocratic parks for the people once again, you know…
Jasper Parrott 36:17
Well, I mean, have you ever been — you've never been to Brasilia, have you? No, I haven't done. Well you know, course this was (.…) absolute idea and and of course in the end of course there were big compromises, but I have to say when I went there 40 years ago, it was breathtaking. It was breathtaking in its sense of, of aspiration and of course, you could say Bauhaus too. I mean I went recently to Denmark and I saw some of those ideas and again it comes down to this business of, where are we going to find the people who are going to create the leadership and the ideas, and the bravery. This is what I miss so, so much. And anyway, I have to say it's very inspiring to hear you talk, and I hope that maybe we can find some opportunity to share some, you know, some, maybe we can contribute in some way do something useful together I would very much hope, that would be possible.
Professor Anatol Lieven 37:20
I would love that. And also, when all this is over, we can we can meet in person.
Jasper Parrott 37:25
That would be great, yes. Thank you very much for the great privilege to have you on this first of all and look forward for the future. Thank you so much. Thanks a lot. Bye.
Transcribed by https://​otter​.ai
Fiona Livingston
Associate Director, Marketing & Communications