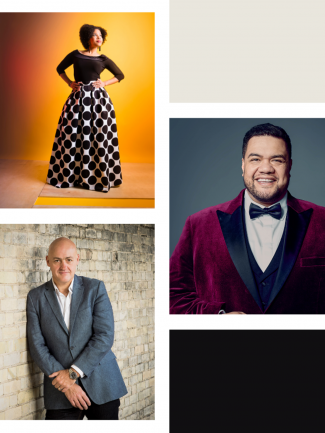 HarrisonParrott vocal artists appear at Festival d'Aix-en-Provence
30/6/2022
Several HarrisonParrott artists make appearances at Festival d'Aix-en-Provence 2022, including Golda Schultz​'s Festival debut in Résurrection from 4 July, a staging of Mahler's Symphony No.2 by Romeo Castelluci with Esa-Pekka Salonen and Orchestre de Paris. This Be Her Verse, Schultz's new recital programme alongside Jonathan Ware, follows on 15 July. Released on Alpha Classics this spring, it champions the works of female composers Clara Schumann, Emilie Mayer, Rebecca Clarke, Nadia Boulanger, closing with the titled new commission from composer Kathleen Tagg and poet-librettist Lila Palmer.
Pene Pati will debut as Aménophis in Rossini's Moïse et Pharaon, directed by Tobias Kratzer and conducted by Michele Mariotti, opening on 7 July.
Julie Roset returns to the Festival appearing as Valetto and Amore in L'incoronazione di Poppea, directed by Ted Huffman and conducted by Leonardo García Alarcón, opening on 9 July. She also sings the role of Ninfa in a concert performance of L'Orfeo with Cappella Mediterranea and Garcia Alarcón at the Grand Théâtre de Provence on 11 July.
Finally, Festival regular John Daszak returns as Herod for a new production of Strauss' Salome on 5 July, directed by Andrea Breth and conducted by Ingo Metzmacher.