Meet Mia Musa-Green: Creative Access Intern
6/5/2022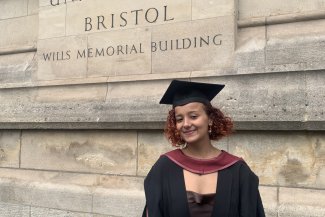 Mia Musa-Green is a Artist Coordinator Intern in the Vocal department
Where are you from?
I was born and raised in Birmingham. I moved to Bristol for three years for university and have recently relocated to London to work with HarrisonParrott.
What are your interests and passions? / What did you study?
I studied Psychology at the University of Bristol. Whilst I was there, I took part in a few creative societies, co-running Burst Radio and working as a Digital Travel Editor at the Croft Magazine.
During lockdown I took part in a Music Production Camp with CUBE to learn how to use Ableton and have been creating and releasing my own music ever since. I've since re-joined them to take part in a Sound Engineering course, so have been learning about that in my spare time!
How did you find out about the HarrisonParrott Artist Coordinator Internship with Creative Access?
I've always known that I wanted to pursue a career within the music industry, so used Creative Access during my job search after graduating as they are dedicated to making the creative industries more accessible. I saw this internship vacancy and thought it would be a great opportunity to not only learn about music management, but also develop my knowledge regarding classical music.
I had two interviews with the vocal team, found out I got the role and started a few weeks later!
Fun fact about you?
A fun fact about me is that I am vegan. After my younger sister started eating plant-based, me and my Dad decided to give it a go too — I have now been vegan for nearly five years!
Your future aspirations?
I am currently really enjoying my time at HarrisonParrott so would love to continue exploring the music management industry. Alongside that, I aim to continue developing my music production and sound engineering skills and continue creating my own music and start performing live. I would also love to travel more, and now that covid restrictions have been lifted I am hoping to make more time for this!