Meet Alisha Kaur: Creative Access Intern
1/4/2022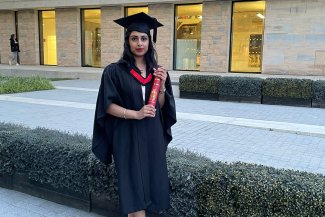 Alisha Kaur is a Finance Intern
Where are you from?
I was born and raised in London, and I am Indian.
What are your interests and passions? What did you study?
I have a bachelor's degree in Criminology with Social Psychology from the University of Essex. When it comes to my interests and passions, I would definitely say I am very passionate about personal growth and my health and fitness. I enjoy going to the gym and playing many sports to keep myself active. I also love expressing myself through painting, video editing, and having long talks with family and friends.
How did you find out about the HarrisonParrott Finance Internship with Creative Access?
I was in contact with a Coaching teacher at my university who sent across the internship with Creative Access to me. The internship was for an HR position. I did a lot of research into the company and job description, and everything that the company stood for really aligned with me, so I immediately applied. I then got invited for an interview with the Head of HR at HP, which went well and found out the same day that I had got the job! Originally, the internship was for an HR Role, but then another role for a Finance Intern opened up, and as I have previously worked in Accounts, the company suggested I would be more suitable for that role, but it was up to me to choose between the two. I researched what the Finance Intern role entailed, and I decided to accept the Accounts Assistant Intern role as initially that is what I wanted to go in to after completing my degree. I felt so happy and lucky to have been offered the role!
Fun fact about you?
A slightly fun fact about me I would say is that I am very particular about certain things and need everything to be equal. For example, when I have a bite of chocolate, I must have an equal amount on my left side and right side, and if I don't, it makes me feel really uneasy — it is really weird!!
Your future aspirations?
I am really enjoying working as an Accounts Assistant at HarrisonParrott, so I'd love to continue exploring within this sector and increasing my knowledge and skill set. I would then like to complete the accounting exams so that I can progress in the future and take on new roles within the Finance and Accounting sector!
HarrisonParrott Ltd has partnered with Creative Access to recruit candidates for its 6 month paid internship programme.