Meet Haynam Sham: HarrisonParrott Creative Access Intern
16/8/2021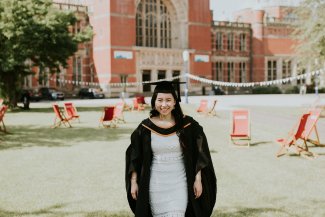 Haynam Sham is an Artist Coordinator intern
Where are you from?
I was born and raised in London but both of my parents are from Hong Kong.
What are your interests and passions? / What did you study?
I have a bachelor's degree in Music from the University of Birmingham. My interests are similar — I enjoy writing my own songs and recording as a one-woman band. But beyond music, I really enjoy expressing myself through photo editing, growing plants and hand lettering!
How did you hear about the HarrisonParrott Internship with Creative Access?
I'm subscribed to the careers network at university who suggest job opportunities via email. I wasn't really looking for anything at the time because I was approaching my final year exam season but came across this job description and found that it ticked every box for me. After looking into Creative Access and agreeing with what they stand for, I applied immediately! I was invited to a long-listing and pre-interview session with CA, got an interview with HP the following Thursday and was offered the role the next Monday. I felt so lucky to be chosen, especially with the difficulties of Covid, so accepted it!
Fun fact about you?
I've been writing diary entries every day since 2014! It's become such a habit now that I can't go to sleep unless I've written in it, which comes in handy when I need to back-track certain days. I guess I've enjoyed being on top of things and knowing what's going on from a young age.
Your future aspirations?
I've really enjoyed working as an Artist Co-ordinator at HarrisonParrott, so I'd love to continue exploring this sector for longer. As for more generally, I want to be inspired by what I do and take up new challenges when offered the right opportunities. After all, if I hadn't founded my new society ABACUS (Association for British and Chinese University Students) at university, I don't think I would have realised how much I enjoy planning and management!
Why do you think inclusivity in the arts is important?
I believe that access to the same job opportunities should be equal and that one's social and economic background shouldn't be an obstacle to their achievement. Especially in the arts, where creativity and exploration can be endless, I see the blending of cultures as an asset and accelerator for the arts to thrive. The arts will not continue to grow unless we are open to listening and learning from each other, which can only happen if diversity and inclusivity is truly recognised and celebrated.
Coming from a background where working in the arts isn't the most common route, I feel like it is harder for me to find a career in this area, in addition to feeling respected for what I do. That's why I am so thankful that Creative Access recognises this difficulty and I hope that their partnerships are only the beginning in making the arts accessible for all.