The Culture Bar — After Hours: Mark Pemberton

OBE
25/3/2022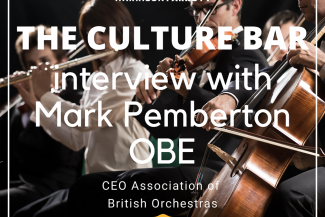 The Culture Bar - After hours
HarrisonParrott's Henry Southern talks with Mark Pemberton OBE, CEO of the Association of British Orchestras, about the current landscape in the UK orchestral sector and classical music more broadly.
Mark provides an insightful snapshot of the challenges facing UK orchestra managers today covering a broad range of topics including COVID, Brexit, sustainability, inclusion and diversity, relevance, and funding structures. We also reflect on the resilience and entrepreneurship of colleagues within the industry.
Resources:
William J. Baumol and William G. Bowen: On the Performing Arts: The Anatomy of their Economic Problems
ABO Green Guide
Scottish Classical Music Green Guide
I'M IN – Music Masters
After Hours chats are a spin-off series from The Culture Bar, discussing issues relating more broadly to the arts and culture sector.
The Culture Bar is a podcast series created by HarrisonParrott focussing on conversations in culture and the arts.
Find us on Spotify, iTunes, Google Podcasts, YouTube, Podbean, Deezer, Stitcher, Pocket Casts and all good podcatcher sites.
Use #theculturebar or follow us on Twitter @_TheCultureBar to keep up with our latest releases.
A special thank you to Robert Cochrane as the composer of the theme tune music, and Merlyn Thomas our editor.

Transcription
Henry Southern 00:03
Hello, and welcome to The Culture Bar. I'm Henry Southern, and today we will be having what will no doubt be an insightful and interesting discussion with Mark Pemberton, OBE, Chief Executive of the Association of British orchestras since 2007. Welcome, Mark.
Mark Pemberton 00:20
Hello, thank you for inviting me.
Henry Southern 00:22
Well, thank you for joining us. I mean, you've had quite a year already. I mean, you've received an OBE in the new year's Honours List. Congratulations.
Mark Pemberton 00:29
Thanks so much.
Henry Southern 00:30
Not at all, and fully deserved. And also you've put on your mammoth annual ABO conference this year was in Glasgow, I gather now it's Europe's largest orchestral gathering with attendees from around the world. And it's quite extraordinary, that success. So a good place to start, I hope you agree, it'd be good to know about what is the ABO? And do you and your team do?
Mark Pemberton 00:53
Well, the ABO is the representative body for professional orchestras, youth ensembles and the wider classical music industry. I mean, the core of it are it's full members, the 70 professional orchestras spread across the UK, coming in all shapes and sizes, the well known large symphony orchestras, the orchestras, the opera and ballet companies, the BBC orchestras and Chamber Orchestras, period instrument ensembles, contemporary music groups, but at the core of them they are, they are professional orchestras, the musicians are paid, either on salary or as freelancers. And we've been around since 1948. So over 70 years old, we started as an organisation whose primary purpose was to negotiate with a musician's union, to negotiate pay and conditions for musicians. But within a few years, this role expanded and is much more now an advocacy body. And, in fact, what we do is three things. We call them championing, connecting and developing. So the championing is all the advocacy work we do. And we'll go into some more detail about that later on exactly where we are now. But I see that as a… called the macro and micro, the macro is articulating the public value of orchestras and their place in society. And the micro is liaising with government on specific tax and regulatory issues. And prior to Brexit, we obviously also needed to have input into the European Union, and how it developed regulations which we do through a European Federation of Performing Arts employers associations from all across Europe. So that's what we are, we are trade association for the UK's orchestras.
Henry Southern 02:49
I mean, that's a massive remit from what you were just describing. And yeah, that's a huge amount you're responsible for…
Mark Pemberton 02:56
It's expanded… the connecting is the annual conference, but we do lots and lots of other events for members. We have the specialist manager groups, so finance, fundraising, education, marketing, digital, communications, concert and orchestra management and chief executives themselves, these groups, we bring together on a regular basis so that they share. And, you know, a problem shared is a problem solved. And then we have a developing strand of courses, but also something we've developed over the last few years is a focus on leadership. It's a tough job running an orchestra. And it's been tough, even tougher these past two years. So we've been looking at both how we help build resilience among the people who are running our orchestras now, but also nurture the next generation. So there are people ready to step up into those leadership roles when they become vacant. And that's our we're very proud of our Find Your Way programme.
Henry Southern 03:56
And I've been very fortunate to be a recipient of that. And it's fantastic with Richard Wigley and Andy Beaumont, Fiona Harvey organising that and I think you picked up on one when you're talking about the conference and the connecting aspect of your work. Both that and within the find your way and developing, there is very much a collegial atmosphere amongst the members of ABO and knowledge sharing.
Mark Pemberton 04:17
A lot of people assume that orchestras are competitive. And of course, but but actually, you know, I'm really impressed with how collegiate they are, that they get that they it is best to work as a collective and solve and, and solve problems and make progress together than it is to try to fix things alone.
Henry Southern 04:38
I think certainly, from my perspective, working in international touring is, as you say, from the outside, it probably looks like people are competitors, and they are, orchestras are competing for the same type of festivals and venues etc. But actually, as you say, within that, I know that tour managers and us as well speak to other orchestras that have been to certain territories and get their advice and and there is yeah, very good atmosphere of knowledge sharing in that respect. But just going back to championing and public value. In the 15 years, you've been with the ABO, have you seen a change in the perception of orchestras and the public value at all?
Mark Pemberton 05:18
Yes. I think when I arrived, there was still an understanding that orchestras, alongside opera and ballet was very much a primary component of the arts funding system. The foundation of the Arts Council in the Great Britain, in 1947, was to ensure that the permanent market failure that is endemic to these sorts of organisations would be supported through public funding. What I mean by endemic market failure is that the most important person of relevance to classical music is somebody most people have never heard of. And this is a man called William Baumol. And he was an American economist who wrote a very important treatise back in the 1960s, in which he invented the term cost disease. And this is the concept of there are certain types of industry that simply cannot operate like a private business and achieve efficiency gains, produce the most goods of the lowest cost, and thereby make a profit. So along with, obviously, this is how the public sector works. He actually used a string quartet as his case study, that a string quartet will always require for musicians. And we'll play works that take as long to perform as they did when first written, you cannot make a string quartet more efficient. And say, well, this time, we're going to do that work, instead of 40 minutes, it will be 20 minutes, and we'll do it with two musicians. It's just and of course, with an orchestra, you have that whole concept of cost disease, writ large, that mean but and that means that the business models, which is slowly laughable name we reuse is predicated on the fact that every concert loses money, the sheer expense of putting on a concert, not just on the night itself. But crucially, the rehearsals cost more than you can charge the customer to attend. Because ticket pricing is market sensitive. And it's a delicate balance in what, how expensive you can make your tickets without deterring the customer from buying them. Plus, of course, we want cheap, cheaper tickets available in order to widenaccess. So if you're then stuck with cost as the endemic structural deficit that goes into the business of putting on concerts, but how do you plug that back through fundraising and through public subsidy? So now back to the public subsidy. So what I've seen over the 50 years is that from the position where we're clearly an Arts Council funds, orchestras, opera and ballet companies, to a position now where questions are being asked as to whether they should remain publicly funded at all, whether their value is sufficient in terms of two primary challenges of relevance and inclusivity. So I think that this issue of relevance has become hugely challenging. The other thing we have that we've been dealing with, and talking really about global challenges for orchestras, it's not this is not just unique to the UK, is the sort of media and political perception that classical music is dead, or if it's not dead, it's dying. And actually, we can be our own worst enemy. So the number times people in our business, so nobody goes to concerts anymore. Well, of course they do. And one primary tool of the ABO does every three years is a statistical survey of its members. And so it's quite crucial to say, where we were, the last time we did that in 2019 it showed us some very big numbers in relation to our, our social and economic value. So the first big number is that we played over 4 million people in over 3600 concerts across the UK.
Henry Southern 09:34
And that was over three years was it?
Mark Pemberton 09:36
No that was in 2019, so this was 2019 but we published in January 2020 when there was this thing called COVID happening over the nation. Oh, that won't bother us. So there we were proudly announcing our latest search statistics. Now crucially, that audience figure had grown from when we started the survey in 2013. So we've actually had seen up to that point, the 1819 season showed we had grown our audience in six years. Alongside that, we're touring to 40 countries across the world. We had a workforce of over 2000 musicians and 2000 admin staff and technical crew, we were creating 12,000 engagements for freelance musicians. And we were reaching over 700,000 people in through our education and community activity. So that that adds to our public values. An orchestra is not just an entity that puts on concerts, but also it provides, has capacity for music, education, and working in the community. And that now is an intrinsic part of what it means to be orchestra today. We must be providing a broader service to the people we serve, than just there to put concerts on the platform. So that's the context really. So there we were. So yes, I'd seen that these questions were being asked about the relevance of the orchestra, our role of them gathering the data, the statistics that proved that actually we're a vibrant, and growing our audience, being an ambassador for the UK by taking the best of British music making abroad, and being and having and, and through touring, creating inward investment. So we were generating 12% of earned income through touring, which is money that that will bring you back into the UK. And that early thing is also quite important to understand because where British orchestras are different in comparison to our European competitors, is we get significantly less public money. Yes, so it's the ratio is 50% earnt, 20% fundraised 30% public. And…
Henry Southern 12:15
…in Scandinavia, that's probably…
Mark Pemberton 12:16
80%, 80% comes from government support across the continent, and most of Asia too. The mixed economy model that we have is shared with Canada, Australia, New Zealand, and some other territories. Hong Kong, Singapore, I think Singapore is quite state funded, but it's it's there are, the mixed economy model exists in some of the former Anglosphere. And then of course, you've got the USN, which does it through private support, which is fueled by the culture of giving and the incentive of tax breaks. So you either have a status continental model, a predominantly private model, or the three legged stool of a mixed economy that we have in the UK, the problem is that the public funding leg of the stool is being sawed ever shorter. And all that does is increase your structural deficit, because a concert costs what a concert costs. So yeah, big questions about that, of course, but and then that brings us to what happened two years ago. There we are, peak of our success, growing audiences, touring, etc, etc. And suddenly, what slams in is a global pandemic.
Henry Southern 13:43
Yes I mean, there's an extraordinary amount of one pack then. I mean, could you also argue talking about that funding model, we should be celebrating the UK's entrepreneurial spirit and the way that it can have that mixed economy model, it can have on a commercial capacity to a certain extent, ticket sales, and I know, there's that cost disease as you refer to it. But also the philanthropic giving tendency in the UK, which obviously not strong in the US, and there is a proportion of government support, of that's something to be…
Mark Pemberton 14:16
I think, I think I think the advantage is it makes us attentive to our audience. We have to be, we're dependent on their giving and buying. They're giving them their purchase power. Well, of course, I think, you know, I think it's fair to say we would, we would very much appreciate some more public funding. Having said that, one of the ABO's triumphs of a few years back was successfully arguing to the Treasury to get them to implement orchestra tax, which is a different form of government money, which is a tax credit on your production costs. Which is basically rehearsal costs. So the, and that now means that we finally got a funding mechanism for the rehearsals. Whereas ticket income is basically your income stream for the concert itself. But to do every concert, you're gonna have four rehearsals and that rehearsal is only expenditure, low income. So it's it's a fantastic extra form of government funding, that has been absolutely vital to keep, to plug the deficit, another mechanism, another tool in the toolkit that came in in 2016.
Henry Southern 15:35
Similar to the theatre…
Mark Pemberton 15:36
It started with theatre tax, and what we did was we said, it was Film, TV, games, theatre, and we successfully argued by logics that you had to extend it to orchestras, because an orchestra was already a qualifying cost for if you booked an orchestra to do your soundtrack, your movie or TV drama series, you'd get a tax credit on the cost of that orchestra, or for do the game soundtrack. Once we live in theatre, that's where it got interesting, because then of course, it includes opera and ballet. Therefore, automatically the orchestra as a cost in an opera and ballet qualified for tax relief. So I said, Well, come on, you've now left hanging what an orchestra's bread and butter is, what it actually is set up to do, which is to put on concerts, you got to extend it to concerts, and very quickly, to all credit to George Osborne, Chancellor at the time, who went ​'you're bang on', totally logical, we'll do it. And we've got and it came through quite quickly.
Henry Southern 16:38
My understanding the definition of an orchestrato there has also evolved in that they define what an orchestrator is, or is…
Mark Pemberton 16:43
Oh, yeah, because there is no, there is no definition. I've never found an actual formal definition. So what we did was we set a kind of like, we said, minimum 12. Because originally, they tried to say it has to have all for instance, said well, well, no, because an orchestra can be old strings only. So so we just, we had to explain to them. The best bit was were actually talked to one of the junior civil servants outside of this. Who said, we've been told to follow up this thing around August attacks the president quite get it because we understand with theatre, it has to do lots of it has to do rehearsals. But of course, that's not the case with with you, is it I went ​'what?! Really.' And I suddenly realise he thought that to do a concert, the musicians literally just turned up and played the music on the scores in front of them. That was the level of ignorance that I was dealing with. But yes, you are right, we do what we do have to work off of fewer rehearsals than may happen in many other countries. I also think funnily enough, and this is a controversial viewpoint that that can give concerts a rather good, risky edge that can be quite exciting. If it's between the very cusp of triumph and disaster. But it stirs the spirits.
Henry Southern 17:58
It wasn't it Bernstein is no need for a great plan. You need a great idea and not enough time, I think is probably yes. Sounds simple. But exactly. Just to finish on this point that I think there is a lot of, quite rightly, criticism about the amount of state support and actually in from what you're saying from the public family, from the audience and public is pre COVID, then we'll get the results in the next day to coming up soon. With the orchestra's, from the orchestra's perspective, we're engaging more people than ever and that's very exciting. For whatever reason, the state that's this fewest, essentially funding less statutory funding available. But what you could also want to put in a tax relief, the features might be less vulnerable, because I got that mixed economy. And the cultural recovery funding was not to be sniffed at I mean, it was across the whole of the arts, and that's everything from orchestras to comedy clubs. But that was nearly 2 billion pounds. And that's a significant amount of money.
Mark Pemberton 18:57
So basically, as I said, the COVID slammed in on March 2020. And our dependence on earnt income is what made British orchestras so much more vulnerable than our colleagues in other parts of the world. Because as soon as the doors were closed, and you literally couldn't put concerts on, then your ticket income, half your income has evaporated, unlike 20%, for a contact of your orchestra, when I was talking with colleagues in other performing arts associations in Europe, they were talking about the impact of their national lockdown as if it was an inconvenience. And that it was just the tragedy was that the audience could no longer hear the wonderful art, but for us, it was existential. And I genuinely thought I mean, before June 2020, that peer review between March and June, I seriously thought we were witnessing the death of our sector, that there was no no way of surviving. But the government did do some crucial interventions along there with, of course, the general implementation of the job retention scheme. So that staff could be furloughed. And the cultural recovery fund of actually providing emergency funding because what was happening in that period of no concerts was orchestras were simply depleting their reserves. Because even if you furloughed staff, you still had costs. Your office costs weren't… You had to keep some staff on payroll to keep things going. You could not shut down in time. So inevitably, there was the steady deterioration in your in your financial viability. So yeah, the cultural recovery fund, the emergency grants that provided absolutely essential, and many of our members, thankfully, were beneficiaries. And I think the useful thing about the cultural recovery fund was it. It was a wake up call to government as to why organisations like orchestras need public funding. They could understand, ​'ah, I see, yes, without public funding, you can't exist' it was, so in that respect, maybe it helped. So yeah, so the culture of public funds made a difference. And now the most recent development has been a temporary uplift in orchestra tax relief, so that you can claim at a higher rate than before, but it's just for this coming financial year is going from 27th of October, it's gone from 25% to 50%, on your qualifying costs, but then it tapers off on us back down to 25% by 24/25. So we would like that to be extended, because that was brought in pre Omicron. So when they announced that we didn't know we had Omicron, around the corner, and of course, Omicron led to a very, very difficult December and January. And actually, at the moment, we're in a situation where the government bizarrely is telling us that their work is done. COVID is over. They are withdrawing our regular meetings, they're stopping having these meetings, they're dismantling the department is really focusing on has been focusing on and we're saying no, COVID is over. I mean, there's 100,000 positive cases a day. And and guess what, musicians are testing positive. And if they're testing positive, we cannot let them into the workplace. And you've got to replace them. And so it's still pretty chaotic out there with people testing positive and then having to find, I've been hearing some really scary stories of just the challenge of having to find constantly find the most replacement. So the thing that's happened over these two years is it has drained the resilience of any of the people who work to keep their orchestra going and under constant planning, and you plan, you undo, you plan again, you have to undo that, the sheer volume of cancellations, postponements. It's taken its toll. So and that's why we feel that it's important that we provide some, we start to really focus on resilience. This has to be, now be something that we really look at is, how do we look after the people who've been through this very challenging time.
Henry Southern 23:38
Well I think the role that the ABO play in more firstly, logging and secondly, in the well being of the orchestra, and managing the players on the front line is certainly invaluable.
Mark Pemberton 23:50
Just the other thing is another thing point about COVID where it's not, we're certainly not done with it yet, is it's impact on touring. Yeah, because you know, Asia is still open. So watch this space. Okay. But you know, you're right.
Henry Southern 24:06
I mean, China won't open up another till 2024. Possibly, who knows?
Mark Pemberton 24:12
We happen to another it's a very small marketplace, we have clearly now lost Russia as a as a potential touring location.
Henry Southern 24:21
True, true. Well, just, I'd like to come back to touring, particularly on the topic of sustainability, but just to move on from all things COVID. You mentioned very briefly about your role into the the championing role used to have input with your colleagues within the EU. And is that but is that still the case? Do you still have those pan European discussions and can you still influence and then secondly, again, you were talking about the context of how how we talk about classical music about it, being dead, but actually, Brexit similarly is talked in very negative terms. Is there a more positive spin? I mean, orchestras are still touring right? And they're still touring across Europe.
Mark Pemberton 25:03
Yeah, this is something can absolutely make clear, because there has been some scare mongering of that, Brexit means nobody can go on tour, of course they can. And in fact CBSO are touring Germany and France as we speak, I mean tours are happening. But Brexit has made them more complicated without a doubt. So that has also occupied a lot of our time over the last few years ever since in the realm of the referendum, where we made it very clear that Brexit was a bad thing would be a bad thing for orchestras, to post referendum, and our liaison with governments to try to make sure they were aware of the key issues that were, you know, that we needed them to fix, leading to the UK EU trade cooperation agreement, which is not what we wanted. And removing ourselves from the single market and Customs Union means that we are now treated as a third country, in our relationship with the EU. And then that creates the problems that we're now having to navigate. That's in three key areas, the movement of people, which is both inbound into the UK and outbound into Europe. If we want to recruit European members of staff now, we need tier two visas or tier five, if it's for less than 12 months, we've got permitted paid engagement, which is what a lot of artists can come in on for up to 30 days, which is good. But most countries in the EU, we've been able to establish have got something similar to that a, an exemption, short term exemption for people coming to do performances, but not all of the EU 27. So we're still finding those, there are a few countries that still have bureaucracy or cost, to, attached to a British artist, ensembles being able to work in their country. So we're still navigating the visa workflows. And then you got the whole movement of goods, which is the musical instruments and everything else that goes that you need to get over for the concerts. If it's the individual musician carrying their instrument, we established that carnets were not required. And but they are required if you're loading the instruments up on a truck. And as soon as you're using a truck, then that has to get to Dover to get its carnet stamped, get over and then and then we hit the third problem which is road haulage limits, which we had no idea and I hadn't even realised there were road haulage limits. So I hadn't talked to government about that because I was unaware that road haulage limits would even have any sort of impact on us and my god they have so the UK EU trade agreement imposes very strict restrictions on using on UK registered trucks doing unloads in the EU, to no more than three before the truck must return to the UK. And so multiday tours with orchestra's own truck is now impossible, which is a real pain. That is absolutely still the case. And just to stress, because there's also a lot of myth making that somehow it's the UK the Big Bad Wolf on this one. The EU is this lovely saintly all fluffy, lovely, no, you the the trouble is the EU is a protectionist institution. And they are protecting their own market. And we have fallen into and we need the EU to fix this road haulage problem. This is not a UK problem. It's, these are conditions imposed by the EU. So we're hoping that's where you're back to, are we still involved with our colleagues in Europe, very much. And we're relying on our good friends of poll which is our European Federation, to broker conversation with the European Commission, in particular over this road haulage issue, and to see if we can, if this could be an area that could be remedied through further negotiations between the UK and EU and it has been fascinating this week to discover Lord Frost to read Lord Frost admitting that mistakes were made in particular in relation to touring musicians that he has fessed up that you know, they, they muddled immigration with mobility, and you've never had done so. So yeah, so there's definitely there are things to fix and that's what the ABO is here to work on. We'll do the best we can. But on the whole we do is we help guide our members through the new regulations, and the obstacles they face and help them. But yeah, but it does mean touring is still it's still happening.
Henry Southern 30:12
Well absolutely. And as you say, CBSO and the London Philharmonic Orchestra, talk to Philharmonia. You know, lots of others have been out on the roads. And I mean, it's no different. In many respects, whatever is asked of us is, of course, but at HarrisonParrott, we have Japanese ensembles and orchestras coming over time throughout Europe at the time, and I presume also, reciprocally. There are some, there are some restrictions for European office going into the UK.
Mark Pemberton 30:40
But no, it's actually it's actually really easy. We actually have a really, you know, we're actually quite good on this, permitted paid engagement systems, light touch, turn up at the border, just show you got proof of a gig and you're in. So long as you don't stay over 30 days, and no, no orchestral tour is ever going to be at the 30 days. So we will be shortly. Next month, we'll see the what's happening in this year's proms. I'm sure there will be plenty of visiting orchestras.
Henry Southern 31:09
Yeah, yeah, absolutely. Well, so I think you're right, the overriding message is not to diminish the challenges, but it can happen and I think it is the accumulative element for orchestra managers of all things COVID, all things Brexit is that resilience, as you say, wish, which is quite obvious.
Mark Pemberton 31:28
But the main thing is we don't want European promoters to think they shouldn't book British orchestras. Because Brexit will make it difficult. No, no, keep keep the faith.
Henry Southern 31:38
You're preaching to the choir here, absolutely. So with all that in mind, and the extraordinary amount which has been imposed on people working in the industry the last couple years, is there that headspace for some other equally, if not more so, really important topics. And those that immediate comes to mind are sustainability, and equality, diversity and inclusion. So just start with sustainability, and that's very closely linked to touring. And I know you guys, the ABO, put out a green guide in 2010, Julie's bicycle and it's a conversation that you're continuing in earnest. But as I say is there the enthusiasm, maybe that's the wrong word, is thaere the headspace to be thinking about this?
Mark Pemberton 32:18
I think I think to be honest, climate change is the one that I think people are struggling to find that headspace. Well, I think they've struggled a lot. I mean, we published that guide in 2010. And having spent a couple of years working on it with partners, like orchestras live and the Arts Council, and with Julie's Bicycle, and we've we revisited it, and Julie's Bicycle, say they've looked at it, and I said, look, it's still absolutely valid. What we say in there, and the the other crucial document that sits alongside it, which is how to measure your emissions. They said, it's all absolutely still valid bar. There's a whole section on your on CD packaging, but it's probably getting increasingly redundant. But other than that, it's all completely valid. And and since then, we've also seen the Scottish Classical musical sustainability guide, which was published last year, which sort of builds on that, but it's actually really good piece of work. So it's great to see our Scottish members are now absolutely actively engaged with how they make their, get their practice greener. What happened in 2010, was we while we were working on, on this as a priority area, the global financial crash swept in, and it became all about money. And everybody was just saying, Look, I course I want to be environmentally sustainable, but I'm afraid it's going at the bottom of the intro. Because we're literally having to deal now with cuts in Arts Council funding, redundancies, etc, etc. So, you know, we went through a grim time in that period from 2009. And it's still, it's still in a way there. Because on the public funding, the cuts that were implemented in 2010 are now, we've never we've haven't had any increases since then. So the public funding has flatlined in a decade so we're still living with the consequences of that of that global downturn. The however, what's changing now, is the funding agencies in England, Scotland and Wales are now saying, you've got to tell us how you're going to be more more sustainable. And in and in England, certainly, it's one of their key investments and principles. Certainly, it's it's sort of non negotiable. But now if you want public funding, you've got to come up with your plan. Now, nobody's saying that orchestras can't, we're not going to stop touring. Because we're all eager to hear artists and orchestras, from around, you know, from different countries. And, of course that is going to continue. The question is, how do we do that? How do we, what can we do in the context that, of course, what an orchestra is designed to do has not, will inevitably create emissions is plan and mitigate, as best we can. I would argue, of course, that classical music has one advantage, that it is an acoustic art form played on recycled instruments. We are, our emissions are as nothing to the rock and pop industry. So you know, but of course, that doesn't mean that we get off scot free, of course, we have to do whatever we can. So the tools are there. We've had them for 10 years. And we just encourage our members to pick up that green guide again, and just look and just to have a closer look at the way you were you do things and and and reduce your emissions accordingly. In any case, we've got to see what's going to happen in terms of the UK government's commitment to a netzero economy. Anyway, we will be facing a situation where energy is going to be provided in different ways. And we'll have to look at what how we contribute to that drive towards net zero, because eventually, an orchestra will have to happen it out. Will we still have fossil fuel driven trucks, don't know! Oh, you know, so we will have to see. I mean, some people said to me, why do we have an Asian orchestra comes to all Europe and a European orchestra goes to the USA and American orchestra goes, comes to Europe, I mean, but that's the way our business works. It's a global, artful, and I think we don't, and it doesn't sit comfortably with me to somehow be be so nationalistic that we should only ever hear British orchestras in Britain.
Henry Southern 37:10
Well, I'm going to extension to that. I've had promoters say to me, why would I book a, just to use Japan as an example, Japanese orchestra playing Beethoven. But that, again, is a very nationalistic approach. And I think you're right, that the approach of, avoid, reduce, offset is often quoted, avoiding is not something as an industry we want to do because we believe in the power of international cultural exchange, reducing, though an offsetting is certainly possible and the measures to put in place to do that. But do you think, as an industry and it's in the UK more broadly, we're actually addicted to touring, we just can't stop, you could put aside the financial elements, which for many orchestras worldwide, actually, they need to support that financially. It's not always, it's not generally on a commercial model. But the UK for some orchestras it's an exception. Actually, there's an addiction. I mean, maybe we need to also redefine success, because performing in a concert house is an indicative of an orchestra success in the UK. But actually, there are many other measures of success. And do you agree with that statement?
Mark Pemberton 38:15
You could say that, I couldn't possibly comment. I think, I don't think it's a case of being addicted to it. I just think it's it is part of the parcel of what it means to be an orchestra as part of a global family.
Henry Southern 38:33
.…I also work in international touring.
Mark Pemberton 38:36
Yes, yeah. This is dangerous territory to be going down.
Henry Southern 38:40
That's fine. We like dangerous territory. Yeah. But so, again, again, much you're lobbying role, because I often feel that within the context of this debate, government can do more to enable change, to enable people to make the more sustainable, quote ​'right decision'. So for example, the budget before last, the chancellor in the UK reduced, sorry, you have reduced tax on domestic flights. In context, trains are extremely expensive in the UK. The infrastructure particularly in the North is terrible. But actually, if they allowed a better infrastructure and a better service and at a more economical price, people would make the more simple choice.
Mark Pemberton 39:22
We absolutely want to find a way in which musicians could travel to concerts, at least we're here we're talking about within the UK, we'd love them to travel by train. There's one fundamental problem. I mean, I've just been looking at whether you go to a concert in a city outside London, and the last train back is at 9:30. And this is something we hear consistently, the train simply stop before the concert. Yeah, there are no trains back after the concert. So inevitably, everybody has to drive because public transport is not available. So automatically we're … in our ambitions to offer greener travel to the musicians because we think musicians would probably find it a nicer experience for themselves anyway. But we can't because the trains don't run late enough to get them back home.
Henry Southern 40:15
That's also for services as well, of course.
Mark Pemberton 40:17
Yeah, audiences will tend to be local, whereas in many respects, the orchestra, the musicians are, will have had to come from somewhere to get to. I mean, obviously, within London, it's different, you know, yeah, you have from public transport readily available. But as soon as you're outside London, public transport becomes, is a different animal.
Henry Southern 40:37
Yes. But then, I'm playing devil's advocate a little bit here, you're absolutely right. In many cities, and I do add to the voice as well, because the last bus finishes, perhaps at 9:30, or whatever it might be. You, you will find that the transport only go up to a certain time, but actually could orchestra is also be more flexible and sheduled their concerts earlier to enable people to get to get back. I mean, there seems to also be a certain rigid element and a stigma associated to classical music with that, with this sort of rigid structure of 7:30 concert, have to have an interval have to have a concerto, symphony, etc. Actually, if they're more flexible in their presentation, also attract a broader audience, which could be..
Mark Pemberton 41:21
But there are multiple reasons why, you know, we still stick to the 7:30 start time, people want their tea before the concert. So it's, we always end up with, you know, we get and in fact, the pandemic was quite interesting, because people were experimenting with shorter concert lengths and different times, and some found it quite, actually really quite effective. But we do seem to be we have we have gone back to the traditional model 7:30 – 9:30. And audiences seem to be happy that they are back to those start times and concert dates. It's, I think that we have that format and timing for a reason. And because on the whole, it does work. Yes, I think also pre COVID I think they're still doing the standard London Symphony Orchestra had their 6:30 fixed shorter concerts which, like others were very successful, also broadening their audience base as well. But and so as a segway to that, we've touched on briefly EDI… Yeah, well, this is this is, this is something that actually is definitely the topic of now. And actually has been for a long time. And interestingly enough the ABO did a seminar on diversity in 2003. So we'd woken up to this as a problem 20 years ago, and reading the report from… because it's before my time. It's clear that you're going to there's a reference to it, this is it will take a generation to change this, well, 20 years is a generation. And not much has changed. So we're at the point now where this has, something has to happen. Because this is where the that public value. You remember I talked about how it was seen as intrinsic to the public funding system that, you know, an Arts Council would fund orchestras, Opera and Ballet companies, this is what is now, this is what we are now seeing changing, art council England have made it very, very clear in their, Let's Create strategy for the next 10 years, that there are no that you know, that there are no sacred cows. They have set a very clear set of principles that need to be adhered to if you are to receive public funding. So we talked about how environmental sustainability is one of them, but the other is that they expect their funded organisations to be fully inclusive. What does that mean? Well, yeah, inclusive, it all actually starts with inclusion. So inclusion is where you make sure that there's absolutely nothing in the way you work that is exclusive. Are you genuinely welcoming of everybody, particularly people who would fall under those nine protected characteristics and shriding them the Equality Act of 22. So and the three obviously big areas for us tend to be race, sex, and disability. These are three prime real three priority areas where we have not covered ourselves in glory over the years, now we are not alone in this. And the USA is ahead of us very much so particularly in terms of and analysing trying to understand why. They are not as diverse as American society is itself. And you know, you have an orchestra in a city like Baltimore, or Detroit, that does not reflect the residents of that city. And we have the same here. So we have,
Henry Southern 45:16
Are you talking about staff or administration, or players or both?
Mark Pemberton 45:21
I'm talking about everything, everything. So, you know, we are talking here about, the primary focus is the musicians, the music, you know, because obviously, that's what the public sees that, that shop window, and the public sees a lot of white people. And if you, there is this line that if you can't see it, you can't be it. And unless we have a more diverse roster of musicians on the platform, we will not make progress. But the problem is how do you then get there particularly when if you are a member of an orchestra, you effectively have residency rights, you know, you are a member of that orchestra, you're a salaried employee. A Theatre has some advantages, if if I'm putting on a production I cast to that production, I can change my caste every time I'm depending on it for doing any play. But an orchestra is that body of people who've been through a rigorous recruitment process to win a seat in the orchestra, and can stay in that seat for 40 years. So it's a very hard engine to change. But change has to come because as I said, the Arts Council's now say you must prove, provide evidence of your inclusivity. So we do have to ask questions now, how we recruit, which artists we're booking, what repertoire we're playing. And of course, who also we are reaching through our educational community work and and ensure that every aspect of that is inclusive, then of course, you also have the same question to ask about your administrative staff and your governance, your your your trustees. Now we've seen obviously, your admin staff and governance is actually easier to change than musicians. Because there's churn in staff and, and fixed term limits on boards. So you are better placed perhaps, to effect real change when it comes. Because the musicians is a very hard one, because of course, we're dependent on a talent pipeline. So we employ musicians who have been through our conservatoires. And those conservatoires have relied on a music education system that has in itself been inclusive, and widened access. So but of course, we keep blaming the next link in the chain. Oh, it's the fourth conservatoires. And then because those four domains of education, basically get over this blame game, we have to all work together to say what are the most effective mechanisms for widening access throughout that talent pipeline? Now the government has now added another component to this whole issue of inclusivity. Our secretary statement has written to every funding organisation in England, saying that they are also now expected to make progress on resolving socio economic barriers, that we are not we have not been providing enough opportunities for people from working class backgrounds. And we will now be measured on the number of people employed from close backgrounds, and will cease to be recipients of public funding if we do not make progress. So it's getting quite, suddenly this is all sounding rather threatening. But but this is really saying for 20 years, but we clearly have a we have got a diversity problem. We've now got to do something about it. Which brings us to the next bit the E word, the equity word, because I maintain that it's always written as EDI, but actually it's it's ​'IED' is the credit first, are we inclusive, genuinely inclusive, or there is anything we're doing that is, that is actually smacks of exclusion rather than inclusion. If there is, once we have isolated what that problem is, that's when equity comes in. And equity is where you do a specific intervention. So it might be you say, right, therefore next season, we will guarantee that a proportion of the works that we perform will be by composers of colour. Or we literally will say, we will expect there will set a percentage of our orchestra we expect in 10 years time to have employed people from different backgrounds to those who we have traditionally offered jobs to, it's where you actually have to set yourself some targets, and, and fulfil them. And at the end of that process, you should be diverse.
Henry Southern 50:15
So it sounds in many ways that it's encouraging that there are these stipulations of these targets need to be fulfilled from this, let's called IDE then, and IED, thank you and socio economic standpoints. But are the resources and expertise being provided by the, for example, the Arts Council, and from the Department of Culture, Media and Sport in order to support these organisations to actually deliver on these ambitious targets?
Mark Pemberton 50:47
Arts Council has published a report on a fair and inclusive classical music sector. And that has analysed the problem, and it has made some recommendations. So it's a really useful piece of work. And we're grateful for them for convening a working group of which I was part to help put that informed the delivery of that report, and we're now working with them on what we now do to move to move that forward. So I think all credit to them, (.…) are not giving any guidance. So just saying this is what we expect. But but they were all were you but then they handed it to us as England as the affecting the development agency for Arts in England to to then guide it's funded clients, which they are doing.
Henry Southern 51:34
Ans suppose the a lot of things we've discussed, there's going to be my sustainability course on this conduct this discussion as well, when there's an emphasis from government to say, to be doing more from a socio economic point of view. Absolutely that should be the case. But there's resources, also financial resources to support that. Obviously you could offer tickets, for example, but then actually, there's a there's an actual cost of that.
Mark Pemberton 51:57
Of course. Well, yeah, that's, some things won't necessarily cost, I mean, it won't cost necessarily any more to adapt your recruitment practice. Yeah, true. It might compare, it might cost something to do some specific, you know, equity interventions. But it's just about coming up with a plan. What is costing is it does involve an awful lot of form filling. There's now annual monitoring, which is very time consuming. But it has to be done. So you know, and that's it to enable us to all set a benchmark, in order to know we got to make progress into we know exactly how things stand now.
Henry Southern 52:46
Forgive me for giving two quick plugs on in this context of this conversation. One is, Music Matters. I'm in programme which has apartment doing another organisation, fantastic audit, if you like of your diversity and inclusion policies. And also, we've just recorded a disability and access podcast, including with Dougie Scarfe, CEO of the Bournemouth Symphony Orchestra. So definitely check that out. We provide lots of other insightful ideas about how you can enact meaningful change. So as we come towards the end, Mark, this has been fantastic. Thank you so much for for giving us a snapshot of what the British orchestral scene looks like now. I always like to finish on a positive note. So what are you excited about most for the sector?
Mark Pemberton 53:35
Not so much going forward. I think I've what's really inspired, is actually how enterprising and ingenious our members have been through the pandemic. Yes, it was difficult. It was tough, but they really did think, necessity is the mother of invention. How do we keep our orchestra communicating to its public? And I think what's been really interesting is that shift to digital, the, the acceleration in understanding the power of digital and what works, particularly actually, in reaching into schools and care homes. And so through our education, and so I think that the fact that they've they've, they've proved their resilience, they've been ingenious. And there are some real benefits, funnily enough, there are some COVID dividends that we can now take forward, that arisen from simply saying, you know, we're not giving up, you know, what, what can we do? And to some extent, they've actually ended up reaching more people than they did before. So I think we are back and the music's as good as ever. And it's just brilliant. Now we're going back into the concert hall, and thinking, yes, it's in 3d, it's live, it sounds great.
Henry Southern 54:55
Hear, hear that sort of visceral energy. Come in. We did definitely miss that. Well, what a great note to finish on many thanks again for joining us, Mark and to you and your team at the ABo for all you do to represent the interests of UK professional orchestra scene and the wider classical music industry. Before we leave you, we would also like to thank HarrisonParrott's marketing team, Fiona Livingston and Holly Gedge and our sound editor Merlyn Thomas. Our theme music is composed by Robert Cochrane. We hope you've enjoyed this podcast if you haven't done so already. Be sure to check out all the other episodes from The Culture Bar, we have topics including race and the civic responsibility of the arts, or how the arts can respond to the climate emergency. And more recently, as I mentioned earlier, disability and access to the arts. Alternatively, what's something you'd like to touch we have a speed pulse series of contributors from the likes of Poland, Switzerland, Wales and Iceland. You can trawl through the archive interview with MPs, lords, university professors and even football referees, to get all that and more. Please subscribe. See you soon.