The Culture Bar — After Hours: Smashing the Glass ceiling, Women in Publishing
19/5/2021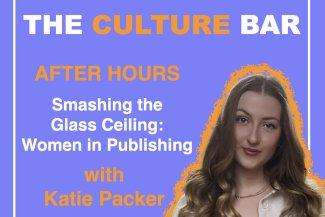 The Culture Bar: After Hours
In this After Hours fireside chat, we spoke to Katie Packer, Commissioning Editor at Headline Publishing. Our conversation focussed on the role and importance of women in the publishing sector, achievements and where improvements can be made.
In this frank and insightful interview you will hear:
>how the publishing industry has evolved
>where and in what roles can women be found
>where women lead in publishing
>what support is there for women wanting to progress through the ranks
>does gender matter when signing an author?
>are there gender-specific authoring sectors?
>identifying gender bias and lack of BAME representation
>inspirational women in publishing
>pinpointing gaps for improvement in the industry
>key words of advice for women wanting to get into publishing or becoming an author
Interviewed and hosted by HP's Fiona Livingston
Useful links and resources:
Connect with Katie:
Katie's Twitter: @katierpacker
Katie's Instagram: @katiepacker
Books and podcast recommendations:
Love in Colour by Bolu Babalola
Honey and Spice by Bolu Babalola
This is Why I Resist by Dr Shola Mos-Shogbamimu
Lil' Kim: The Queen Bee autobiography (not yet published)
The Receipts Podcast
Inspirational women in publishing:
Mireille Harper — Editor Squarepeg Books
Katie Espiner — Managing Director Orion Books
Sharmaine Lovegrove — Founder Dialogue Books
This is the third episode in our spin-off series of short After Hours chats discussing issues relating more broadly to the arts and culture sector.
The Culture Bar is a podcast series created by HarrisonParrott focussing on conversations in culture and the arts.
Find us on Spotify, iTunes, Google Podcasts, YouTube, Podbean, Deezer, Stitcher, Pocket Casts and all good podcatcher sites.
Use #theculturebar or follow us on Twitter @_TheCultureBar to keep up with our latest releases.
A special thank you to Robert Cochrane as the composer of the theme tune music, and Merlyn Thomas our editor.