The Culture Bar — After Hours: Smashing the Glass ceiling, Women in Publishing
19/5/2021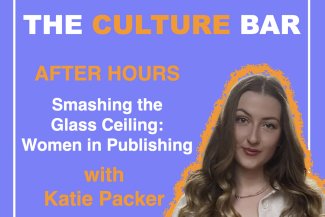 The Culture Bar: After Hours
In this After Hours fireside chat, we spoke to Katie Packer, Commissioning Editor at Headline Publishing. Our conversation focussed on the role and importance of women in the publishing sector, achievements and where improvements can be made.
In this frank and insightful interview you will hear:
>how the publishing industry has evolved
>where and in what roles can women be found
>where women lead in publishing
>what support is there for women wanting to progress through the ranks
>does gender matter when signing an author?
>are there gender-specific authoring sectors?
>identifying gender bias and lack of BAME representation
>inspirational women in publishing
>pinpointing gaps for improvement in the industry
>key words of advice for women wanting to get into publishing or becoming an author
Interviewed and hosted by HP's Fiona Livingston
Useful links and resources:
Connect with Katie:
Katie's Twitter: @katierpacker
Katie's Instagram: @katiepacker
Books and podcast recommendations:
Love in Colour by Bolu Babalola
Honey and Spice by Bolu Babalola
This is Why I Resist by Dr Shola Mos-Shogbamimu
Lil' Kim: The Queen Bee autobiography (not yet published)
The Receipts Podcast
Inspirational women in publishing:
Mireille Harper — Editor Squarepeg Books
Katie Espiner — Managing Director Orion Books
Sharmaine Lovegrove — Founder Dialogue Books
This is the third episode in our spin-off series of short After Hours chats discussing issues relating more broadly to the arts and culture sector.
The Culture Bar is a podcast series created by HarrisonParrott focussing on conversations in culture and the arts.
Find us on Spotify, iTunes, Google Podcasts, YouTube, Podbean, Deezer, Stitcher, Pocket Casts and all good podcatcher sites.
Use #theculturebar or follow us on Twitter @_TheCultureBar to keep up with our latest releases.
A special thank you to Robert Cochrane as the composer of the theme tune music, and Merlyn Thomas our editor.
Podcast transcription
Henry Southern 00:03
Welcome to The Culture Bar, a panel discussion podcast exploring, dissecting and shedding light on important topics in the arts and music world, which matter to you.
Fiona Livingston 00:14
Hello, I'm Fiona Livingston. And in this podcast we will be discussing smashing the glass ceiling, women in publishing. I'm excited to be joined by Katie Packer, commissioning editor at headline publishing to explore this topic, and find out more about what it means to be a woman in publishing. Thank you for joining us, Katie.
Katie Packer 00:34
Hi. lovely to be here. Thank you, Fiona.
Fiona Livingston 00:37
Thank you for coming. During our conversation, we will celebrate the successes of women in publishing, including challenges overcome, success stories, and identifying gaps for improvement in the industry. And hopefully try to dispel some myths and give some words of advice for budding women publishers and authors. There's a lot to cover here. And it's great to have Katie's perspective and experience to help us navigate this topic. So I think it will be really interesting to start our conversation, Katie, by finding out more about you. Could you tell us about your journey as a woman in publishing? So how you got started, what motivated you and what kind of roles you've had?
Katie Packer 01:18
Yeah, sure. I had a thing I grew up in a sort of background where I didn't really know publishing existed. I used to steal my mum's adult books as I was growing up. And that was kind of how I fell in love with reading and kind of realised that books were my bag, basically. And then I went to university, and I did English, and came out and was like, actually, I started to hear about publishing and what it was, so I started to do my research. And I was sort of between that and radio. But radio felt like even more of a pipe dream than publishing, even though publishing is, it can be hard to get into. But I sort of did all my research and then applied, applied, applied, applied, applied, applied, and managed to get in on an internship with Hachette UK. And I did a two month internship where I went round all the different departments from editorial, to marketing, to publicity, I did a day in finance. Needless to say, that was a very long day for me. And in the end, I realised I really, really loved editorial and I managed to get a job as an assistant, assisting three children's publishers. And that was great. I learnt a lot from them, it was quite hard. It was hard at times, I don't think I'm a very persistent person. So I did struggle a bit, but I managed to get a job as an assistant editor, again, within Hachette UK, but for headline, which is the we do adult publishing, within nonfiction, because I think I basically am a bit of a pop culture buff nerd. And I think that shone through and I've been at headline ever since, I've been at headline for over four years now. And started out as an assistant editor and now I am a commissioning editor and have my own list. And I love it. It's It's such a fulfilling job. But I'm lucky to have learned from that internship about lots of different areas of publishing as well, which has really helped me sort of on my way on my way up. Oh, that's amazing. Katie, who do you have on your list? Can you share? Oh, of course. Yeah. And so I published last year, a Sunday Times bestseller, Love in Colour by Bolu Babalola. She is a brilliant new writer. I actually do a little bit of fiction. So I do about 10% fiction and 90% nonfiction and she's a fiction author, and her debut novel is coming out next year called Honey and Spice. She's amazing. I publish Dr. Shola Mos-Shogbamimu and she is an incredible activist and feminist and she famously took on Piers Morgan very recently, and she's just a pleasure to work with and such an incredible woman. I also publish The Receipts podcast who an incredible millennial women's pop podcast, and they've got a book coming out in June. And in autumn I am publishing which is very crazy to me, Lil' Kim's autobiography. Yeah, that was me when I when I won the auction to be honest. I am pretty amazed that that's happening and her story is just incredible.
Fiona Livingston 04:46
I can't I can't wait to read that.
Katie Packer 04:48
Oh, you know, I know. I it's honestly gonna be an amazing book. I'm so excited.
Fiona Livingston 04:54
That's an amazing list though. It's so diverse.
Katie Packer 04:56
Thank you. Thank you. I Try.
Fiona Livingston 05:02
No, it's amazing. Well, congratulations.
Katie Packer 05:04
Thank you.
Fiona Livingston 05:05
So and also thank you for sharing your career journey with us. I mean, it's really, it's really useful for listeners, I think, to get an example of what a kind of publishing career journey can look like in reality, rather than kind of dreaming about what it could be like. So it's really great to kind of have your, have your experience on what that looked like for you. So thank you so much for that. And I think so our listeners can get a sense of maybe how the publishing industry has evolved. Can you tell us maybe, in your opinion, what the publishing industry was like in the past and what it's like now? And what kind of changes have there been which are impacting women?
Katie Packer 05:47
Yeah. Such a good question. In the past, I know for a fact publishing was a very much an old white men's club. They would do deals over long lunches with with much Prosecco. This is just sort of told to me from from people who have been around to see the significant changes happen. And have seen this sort of older, yeah, older period of publishing, where it was so dominated by men. It's, there's been huge changes, since I mean, the industry is like something about 80% women, we are lacking in the sense that that is predominantly white women, but on a gender balance, it's quite in favour of women. And I think the what hadn't changed and what still I felt like is slow to change is the fact that men tend to be still be in those kind of high up board level positions that still aren't caught. You know, despite now, being a female, heavy industry, we still have majority men on the boards, which I think is something that a lot of publishers, I know, are trying to move forward and change. And I hope that happens very soon.
Fiona Livingston 07:08
That's really interesting. It's sort of seems to be a bit of a trend across the arts that they you know, that the majority of people working in it are women, but the people in the senior leadership positions are old, male and stale…?
Katie Packer 07:24
Pale, male and stale…
Fiona Livingston 07:29
And, you know, it's the same in music and art galleries and things like that. So it's so interesting that for me, especially to realise that that's actually the same or very similar in the publishing world as well. So I mean, so what kind of roles are women in in publishing? Are they kind of more in the kind of junior to mid level positions? Like, are there any women leading publishing houses?
Katie Packer 07:54
There are women on the board and there's some incredible women who are leading the way, off the top of my head, Katie Espiner, she runs Orion, she's an MD of an amazing publishing house. Sharmaine Lovegrove is an incredible black woman publishing a whole list. I think she's a publisher. So there definitely are and that's, you know, just two people. But there are women really, up there now, which is great to see. But yeah, I think I think that there tends to be a lot of, there's a lot of women on all levels of sort of, like, from assistant junior, to managerial level, but it is kind of on that, I think managerial upwards, it starts to become a lot more sparse. And I do kind of wonder if that's to do with women then having children and so they're not necessarily push for advancements, like and then men basically overtake them? I'm not sure. But that's kind of the layout at the moment.
Fiona Livingston 08:57
Yeah, it'll be really interesting to kind of investigate, you know, why that drop off happens, you know, and like you said, you know, is it because we're women, you know, need to focus on the, on their families and things like that. And obviously, we know that, you know, men don't have so many ties when it comes to that, to that part of life. And so it'll be really interesting. If somebody could do a study on it.
Katie Packer 09:19
Yeah, I'd love to see that.
Fiona Livingston 09:21
Yeah. Because that'd be really, really fascinating to see. Because, you know, like you said, like 80% of women are, you know, are you know, working in the publishing industry, so you would think they would be more evenly distributed in those upper levels as well seeing as there's so many kind of coming through.
Katie Packer 09:37
And incredibly, you know, with with a predominantly women workforce, there's still a gender pay gap. And that kind of says, that that says it all really,
Fiona Livingston 09:46
it really does. Oh, my goodness really gosh. It's so shocking. It's really shocking. I mean, it's terrible that that exists anyway, let alone in publishing, my goodness. So lots of things that need to maybe be changed for the future then. So progress has been made but still room for improvement for sure.
Katie Packer 10:07
Yeah definitely.
Fiona Livingston 10:08
So I was going to actually gave two great examples of Katie and Sharmaine. But where do you think women lead in publishing?
Katie Packer 10:16
As in department wise? Yeah. Um, I think there are real, there are women leading not just in editorial, I feel like sometimes in publishing, we can be so editorial focused at times. And as an editor, I felt like I fall into that as well. And I try not to because there are women doing incredibly well in publicity, in marketing and rights, there's an incredible rights director called Rebecca Folland, who works for my company, and there are women working in production, finance, all these areas. I think it's quite well distributed. I see you know, I imagine that, I hope that there are role models for young women starting out in in all spaces and all departments that are publishing, obviously, I'm just more and more switched on to editorial people. But I definitely know there are women properly leading the way in those other spaces.
Fiona Livingston 11:14
Yeah, absolutely. I think you make a really good point that, you know, working for a publishing house isn't just being an editor, or a, you know, somebody who commissions authors and works. It's a whole system in place there isn't there, like you said, like, even accounts, you know…
Katie Packer 11:32
Royalties, they have a whole job.
Fiona Livingston 11:34
Yeah, exactly. Exactly. And that's, I think that's really important for listeners to realise that, you know, if you want to have a career in publishing, and you're, you know, you're fascinated by literature and things like that, you know, that, but you have maybe a background in accounting, you can work for a publishing house in a company.
Katie Packer 11:51
There's so many ways in and design, for example, but it doesn't have to be, you know, working on the the actual text, you could be working on covers for it. And designers are such a huge, I mean, we say don't judge a book by its cover, but we all do, so designers are hugely important.
Fiona Livingston 12:08
Absolutely. Absolutely. You know, that's, that's a really great point that you've raised there, which I think can get very much hidden in this kind of conversation or thought process when people think about publishing. So, so no, I think the big, the big message there is that there are opportunities to have a career in the publishing world. And I also wanted to ask sort of leading on from that, do you think there's a difference between working for an independent or a major publishing house? And do they sort of differ on their role of women within their organisations at all?
Katie Packer 12:43
I think a lot of the, some of the independent publishers were started up by women, and so they kind of, they maybe have come a bit further with women sort of running the way whereas I think some of the more, the ones that have been around for a long, long time, again, are sort of still trying to battle off that kind of white male, systemic system that they've created. Whereas I think some potentially, some of the more independent publishers are just have started more recently, or and are just maybe more flexible and able to sort of keep with the times more. But having not worked at an independent publisher, I probably couldn't speak fully on that. And, but I definitely know that there can be a little bit more flexibility on a sort of smaller scale.
Fiona Livingston 13:37
Yeah, absolutely. And do you think that the major publishing houses are sort of focusing on the role of women within their companies, you know, trying to, you know, maybe have a support network there, or, you know, being able to, you know, support women in their careers and, you know, being able to, you know, facilitate them to achieve what they want to achieve within their, you know, that within their publishing house, because I know that sort of in the music industry, particularly at Warner's, they have a whole kind of working group set up for women in music, to make sure that women within the company get to achieve the things that they want to achieve, which is a really amazing idea. And I was just wondering, like, is there anything like that within the publishing industry?
Katie Packer 14:26
Um yeah, so all of the big publishers that I know of tend to have networks which are kind of cross the company networks where that , where we kind of talk about issues like this. So for example, at Hachette we have the gender balance network, which is run by women to try and and create more equality. And I know I'm pretty sure penguin has a similar one but I think there are there is some great work to sort of further women but I feel that what's missing is sometimes furthering opportunities for black women and and women of other ethnic minorities. Like my feminism is very much about all women of every background. And I definitely, there's not enough representation right now. And I think sometimes, you know, there needs to be sort of like pulling these, empowering these women up with us to make sure that they're included in our, you know, our publishing industry and included in our furthering of women within the industry.
Fiona Livingston 15:28
Absolutely. Couldn't agree more. There's so much more that can be done to support women of all ethnicities, backgrounds, and you know, to try and support them to, you know, have the careers that they want to have. Across across all the arts to be fair.
Katie Packer 15:46
They're battling different things as well. And they're really coming up against it when it comes to, you know, trying to, you know, they're women and they're women and they haven't they're from a minority ethnic background. And it's, it's, it's so much more to deal with in on an intersectional level. And I think there can be more specific support directed at them to sort of further their careers for sure.
Fiona Livingston 16:08
Yeah, absolutely. Absolutely. And, and now, just to kind of move on to another topic, I'd like to touch a little bit on the kind of writing side of publishing, because obviously, that's quite an integral part of the publishing world. And, and I wanted to ask you a question that has been on my mind, I have to say, for years, and I'd love to get your opinion on it. Um, and I was wondering, like, is there any evidence to say that women or male writers are more successful? You know, is this just a complete myth? Because you sort of hear on the grapevine that women authors win more awards and accolades, but men sell more books. And I was just wondering, like, is this all just hooey? Or is it actually really equal? I'd just love to get your insight on that.
Katie Packer 16:58
I really, I really wish there was data on this that I had to hand but I am very, I'm pretty sure it's quite equal. I mean, you see now in the bestseller lists, I felt like it's way more equal when it comes to, specifically white men and white women being represented on those top bestseller lists. And I do think there is balance there for sure. When it comes to I think, even ethnic minority and black men in in writers as well as, again, black and ethnic minority women writers, that representation is not there at all. So I think we are, there's like a yes and no to that. I don't. I think there is some, you know, there's some great success happening with women writers, that is incredible to see. And I don't think men are being hard done by at all, because I still am seeing a lot of men in the bestseller charts. But yeah, I think what we're missing a lot more is that, is that representation beyond that, for sure.
Fiona Livingston 18:01
Yeah, absolutely. And what do you think can be done to improve that representation of ethnic minority authors?
Katie Packer 18:09
Um, publishing more of them, which sounds like a very simple thing, but unfortunately, it's not. It's just normalising across the border, I think, you know, it's something ridiculous, like 2% of all books published within like, last year were by like, ethnic minority writers. And that just can't be the case, they make up 40% of London, I think 45% I think so, it has to be, it has to get better. And that just comes from, yeah, publishers being very proactive. And agents also who are gatekeepers being very proactive, to make sure that they are finding writers in this area, and really, really giving them the opportunity to have that writing career, and giving them the same, the same level of sort of funding behind them for the books as well. You know, I think typically, a lot of white writers will get so much money per time, the marketing and publicity and we need to be doing the same across the board. So it's kind of, it's about making real proactive steps within the editors, but also just the whole business putting the money behind it as well. That's really key.
Fiona Livingston 19:24
Yeah, absolutely. I'm really shocked that it's only 2% Katie…
Katie Packer 19:29
It's something mad like that. I think it's children's books as well. The the the statistic for that was just like harrowing considering young children having books that show that them should be so, it should be just the most essential thing, but it's not.
Fiona Livingston 19:49
No, absolutely. That's just yeah, really shocking. So I'm really happy that you've raised that because it's important to shout about it and to tell people that this is the situation and that, you know, work still absolutely needs to be done across the whole kind of, like you said, the whole publishing sector, you know, including the agents, marketing, finance, you know, it really is the whole kind of, you know, setting the wheels in motion and it should be equal. I mean, why should it be any different? You know, and that's what I think really, I find quite sad, really, is that, you know, why should that be any different, you know, regardless of whether you're a man or a woman, or where you come from or your background? You know, if you're launching an amazing novel or nonfiction, then you should absolutely have the investment and support that you need to make that a success. And that's in everyone's interest, surely.
Katie Packer 20:42
I mean, hopefully, change will come. I mean, we've, you know, I remember reading about and watching films about a time when women literally couldn't get textbooks published and would have to write under pseudonyms, and I'm sure we all have heard those those stories from from history. And it's a this is the new that, and it will change. And, well yeah, is that of people kind of to see on the right side of history with that.
Fiona Livingston 21:05
Yeah, absolutely. And I was going to ask actually about pen names, because I was wondering if that was still actually a thing in publishing, you know, are women authors encouraged to have a pen name or a gender neutral name?
Katie Packer 21:21
I would say no, I think it's very much the that's the author's decision now. f they felt a very specific kind of way about it. I wouldn't say it's something that is just kind of, I can't imagine myself suggesting than to change the their name, I think that is almost from another time now. But then people might have their reasons. I'm not sure.
Fiona Livingston 21:46
Yeah, exactly. I suppose if you have your own personal reasons for anonymity, then that makes like total sense. But yeah, I wasn't sure if it was still one of those kind of myths from the past that you know, that you, you, if you were a woman, you absolutely had to have a pen name, or just go by your initials or something like that, so that, you know, men would buy your book or that, you know, that somehow meant that your book was better quality, because it was, you know, all of those awful things that are just not true.
Katie Packer 22:14
I think certain genres, it's so it's kind of stuck around a bit longer than others, I think, you know, that kind of like crime and thriller, serious military histories like that. I think it's, it can be really hard for women to publish that under their own, their own name. I think that, that, but I feel that that's not of the last 10 years. I feel like that was maybe before.
Fiona Livingston 22:39
Well, that's a really good positive thing to hear, isn't it that yeah, if you want to write under your own name, then you absolutely can do and that, you know, nobody's pressurising anyone to use my initials or buy something else, you know, because that's just just awful, really. So no, that's a really encouraging thing to hear about them. But one of the things I did want to ask as well was sort of going back to to gender again, was, you know, does anybody actually care about the gender or ethnicity even of an author? You know, where is this coming from? You know, is it coming from outside the industry? You know, does the publishing industry think that that's what readers want, you know, that they want to hear from, you know, males or females or whoever. And, you know, this is actually the, you know, just a reaction to what readers want. But the publishing industry itself, doesn't actually care. Would just be interesting to know, like, what is this sort of symptomatic of because it must be coming from somewhere.
Katie Packer 23:37
I feel like publishing is super reflective of the world that we're in and that we really, it really just shows in all of the books that we publish, I think it yeah, is in part, driven by consumers. I guess there's something we talk about in publishing, it's called, like competitors, competitor titles. And these are basically what we base our sales numbers on and what we base, what we're going to go forward publishing on, it's a bit of a flawed concept. But if you've only been publishing, for example, white men in a certain area, and that's the only thing that's been successful, they that you end up only continuing to publish the white men in that specific genre. I feel like it's just that that pattern and what needs to be done more is shaking that up. And you know, being like, well, no, this book doesn't have a competitive title. Nothing has been done like it, no author of this, you know, this woman's background or this other background has has ever written this. But that's a great thing, because that's meeting a new market, because so often, you know, publishing is targeted. It's been it's been targeted at a certain market of a book buying market, and that sometimes isn't extended to include people who are book buying but not necessarily been catered to for a long time.
Fiona Livingston 24:57
Absolutely. No, it feels like a very kind of almost like old fashioned, very narrow way of thinking about the market, you know, with this competitor titles. Tell me about it. It's just crazy actually, I was surprised hearing you talk about that. I've never heard of that before at all.
Katie Packer 25:15
Yeah, I guess it's strange in a creative industry, you think was the you know, I guess it's a way of mitigating risk and trying to find a way of basing what we pay for something to base it on something that's happened before, which is it can be helpful, but not always. I
Fiona Livingston 25:29
think that's the main takeaway. Exactly. It sort of helps to give you a baseline, doesn't it? Yeah. But that that shouldn't be the kind of be all and end all of the situation. And like you said, especially if somebody is doing something groundbreaking, where do they fit into that? So it's really, really interesting. And I also wanted to ask, actually, is it and we sort of touched on this a little bit already. But is it more difficult to sort of get signed or get published as a female writer?
Katie Packer 26:06
I'd like to say no. I mean, I think sometimes if they're writing in a specific area, I would probably say, I would imagine that their credentials would get questioned and more so than if a man was writing in that area. I can totally see that happening. And I have seen that happen. Oh, gosh. But I think no, I would say, I would say, you know, there are so many brilliant women agents out there now who are commissioning women's writers, women's fiction, but also women agents who are commissioning women for, you know, history and politics and everything under the sun. So I would I would say, on the whole, no, but I'm also not going to be ignorant of the of the realities that exist when, you know, women do come under a bit more scrutiny when they were there. You know, what is your ability to write on this egg subject?
Fiona Livingston 27:04
Yeah, that that makes sense. That makes sense. But surely that that kind of scrutiny should fall to everyone? Again, it's that kind of sort of almost subconscious gender bias in a way. Yeah.
Katie Packer 27:21
It is unconscious bias, for sure.
Fiona Livingston 27:22
Yeah, absolutely. And I just have a few more questions for you, Katie, to sort of finish off our discussion today. And and I'd really love to ask you, if you could highlight maybe a key moment for you, where a woman overcame the odds in publishing or made changes to the industry, which made an impact.
Katie Packer 27:47
Wow. Yeah. I mean, that's so hard. I know so many brilliant women I'd love to call out. I mean, for me, someone who really inspires me, is she, her name is Mireille Harper. And she is the editor of square peg. And she, she, you know, she started around the same time as me. So she's relatively young in this industry. And she's done so much in that space of time. She's essentially running square peg. And it's her and another black woman who who run the company. And she's publishing just such interesting books, like really, really sort of going against the grain and setting whole new trends. And it's just super exciting to see someone like that who's just killing it, and doing something really different and overcoming a lot of odds against her. I mean, yeah, she is she's one of the very few black women in the industry. And she's already at that level. I mean, it's quite amazing feat of, to be doing that. So she is someone I'd love to I wanted to shout out for sure.
Fiona Livingston 28:59
She sounds absolutely amazing. And I'm definitely going to look her up after our conversation.
Katie Packer 29:04
She's right. She's also got an obscene amount of Instagram followers, because she created a asset for when the Black Lives Matter movement was happening last year, she created an asset called 10 steps to non optical allyship. And it went absolutely viral and Ariane Grande shared it. She's just one of those people who when she when she writes, and when she speaks, she does so with real gusto and you want to listen, so that's just a that was just a sort of example of that.
Fiona Livingston 29:37
Wow, that's, that's so inspiring to hear that, you know, she's been able to make those strides and make those changes and, and, and like you said to be heard. That's so impressive in such a competitive industry.
Katie Packer 29:52
Yeah, exactly.
Fiona Livingston 29:53
That's really amazing. And, and the other thing I wanted to ask was, I mean, we've again, we've touched on some of these already. But maybe you want to take the opportunity to maybe dive into these a bit more, but what are the gaps that you think still need to be addressed in the industry? And, you know, what do you think can actually be done to make these effective?
Katie Packer 30:13
Yeah, I do. I feel like I have said this but like, I really think there needs to be more women at the top level making decisions. And hopefully, then we'll better the prospects and careers of women coming up in the industry, and making sure they don't come up against any, they're not falling behind because of maternity leave, and all these things that shouldn't hold anyone back anymore. Yeah. And another gap is, is just the representation of, of black and ethnic minority women, I have some incredible friends who are doing some amazing work, but they are too few in an industry that should be super representative. And that's just not just them, it's also men as well, of sort of minority backgrounds. And I would just love to see that. And I think that change comes from not just setting targets, but to actually take action and making sure that the culture within the companies is very welcoming, and accepting and not, I think there's a lot of effort put into creating internships and creating these entry level spaces. But there's not enough done about actually nurturing these people and making sure that they feel that their work has been valued and ascend up the ranks. And that's what I would love to see more of. And I think that probably comes from training and putting money behind these people.
Fiona Livingston 31:44
Yeah, absolutely. I know, I think those are really great gaps that you've identified there. And I would really hope that, you know, over the next few years, or even sooner, that we'll be able to see those changes. And, you know, and see those things actually being implemented proactively and, and honestly, and transparently in the publishing industry to make this happen.
Katie Packer 32:10
Fingers crossed. I think the first step is acknowledging the the what we're not doing and publishing is doing that, which is great. And that's, that's the first step is to actually have the conversation. So now I'm really ready for sort of, yeah, the movement to happen and action.
Fiona Livingston 32:24
Absolutely. That's a fantastic point. And and my my final question to you, Katie, is what are your key words of advice to women wanting to get into the publishing industry?
Katie Packer 32:39
For women wanting to get into the publishing industry, I would say, yes, it's competitive. It's all of that, every creative industry is, but believe in your, believe in your talent, believe in your uniqueness of perspective, and never forget that publishing runs on a currency of ideas. And if you were bringing new ideas new, or bringing a fresh perspective, you are bringing a lot to the game, and you deserve a place there. And don't just don't give up is what everyone says, but, it's really important. And I would love to just see more super talented young women in every, every area of publishing, that would just be the best possible thing. And the same applies to women writers, as well. And a big tip for them would just be just start writing, because the hardest part is starting. And that's how you practice, writing is a skill and it requires practice. So just keep going with that. It's not going to be perfect on your first draft.
Fiona Livingston 33:47
Those are brilliant tips. Katie, thank you so much for sharing all of that. I've already thank you so much for spending time with us today to talk and share your experiences and your expertise with us on this absolutely amazing topic. And I really, really hope that, you know, maybe in a year's time, we can come back to this and look at all the changes that have happened. And all the positive things that have changed in the industry, which we've highlighted today. That would be really, really interesting to see.
Katie Packer 34:19
That would be amazing. Thanks so much for having me. I've had an absolutely brilliant time chatting to you.
Fiona Livingston 34:26
Thank you so much, Katie. Thank you, Katie for being with us today to discuss women in publishing. Thank you also to Merlin Thomas, our editor, and Robert Cochrane, composer of our theme tune music. We hope you enjoyed this podcast. And if you haven't done so already, be sure to check out all the other episodes from The Culture Bar, with topics ranging from asking can art and digital mix? To awareness and representation in the arts. We've had guests from the Whitechapel Gallery, BBC and the British Museum, from former pro football referees to members of the UK parliament, and practising musicians and artists. And to get all of that and more, please subscribe or leave us a review.