The Culture Bar — After Hours: Brass for Africa

&

Gender Inequality
1/3/2022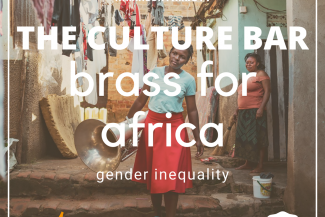 The Culture Bar: After Hours
In this International Women's Day After Hours chat, we speak to Andrea Berbegal, Director of Development at Brass for Africa, and Sumayya, Music and Life-Skills Teacher based in Uganda. Our conversation focussed on the important work Brass for Africa do tackling gender inequality in communities in Uganda, Rwanda and Liberia. Not only educating young people to play brass instruments, but also using the power of music to bridge gender inequality divides, and to empower, inspire and give confidence to women in these communities to follow their dreams.

Interviewed and hosted by HP's Fiona Livingston
Links and Resources
Brass for Africa is an award-winning charity that delivers music education with integrated life-skills training to over 1,000 disadvantaged children and young people in Uganda, Liberia and Rwanda.
Working in partnership with over 20 community-based organisations, our local team of teachers are all African and alumni of the programmes themselves. They teach music, and through an integrated life-skills curriculum, nurture transferable skills such as self-confidence, perseverance, concentration and communication.
Music is an incredibly powerful tool to engage and transform and Brass for Africa uses music to champion our four strategic goals of; workplace readiness, community empowerment, disability inclusion and gender equality.
We want to equip children, young people and their communities with the skills to fulfil their potential and thrive.
From 1 – 31 March, Brass for Africa is launching BreakTheBias Campaign aimed at raising enough to fund one entire year of music and life-skills education for 250 girls in sub-Saharan Africa. Visit the link to find out more about how you can get involved!
This is the fifth episode in our spin-off series of short After Hours chats discussing issues relating more broadly to the arts and culture sector.
The Culture Bar is a podcast series created by HarrisonParrott focussing on conversations in culture and the arts.
Find us on Spotify, iTunes, Google Podcasts, YouTube, Podbean, Deezer, Stitcher, Pocket Casts and all good podcatcher sites.
Use #theculturebar or follow us on Twitter @_TheCultureBar to keep up with our latest releases.
A special thank you to Robert Cochrane as the composer of the theme tune music, and Merlyn Thomas our editor.
Photo credit: ©️Geoffroy Schied / MUSIC CONNECTS
Transcription
Fiona Livingston 00:03
Welcome to The Culture Bar, a panel discussion podcast series exploring, dissecting and shedding light on important topics in the arts and music world which matter to you. In this After Hours chat, we speak to Brass for Africa to discuss their important work on tackling gender inequality. I'm Fiona Livingston, your host today, and we are joined by Andrea Berbegal, Director of Development at prosper Africa. And we are delighted to be joined by Sumayya, music and life skills teacher in Uganda. So thank you both very much for joining us today. It's wonderful to have you with us. So Andrea, could you start off by telling us a bit more about Brass for Africa and how you tackle gender equality?
Andrea Berbegal 00:46
Absolutely. Well, thank you so much for having us, Fiona. So Brass for Africa is a UK charity, and we deliver music education and life skills to extremely disadvantaged children and young people across Uganda, Rwanda, and Liberia. And our mission is essentially to equip children, young people and their community with the skills to fulfil their potential and, and thrive. As we know, music is an incredibly powerful tool. And the reason we choose music and the reason why we work through music and with music is because it doesn't discriminate against race, religion, ability, disability, and in this case, gender. It's a common language that that is incredibly powerful. And we use it to champion our four key pillars, which are disability inclusion, workforce readiness, community empowerment, and gender equality. And as I said, why gender equality because it is welcome to everyone girls and boys alike. In many of the communities where we work. Women and girls have to face discrimination, injustice on a daily basis, but music brings everyone together. And it is through music when boys and girls play together in the band that we tackle gender equality.
Fiona Livingston 02:17
That's a really great summary there Andrea, thank you so much for being able to shed some light on the amazing work that Brass for Africa does and and how you see yourself making a difference through music. And it's a great example of the power of music, as you said. So that's fantastic. Thank you for sharing that. So now we're going to speak to Sumayya, so Sumayya it would be wonderful if you could introduce yourself, if you could tell us a bit about who you are and your role at Brass for Africa.
Sumayya 02:47
My name is Sumayya. I'm a music and life skills teacher at Brass for Africa. I play a B flat tuba. And we teach music.
Fiona Livingston 03:00
Incredible. And where do you teach the music, is it in schools?
Sumayya 03:05
So mainly we teach music to the disadvantaged children, children who live in slum areas, in organisations, and in some schools, but mainly we consider children from the community also, because these children are going through kind of hard life because it's because I also learned music and I'm a person from a slum area. So those are the areas yeah, mainly focusing at so that they can also develop.
Fiona Livingston 03:44
Absolutely. And how did you get involved with Brass for Africa?
Sumayya 03:50
So I used to play an instrument in an organisation. And that's when Jim Trott, the founder of Brass for Africa came and brought in some instruments for us. And that's how we got to know Brass for Africa. And I joined in and I started playing with them.
Fiona Livingston 04:15
Incredible. And and did you select your instrument when you first met Jim? Is it the tuba?
Sumayya 04:22
No, I didn't. So at first we were learning from it was like they select for you an instrument if you don't want to leave it. So I was given a tuba and it was hard at first, but later I picked interest and continued playing it. And I feel good about it that I didn't give up. Because I'm shining right now I feel proud of myself. It's amazing, and it's great that you found the connection with this instrument that's amazing. Like I don't think that many people play this instrument so it's really amazing that you use I like it so much. And I wanted to ask are families, generally supportive of girls playing music and being in a band? So I will say, there are not, kind of, but some. But mine specifically wasn't supportive at all, it was really hard for them to believe that I can play music. It was hard for them because they thought about the disbeliefs in the communities, and they thought about what other people in their communities are going to think about, about playing music, and then playing, then thinking about what's going to make me happy. So I just forced myself into it. It was hard because doing something when when the people you think that are close to you, then I'm supportive, it's really kind of hard. And I just because I liked music, I just continued with it, even though it was hard, because sometimes you can go for, we used to go for functions, and then you come back and you have to bear the abuses. But I'm glad that I didn't give up and I'm happy that it's because of Brass for Africa. Now my family supports me and they've been proud of me.
Andrea Berbegal 06:17
I was just going to jump in. And explain to your audience, Fiona that, you know, in many of the communities where Brass for Africa works, music is actually considered a male activity. And so girls and young woman are massively discouraged to to join in and to play the band. It's actually just this week, we've launched a new band called The All Star band. And and we've had an issue with with the girls, because we we always try and get boys and girls together in the same bands. And we've had no problem with boy attendance. And you know, every boy has been there. But we've had the three girls that are in that band, we've had massive issues with with them being allowed by their families to attend the music lessons, and we've actually had to go as far as to work with community leaders, and community representatives to get those girls to education, as I said, before, girls are really expected, especially in Sumayya's community to stay at home to raise children. And to not attend education like the male siblings. And so the fact that Sumayya kind of broke the bias and, and, and chose the probably the biggest instrument in the band is just a huge inspiration in itself. I think.
Fiona Livingston 07:39
That's, that's amazing. Thank you for explaining that Andrea because he I don't think many of our listeners will be aware of that situation. So that's really useful to know. And Sumayya, what do you think are some of the other challenges that girls face when trying to sort of join a band or to take up a musical instrument?
Sumayya 08:01
Discouragements, because you are mainly discouraged a lot, because they think band is for only boys. And like not being empowered. Because sometimes if you do something and it fails, you need someone to motivate you, you need someone to tell you that, you know, it's going to be okay. And then when you try to do something, because the family had refused you already. And it fails. They're like, yeah, that's what, that that's what you have to know that this is not meant for you. But I'm glad that at Brass for Africa, we do things really differently. Whereby when you sit in a band with the boys, they treat you the same, they treat you equally.
Fiona Livingston 08:46
That's extremely important. Yeah. And it's sort of starting to maybe change the perception. You know, when you're a young person or if you know how you should treat men and women, you know, and it's, it's amazing to be able to experience that through music and doing that together. So that's a really amazing way to approach really quite a big issue. You know, in this area. So now that that's amazing to see that actually in action in that you are experiencing this scenario. So that's incredible.
Sumayya 09:19
And I think it's also through the power of marching, Fiona's so marching with brass bands, like a lot of people always ask why why brass music? No, why not violins, why not pianos? And obviously, there's the huge kind of climate issue where in Africa, you really need an instrument that's going to be okay with the heavy rain, the extreme heat, etc. And so there's that element, but there's also the element of marching with your instrument across the community. Isn't it Sumayya, the way you know, for example, for International Woman's Day, we always have a girls and boys band marching through through the Different communities where we work. And so and it's beautiful. You see, our teachers are female and male teachers together marching through these, these communities. And what that does is that it inspires the next generation of, of girls and young women. And, and I mean, Sumayya, you can tell Fiona but I think loads of times you get followed by, by children. Is that the case? Yeah, most of the times they are followed by children and also grown ups. Because sometimes when they see the band, they're like, attracted to the music, and they feel like we have to follow them. And most of the time when they see me playing a tuba, like, they're like, is she a girl? Oh, but it makes me feel happy. Because if, when other girls look at me, they're like, I want to be like her, and this gives them a way forward, because they think they have this like thing, and they're like, you know, there is a teacher with a girl and she's playing an instrument, and she's doing it well. So it means that we can also do this.
Fiona Livingston 11:05
Yeah, it's really important to have inspirational people around you to yeah, inspire, you know, young women to to want to take up instruments so that that's amazing that you're being able to do that Sumayya. It's really, really, really inspirational. You're doing so much. And I also wanted to ask, what life skills you think you've learnt through playing music.
Sumayya 11:31
I would say, self confidence. Because before music, I was, I was so shy, I couldn't even speak for myself. And I, I've gained the ability of being a good motivator. And a good empower to my students. Because most of the girls we teach, they're discouraged a lot. And if you tell them your story, if I tell them how hard it was for me to be playing, like the way I'm playing, now, they get inspired, and they feel like however hard things gets who can also get stuff and we can compete with however discouragements we get. And this gives them the ability to stand up for themselves. And they start playing their instrument, hence helping us to discover their hidden talents. Because if it wasn't for Brass for Africa, nobody would have realised that a good speaker, nobody would have realised that I have a talent in music.
Fiona Livingston 12:31
Oh, that's, that's absolutely amazing. And is there one particular sort of moment that stands out for you, you know, where you, you really felt like this all came together.
Sumayya 12:42
So that moment is when we are playing in the band all together. I feel like I'm so close to the people who love what I'm doing. And these people are there for me in case of any trouble. In case of any anything, however much there are boys, they are ready to help you out. And even though you're walking down the street, and you get a kind of, any abuse, they stand up for you. And they're ready to lecture, anybody who is discriminating those, who is putting girls down, they're making them know that even girls can. So that makes me so happy.
Fiona Livingston 13:26
That's amazing. Andrea, was there anything you wanted to add about kind of life skills and things?
Sumayya 13:32
Yeah absolutely. I mean, just to clarify, again, to to kind of the people listening. So the reason why we don't just say music education, and the life skills is actually an integral and very, very crucial part of our curriculum. And what do we mean by life skills, what like Samaya said, self confidence, communication, problem solving. And we've actually got, we've actually got eight key life skills that we teach through music. And that's simply because we realise that music track, just by the simple pleasure of learning and playing music, you learn these transferable life skills, and you can't go on stage and perform without having some self confidence in yourself. You can't talk to an audience on stage without, you know, learning the power of communication. And when you're rehearsing there's a problem. There's always problems that you need to solve, you know, with, with your with your pals in the orchestra or in the in the band. And these transferable skills might seem very, very obvious to us and perhaps something which we just do and you know, a lot of us just just have, but for children and young people who, who have never received any form of education, who, who who grew up in in orphanages, in hospitals in a very, very impoverished rural areas. These life skills are actually what completely change the lives and their perspectives on who they are and what they can achieve. And so the Brass for Africa curriculum? Yes, of course, it's very focused on music and music education, like we know it here in the West. But, but it's specifically, you know, focused on the life skills that each individual can learn through that musical journey.
Fiona Livingston 15:26
Yeah, absolutely. And I think that really sort of shows the difference with Brass for Africa and what then how you're approaching, yeah, music, education and life skills. And it's this whole package really, isn't it?
Andrea Berbegal 15:38
It's definitely not one without the other.
Fiona Livingston 15:40
Absolutely. And Sumayya last question for you. What is your favourite thing about being in a band?
Sumayya 15:50
Playing music on stages, whereby a lot of girls are going to look up to me as an example for them, as a role model. Because it is hard. When you're from a slum area, when you don't have someone to look up to. For example, when I started playing my instrument, it was hard because I believe that there was not any musician who is a girl, who is a lady. And then I got a chance to see Alison Balsom, through Brass for Africa. And she, every time I look on her videos, every time I see what she's doing, it gives me energy. And I'm like, one day, I will be like her. One day, I will also be around whereby people from our areas are looking up to me and I they're like, if if she was able to do it, we can also do it.
Fiona Livingston 16:43
Absolutely. I think that's an amazing message to end on, actually you know, if she can do you, you can do it too. And absolutely, why not. So that's fantastic. And thank you so much for sharing your insights Sumayya, into women and to music in Uganda. It's been absolutely fascinating. And, you know, incredibly interesting to listen to. And, Andrea, I thought we could just end with maybe if you could tell us a bit about Brass for Africa's latest campaign.
Andrea Berbegal 17:13
Yeah, absolutely. So from the 1st to 31st of March, Brass for Africa is running a campaign called Break the Bias. And our mission in this campaign is to bring equality to 250 girls across Uganda, Rwanda and Liberia. What we want to achieve is we want to raise enough to fund one entire year of music and life skills for 250 girls. It's a wonderful campaign and there's many ways you can get involved, you can make a donation, which will actually be much funded by our sponsor, Acai Life. And you can create a fundraising page, you can buy our shop, which we've got really fantastic merchandise and actually one of the T shirts has Sumayya's face on it. Sumayya doesn't know this yet. So there you go. And, and if you're up for it, and you feel like exercising, you can also join our race for equality, which is a really, really fun, you know, sporty challenge. And so all in all, that's that's what we're trying to do. We're trying to really transform the lives of 250 girls. And if you want to find out more to get involved, simply head to our website, brass​forafrica​.org. And you'll see the break the bias campaign page there.
Fiona Livingston 18:38
Fantastic. Thank you very much, Andrea. And I really hope you reach your targets and you're able to help all of these people with their music journey, and developing those really important life skills that as you and Sumayya have really beautifully explained in this podcast. So yeah, I just want to thank you both again, for joining us today. And as Andrea said, to find out more about Brass for Africa, and about the Break the Bias campaign, you can visit the Brass for Africa website or you can visit the links in this podcast show notes. So thank you very much.