The Culture Bar: Music, Mind and Brain
26/10/2021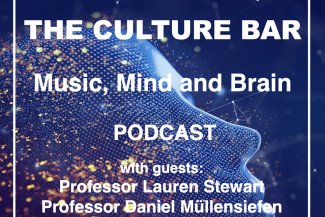 In this episode, we discuss the links between music psychology and neuroscience, investigating topics such as exposure to music in young children, music perception and the cognitive neuroscience of music.
We are joined by three expert panellists to help us navigate this fascinating topic:
Professor Lauren Stewart
Lauren is a Professor of Psychology at Goldsmiths where she founded the MSc in Music Mind and Brain and co-leads a research group in this area. She has published widely on topics including learning and plasticity, congenital amusia, earworms and therapeutic aspects of music. She has been engaged in several citizen science and public engagement projects, including a Silent Disco earworm experiment at Manchester's Museum of Science and Industry, a live experiment on musical plagiarism at the Science Museum's Dana Centre and an in-depth discussion on the ​'Tingle Factor' in music as part of Radio 3's Wellcome Collection residency.
Professor Daniel Müllensiefen
Daniel is a Professor in Psychology at Goldsmiths and also a research fellow with the University of Music, Drama, and Media at Hannover, Germany.
He is interested in (almost) all questions relating to music psychology, ranging from industry-related work on music and advertising (working as Scientist in Residence with adam&eveDDB) to individual differences in musical ability and to musical memory and plagiarism. Daniel was awarded the prestigious Anneliese-Maier award by the Humboldt- Foundation in 2016 and is the editor of the international open-access journal Empirical Musicology Review. He is currently heading the LongGold project, a longitudinal study on the development of musical and other cognitive and social abilities during adolescence.
Dr Diana Omigie
Diana Omigie is a cognitive neuroscientist and member of the Music, Mind and Brain research group at Goldsmiths where she co-directs the MSc programme in Music, Mind and Brain with Daniel Müllensiefen. Her research interests revolve around the behavioural, physiological and neural correlates of music-induced emotions and the aesthetic experience.
Hosted by HP's Lissy Kelleher-Clarke (MSc Music, Mind & Brain alumnus)
Useful links and resources:
Music Mind and Brain blog
PANC Blog
MSc Music, Mind & Brain course information
The Culture Bar is a podcast series created by HarrisonParrott focussing on conversations in culture and the arts.
Find us on Spotify, iTunes, Google Podcasts, YouTube, Podbean, Deezer, Stitcher, Pocket Casts and all good podcatcher sites.
Use #theculturebar or follow us on Twitter @_TheCultureBar to keep up with our latest releases
A special thank you to Robert Cochrane as the composer of the theme tune music, and Merlyn Thomas our editor.